How To Increase Your SEO Traffic (An 8-Day Planner)
There is no magic bullet or quick fix for good SEO. The algorithms that search engines use to rank sites and pages — Google's are particularly challenging — constantly change. This negates any possible SEO "hacks" you could try.
The true key to good SEO for manufacturers is a long-term strategy that uses proven best practices but remains flexible as situations change. It doesn't matter if you're well-seasoned in the search engine marketing field or are just wrapping your head around what you need to do to get started, here's what the first few days of a 30 day plan looks like to increase your SEO traffic.
Day 1. Set Up Your Analytics
Before you get started with any content strategy it's important to sign up for Google Search Console, Google Analytics, and Thomas WebTrax. Signing up for these analytics platforms ensure you have the complete view of who's visiting your website.
Thomas WebTrax was designed as a lead generation tool that highlights firmographic and demographic data on your anonymous users, as opposed to just website metrics — so using Thomas WebTrax and Google Analytics together will optimize your website and continually replenish your sales pipeline with leads.
It tracks the buyer throughout the journey from the Thomas Network to your website to when they pick up the phone to call you. Learn more about Thomas WebTrax here.
Day 2. Conduct An SEO Report
The primary reason for an SEO report is to shed light on how organic traffic increases over a certain period of time. An SEO report will also show important stats like page views, number of users, and engagement rates.
We suggest using SEO reporting tools like SEMrush and Ahrefs. Both offer free versions, but consider the paid version to unlock more key data and solutions. If you'd like to understand the "why" behind your traffic drops, consider seeking advice from an SEO expert.
Day 3. Do Your Keyword Research
Carefully choose your keywords. Keyword research helps you identify keywords that appeal to a target audience and expand the reach of your content.
When selecting keywords, you should also keep the purpose of your website in mind. Opt for transactional keywords if the main intention is sales, or informational keywords if your website aims to provide readers with important information.
Day 4. Optimize Titles and Descriptions

When you search for a keyword, Google presents a list of relevant websites. What you're looking at is what Google calls "snippets," the title, URL, and meta descriptions of each of those pages.
Good titles and descriptions are very important for effective SEO. Your page title has directly impacts how your page ranks, so it's important to get it right. It should be between 5-60 characters because Google only displays a limited amount of characters in a title. Create a title that's easy to read and includes at least one keyword.
The meta description doesn't impact your ranking directly, but don't ignore it — it is an excellent marketing tool and a major driver of clicks. Limit your description to 155 characters, otherwise Google will cut off the rest.
Case Study: How CJWinter's Sales Increased By 60% After Optimizing Their Online Presence
Day 5. Optimize Images With Alt Attributes
Search engines aren't able to fully interpret the content of images without textual support. That's why using Alt text to describe your images is so important: it allows search engines to understand the image content.
Alt attributes work in three ways:
They provide search engines with information and context relevant to the image
They describe the image to readers if the photo doesn't load properly
They are used by text-to-speech software for the visually impaired
Make sure that your alt attributes are brief, clear, and contain strong keywords.
Day 6. Find And Fix Broken Links
We've all clicked on a link only to find a 404 (file not found) error. It can be incredibly frustrating — for human users and search engines alike. These 404 errors are most commonly caused by broken links, which are hyperlinks that direct a reader to an incorrect or nonexistent URL.
Broken links aren't only a frustrating problem for readers, search engines will find all 404 errors on your website, too. The more errors an engine finds, the less well maintained it assumes your page is and the lower your ranking will be. Check if your website displays any 404 errors. Redirect the faulty URLs to the correct URLs using 301 redirects. Request other webmasters fix any incorrect links that point to your website. Check links in the navigation menu.
We recommend using these online tools to help with finding 404 errors:
Day 7. Refresh Your Redirects
Redirects are simply part of operating a website, they're pretty much unavoidable. But if you're smart about it, they don't have to hurt your rankings.
Status code 302, a temporary redirect, is the most common redirect. They're used a lot during server relocations, redirecting URLs until the new server is established. The problem is that they're often left permanently, even though there is a unique status code for permanent redirects: 301.
Review your redirects, keeping only the 302 redirects that are truly temporary, changing the rest to 301s.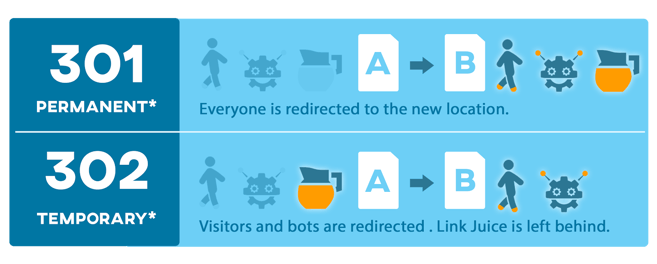 Day 8. Standardize URL Structures
URLs are like street signs — the clearer they are, the more easily those streets can be navigated.
Automatically generated URLs are usually long strings of numbers and non-letter characters that are hard for both humans and search engines to keep track of. Implementing a simple, organized, and descriptive URL naming system will improve user experience, lowering bounce rates, and help get more of your pages indexed.
A uniform URL structure helps search engines crawl your website faster. The faster bots are able to access all URLs, the more pages it can go through and index on its limited budget for crawling each website.
A uniform directory structure also means using descriptive URLs, such as www.mywebsite.com/directory/productname.html. These help users orient themselves within your website. Descriptive URLs are also suited for marketing actions or sharing content on social networks since the URLs already provide clues on the contents of the landing page.
Days 9 to 30 — Internal Links, Content Curation, And More
Good SEO is a lot of things — part science, part art, always in flux. SEO is complex, especially when you don't have the analytical expertise. Improving your SEO is a long-term process of best practice implementation, monitoring, tweaking, and refining. It's important to note that regular monitoring is one of the key tasks of search engine optimization that makes it possible to react to traffic decline or other occurrences quickly.
For the rest of the 30 day plan, download our free resource, "How to Increase Your SEO Traffic in 30 Days."
For other resources to increase your website traffic, check out the below links:
Did you find this useful?