How Big Companies Choose New Suppliers
Looking to land one of the big fish? Becoming an approved supplier for a large global company can change your business forever. But landing such a "big fish" takes far more than a hello and a handshake. We recently reviewed the supplier discovery process of a leading Fortune 500 company, and here's how they outlined it for us:
Step 1: The company defines its need for a product or service.
Whether the need falls under the direct spend or indirect spend category, initial minimum supplierrequirements are defined before supplier discovery begins.
Direct Spend: Refers to goods and services directly incorporated into a product being manufactured, such as raw materials, components, hardware, and subcontracted manufacturing services.
Indirect Spend: Refers to goods and services not directly incorporated into a product being manufactured, such as computers, equipment, furniture, office supplies, and janitorial services.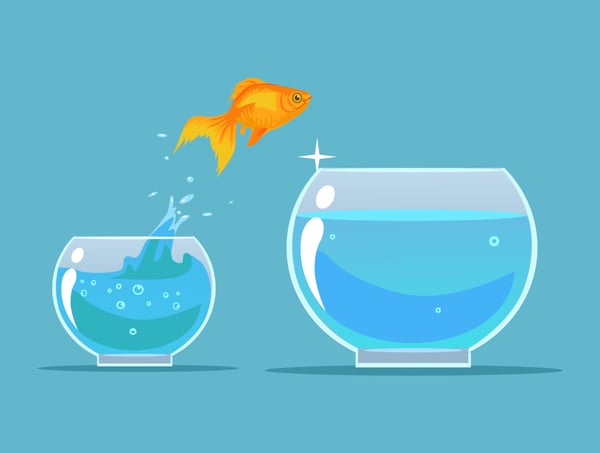 Step 2: Supplier discovery leads to a shortlist.
The company's procurement team begins researching possible vendors on supplier discovery platforms such as Thomasnet.com. Some of the initial data they look for includes:
Company Profile
This should be an executive summary of who you are, what you do, why you are the best at it, and how it all benefits your clients.
Geographic Footprint
Are you regional? National? What geographies do you support? Do you deliver from one or multiple locations?
Industries Served
Which industries are best served by your core competencies? How have you successfully diversified into other industries?
Services/Products Available
OEMs want detailed product specs if you are a supplier of stock or configurable products; or detailed capabilities info, machine lists, and sample project pages if you are a custom manufacturer.
Current Customers
OEMs want to see a sample list of companies with which you do business (keeping any NDAs in mind).
Annual Sales
This is a deal breaker for some OEMs. If you don't disclose this information, you won't make it to the next step of the new supplier review process.
Key Manufacturing Equipment List
This should include as much information as possible about the equipment you'll use to meet their needs.
Machine Capacity
What capacities do you have in your various machines and your warehouse system to deliver your products? Accurate supply chain information is paramount to OEM success.
Quality Practices
Certification and achievement info is critical – most OEMs tend to mandate a minimum certification level and QC process for their suppliers.
Diversity Classification
This should include all important diversity classifications for your business. Some OEMs have diversity requirements for each project or product line.
Management Contacts
Who are the appropriate personnel on your team for each step in the supplier discovery/ purchasing process? A simple list with contact info can help you get to step 3.
Based on the relevant company information they find here in step 2, buyers create a shortlist of possible partners, and then contact those companies with a Request for Information (RFI).
Step 3: Suppliers provide more information.
Companies who were fortunate enough to receive an RFI fill out a Supplier Registration Form, which requires the next level of information. This can include:
Performance Metrics
OEMs want to know that you have a high on time delivery rate, with zero returns, and no unplanned internal down time. You'll need to document and discuss the service you've provided to your current customer base.
Cost Collaboration
What ideas or help you can provide to reduce overall costs? They'll want you to identify areas where you could provide savings if they were to select you moving forward.
Success Measurements
An outline of expectations and Key Performance Indicators (KPIs) will allow you to agree on what a successful partnership with you looks like.
Volume capabilities
What are the limits (if any) of your ability to supply the product or material you offer? OEMs will want to review previous high and low volume projects with which you have been involved.
Product Samples
This allows for testing or sample quality review by the OEM's internal engineering teams (getting the support of the design team at this step is a huge win).
Capabilities by location
If you have multiple locations, what products or services are provided by each? OEMs need to know exactly where manufacturing and warehousing will happen.
Certification and compliance documentation
You'll need to provide copies of all compliance and certification documentation you have achieved.
Safety record information
This would include any documentation you have to assure buyers that safety issues won't disrupt your ability to meet delivery timelines.
Shipping capabilities
What JIT and warehousing options can you provide based on volume, product size, order value, etc.? OEMs also need an overview of the packaging and delivery choices they'll have.
Payment Terms
Are your payment terms flexible, contract based, invoice, or net 30 only? Buyers want to know your flexibility/ability to work within their preferred payment terms.
Special Clearance
Which members of your team have top secret clearance or other special certifications that would make you a better option as a supplier?
Existing supply chain
OEMs want to know how you operate your business and fulfill for other buyers. They may be especially interested in where your raw materials are purchased and what outsourcing you employ.
Based on the information received in Steps 2 and 3, the procurement team determines whether or not each supplier meets the minimum requirements defined in Step 1. If so, the supplier advances to the next step...
Step 4: Advanced supplier review.
Possible partners are more thoroughly vetted at this point, a process which could include:
A site visit
The buyer will want to see your operation in person. This will include a tour of your manufacturing facility, a review of your quality procedures, and a discussion with your most critical employees.
Capability audit
Your internal manufacturing capabilities will be reviewed to ensure that your machinery and staff can produce the required quality and volume of parts.
Product testing
As the buyer's design and engineering team begin testing their prototypes, you may need to travel to their facility to aid in making the tests successful.
Prototype manufacturing
The buyer may want to see your expertise first hand and request a sample of a custom part. You may need to decide whether to "eat" tooling costs for the chance to win the larger business opportunity.
Sample product assembly
You'll need to provide samples to be included with the prototype assembly, and will be expected to provide assistance on installation and appropriate testing to ensure proper use by the buyer.
Design assistance
You may be called upon to provide feedback on a buyer's original design. Your ability to provide design alterations to increase manufacturability and profitability will be a large advantage.
Cost analysis
You'll want to review the buyer's needs and provide any analysis that can help them reduce the overall cost. This may be in product selection, design, volume, or shipping options.
Only if a supplier meets all the requirements – and meets them better than the other candidates – does that supplier get selected for the next step...
Step 5: Acceptance as a viable partner.
The "winning" supplier goes through the company's New Supplier Setup process, which (of course) involves contracts, paperwork, but most importantly, new opportunity.
The supplier is added to the Fortune 500 company's Approved Vendor list, which exposes the supplier to the company's vast global network of purchasing professionals.
As you can see in Step 2, it's vitally important for your company to have a presence on supplier discovery platforms such as Thomasnet.com – a leading resource that enables you to promote the wealth of detailed information buyers require when putting together their shortlists.
If you want help implementing a strategy that drives real business results and gets in front of big companies, we're here to make it happen for you.