Three Logistics Lessons Black Friday Can Teach Manufacturers And The Supply Chain
The shopping frenzy known as Black Friday is almost here. While you will probably see lots of stories about long lines and huge crowds tussling over the latest toys and electronics, there is another story taking place behind the scenes — one of careful planning, lots of moving parts, and plenty of risks. It's a story of logistics.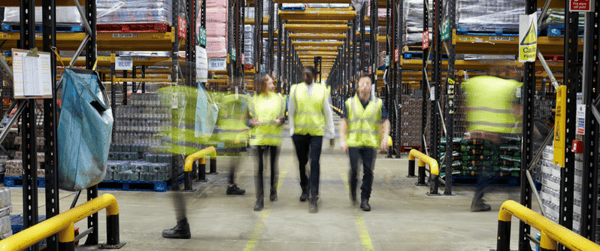 Black Friday is one of the biggest logistical challenges for retailers and their supply chains. Many companies spend all year analyzing data and building inventories to prepare for the holiday rush. And the stakes are incredibly high — one mishap can throw off a company's entire supply chain, leading to a major loss in sales for the day and the rest of the year.
While most B2B manufacturers, industrial companies and procurement teams aren't directly impacted by Black Friday, there are certainly lessons to be learned from the retail world that can help improve efficiency, reduce risks and optimize their supply chains. Here are three of them:
1. Stay Aligned With Your Partners
In the retail world, it is essential for buyers, suppliers and the 3PLs that connect them to be on the same page. The same holds true in the B2B world.
All entities within your supply chain should communicate their goals, expectations and performance measures to ensure that everyone is in alignment. This helps each partner understand what they need to focus their attention on and holds them accountable if there is a supply chain disruption. If you do experience a crisis, all parties within the supply chain can make a unified attempt to address any hiccups.
Related Info: What B2B Industrials Can Learn From B2C Companies?
Keith Biondo, Publisher of Inbound Logistics, emphasized the importance of achieving alignment and staying plugged into customer needs.
"Many manufacturers practice demand-driven logistics, meaning they are focused on their customers' buying signals. The idea is to have aligned their enterprise to seamlessly respond to those signals. That's an extremely efficient way of reducing total logistics costs while providing optimal customer service.
"However, during certain times of the year, demand spikes can be volatile and can happen very fast. In those situations, true scalability is more readily achievable if manufacturers are also focused on their customers' demand signals."
2. Monitor Big Data Trends
Retailers use integrated, real-time data from optimization tools to discover risks in what may disrupt Black Friday sales, and big data can be a big advantage for manufacturers and job shops as well.
Continuously staying up-to-date with your data will help you determine any outliers that could cause a disruption that may leave your business unable to meet customers' needs. Recent studies show that the use of big data helps the reaction time of issues within an organization's own supply chain, increases supply chain efficiency by 10% and leads to a 4.25 times improvement in order-to-cycle delivery times. Keeping a pulse on this data will allow your team to identify and respond to a crisis quickly and efficiently.
3. Be More Agile
While manufacturers and supply chain professionals may not have a single day that makes or breaks their business, they do face their own high-stress, high-pressure challenges. When these challenges occur, it's essential to be agile enough to make fast decisions that resolve the issue and protect the bottom line.
There are three main cornerstones to an agile supply chain: alertness, decisiveness and flexibility. Your organization must be alert in detecting changes and threats to your supply chain, decisive in creating a quick plan to fix the problem, and flexible enough to change your operations for the solution to be implemented. Your organization's ability to execute these fast decisions will be the game changer when handling a supply chain disruption or crunch-time crisis.
Using these three strategies and listing your company on Thomasnet.com will help preserve the hard work your organization has done to prepare for the holiday and will ensure a resilient supply chain throughout the holiday season.
Did you find this useful?