How To Find Veteran-Owned Suppliers on Thomasnet.com
Whether you're in need of new blood in your supply chain or trying to build up your list of diversity suppliers, Thomas can help save you time and hassle in sourcing exactly what you need. Thomasnet.com offers detailed information on North American companies in over 75,000 categories of products and services, not to mention our CAD file library, whitepapers, and guides. In this article we're here to show you how to make the most of Thomasnet.com's features by covering the basics of finding and sourcing from the 6,200+ veteran-owned companies on our platform.
Veteran-owned is a special designation for certain businesses that are 51% owned, controlled, and operated by a veteran. Not only does sourcing from suppliers with this designation help to support veterans, it also offers buyer companies a variety of other benefits. Using vendors like these is an important part of diversity requirements when working in or with the public sector, including the government.
We've broken the process down into 4 easy steps. Let's dive right in.
Step 1: Search
Starting on Thomasnet.com's Supplier Discovery page, type in a keyword for whichever product or service you need (or choose a keyword from the suggestions that will appear as you type)
Do not hit "Search" or the enter key yet, as this will take you to an unfiltered view.
Alternatively, you can change the dropdown on the search to look for suppliers by brand name or company name.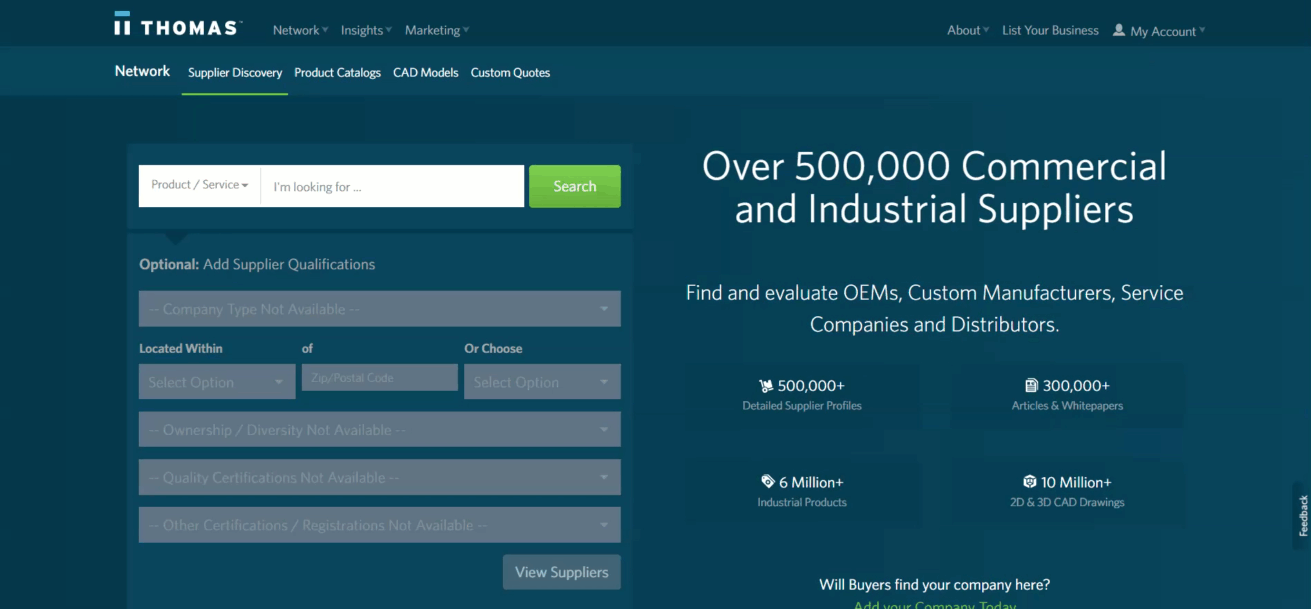 Step 2: Filter
Click on the "Ownership/Diversity" box below
Choose from the different types of veteran-owned statuses to further filter your search
You can also choose the general category filter of "Veteran Owned" to see all veteran-owned businesses.
Once this filter is applied, you can choose any other filters needed, such as distance from your location, certifications, or company type
Hit "View Suppliers" to see the search results
Step 3: Evaluate
From the search results page, you can see the results as well as the filters on the left side of the page.
The designation or designations you've chosen will be in bold on each company's tile
Any other certifications and diversity status the company might have will also display for each company.
As discussed in our guide to certification and diversity symbols, the symbols next to the certification show the level of detail available about their status, such as whether there is more information on their website or if you can view a copy of their certificate.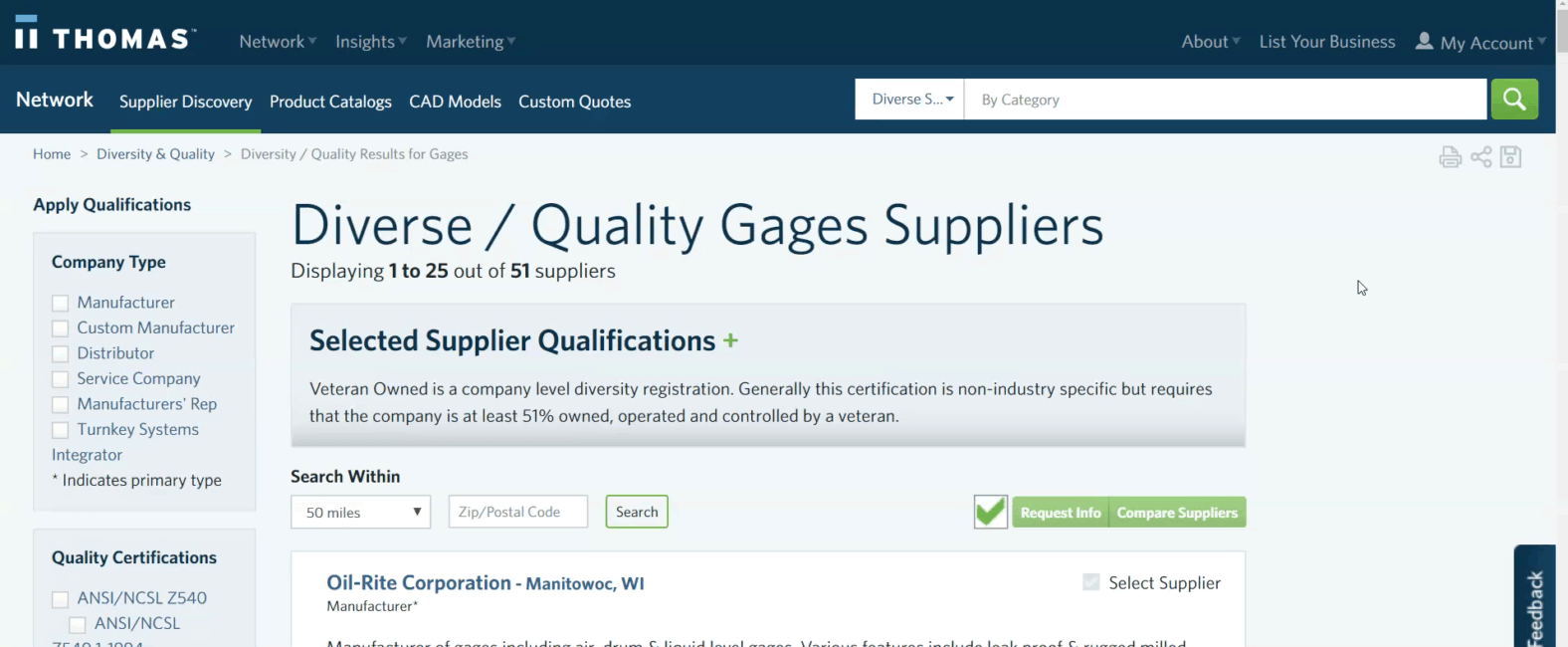 To change the filtered results from here:
Filter from the search results page by choosing from the lists of filters on the left side
Uncheck the boxes of filters you already have selected to get broader results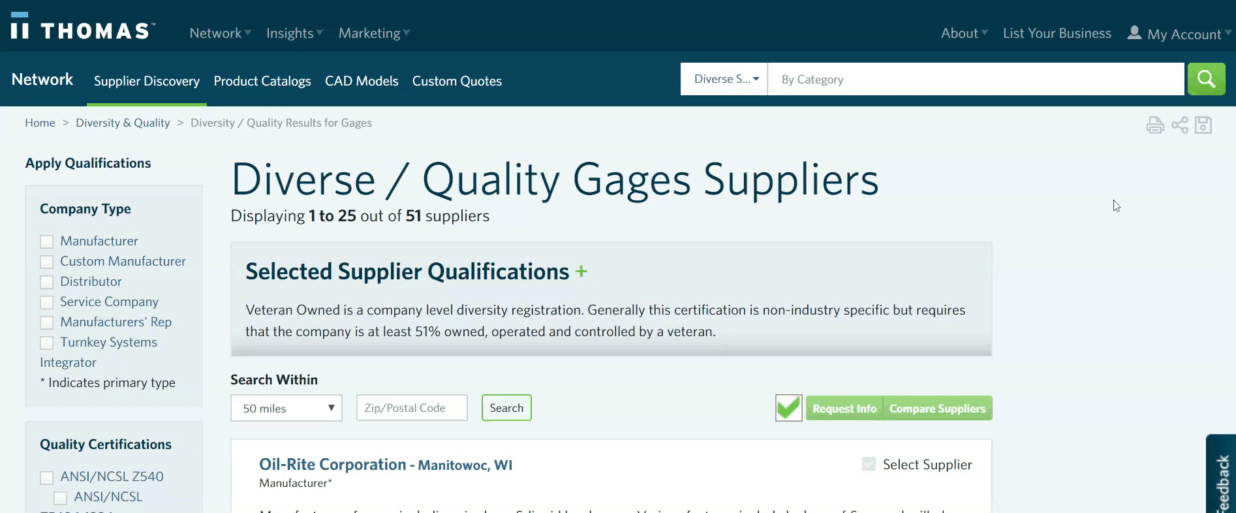 You can also click "View Complete Diversity Summary" to be taken to the diversity status part of a company profile and see their diversity status qualifications in more detail.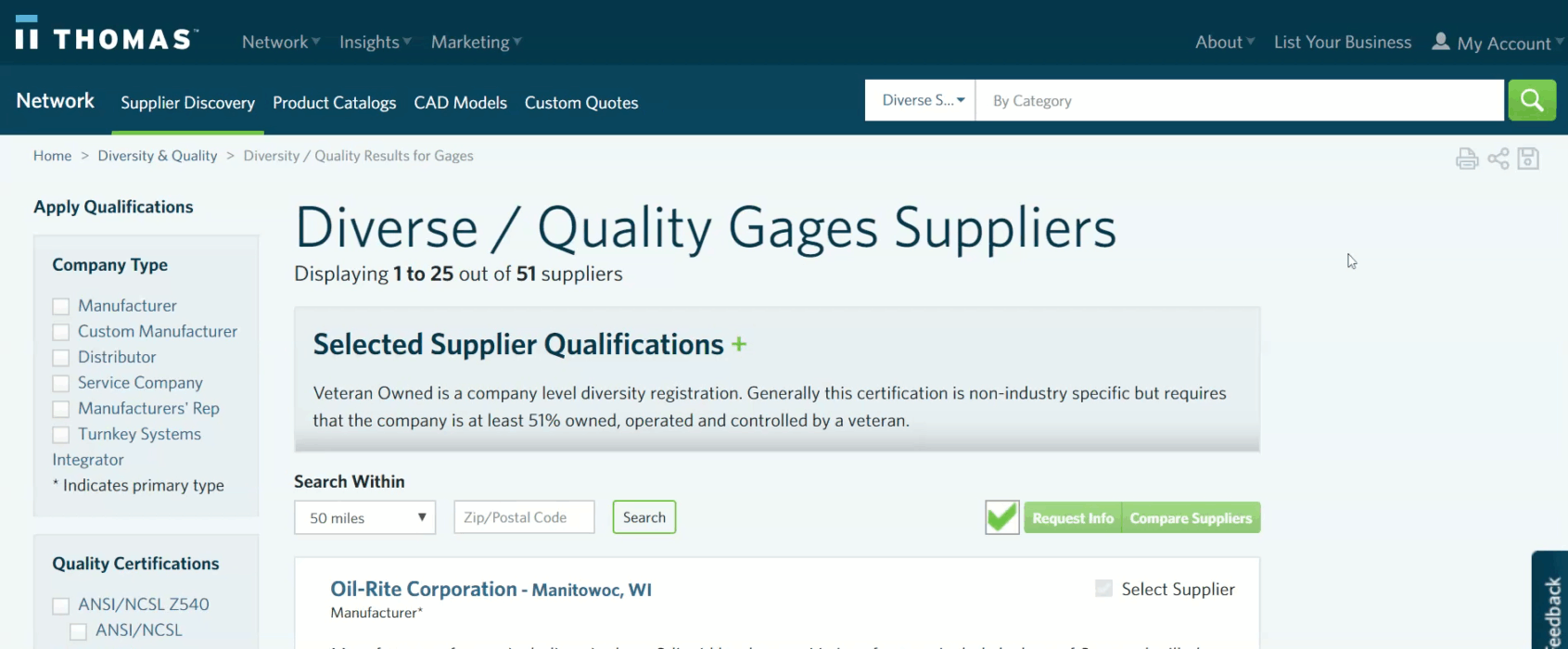 Step 4: Make a Shortlist/Send RFIs
You can make or add to shortlists from an individual company's listing page or the search results page. You can also skip the shortlist and directly message the companies of your choice in two ways depending on whether you are on the search results page or a single company's listing.
From the search results page:
Check "Select Supplier" at the upper right corner of the tiles of up to five companies, and then hit "Request Info" (or "Shortlist") in the bar that will appear at the bottom of your screen.
This leads to a message screen where you can send your message and contact information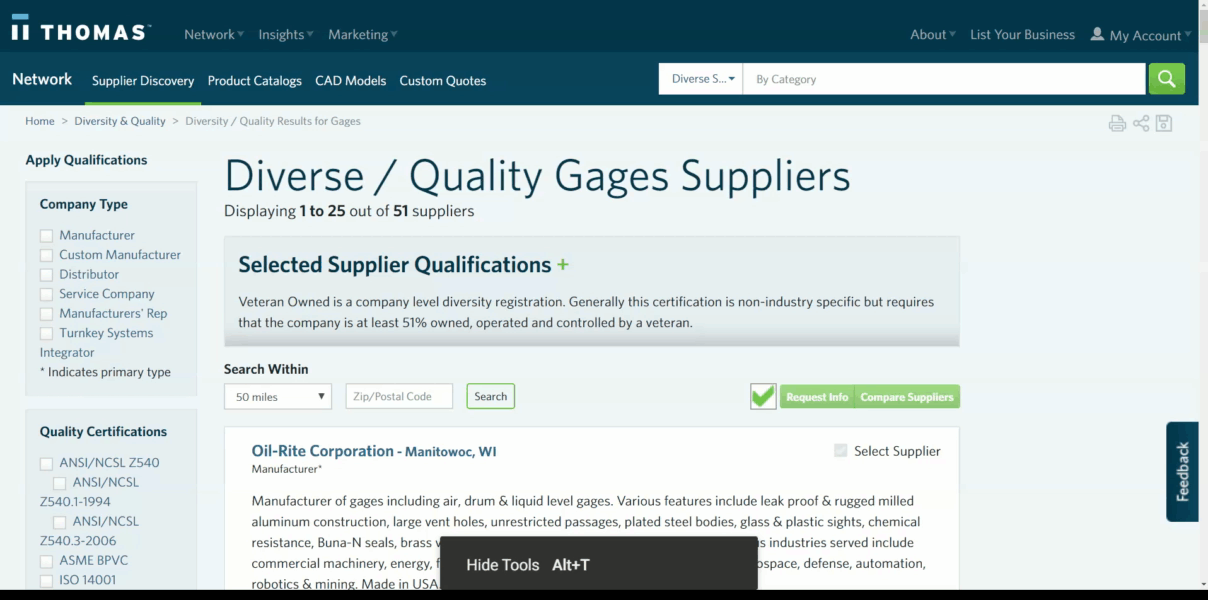 From a company's listing:
Hit the big green "Contact Supplier" button at the top right
Alternatively, click "Add to Shortlist" to add the company to a shortlist, or "Save Supplier" to save the company by itself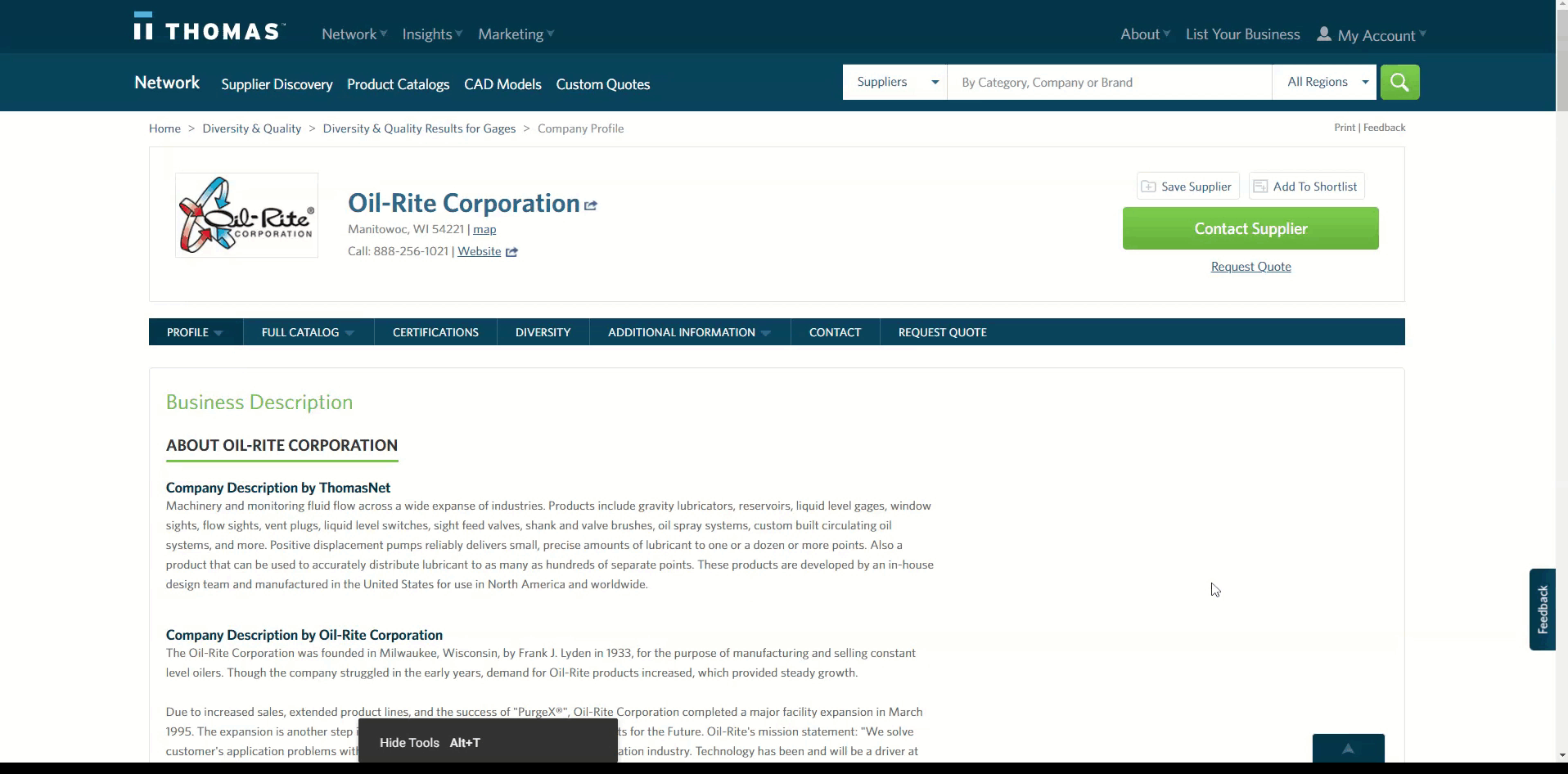 Conclusion
As the leader in driving industry for over 120 years, Thomas is here to support you in bringing your business to the next level. Now that you know the basics of searching for veteran-owned businesses on Thomasnet.com, we hope this will enable you to source more easily and effectively from the 6,200+ veteran-owned suppliers on our platform across the U.S. and Canada.
Did you find this useful?