Using Digital Marketing To Win Business From Fortune 1000 Companies
Landing a contract with a major buyer can have a significant impact on your business. However, large buying organizations like Fortune 1000s tend to do things differently from smaller businesses that have more flexibility in approaching new partnerships.
According to DemandGen, 67% of B2B buyers rely more on digital content to research and make purchasing decisions than they did a year ago. So if you want to drive real new business results and get in front of major companies, it's necessary to have a strong online presence that addresses the major concerns and qualifications these companies are looking for when considering new suppliers.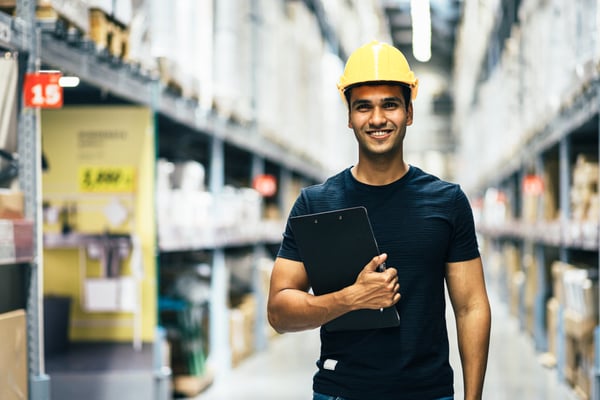 What Buyers From Fortune 1000 Companies Care About
Procurement teams at major companies have specific systems and selection criteria to carefully choose the companies they will do business with. It can take an exceptionally long time for buyers from major corporations to put together their shortlist. They start by clearly defining their specific needs for a product or service, and only when they have an apparent, firm grasp of what they want do they go looking for a provider. This process for how big companies choose new suppliers is very in-depth and time-consuming.
Major companies don't want to take any chances. They expect to work with suppliers that don't miss deadlines or quality targets or create other unwanted surprises. Their supply chains can be complex, and as they become more integrated and competitive, any supply chain disruptions can lead to massive expenses and even impact shareholder value. That's why buyers identify delivery performance as one of the most important factors when choosing a new supplier. A consistent on-time track record can set a supplier apart in an industry driven by KPIs and SLAs.
Read More: The 3 Personas That Influence The B2B Buying Process
Use Your Website To Get On The Shortlists
Because the initial decision-making process is so involved, big buyers will only consider partnering with you if they clearly understand what you bring to the table and how it's different from what your competitors can offer.
Providing the right level of detail and content marketing on your website is key to making it onto coveted shortlists. Your website is the foundation of all your efforts. To communicate your abilities as a trustworthy, quality supplier, your website should include the following information:
Downloadable CAD & BIM files — Offering

CAD and BIM

drawing downloads online enables engineers and designers to access the information they need in the exact format they require. These CAD drawings can be inserted into other major CAD software programs and emailed or downloaded to whoever needs them.

What you're all about — Your company profile should tell buyers who you are, what you do, why you're the superior choice, and how you benefit your clients' operations and bottom line.
Where you are — Are you regional, national, or international? What regions do you serve? From how many locations do you deliver? Do you offer on-site support?
What industries you serve — Which industries can benefit most from your core capabilities? How have you successfully diversified into other markets?
What you do — If you're a supplier of stock or configurable products, buyers will want detailed product specs. If you're a custom manufacturer, provide comprehensive capabilities information, machine lists, and sample project pages. Organize your product data in a dynamic online product catalog.
How well you do — Some large buyers will automatically write you off if you don't disclose your annual sales, so make sure this information is readily available to them.
What you use — Provide a manufacturing equipment list so buyers know what equipment you'll use to meet their needs.
What you're capable of — What capacities do your machines have? How does your warehouse system deliver products? Supplying accurate information is crucial.
How qualified you are — Providing certification and compliance information is also very important. Most large buyers insist that their suppliers have a certain certification level and implement a thorough QC process.
Who you are — Who are the people behind your business, and what can they offer to big buyers? Make this information clear at each step of the supplier discovery and purchasing process. Offer a simple list of contact information so prospects can easily reach you.
Create Industry-Focused Content
Buyers from major companies will evaluate you for potential risks and benefits, and they take a lot of comfort in knowing that a supplier understands their industry. Industry-focused content with valuable information and high-quality photos of the markets you serve will help distinguish you from competitors.
See how Schroeder Industries, an industrial distributor, displays all in the industries they serve on their website clearly for buyers to engage with.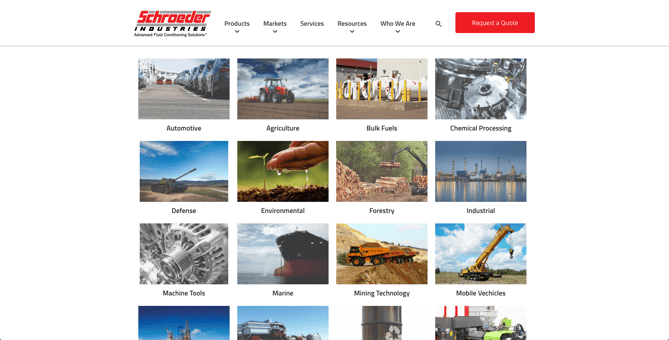 Learn More: Digital Marketing Ideas For Distributors
Service and industry-focused pages on your website can also help target buyers from major companies searching for your services on search engine results pages like Google. When they search for industrial services or products, they use long-tail keywords like "precision CNC machining services'' or industry-related terms like "aerospace precision machining." Ensure the content on your industry-focused web pages provides answers and solutions to common problems your buyers have and contains relevant keywords your buyers are searching for.
---
---
Begin Winning New Business Today
Surveys have shown that 73% of B2B buyers pay attention to a supplier's website when deciding whether to submit RFIs. As buyers from major corporations source for industrial partners online and on Thomasnet.com, it's more important than ever to invest in digital marketing and move away from dated tactics like print ads.
Listing your business on the Thomas Network is one of the most important first steps to get your industrial company found online. In fact, every second a buyer evaluates a supplier on Thomasnet.com.
---
Want to win more business by listing your company in front of the most qualified industrial buyers?
---
"We set a record for quotes in Q1, increasing them by 197% over the previous year. The average value of quotes has grown," said Ken Carlton, VP Corrugated Metals. "We have received orders in the same day. The sales team can't believe how many good opportunities they have now. Participating in the Thomas program has changed the way I market my business."
To discuss industrial marketing strategies that can boost your brand awareness among big-name buyers, reach out to the industrial marketing experts at Thomas today. We've been connecting B2B buyers and suppliers for more than 122 years.
Did you find this useful?