The Ultimate List Of B2B Manufacturing Marketing Statistics
Like macaroni and cheese or a song and a dance, some things work better together — even marketing and sales. Without alignment, it hurts your business across the board, and it doesn't just hit one of your departments. A study from Forrester found that 43% of CEOs believed that misalignment had cost them sales. Furthermore, according to Forrester Research, companies that take the time to properly engage and nurture leads improve their sales outreach at a rate of 50% while spending 33% less.
The key is to meet your buyers' needs, but they're not the same buyers from a few years ago. Today's B2B buyers are digital natives and expect content to be available on-demand, optimized for any device, interactive, and highly visual. They have higher expectations and are more informed, so their research is self-directed — which is expected when millennials are the largest workforce. And did you know that 73% of millennials are involved in B2B purchasing decisions?
Optimized content experiences with spec sheets, maintenance guides, etc. are a must-have to:
Guide buyers along the optimal buying path
Gain deeper audience insights
Achieve a stronger competitive advantage
Create better sales and marketing alignment
We hope this list of B2B marketing statistics will guide manufacturers and industrial companies in their online tactics to grow better and engage today's new age of B2B buyers.
Statistics About B2B Buyers
According to Pew Research & Merit, digitally native millennials are the largest generation in the U.S. workforce, with 73% involved in purchasing products or services for their companies — and their involvement will continue to increase as they age. One respondent of Merit's Millennial B2B Report said, "Though I'm not technically the sole decision-maker, I have a lot of influence on what we buy. I basically do the research to make the shortlist and my supervisor almost always approves my recommendation – as long as I have the facts to support it."
80% of B2B buyers now expect the same buying experience as B2C customers (IBM)
The typical B2B buying process involves six to 10 decision-makers. Each is independently scouring online for five to six content pieces to bring to the table. (

Gartner

)
74% of buyers choose the rep that was first to add value and insight (

Corporate Visions

)
20% of millennial buyers start with vendor websites, and 17% look to peer reviews (

Merit

)
60+% of surveyed manufacturers have had their sales and marketing plans impacted by disruptions from COVID-19 (Thomas)
B2B buyers are increasingly turning to business listing platforms. 93% of the Fortune 1000 has buyers using Thomasnet.com to source new suppliers
Statistics About Video Marketing
Millennials' attention span ranges from eight to 12 seconds, so it's no surprise that some prefer to watch videos. Manufacturers and industrials who add videos to their Thomasnet.com Company Profile see higher engagements with RFI submissions than those that don't.
Email Marketing Statistics
Emails continue to be one of the top ways to nurture contacts into leads and stay connected with customers. HubSpot's State of Marketing report cited promotional emails as the top email type used by marketers, but manufacturers and industrials can see high ROI from other email types like transactional, and welcome notes. Save time and track ROI by using a marketing automation platform to segment your contact lists, personalize your messages, and schedule your sends.
Wistia performed

A/B testing

on their email marketing campaigns and discovered a

21.52% increase in clicks from image to video thumbnails

. (Wistia)
Email marketing has the highest return on investment for small businesses. (

Campaign Monitor

)
Companies that A/B test every email see email marketing returns that are 37% higher than those of brands that never include A/B tests (

Litmus

)
Message personalization is the number one tactic used by email marketers to improve performance. (

HubSpot

)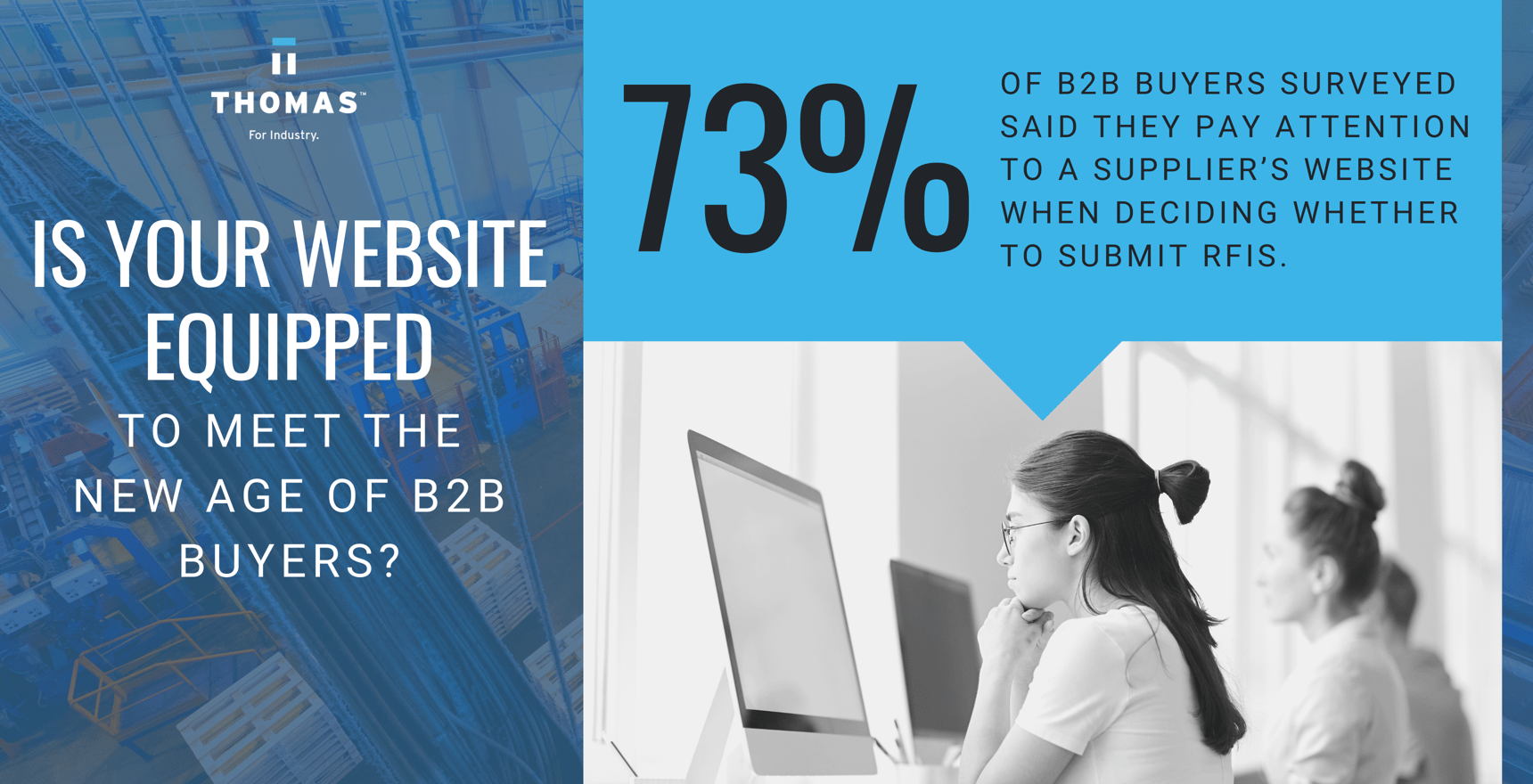 Website And eCommerce Statistics
According to a recent Thomas industrial buyers survey, 73% of B2B buyers surveyed said they pay attention to a supplier's website when deciding whether to submit RFIs. Don't forget that many of these buyers are millennials who indicate that digital channels, like search engines and vendor websites, are important factors when researching new products or services. Today, millennials are less likely to cite trade shows as being important.
They are not always browsing websites on a laptop or desktop either. If they are in-between meetings or traveling to another location site, they are likely to browse on a tablet or cell phone. An optimized mobile experience matters — according to Statista, mobile web traffic has consistently accounted for about half of all global web traffic since 2017.
As such, the product data on your website must be clear and accurate. How likely are you to keep a customer after their online order for industrial cleaning supplies needed to be canceled last minute due to a supply chain mishap? Your online product catalog should be built with your customers and distribution partners in mind.
Content Marketing Statistics
Content marketing involves creating written and designed assets to help buyers do their jobs and learn about your brand. Statistics from your content marketing efforts guide your strategy and provide you with detail into what's working and what isn't. It is not to be confused with sales content — content marketing works to earn your customers' loyalty before a sale is made.
Content media includes videos, eBooks, blogs, and infographics. When manufacturers and industrials diversify content on their website to be industry-specific, they are better equipped to engage with buyers in key industries.
Read More: 10 Content Marketing Ideas That Engage B2B Buyers [With Examples]
80% of marketers said that their content marketing objectives are better met when content is personalized (

Seismic and Demand Metric

)
67% of B2B buyers rely more on content to research and make purchasing decisions than they did a year ago. (

DemandGen Report

)
Brands that create personalized experiences by integrating advanced digital technologies and proprietary data for customers are seeing revenue increase by 6% to 10% (

BCG

)
"Diversified content on our site has really helped us stand out as a leader in the industry," said Eoin Lynch, Executive Director of Sales and Marketing at Tex Tech Industries. "Some aerospace technology can be complex, but our graphics, datasheets, and videos from Thomas Marketing Services break it down for buyers to understand what they need and how we help them."
"Thomasnet.com simply delivers the purest industrial audience on the internet. Thomas helped us connect with those new customers and let us expand into new industries," said Pete Elzer, President, Apex Plastic.
Digital Is The Most Important Channel For B2B Sales And Marketing
Many manufacturers are adept at keeping their shop floors innovative — are you adapting with the times too? On the other end of the spectrum, from web-crawling to sentiment analysis, B2B outperformers use specialized analytics to get better insights into their opportunities. According to McKinsey, leaders go where their customers are and 32% of outperformers have more than half of their customer interactions through digital channels. The habits of buyers are ever-changing, and digital tools along with a digital marketing strategy ensure you can easily still agile and outperform competitors. Check out our 2020 Ultimate Guide To Marketing For Manufacturers and Industrials to see how you can attract and engage the B2B buyers, engineers, and MROs you want to do business with.
Did you find this useful?