3D Printing And Additive Manufacturing Challenges And Opportunities
The outlook for additive manufacturing and 3D printing is promising. Back in 2017, Thomas reported on the increased sourcing activity for additive manufacturing. Although the base technology of additive manufacturing was developed in the 1980s, its use has become more prevalent in the last few years as advancements grow and prices drop. Sourcing activity sessions for additive manufacturing systems in 2020 was up 37.8% compared to 2019. And according to Statista, the global market for 3D printing and services is expected to grow to almost 50 billion U.S. dollars by 2025.
Opportunities and Advantages of Additive Manufacturing
Early adopters used additive manufacturing technology to speed prototyping and help in reverse engineering parts. This technique has become a staple in many custom metal, and plastic fabrication businesses as designers gain more experience with the additive manufacturing process.
Flexibility For Time To Market And Product Differentiation
Additive manufacturing technology now sees increased adoption beyond prototyping into end and spare part production because it offers complexity and performance advantages that are not possible with conventional methods, traditional machining, or molding processes.
Testing performed by NASA in 2013 led engineers to believe additive manufacturing-produced fuel injectors were a viable technology for final production engine and rocket parts. With additive manufacturing technology, they redesigned an engine fuel injector to contain just two subcomponents, rather than 115. Aerospace was one of the first industries to take up 3D printing, but that continues to change.
Additive manufacturing enhances product differentiation to better meet individual direct-to-consumer needs without the need for retooling or assembly. Last year, 41% of professional organizations used 3D printing to focus on accelerating product development. Companies are evolving their products in response to rapid market demands — almost two thousand 3D printing specialists offered 3D print masks, respirators, valves, and more to combat the COVID-19 pandemic.
Eco-friendliness, And An Efficient Supply Chain
For years, sustainability is a value that's been changing consumers' way of life and driving companies along the supply chain to be more concerned about their impact on the environment. According to Nielsen, the U.S. sustainability market is projected to reach $150 billion in sales this year. In the face of climate change and global competition, many manufacturers are pledging their support for sustainability and combining product performance with a responsibility to people and the environment.
Sustainability can be a success factor. From additive manufacturing's point of view, one of its biggest advantages is recyclability. It creates a smaller environmental footprint due to its efficient use of resources and a shorter supply chain.
Challenges with Additive Manufacturing Technologies
Businesses that make the change to 3D printers will likely operate with fewer personnel and less overhead. But Gartner's research found that 63% of enterprise additive manufacturing users deploy the technology for prototyping, while only 21% use it for items that cannot be made with any other technology. And according to Deloitte, in some cases, "engineers only use 3D printers to test out idle curiosities; in others, the additive manufacturing machines are simply left in the corner to collect dust."
Deloitte suggests that these statistics indicate there is still something preventing manufacturers from integrating additive manufacturing technologies into general manufacturing processes, and there are still technical challenges like design, capabilities, and IT.
The evolution of 3D printing has been extraordinary. And although 3D printing is being used for rapid prototyping in many industries like aerospace, medical, and automotive, the technology to create large, complex products still needs work before it achieves widespread adoption. There's an opportunity for additive manufacturers to partner with chemical companies to accelerate new materials development. For example, there is no set of common standards on additive manufacturing materials' mechanical and thermal properties. Deloitte recommends that the development of globally-defined standards must be a priority for growth, e.g., "fire resistance of certain materials and parts" for certain industries.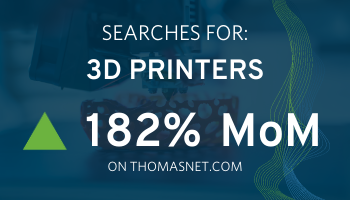 UNLOCK PROSPECTS: See new industries you can do business in with a free custom buyer report
While modern factories have taken steps toward digitization on the shop floor, the scope of a digital transformation should cover the entire business and supply chain. Digitizing data could help solve any quality issues and reveal a better understanding of how additive manufacturing materials perform. Because additive manufacturing is still a young technology and is primarily looked at in economic advantages, experts like Deloitte suggest the technology relevant for product and quality assurance is not there yet.
Compete for New Business Opportunities Today
Additive manufacturing is useful in many industries, including automotive, education, military, and even food manufacturing. It has a role in changing a range of manufacturing methods and truly revolutionizes the industry and economy.
Protolabs is a 3D printing, CNC machining, injection molding and sheet metal fabrication company. Last year, Protolabs (and many other manufacturers) worked quickly to produce new medical supplies for customers during the wake of the COVID-19 pandemic.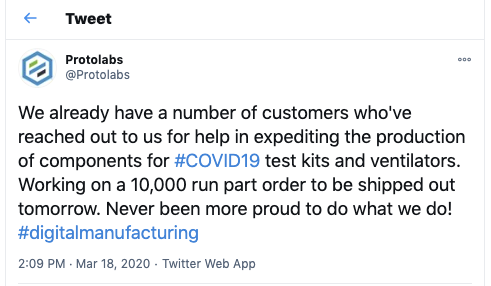 Digitization and the ability to pivot quickly has proven to benefit the manufacturing industry. Join other innovative additive manufacturing companies utilizing digital advertising to grow their business with a free company profile on Thomasnet.com to get seen by more buyers looking to source North American suppliers. The Thomasnet.com registered user audience includes buyers from 93% of the Fortune 1000.
---
Manufacturing company profiles on the Thomas Network let the medical industry (and others!) partner with the right suppliers fast.
---
Editor's Note: If you're sourcing suppliers for COVID-19 items, click here for those manufacturers and distributors. If your industrial business can support the production of essential supplies to combat the COVID-19 outbreak, please complete this form to notify us of your availability and willingness to dedicate resources. Thomas is working with State and Federal Government offices to help mobilize manufacturers to deliver supplies and services.
---
You Might Also Be Interested In:
Other Industry-Specific Blogs:
Did you find this useful?