Challenges And Opportunities In Medical Device Manufacturing
Encompassing broad items as simple as bandages all the way through to ultra-high-tech pacemakers, the U.S. medical device market is the largest in the world. Forbes called it a "disruptive" market of $410 billion through 2023. Today, "disruptive" is an appropriate word.
More than a decade ago, the medical device manufacturing industry saw an increasing emphasis on design and simplicity, driven by software and technologies. And innovation contributed to a shift in power from the pharmaceutical to the medical device industry. These days, there is still a high demand for technological, intuitive devices — with a faster time-to-market than ever before. Hospitals, medical facilities, and other markets are pressuring medical device manufacturers to be more secure, innovative, cost-effective, and efficient.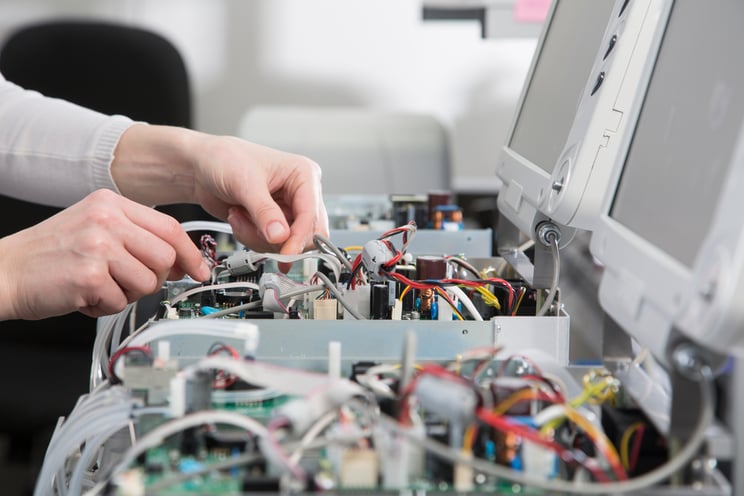 Editor's Note: If you're sourcing suppliers for COVID-19 items, click here for those manufacturers and distributors. If your industrial business can support the production of essential supplies to combat the COVID-19 outbreak, please complete this form to notify us of your availability and willingness to dedicate resources. Thomas is working with State and Federal Government offices to help mobilize manufacturers to deliver supplies and services.
Technology And Security
The fourth industrial revolution, largely known as Industry 4.0, introduced manufacturing to a world of state-of-the-art digitalization, like IoT, robotics, and artificial intelligence. It also introduced a pressing concern for cybersecurity.
Cybersecurity of medical devices became more of a concern after an attack on the National Healthcare Service in 2017 and paralyzed U.K. healthcare computer systems. In 2018, the FDA recalled two healthcare defibrillator models after finding a potential security breach in systems. The vulnerabilities could allow a hacker to access the device and possibly deplete the battery or issue impromptu cardiac commands.
Threats and vulnerabilities in any business situation can never be completely eliminated. However, with an increase in technological security threats affecting product quality, contributing to high recall rates, and introducing the likelihood of patient harm, the FDA has placed mandatory reporting tools in place to monitor device performance and detect potential issues. There are pre and post-market cybersecurity guidances manufacturers must address — meaning, it is the responsibility of the manufacturer to test the product before releasing it and implement patches after product release too. Manufacturers simply must be able to demonstrate their products are safe and reliable throughout its lifecycle, so continuous and efficient monitoring is imperative.
Regulations And Government
Under the Medical Device Reporting (MDR) regulation, manufacturers are required to report certain adverse events or product problems to the FDA about medical devices. The MDR has also evolved in Europe to ensure a consistently high level of public health and patient safety standard — for example, manufacturers are required to collect data about their performance in an effort to improve transparency.
Notably, critiques of the medical device regulations from the FDA and EU are conflicting — that regulatory requirements are so complex they hinder device availability to the public and yet regulatory requirements that are not strong enough put citizens at risk. As we've seen with the COVID-19 pandemic, the healthcare environment is complex and the supply chain logistics in the medical and pharmaceutical industry are critical to any emergency health situation.
Manufacturers should act on the opportunity to streamline operations and improve data management to not only build stronger, more collaborative relationships throughout the supply chain, but to create efficient responses in times of need. Pharmaceuticals, medical device manufacturers, hospitals, and health facilities must work together to navigate regulations and manage risks throughout every step of the quality control process and product lifestyle.
For example, health care delivery organizations and manufacturers must collaborate closely to communicate any necessary changes to devices like new patches or network upgrades — it is not a particular responsibility of one party over the other, but a joint responsibility.
Related: The Internet of Things Challenges For The Supply Chain
Product Design Processes And Development
While continuous innovation supports new product design and development, the added impact of regulations on the manufacturing sector is resulting in simpler administrative tasks and increased legal certainty and credibility of the overall medical device system.
Manufacturers should see this as an opportunity to improve their processes while staying ahead of competitors. A top medical device company reported an annual cost reduction of $1.2 million within two years after implementing an electronic trial master file (eTMF) system — a process where documentation is moved from paper to electronic.
Medical device regulations and technological advancements are constantly evolving. Manufacturers should implement a data management strategy that provides a complete view of data to help with ongoing compliance and regulations. Data-driven decision-making would be more impactful to inspections and the supply chain — and many processes could even be automated with digital transformation solutions.
Solve Your Manufacturing Challenges Today
Deloitte's 2018 survey of U.S. healthcare consumers and physicians discovered more than half of consumers use technology to track their health. Meanwhile, only 9 percent of providers have implemented technology for remote monitoring or have integration of data from wearables, and just 27 percent of providers intended to add this capability by 2020. Today's regulations and data being collected not only enable the manufacturing sector to produce safer, more effective innovative devices, but should be a signal for manufacturers to provide robust and reliable evidence that their devices can reduce costs, improve efficiencies, and lead to better patient outcomes.
Public and private collaboration can be extremely effective in solving health and safety challenges, and it's more important now than ever in today's digital world to maintain trust and transparency. Thomas has been powering the manufacturing and industrial space for more than 120 years, so we understand first hand what it takes to innovate through challenging times.
Manufacturing company profiles on the Thomas Network let the medical industry (and other industries) partner with the right suppliers fast.
Help address today's global health challenges and strengthen the future's foundation for manufacturing success by letting buyers know you are capable of supplying critical medical equipment with a COVID-19 badge on the Thomasnet.com platform. It will show buyers that you're available to source critical items like PPE, masks, respirator components, etc.
For more manufacturing insight to solve your challenges, visit the resources below:
See what companies from other industries are searching for your products and services with our free prospect report.
2020 Q1 Sourcing Activity Data: It's no surprise that medical equipment and supplies are on the list of Top 20 Products sourced on Thomasnet.com last quarter. Find out the other top products are services in our quarterly activity snapshot.
Join other pharmaceutical companies who are utilizing digital advertising to grow their business with a free company profile on Thomasnet.com to get seen by more buyers looking to source North American suppliers
Request a free Digital Health Check and receive an analysis of how your online presence compares with competitors and find out exactly what you can improve to get more buyers
Subscribe to our email newsletter, Thomas Industry Update, to get daily news like these straight to your inbox specifically for manufacturing and industrial companies
For mission-critical information and to support the manufacturing industry in the fight against COVID-19, visit our COVID-19 Resource Hub
Other Industry-Specific Blogs:
Did you find this useful?