9 Best Industrial Website Design Examples
A great website can be one of your best marketing tools helping to attract prospects, establish trust, capture leads, and ultimately win new business. But what separates a great website from the rest of the crowd?
At Thomas, we've helped build and optimize more than 5,000 sites for manufacturers and industrial companies, so we know an awesome website when we see one. Here are some of the best manufacturing and industrial websites on the web today.
1. American Alloy Fabricators
American Alloy Fabricators is an ASME-certified manufacturer located just outside of Philadelphia, Pennsylvania serving the Pharmaceutical, Biotech and Chemical Processing industries and offers complete custom fabrication services.
Note that their homepage immediately displays their ASME certification — something that buyers look for. We also love how their homepage features a unique — but clear — CTA: "Start Your Project Now!" It gives the user insight into exactly what their next step is when they click the link.
Related: CTA, CTR, and More — The Essential Dictionary of Industrial Marketing Terms
American Alloy's site has a very intuitive navigation, so prospects can quickly and easily get where they need to go. Their Resources section features a blog that helps solidify American Alloy as a thought leader by answering common questions.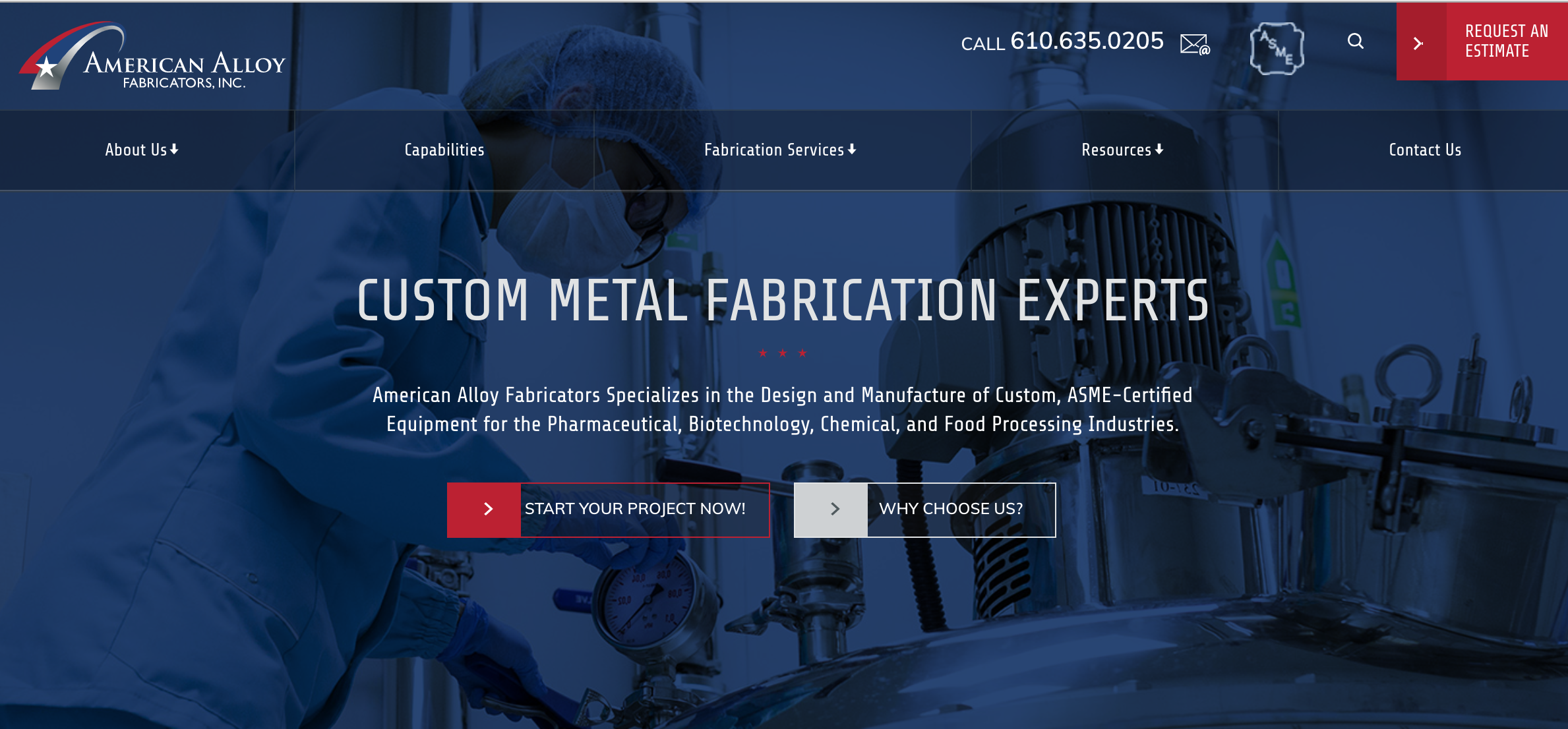 2. Dedicated Computing
Dedicated Computing is an original design manufacturer (ODM) of highly engineered computing systems for OEM customers, primarily within the healthcare, life sciences, training and simulation, and industrial markets.
Dedicated Computing offers very complex solutions, but everything on their site is simple and straightforward. The title text on the homepage sums up what they do perfectly, with a subtle hint of branding thrown in as well.
The module used for the "DC Spotlight" is a great use of real estate at the bottom of the home page. Featuring a company blog or news section on a homepage is a good way to boost traffic and viewership of the organic areas of your site.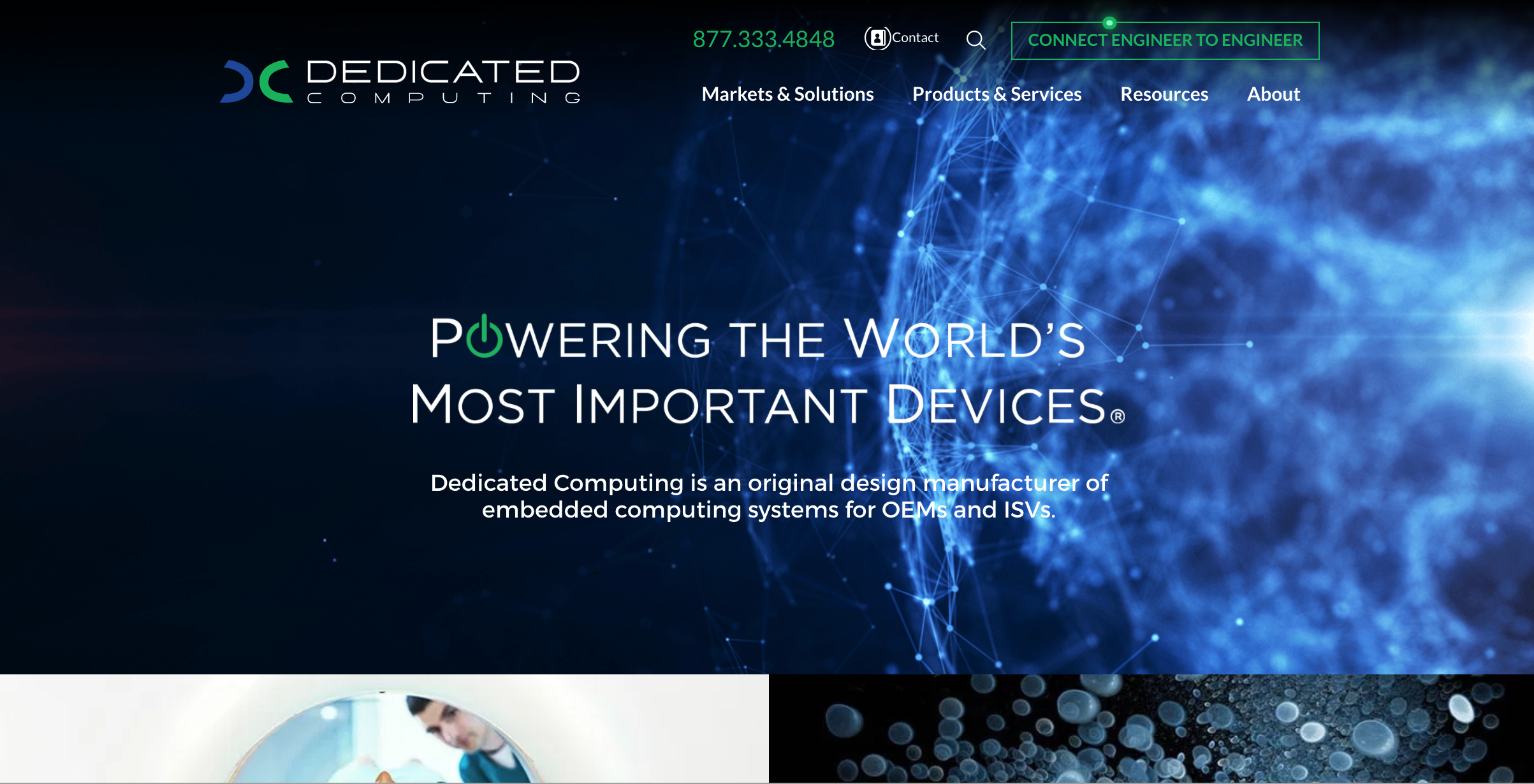 3. Lockheed Martin Corporation
Lockheed Martin is an aerospace, defense, security, and advanced technologies company — you probably already knew that. But what you probably didn't know is that Lockheed Martin is also a great storyteller. In fact, they've made their blog — not their products or services — a focal point of their site, so when you land on the homepage and begin to scroll, you can't help but engage with these articles.
While a blog is the heart of any content strategy, many companies view it as an afterthought. By featuring the blog content so prominently on their site, Lockheed is leveraging its content to highlight their expertise and innovations, while building relationships with visitors and converting them into leads.
Closer Look: 12 Ways To Improve Your Manufacturing Blog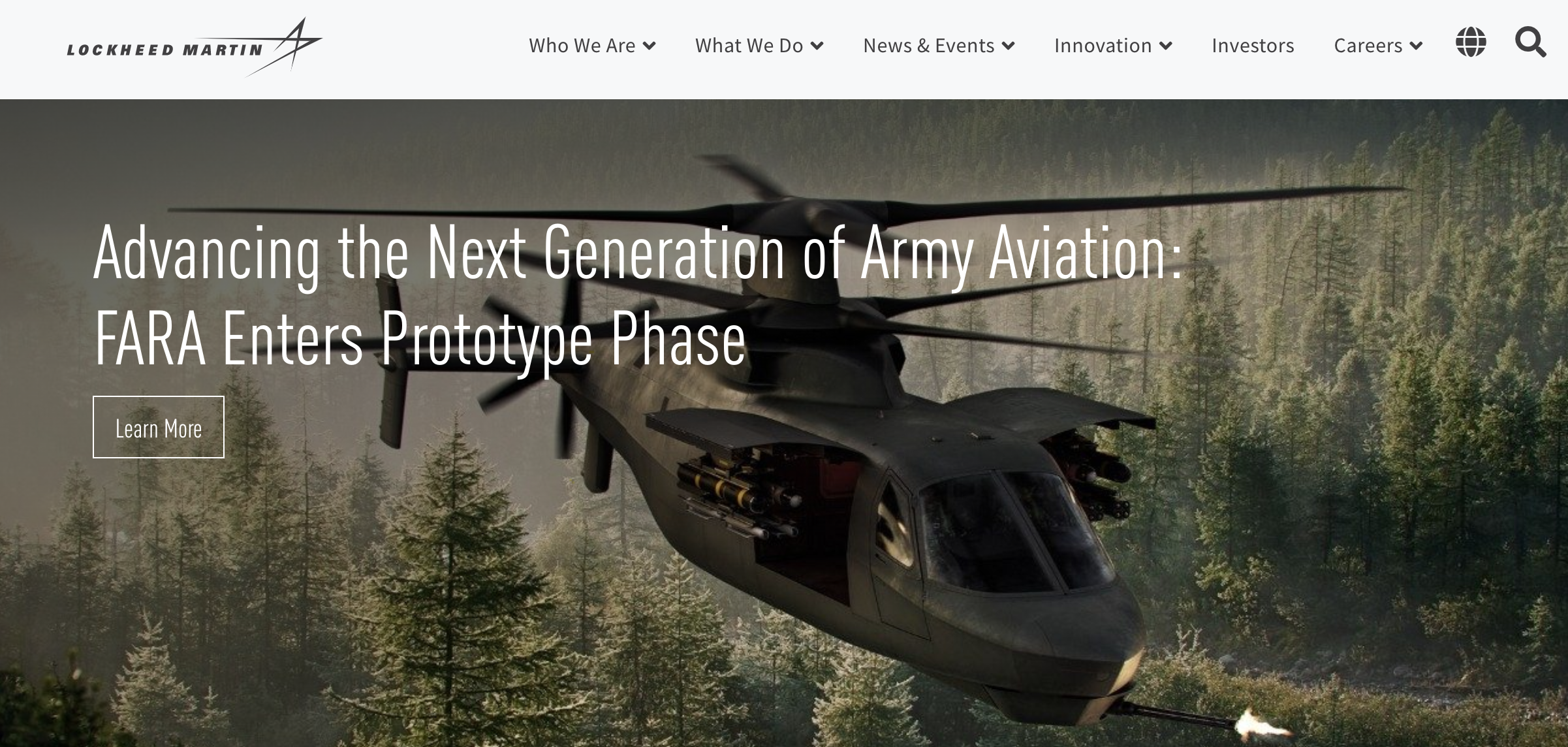 Video is also utilized strategically across Lockheed Marin's website, which helps diversify the content and engage with visitors. For Lockheed Martin, videos clearly break down the company history and their mission.

---
Engage Your Prospects With Video Advertising
Thomas offers video content production for FREE for OEMs, Distributors, and Service Companies
---
4. Glauber Equipment Packaging
Glauber Equipment Corporation designs and builds custom fabricated skid systems, pump systems, compressed air systems, landfill gas treatment systems, and more.
The first thing you'll notice about the Glauber site design is its use of color. The smart use of white space evokes a minimalist, clean design, and allows the accented, branded red to stand out — that "Request A Quote" button just screams, "click here."

Below the fold is a large "products" module, which is easily navigable and allows users to learn more about the company's offerings without even touching the navigation menu. While many sites employ a market or industries module on the homepage, Glauber's execution is unique. Their website has a module that uses an "accordion tab," and when you hover over an icon, a corresponding CTA and description appear. It's a good way to limit overloading visitors with CTA buttons while still making it easy to get to the right place.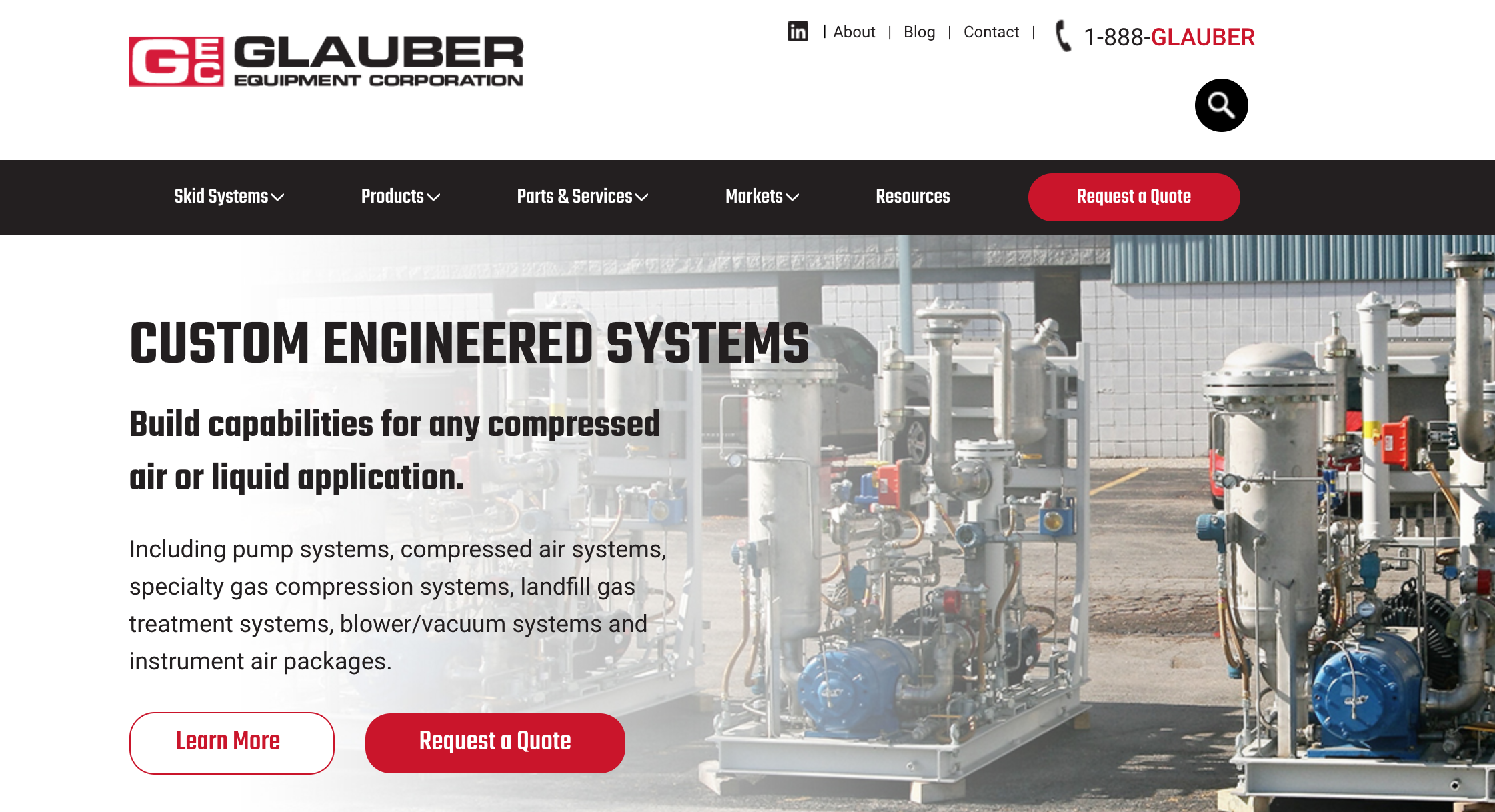 5. M3 Glass Technologies
M3 Glass Technologies is a global leader in producing and shipping custom fabricated glass products. This family-owned company is now on its third generation of owners and has evolved each decade since the 1950s up-to-the digital age of today.

There are a few key features to note on the M3 homepage, starting with the CTA that is placed above the fold. What makes this CTA special? It draws the reader in with its popping brand color, its hover animation, and the simple design around the CTA that draws viewers in to click.
Something else that the M3 Glass site does well that more manufacturers are utilizing is video marketing. Not only is video one of the top mediums for marketing, but using testimonial videos are a great way to showcase to your customers how you can help them from your customers' perspective.
Another Angle: Creating Content For Case Studies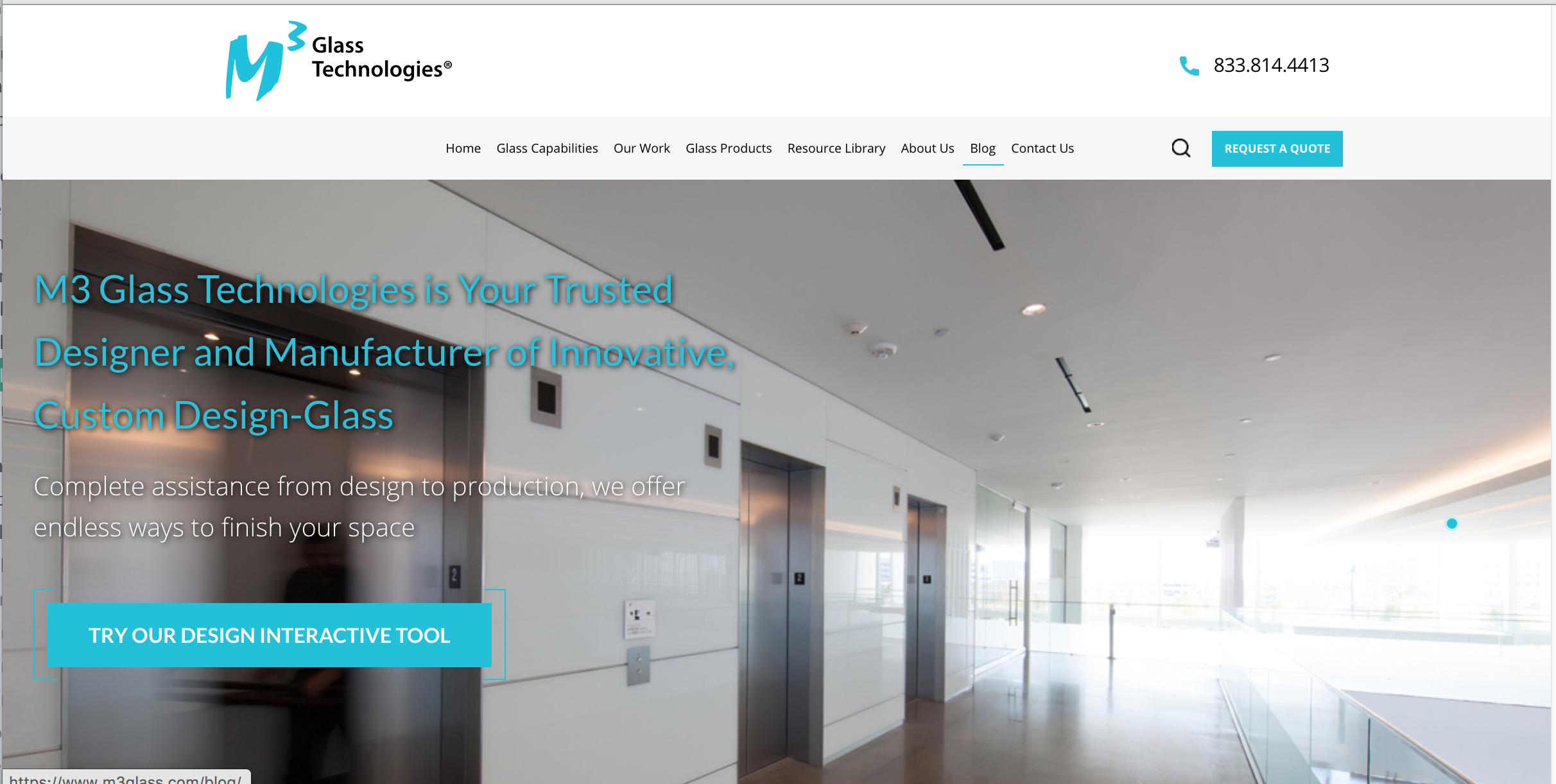 6. Plex
Plex is an ERP manufacturing software that connects manufacturing operations in a cloud to provide visibility and control over manufacturing processes. It should come as no surprise that a software solution company website uses a cutting-edge website design.

Plex incorporates videos in their header instead of one traditional hero image, which is very effective in drawing users in and catching their attention. There are multiple CTAs (Get The Report, Read More, Product Demo, etc.) to help increase online submissions.
7. Mac Instruments
Mac Instruments manufactures industrial instruments. With a focus on moisture analyzers and flow meters, Mac Instruments is a world leader in high-temperature moisture measurement in industrial processes.

The Mac Instruments website stands out thanks to a dark, bold theme. Each product page features a lot of in-depth information, including data sheets, handbooks, wiring information and more. Having a lot of valuable content like this on site pages can have a huge impact when it comes to search engine optimization and usability.
Increase Your SEO: The Manufacturer's Guide To Online Product Catalogs
Another great feature that Mac Instruments utilizes is a "Back To Top" CTA, which provides an easy user experience for their audience to get back to the top of the webpage.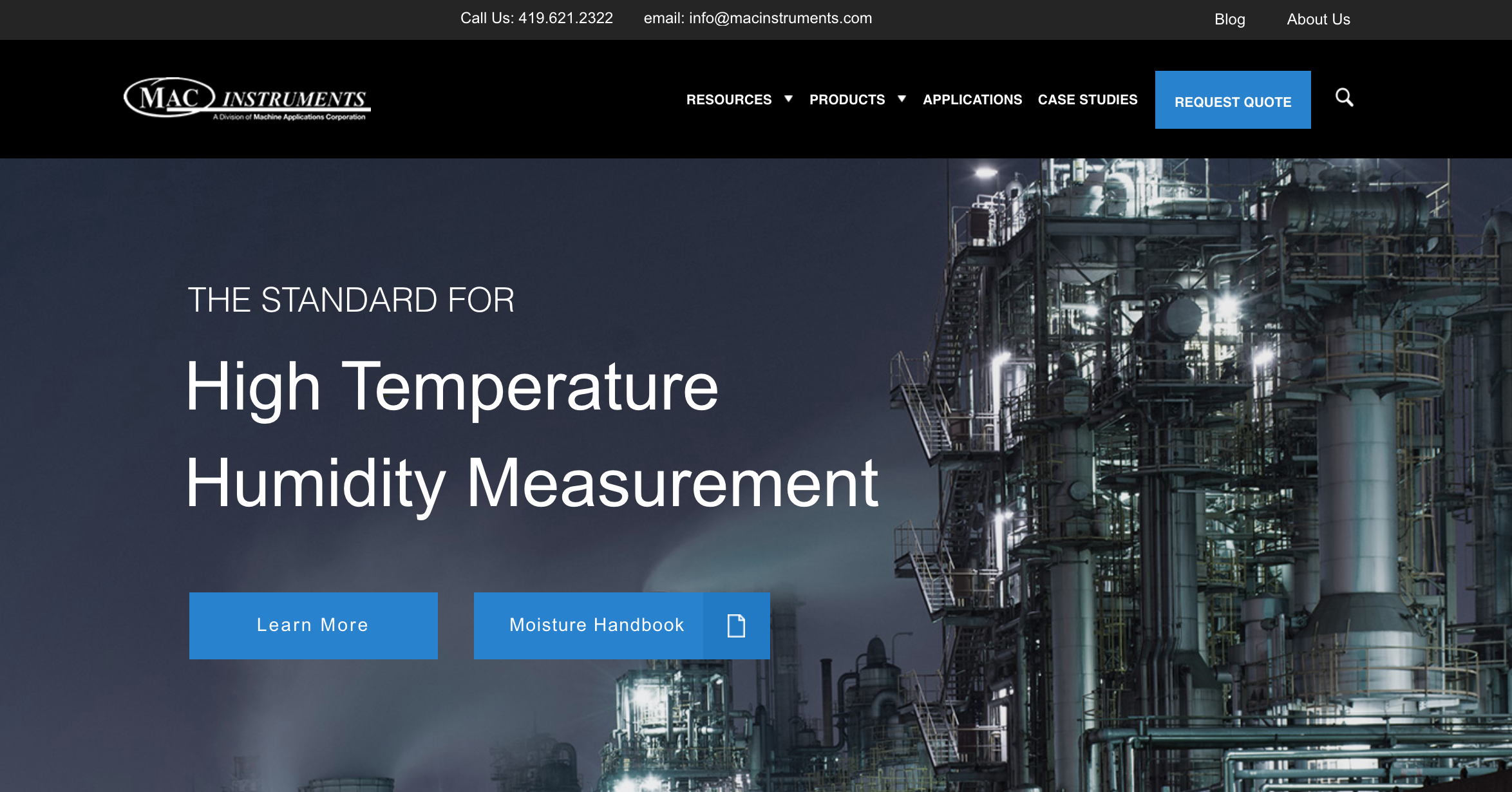 8. Mattei
In 1958, Mattei developed the rotary vane compressor and since then, these machines have been used worldwide in nearly every industry and market. Let's face it, first impressions are everything. You have about seven seconds to grab a visitors attention before they potentially navigate away from your manufacturing website. With that in mind, Mattei certainly does a great job of catching your attention. The first thing you'll notice is that the homepage has some simple, yet effective animations for the homepage copy, images, and navigation bar.
The combination of the language used and the dual-toned headers paint a picture that is bold, attention-grabbing, and authoritative. By displaying images of Mattei products, there is a clear understanding of what the company offers — product images are one of the criteria buyers use to evaluate them. Throughout Mattei's website is SEO-rich, professionally written copy to provide great detail about their capabilities and the industries they serve — while boosting their visibility in searches.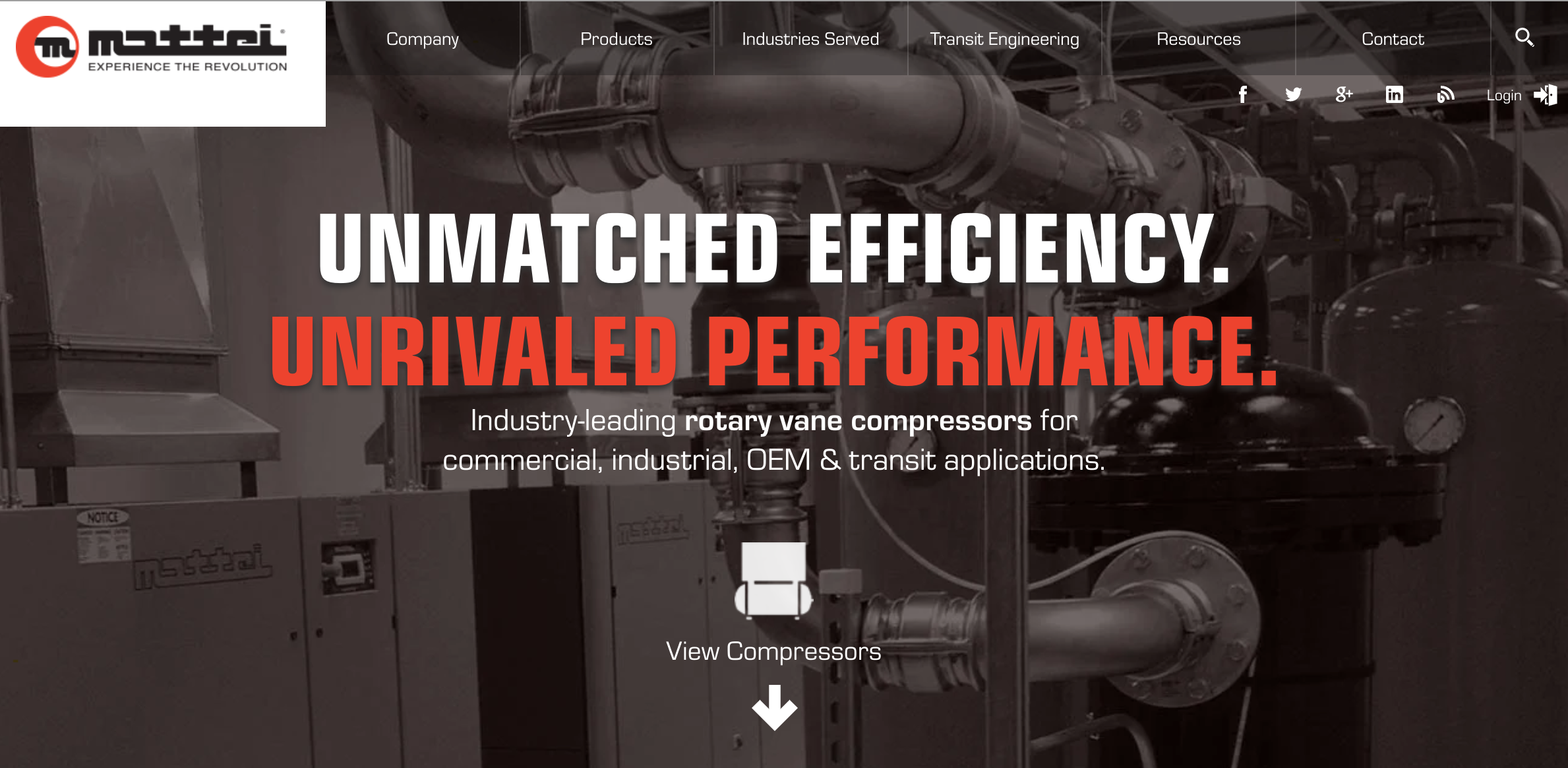 9. Dehumidifier Corp
Dehumidifier Corp does just about everything when it comes to dehumidifiers. The products they offer vary from dehumidifiers, control systems, condensers, and duct heaters serving a wide range of industries.

What makes this site stand out can't be seen with the naked eye, but happens behind the scenes. The company utilizes A/B testing to drive continuous improvement and ensure that its site is always being optimized. A/B testing is a component of Growth-Driven Design (GDD), which is a more analytical and data-driven approach to website design and development. Unlike traditional web design, GDD focuses on iterative testing and improvements, capturing visitor behavior, and making decisions fueled by actionable data — not gut instinct.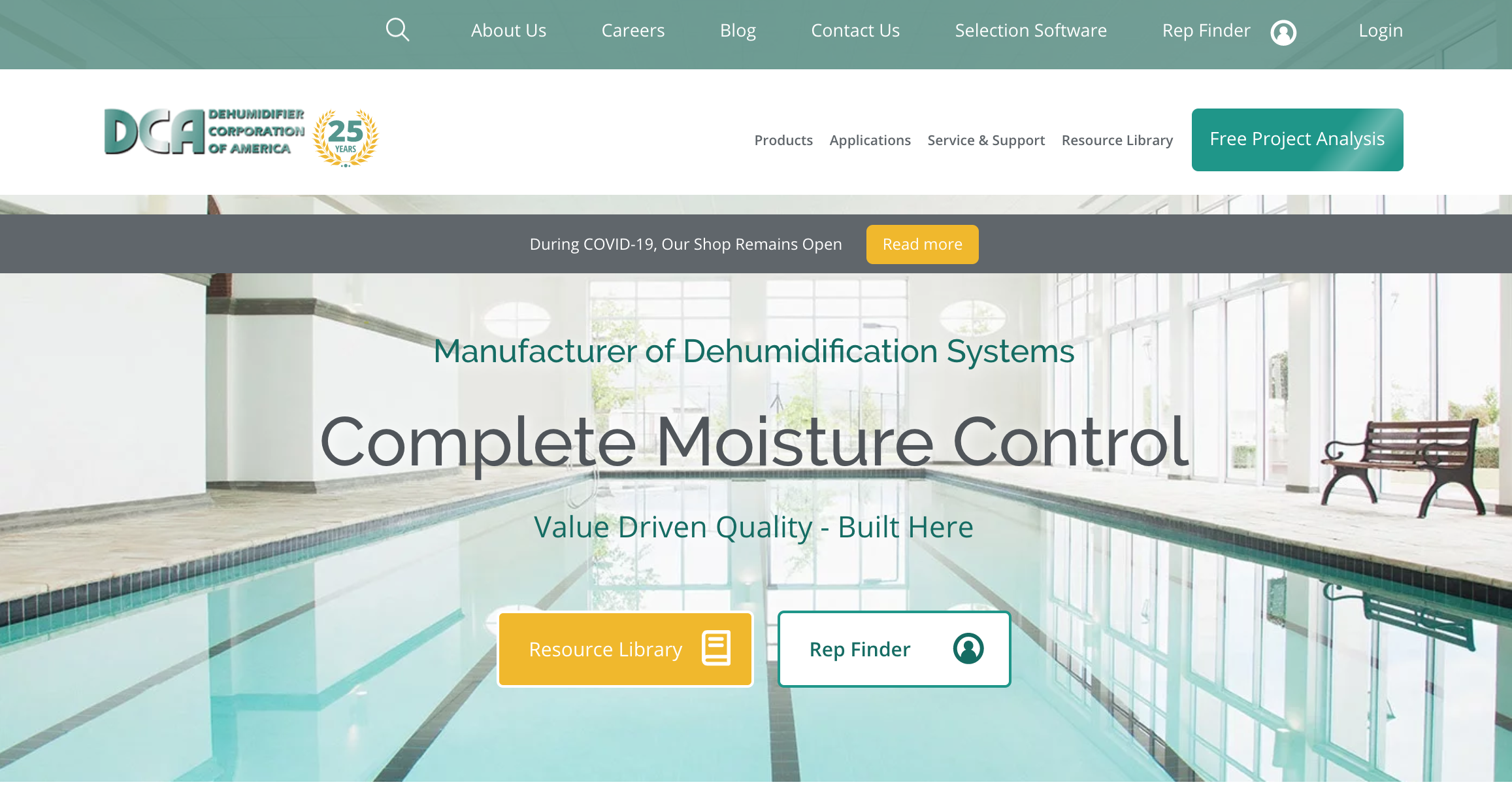 Manufacturing And Industrial Website Design Must-Haves
Everything on your website — images, content, navigation, and other website basic elements — need to be customized specifically to your audience and your industry. With that in mind, there are definitely certain traits that all great websites have in common and that your website needs in order to be successful. They are:

Clean Design
Branded Elements
Prominent Logo
Mobile Responsive
Intuitive Navigation

Easy-To-Use-Forms
HTTPS Encryption
A Contact Us Page
Great Content

Thomas Marketing Services has helped more than 5,000 manufacturers and industrial suppliers build and optimize their websites, and we know what buyers and engineers look for when they land on your site. We offer a free Digital Health Check for industrial companies and manufacturers to see exactly how they can improve their online presence. To learn more about our website design and development services for manufacturing sites, contact us today or download our 25 Website Must-Haves to get started on your own.

Additional Industrial And Manufacturing Website Design Resources:
Industrial Digital Marketing Services From Thomas:
Did you find this useful?