The Must-Haves On Your Industrial Company's About Us Page
An inbound marketing strategy needs to provide compelling copy on your website to persuade an action from your audience. A perfect place to do so is on your company's About Us page. This is where you share your story — what makes your business unique, trustworthy, and valuable as a partner. The About Us page should be easy to navigate with content that is informative, useful, and overall engaging — but too often, this page reads like an afterthought.

The following tips share key information that your About Us page should contain to be successful and complement your inbound marketing strategy. Plus, we'll take a peek at a few industrial companies who have this About Us page thing nailed down and gain some insight from their examples.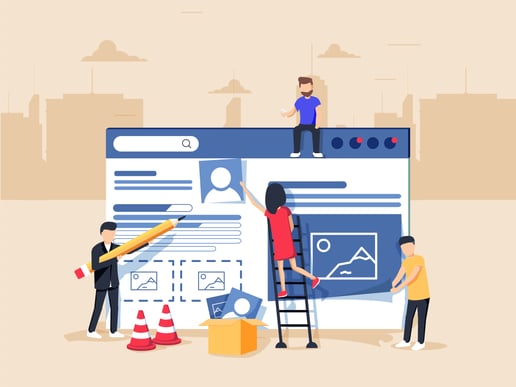 What to Share on the About Us Page
While most pages on an industrial company's website are dedicated to the promotion of products and services, the About Us page is the place to promote the business behind them. Share your brand's identity and what sets your industrial business apart from the rest.
Company Credentials
In the manufacturing industry, your credentials are critical. Potential customers look for specific credentials to ensure quality and value from both your products and services as well as your company itself. Your industrial business's About Us page is the right place to share this important information.
When including your business's credentials, be sure to include the following:
ISO Certifications: List the specific ISO certifications your company holds. Be sure to follow all ISO promotional rules when publicizing your ISO certifications. You are not allowed to modify ISO's logo for your business's use and must request permission from the organization to use this logo. There are specific ways a business must refer to their ISO certifications and how you represent them.
Business Status: Does your business hold

diverse or small business status

? If so, list it here.
Quality Information: Describe your business's quality policies and processes so your audience recognizes this commitment.
A Brief History
The About Us page is the right location to share your industrial company's history. It is easy to get carried away and share more detail than necessary, especially for businesses with a lengthy history. Keep your company history section short and sweet filled with the most important information.
Your brief company history should include:
The year your business was founded
The company's mission statement
Key personnel, including the President, CEO, and Founder
Consider sharing a brief biography of your company's leadership. Doing so shares the people behind the business and helps personalize your company to your audience. Keep these bios brief and include information relevant to the business, such as the person's related experience and credentials.
Facility Information
The details of an industrial business's facilities help make a particular business stand out amongst competitors. Highlight your facility information on the About Us page with the following key information:
Facility location(s)
Capabilities
High-level products and services
While your main service or product pages are where the in-depth information is provided, use your About Us page to remind your audience at a high level what it is that your company does and offers.
3 Industrial Manufacturing About Us Pages We Love
Now that you know what a good industrial business About Us page includes, take a look at a few examples of industrial companies who do it right:
Agile Magnetics
Agile Magnetics enhances their About Us page with video content to illustrate their story. They've also included free resources at the bottom to assist in lead generation.
Learn More: Check out these 30 Industrial Lead Generation Tips, Tricks And Ideas
The Rodon Group
The Rodon Group boldly displays association memberships to build credibility with their audience. The company actively engages their audience to pursue the website further through related blog links.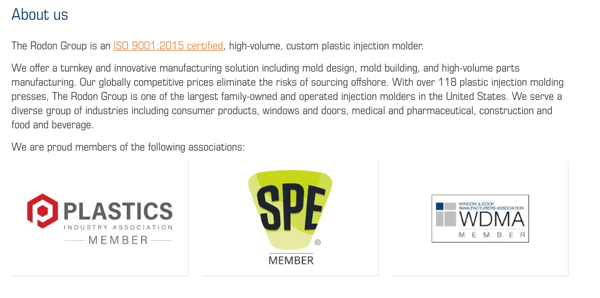 Sigma Thermal
Sigma Thermal details what sets their facility apart from competitors. They also briefly introduce the company's management team.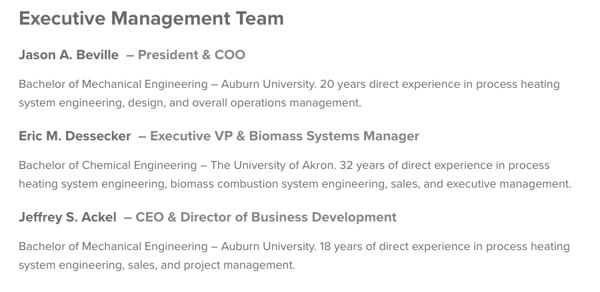 Final Thoughts on Your Company's About Us Page
Good news! All the elements of a strong About Us page can be listed as part of your Thomas company profile to help buyers easily find your business.
Creating your industrial business's About Us page doesn't have to be a daunting task. Think about what makes your company stand out — this key information helps you craft compelling content to include. Feature your company's credentials, history, and facility to give your audience a better picture of what your business is all about.
Want to learn some more website design tips that can help guide your visitors? Download our eBook, "9 Of The Best Manufacturing Websites To Inspire Your Next Redesign." Need a new website design? Contact our team.
Did you find this useful?