OEM Website Design Examples & Tips To Help Increase Leads
The best and most successful salespeople today are those that go far beyond a good pitch. They are the ones that know their market and their products inside and out. More importantly, they speak to a customer's main question: "What's in it for me?" Many times, though, your website is the first "salesperson" a potential customer will encounter. Is your website built to grow qualified website traffic and leads? Whether you serve as a resource to distributors or sell products directly to the end-user, your website needs to provide technical information built to convert qualified leads. Below are OEM website examples and tips you can employ to help make your website a highly effective 24-7 sales channel.
Website Design Examples And 4 Lead-Generating Tips For OEMs
1. Be An Industry Expert
Great salespeople know their industry like the back of their hands. Simply put: Expertise sells! Buyers want to see that you have the knowledge and skills necessary to solve their problems. Agile Magnetics is a custom OEM magnetics company. Its website demonstrates this knowledge immediately from the homepage — visitors can immediately note the certification icons front and center.
Quality certifications are just one of the many factors that buyers use to evaluate suppliers — and one of the many items that suppliers consistently overlook so make sure they aren't difficult to find. In addition to detailed technical information about products/services, Agile's website articles and resources showcase the knowledge of the markets they serve. This gives buyers confidence that they are dealing with the right people.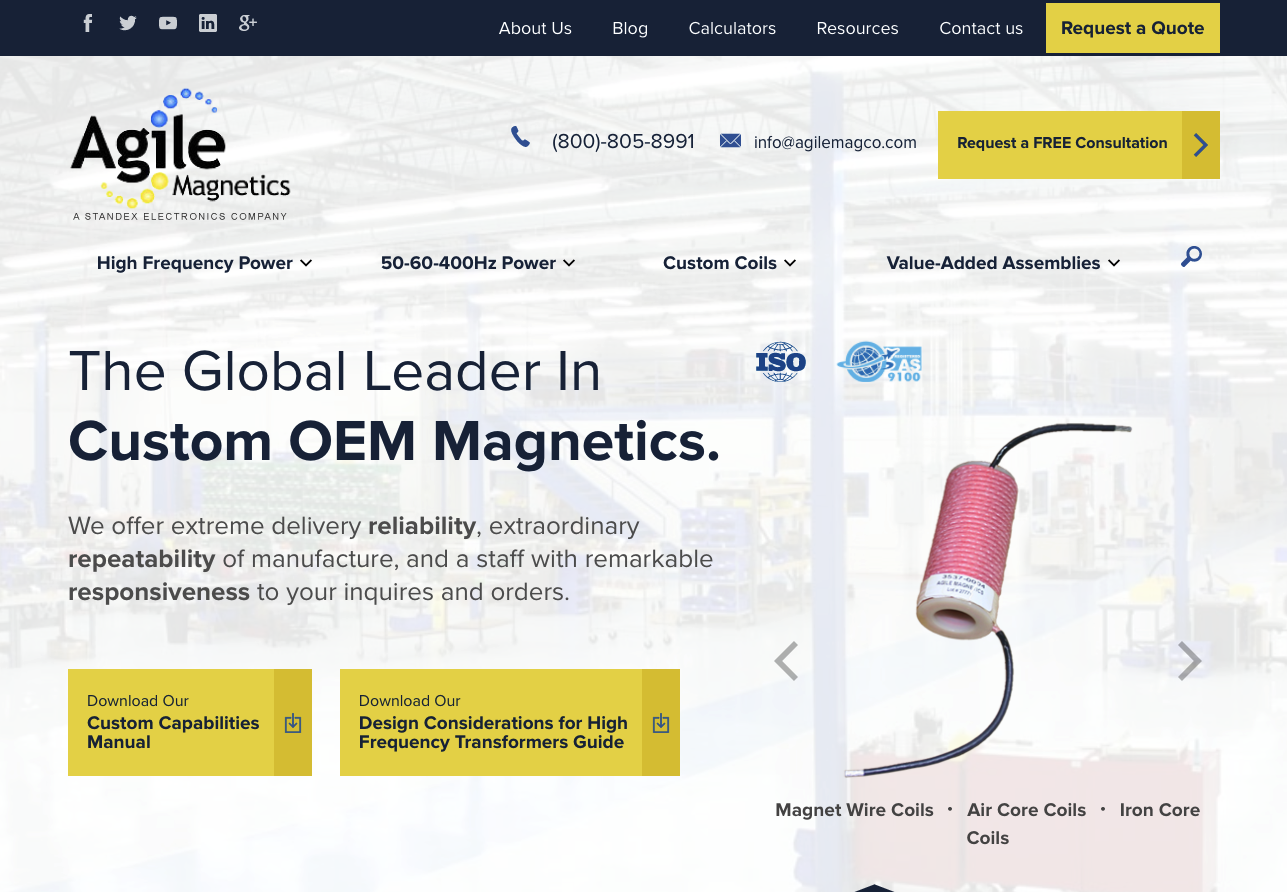 2. Showcase All The Details Of Your Products
As with industry knowledge, deep product knowledge is core to successful sales. Skip the "pitch" and focus on the meat of the matter on your website: Include detailed product information and key dimensional data, as well as industry-standard specifications that apply, or a detailed description of service capabilities. Triad Magnetics provides all the technical product data and high-quality images engineers are looking for, including CAD models.
If applicable, your website should detail the machines on site, tolerances you can hold, quality assurance practices you follow, and production volumes you can support. And product catalogs should be in HTML format. Buyers will have lots of questions—and you need to prove that you can answer them.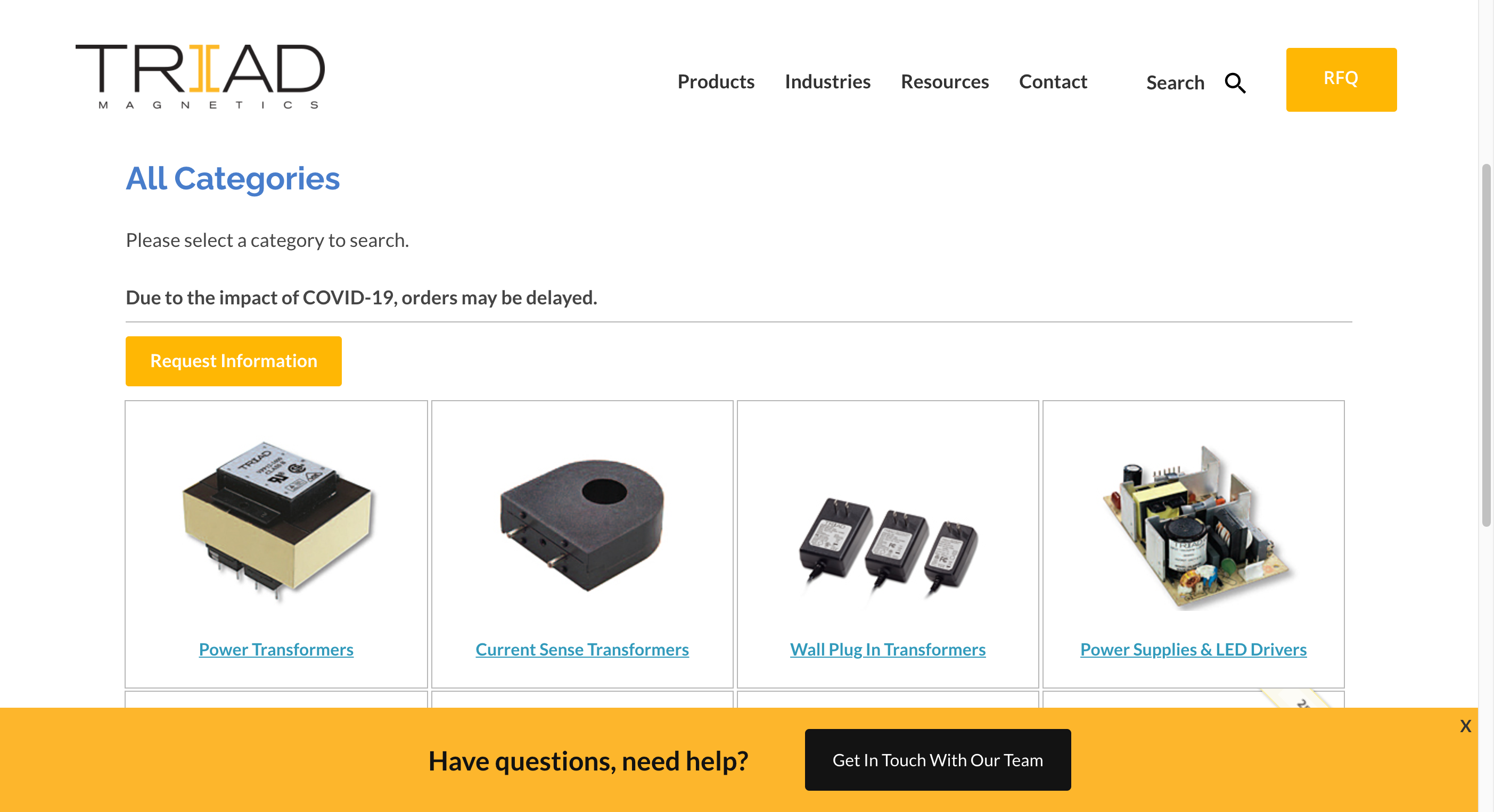 ➡️ Thomas Fact: Triad Magnetics' website is powered by Thomas Navigator, an online product catalog toolset specifically designed for manufacturing. Triad's newly designed website with online product catalog capabilities increased both page views, unique page views, and overall site speed.
3. Respect Your Customer's Time
According to Harvard Business Review, the best salespeople spend the most time researching customers' specific needs. An effective sales website is the reverse—it allows customers who are researching you to find all the information they need.
Get Started: More Lead-Generating Website Examples & How To Build One
Mosaic Microsystems provides thin glass solutions for demanding next-generation microelectronics and photonics packaging needs. Their website offers easy navigation to their visitors, and each page has a consistent navigation menu.
OEMs like Mosaic Microsystems provide the most important information (technical details) within a click or two of any given page. Internal search functionality offers a major convenience for most buyers. Buyers don't want to spend hours browsing your site to find what they need. The easier you can make it for them to find something, the more likely you are to be considered for purchase.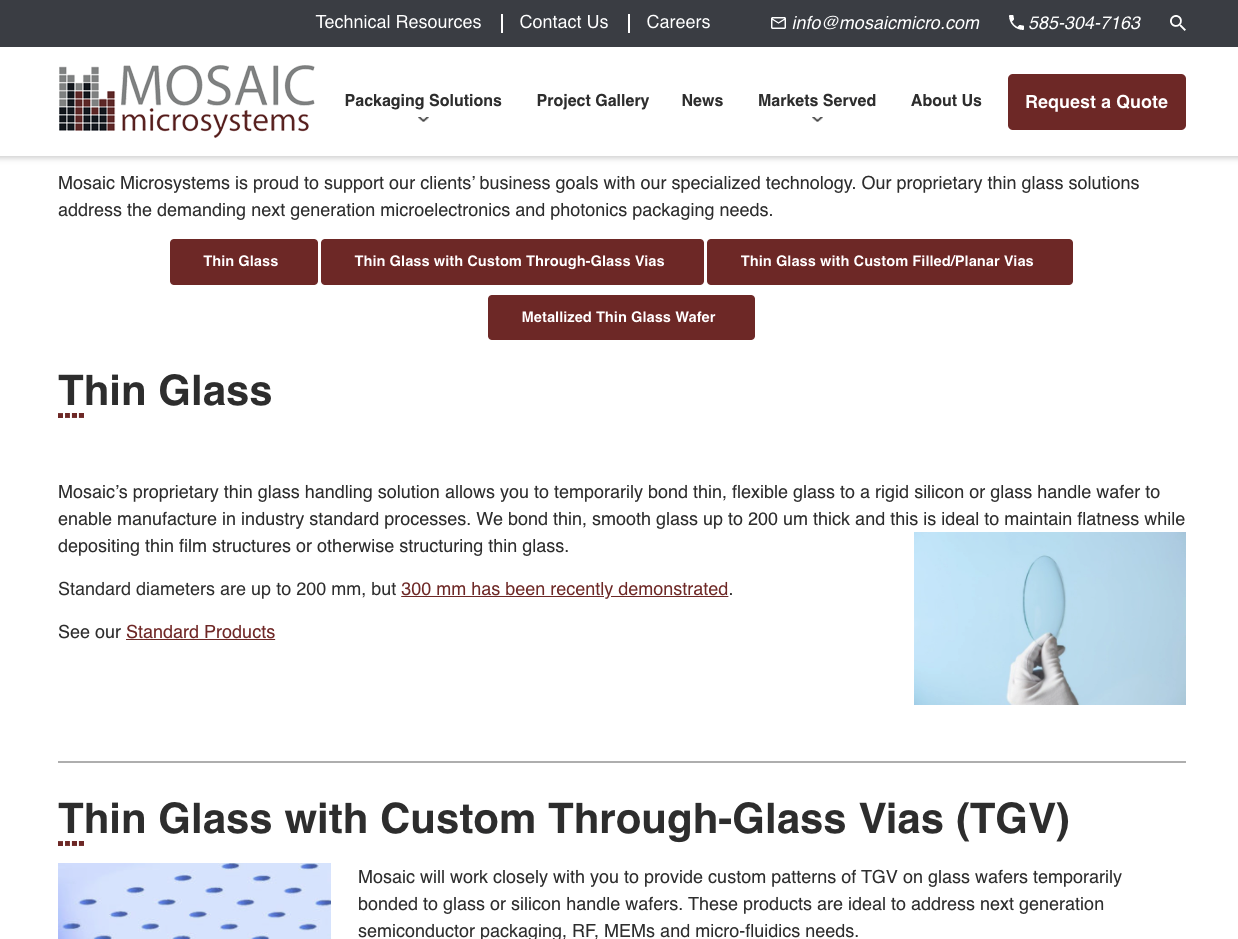 4. Understand The B2B Buying Process
Sometimes a purchase has to pass through many hands before being approved. Top salespeople know that some of those hands will want to know the business implications of working with you. For your website, that means presenting cost-related information, including ROI scenarios. Customer testimonials and case studies are also important. For most industrial buyers, the buying process cycles between technical matters, reputation, trust, and reliability. They will want to see all of those considerations addressed on your website.
OEMs can also publish an Industries Served page like United Gear Assembly in their website example below. Each page showcases its expertise and capabilities as a top supplier in the respective key market.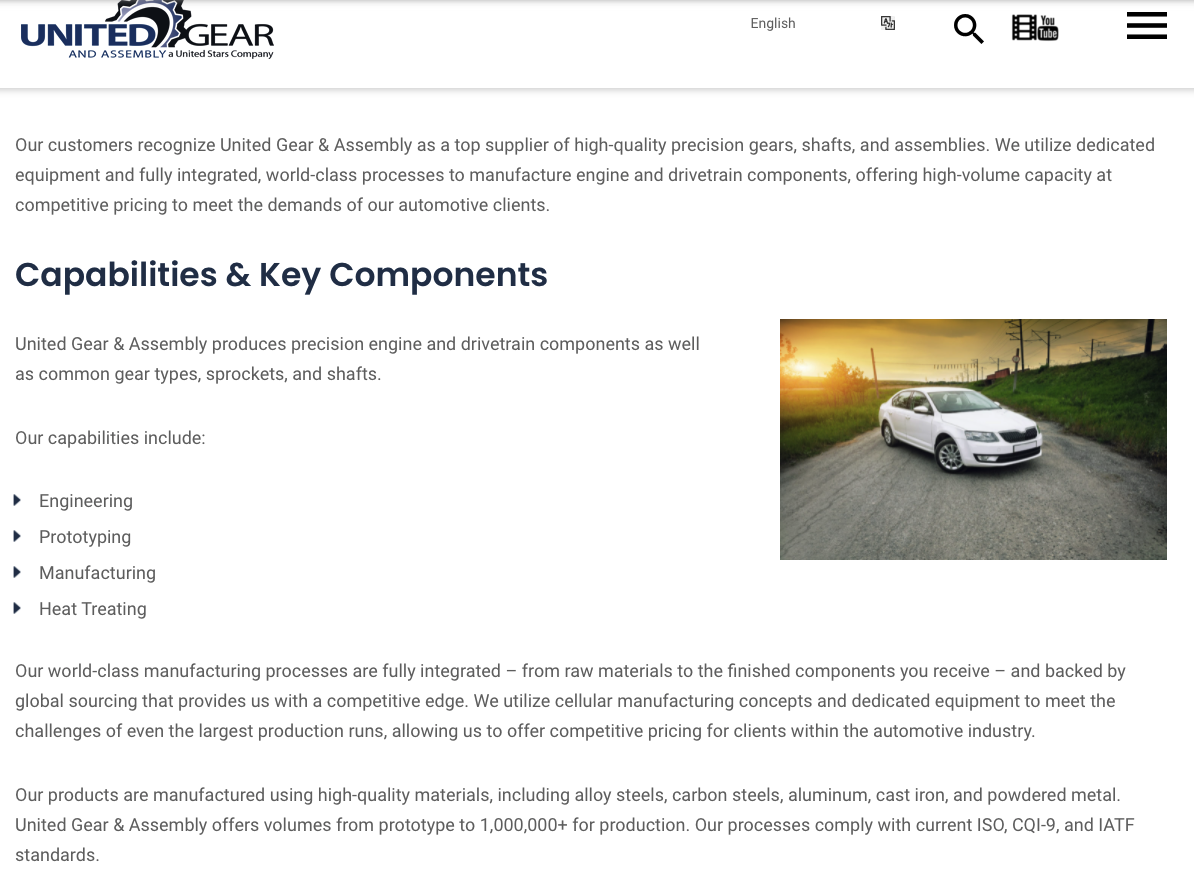 United Gear Assembly is a supplier of precision gears, shafts, and related assemblies to many global OEMs. Their website also clearly communicates the following content that they are flexible and able to adapt to meet their customers' industry demands:
Prototype Gears
Short Lead Times
Fully Automated Manufacturing Cells
Dedicated Work Cells for Long Run Parts
Engineering Consultation/Collaborative Design
Amphenol Nexus Technologies' website is also built with their customers' buying process in mind. They design and manufacture superior quality audio plugs, jacks and MIL-S-8805/3 push-button switches and their product catalog features those standard products with high-quality graphics. With less time trying to sort through product information, their website visitors get the information they need faster, increasing the likelihood of a sale and repeat business.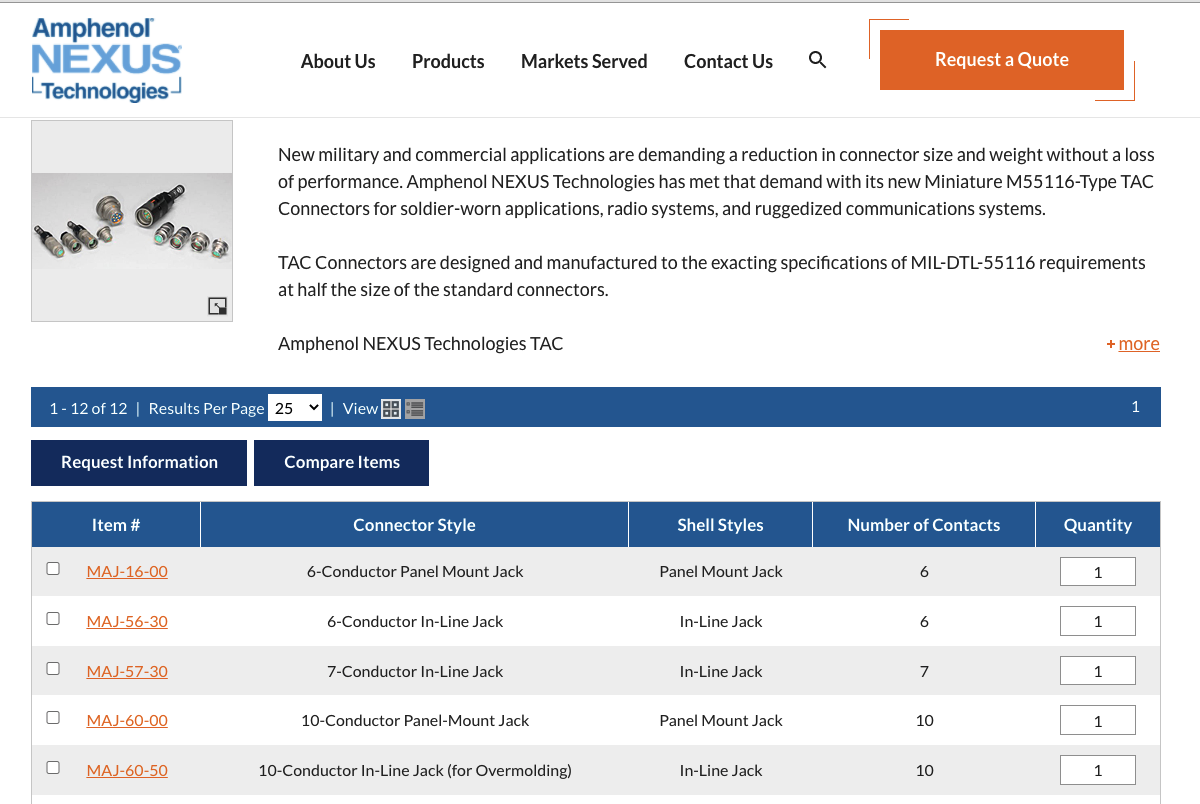 ✅ Thomas Tip: Top salespeople can connect a customer's issues to the value his/her solutions can deliver. Does your website convey that value? If you're unsure, request our free digital health check so you can get an assessment of your efforts.
"As a marketing department of one, it has been really helpful to have Thomas around to help with our marketing strategy as opposed to making it up as we go," said Jeff Collins, Partner at Renown Electric. "Our website is now ranking on the first page of Google and our customers really appreciate the resources we're sharing."
Digital Efforts Create Growth For OEMs
According to a study by Accenture, 85% of surveyed B2B buyers listed the supplier websites as the most popular channel for conducting research online, but buyers are not satisfied with the level of information offered — only 37 percent who research a supplier's website said it was the most helpful channel.
The same study found that 69% of B2B buyers abandon their cart for many reasons related to the online experience:
35 percent abandoned their carts because the website page did not load properly
26 percent abandoned their carts because the checkout process took too long
22 percent abandoned their carts because the checkout process was too confusing
Address your conversion rates and incorporate value-add features into your websites to streamline the online buying experience like a CAD library, product configuration, high-quality graphics, clear CTAS, and a list of certifications. Unsure how to begin? Request our free digital health check and we'll review checkpoints to improve your website and increase leads. Our marketing experts are supported by degreed engineers and have connected B2B buyers and suppliers for more than 122 years.
"With Thomas running our lead generation efforts and marketing, our sales increased by 60% in just one year," said Bob Ryan of CJ Winter. "Thomas maximized our company exposure, drove a record number of qualified leads, and helped us turn these opportunities directly into sales dollars."
Did you find this useful?