Thomas Navigator Vs. Shopify: What's The Best Catalog Management & eCommerce Toolset For Manufacturers?
The rapid pace of innovation and the number of technologies available in the market have caused eCommerce to emerge as a major necessity for businesses in all industries, including the manufacturing and industrial distribution space. B2B buyers' expectations of personal shopping experiences and seamless online transactions have also been carving the manufacturing industry's path to transformation.
According to the most recent B2B Market report, total eCommerce sales generated by all U.S. manufacturers last year increased by almost 21% to $430 billion. A recent Manufacturing & eCommerce Benchmark report revealed nearly 2/3 of manufacturers are operating in eCommerce, up 17% from 2017 and up 29% over 2015. And Euromonitor market research estimates that 17% of goods will be bought online in 2021, nearly doubling from 2016.
The adoption of eCommerce and product data management technologies continues to rise, and there are many tools for manufacturers to choose from. While there are many effective eCommerce tools, they don't always meet industrial businesses' needs to generate leads while supplying engineers and B2B buyers with what they need to make an easy purchasing decision.
So as manufacturers accelerate their digital plans to meet today's B2B buyers' needs, it's important they select an eCommerce vendor that is laser-focused on manufacturing.
Three Major Advantages of Thomas Catalog Navigator Vs. Shopify
Providing engineers and B2B buyers in the industrial space with additional support and resources to help them finalize a product selection requires an investment in digital tools and the following capabilities:
Complex Configuration
CAD & BIM File Creation & Distribution
Product Data Syndication
Let's look at how each of these major components sets Thomas Catalog Navigator apart from the competition to help industrial companies meet their buyers' needs.
Complex Product Configuration
Complex industrial products can have upwards of tens of thousands of different configurations to meet a buyer's specific application. Outperforming your competitors can be as simple as making it easy and efficient to purchase your products.
With product configurator technology from Thomas, you and your customers can easily configure complex products within seconds directly on your website. Taking that a step further, once a product has been selected, specified, and purchased, 94% of designers are likely to specify it again in future projects.The flexibility to specify your configurable products day or night without engaging a technical salesperson or engineer can save your customers time and let them work at their own pace.
Using Thomas Navigator configuration technologies on your website's product catalog makes it easy for engineers and B2B buyers to input their exact needs and find the specs that work for their project, in turn decreasing the sales cycle dramatically. While Shopify does provide the option to include 3D models in your online store, they aren't able to be configured by buyers and engineers to fit their needs.
See in the example below how Spirol designed their product catalog for engineers to configure their custom products.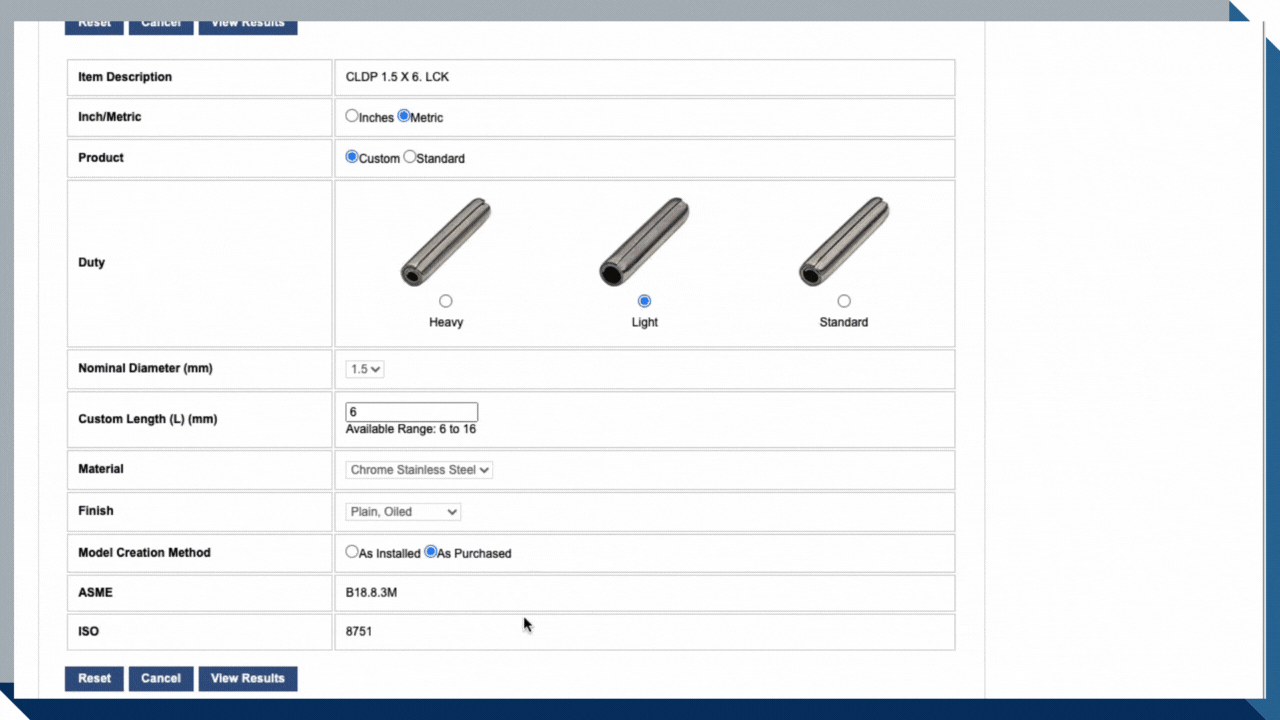 CAD & BIM File Creation & Distribution
Design engineers and sourcing professionals regularly look for 3D CAD and BIM files that offer product specs and performance data to ensure that their sourcing will be compatible with their application. Concerned primarily with form, fit, and function, they want to virtually configure the part they need online, download the 3D model, insert it directly into their design, and immediately assess its fit.
Studies show that 89% of design engineers only select components from manufacturers who provide CAD models online of their exact configured products.
Shopify lets you enter product descriptions like product weight, size, and color but is limited in providing CAD and BIM files that design engineers need to complete their jobs. Thomas Navigator provides these functions and more. It supports buyers, facilitates your sales strategies, and supplements your eCommerce experience by making CAD files readily accessible for use in digital models. When you incorporate these file types for download on your website, you provide a next-level, greater range of product data in the formats your customers require. During an engineer's research phase, these assets are critical, and making them available for download can create leads for your sales and marketing teams at a 2.5x greater rate than text-based product information. These leads also give you insight into a project ahead of your competitors.
With Shopify, you'd have to use in-house resources or a third-party to create 3D versions of your products whereas Thomas supports its customers by creating CAD and BIM files which are often time-consuming processes for manufacturers. Additionally, OEMs and industrial distributors can leverage the Thomas TraceParts Network to help you distribute your CAD files as a lead generation tool across 46 industrial platforms to over 27 million in-market buyers and engineers.
Providing engineering and sourcing professionals with rich content and CAD files not only helps attract potential customers and increase your brand exposure but also illustrates your dedication to providing your clients with accurate, comprehensive information — boosting your reputation within the industry and establishing you as a reliable resource for your customers.
Product Data Syndication With Thomas Connect
Keeping your vast amounts of product data updated and current in many online destinations is a big job and a top concern for manufacturers dealing with eCommerce and product catalogs. Data accuracy requires special tools, processes, and commitment. Thomas Connect from Thomas Navigator is a Product Experience Management Toolset that ensures up-to-date and accurate product data is delivered in the appropriate file formats throughout your sales channels.
A study by Forrester found that 77% of B2B buyers consider the availability of real-time data on inventory level as "important" or "very important" to their purchasing experience.
Shopify lets you sell products on a variety of online B2C sales channels while being able to track the data of your products and orders in one place, but Thomas has your business' complete growth in mind from a B2B perspective. Thomas Connect's product data syndication gives you an effective toolset to manage how your product data appears across the web. This way, industrial OEMs can keep the data on their site consistent, high-quality, and up-to-date, while simultaneously controlling how that data flows into their other sales channels and distribution partners. Maintenance becomes easy and intuitive — when you update your product data once, it becomes automatically updated in real-time across all of your sales channels.
Thomas Connect's technology enables you to analyze and improve interactions with your distributors and buyers by delivering product data in verified formats optimized for the unique product data guidelines of major B2B distributors such as Motion, Kaman, Fastenal, and more.
In the example below, Penn Engineering, the manufacturer, shares content with Hi-Tech Fasteners and Zygology, which are their distributors. Penn Engineering has shared its entire catalog structure through the Thomas Connect platform, including rich product content, assets, and CAD.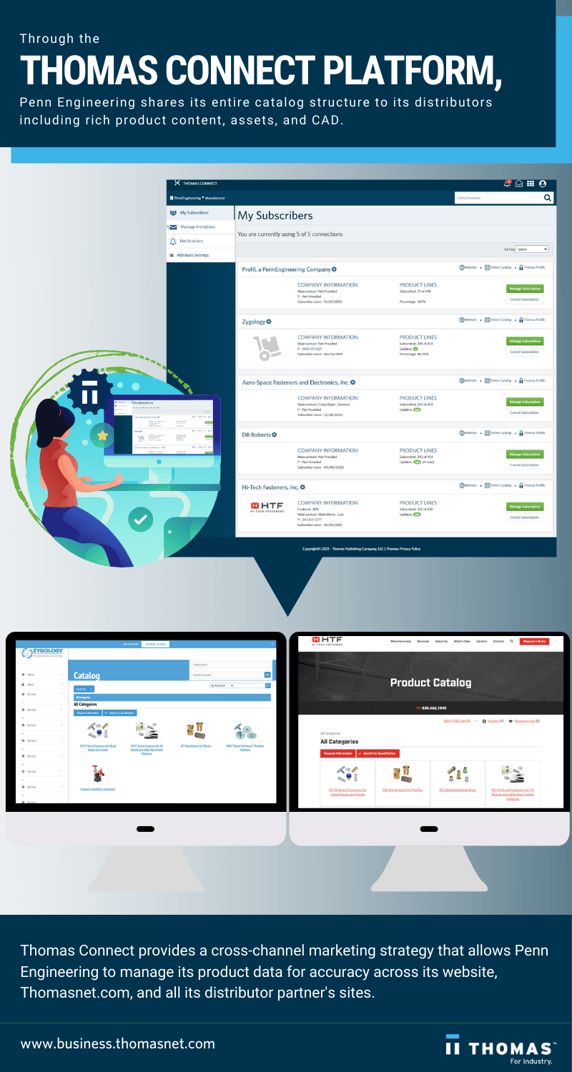 BONUS: A Product Information Management, eCommerce Toolset & Support Team Dedicated To The Industrial Space
Filling a new eCommerce store with products, data, and files can be complex. Our industrial product specialists are laser-focused on building effective digital catalogs for the manufacturing and industrial space on a platform designed for lead generation. In addition to powering your website with industrial marketers, our services include support by degreed engineers to give you a successful, streamlined buying experience for your prospects, customers, and distribution partners — like Oriental Motor's product catalog below. It has a clean PLP design that is seamlessly integrated into its site where engineers can search for products by specification.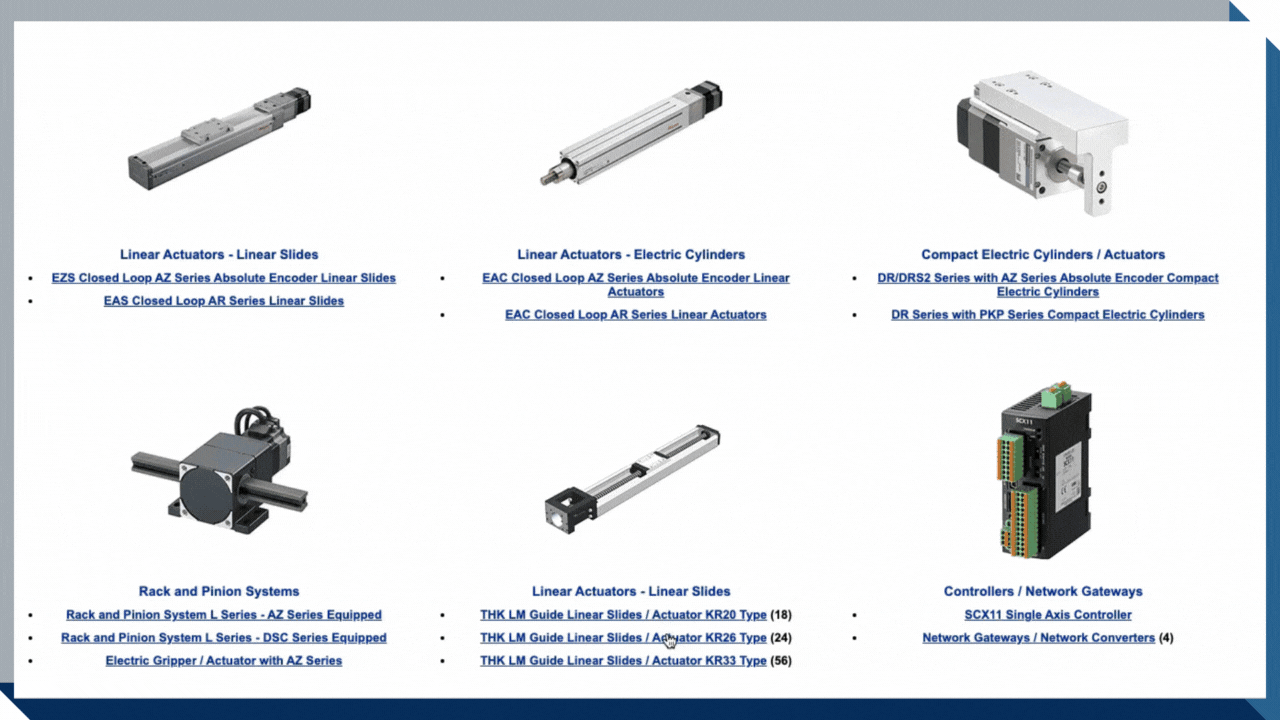 Digital investment in an online product catalog solution provides advantages that span further than sales — studies show that 31% of manufacturers who invested in eCommerce have benefited from reaching new markets, and 38% experience improved business efficiency. To learn how you can stay ahead of competitors, improve the overall customer experience, and grow your business, download our eBook, The Manufacturer's Guide To Building Effective Online Product Catalogs or contact us for more information.
Did you find this useful?