The Manufacturer's Playbook for Shifting to Direct to Customer Selling
How Manufacturers Can Build a Strong Direct to Customer Sales Model
For many manufacturers, leveraging a network of distributors and resellers has historically been the simplest way to get their products to the end-users.
Working with third-party distributor groups has provided logistical support & warehousing, sales support, and existing relationships with regional end-users to allow manufacturers to focus on other pressing matters like product design, process development, and quality control.
However, in the face of COVID-19, the shift toward direct-to-consumer sales has accelerated.
Manufacturers are putting serious effort toward growing awareness of their brands and creating a smooth, efficient digital presence designed to compete with the experiences consumers are used to, like Amazon and other online retailers.
If you want to sell direct to consumers, you need to create a smooth user experience that creates feelings of trust in your brand, ease of use, and support.
These manufacturers not only realize the benefits of selling direct to consumers like increased profit margins and more control over the perception of their brand, but they've also come to understand that through the use of an effective digital marketing and user experience footprint, they can go direct to consumer more easily than ever before.
So how can manufacturers create a digital experience that lets them go direct to consumer? We will explore four major points:
Building Effective Product Catalogs & Digital Experiences
Increasing Brand and Product Awareness
Managing Relationships with your End-Users
Preparing for Logistical Changes
Building an Effective Product Catalog & Digital Experience
Customer expectations in the digital world have changed drastically in terms of the types of experiences users have come to expect from the companies they buy from.
Manufacturers that want to make the shift to Direct to Consumer sales need to help prospects find their website, offer an immediate and intuitive understanding of how to find the products and services they're looking for, and offer the ability to compare, contrast, configure, and purchase products or request quotes seamlessly. A Thomas survey showed that 76% of industrial buyers listed difficult navigation as the most important reason for leaving a website without considering buying.
Broken down simply, the major components of an effective product catalog for manufacturers include:
Product Search Capability
Product Comparison Functionality
Product Configuration Functionality
eCommerce Checkout/RFQ Submission
Product Search
The biggest starting factor for manufacturers looking to create an effective product catalog that will assist end-users is the need to organize all of their product SKUs and associated product data.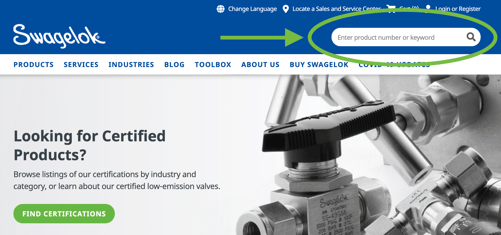 Customers will expect to be able to search for and quickly find the products they need along with any of the necessary accompanying product data. This might include product specification sheets, performance data PDFs, or BIM or CAD files. 61% of surveyed users prefer suppliers with search capabilities on their websites.
Product Comparison
Once users find the products they're searching for, it is important to give them the ability to easily compare and contrast different products or materials to see how they will perform in their application and its end environment. This means allowing users to select multiple products at a time in a format that lets them immediately see what will work best and which products to save for another project.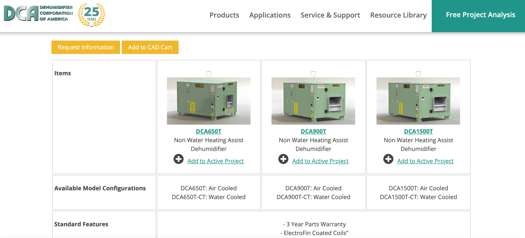 Product Configuration
Since customers in the manufacturing space are often searching for components that need to fit into more complex applications, it is also important to offer them the ability to configure their products to meet their exact specifications. An effective product configurator should let users enter details about their end product and its environment so that they can determine exactly how your product will help them complete their project. Product configurators reduce the need for intensive customer service and engineering calls and help to establish your brand as a resource for engineers and procurement professionals.
eCommerce Checkout
Finally, once your customer has found their products, compared them against the other options, and ensured they work with their application, the customer needs to be able to easily and seamlessly take action to complete the purchase.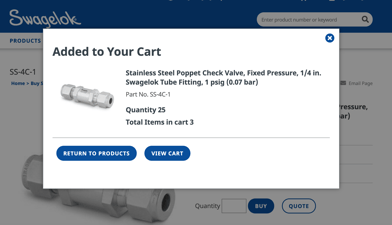 Obviously, many of the products in the manufacturing space require further consultation between buyer and seller. But a smooth eCommerce checkout may either mean that the customer is given an opportunity to easily complete a checkout process similar to how they make personal purchases, or that they are given the opportunity to request a quote and expect confirmation that their request has been received and is being advanced.
For more information, check out The Manufacturer's Guide to Building Effective Online Product Catalogs.
Increase Brand and Product Awareness for Direct to Consumer Success
Taking on Direct to Consumer sales means manufacturers need to take a strategic approach with direct to consumer advertising efforts. This means taking steps to reach end-users wherever they're searching for your products. The three basic areas to reach consumers are:
Company Branding
Digital Marketing
Online Company Listing Services
Company Branding - While most end-users don't always expect manufacturers to be household names, it is important for companies to make sure that they're putting their best foot forward with consistent, engaging branding.
End-users can be much less forgiving in this area than distributors or resellers who are typically more focused on what margin a manufacturer's products can offer. Manufacturers need to cover the basics with the use of consistent logos, brand colors, and a company mission statement that matches the goals and objectives of their buyers.
You want your buyers to see your branding and instantly remember the positive experiences they've had with your team along with the value you've provided to them.
Learn More: Steps To Build Your Manufacturing Brand
Digital Marketing - In order to help end-users engage with your branding in the first place, you need to take on the basics of digital marketing and advertising. The most basic and critical form of tactical digital marketing manufacturers can undertake is search engine optimization (SEO).
Your prospects are using search engines to find new suppliers and your customers are using the same search engines to find alternative suppliers. You need to consistently put effort toward appearing on page one of the search engine results pages to stay competitive.
There are lots of factors that go into SEO, but one of the simplest approaches manufacturers can take to help prospects and customers alike find their pages is by creating informative, helpful, keyword-rich content on their main products and services. To help end-users, you need to make it clear you understand their challenges and address how your product helps solve them.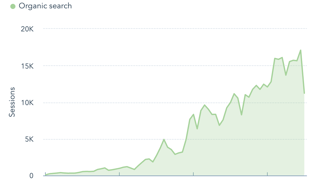 Manufacturers need to create new personas for end-users and create content that speaks to their needs. Businesses should develop information around their products that include the materials they use, the industries and end-uses they're used for, and even SKU information that customers might be searching the internet for when it is time to re-order a part.
These truly are some of the basics of content creation for SEO, but you can learn more about the SEO basics for manufacturers and industrial companies here.
Online Company Listings - Everyone knows that consumers in all industries leverage search engines like Google to find the products and services they're looking for. However, for many industries, there are platforms that offer search results that are limited to a specific niche, allowing users to search in a more targeted way that lets them avoid unwanted or irrelevant results.
Many of these platforms generate large amounts of traffic from in-market consumers and, as such, cannot be ignored by any companies who want to sell directly to consumers.
For the purposes of this blog and its focus on manufacturers, we will highlight Thomasnet.com. This supplier search and evaluation platform attracts over 1 million in-market buyers each month. These users are made up of procurement professionals and engineers from Fortune 1,000, Mid-Market, and SMBs and they're on the platform to find and evaluate new supplier partners.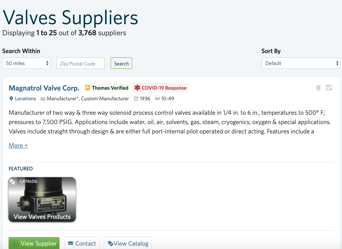 To date, the platform has serviced both manufacturers and the distributors they've used to get their products to market. This is to say that if your company uses distributors now or has in the past, it is highly likely that your end-users have already found a distributor or two that sell your products. If you aspire to make a change to your distribution and go Direct to Consumer, it is critical to make sure that your company has a profile on the platform.
If you haven't already, you can sign up for a free profile today, and if you're already listed and are ready to drive more leads directly from your end-users, you can sign up for an accelerated Thomasnet.com Program today.
Managing Relationships with Your End-Users
Another important aspect for manufacturers going Direct to Consumer is the need to prepare to manage relationships with many end-users versus just a few distributors.
Many companies may need to explore expanding and uptraining their customer support teams to give end-users the same type of timely, helpful experiences they've come to expect from other brands they deal with in both their personal and professional lives.
Creating scripts and playbooks for different issues that your customer service teams will face can lead to greater customer retention.
This form of relationship-building can even help manufacturers grow accounts with additional products and services offered as a result of the goodwill they've fostered as a trusted supplier.
To keep in regular contact and stay top of mind, manufacturers should also consider investing time and effort into email marketing designed to engage customers with helpful messaging.
Email outreach is highly scalable and is an easy way to deliver updates, changes of service, and even pushes for reorder and maintenance checks to drive incremental orders and reorders.
Learn More: How Sales & Marketing Pros Can Build Effective Email Prospect Lists
Preparing Logistical Changes for Direct to Consumer Selling
Finally, manufacturers that are exploring Direct to Consumer sales need to be prepared to shift from rolling orders out to several distributors to a model that reaches numerous end-users.
If you're selling direct, you're likely doing it to grow your margins and take control of your relationships with end-users. If you don't have an effective shipping strategy, you can easily spend more than necessary and negatively impact your relationships with your customers.
Logistical considerations like product size and weight, multiple destinations, and tailored shipping options are major pieces of the Direct to Consumer model.
Manufacturers exploring these changes should consult with their shipping partners to discuss their new distribution needs in order to renegotiate terms and even consider new providers to see how to best prepare for expanded needs.
Selling Direct To Consumer Next Steps
There are a lot of considerations for manufacturers to explore when they're looking at Direct to Consumer sales as part of their future growth strategy.
The most important topics covered in this playbook include:
Create a digital experience that educates and informs your end-users and is as user-friendly as the websites they use in their personal lives is critical
Focus heavily on organizing your products effectively for search and including tools for comparison and configuration
Outline an effective marketing strategy that positions your brand as a helpful, informative resource and a trusted partner
Prepare your internal teams to scale up in terms of customer-facing support with FAQ playbooks
Review your shipping and logistics strategies to identify new needs and revisit contract terms
If you're ready to learn more about how Thomas has helped manufacturers take their products directly to consumer markets and grow the number of leads for their sales teams, click here to contact us.
Did you find this useful?