How CAD Models Drive Lead Generation
Digitized information can help to make the sourcing process simpler and more efficient — especially for complex industrial parts, ultimately helping manufacturers generate more leads.
Manufacturers are increasingly optimizing their product data offerings with CAD files, drawings and configurable components, differentiating their digital customer experience from their competitors. Why? Because more engineers are downloading CAD files and demanding access to digitized product information in the formats they need to get the job done.
So if you're looking to drive more sales, read on to learn how to provide CAD models from your website.

CAD Models And Today's Engineers
In the past, it was common that an engineer would speak with a supplier about his or her need for a part or component, from what they would use it for to the exact dimensions that they required. The supplier would then provide a drawing by fax or email, and 30 minutes or more of conversations would follow, along with additional drawings until both sides agreed on the "perfect fit."
Today's and tomorrow's newer technological capabilities enable engineers to find and build the part they need online, download a 3D model, insert it directly into their design, and immediately assess its fit. The direct insert also reduces risks of "$10,000 mistakes," which can easily occur when one wrong spec gets picked up by an individual engineer, who copies it into several colleagues' systems.
Manufacturers should work with a technology solution that makes the collaboration between engineers and their suppliers more efficient. A CAD software that is agnostic (will work with any brand) and includes a viewer is highly recommended. What makes engineers' job easier is a solution that has the ability to configure drawings to create customized parts — making millions of design variations possible.
CAD Models And Online Product Catalogs
Expand your company's influence over a new generation of professionals by utilizing modern tools — an eCatalog rather than simply a digitized version of your old paper catalog.
Today's B2B professionals expect to easily search, discover and select your products from their desktop, mobile phone or tablet wherever they are and digitized catalogs make that happen. An eCatalog should show all the details they need to make informed specifying or sourcing decisions and make their job easier:
CAD files

Submittal drawings

Performance characteristics

Configurations

Accessories

Pricing
---
Some quick CAD asset statistics when you're considering how to create the most engaging experience with your customers and drive leads:
CAD models create sales leads at a 2.5x greater rate than text-based product information
89% of designers only select components from manufacturers who provide CAD models online
Up to 88% of businesses ultimately buy a part after downloading a CAD file
94% of designers will also specify that same part for future project again
To learn to get your CAD files in front of 27 million design engineers today, click here to learn about the Thomas TraceParts Network.
---
Database-driven and always up-to-date, dynamically generated CAD files gives your customers 24/7 access to the data they need with the confidence they are getting the most current versions of your products. They are more than just a list of parts and SKUs; they're an entrance into your sales system and a powerful marketing tool that clearly tells customers the kind of company they are dealing with. This not only differentiates your company in the eyes of busy engineers but provides visibility into the people, companies and projects that your products are getting into.
Online CAD Solutions Improve Engineering Productivity And Reduce Engineering Errors
Let's walk through a scenario if you were an engineer. If your design calls for an AC inverter, you would go online to:
Search manufacturers on Thomasnet.com for the parts you need. (Quick tip! They can't find you if you're not listed, so list your business for free here.)
Once you have identified suppliers that offer CAD drawings, you can conduct a parametric search to narrow down results by your detailed specifications.
To narrow down your decision further, you would also search the sites of those suppliers of interest for related information (pricing, related products, certifications, etc.)
Then you can compare parts side by side, and download the closest matches.
After you download the file, you can insert the desired part directly into your design. You can choose a variety of views—front or back, top or bottom, or right or left side.
An online CAD solution also generates and delivers the bill of materials for the part inserted, including the manufacturer's name, the specific part number and all of the detailed specifications. This makes it easy for everyone involved in the buying process and virtually eliminates the possibility for error during specifying and purchasing.
How To Improve Your CAD Deliveries To Drive More Leads
Using CAD files for lead generation is about having the right data at the right time at the right place. You as a manufacturer are trying to attract an audience of engineers from various regions, various types of companies, etc. — some of which will know your brand, many of which will not know you at all. And so being in the right place on the web, your website, and other online platforms is an important piece of generating high quality leads.
The Right Data At The Right Time And Place
The right data means having a high quality, high fidelity CAD model that meets the needs of an end user when they're specifying your particular product. This really does depend on the sort of type of product that you have, how it's getting inserted into a design and what level of detail goes with it. Another important piece of that puzzle is the metadata that sits inside of that file.
It's important to note that all of the content on your website is important to generate high-quality leads — eBooks, guides, white papers, etc. All of them fulfill a need for information during the buying process, especially during that sort of product discovery phase. But take a look at the stats in terms of the number of views for this particular company below during a three month period. The access to the CAD library received 15,864 views and generated submissions — meaning an individual was willing to give up their name, their email, and their company name for the project they're working on — 12,000 times at a 79% submission rate. When you add CAD models to the mix of other content marketing examples, the quality of the lead who downloads those files increases dramatically.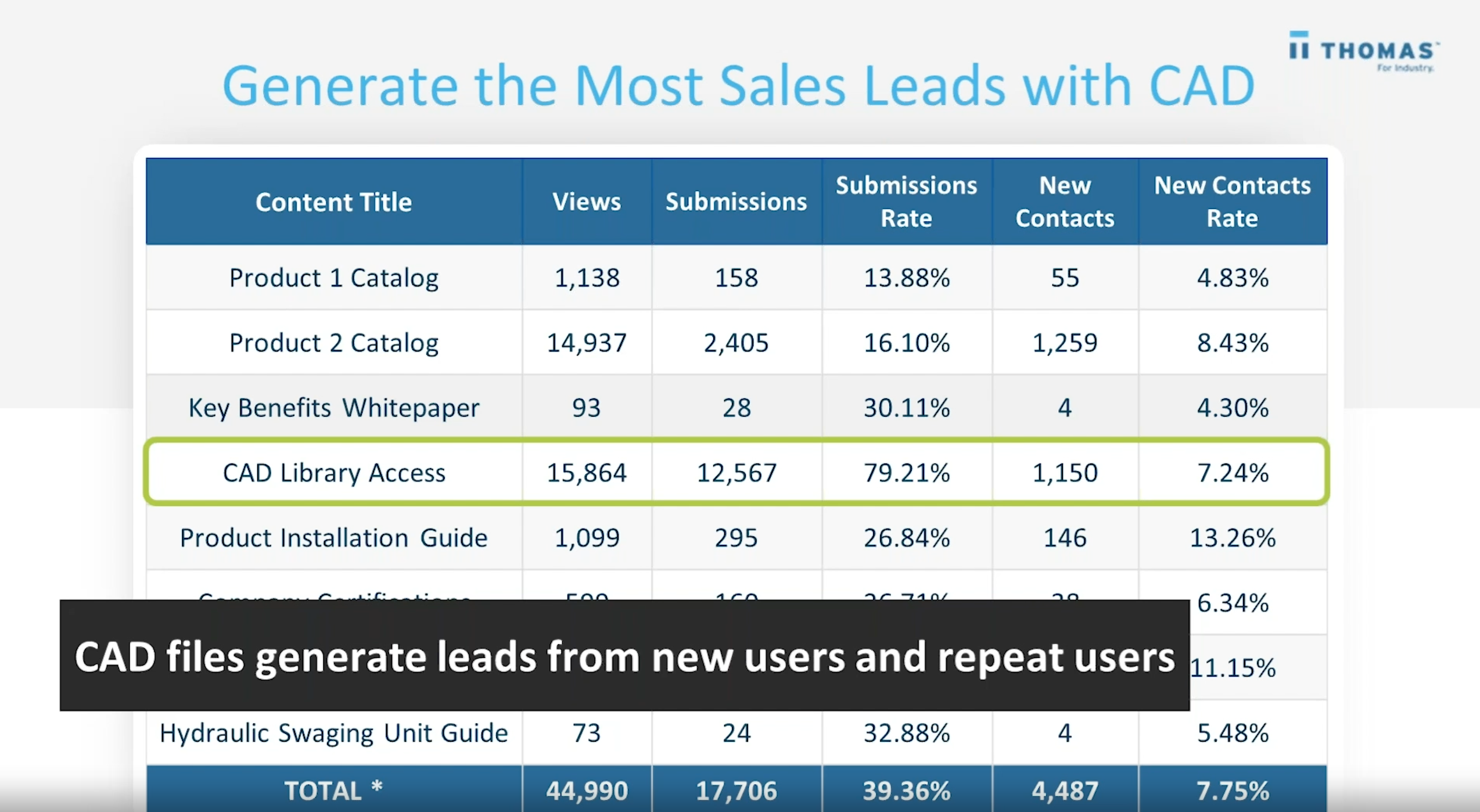 Industrial products often come in thousands of combinations and require a heavy amount of configuration, sometimes requiring hours of engineering work to assist customers and fulfill their design requirements. Online configuration systems help internal sales engineers and customers configure products right from your website — in real time. It even increases your chances of getting found on Google because of the use of product SKU numbers and other keywords.
Related Info: Learn More About Getting Found On Google
Begin by collecting your existing CAD files and partnering with a product data solution expert to turn your CAD data into high-value downloadable 2D and 3D assets. A CAD Engine will then deploy your product data to your website, platforms, and portals of your distribution channels, where your customers can confidently spec your products knowing they have the most up-to-date data.
Customers will then be more easily able to access and choose your complex and configurable products from anywhere, 24 hours a day — establishing your company as a resource for your client and making it easier to complete their jobs. If you're not offering these assets, you only have an 11% chance to get this type of an engineer to actually reach out to you — that's because it has been proven that 89% of engineers select components from these manufacturers because they're helping them get the job done.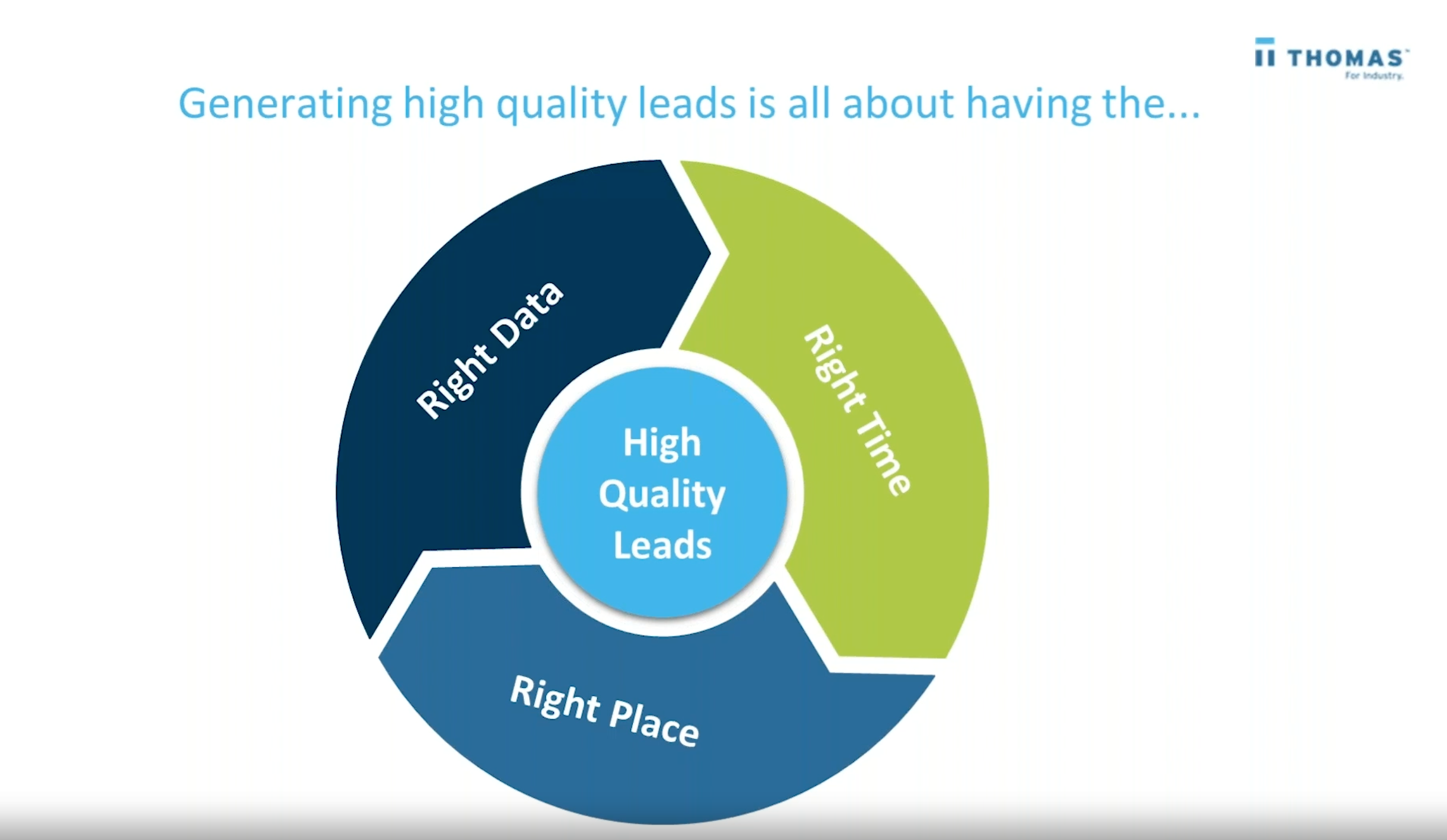 Get Spec'd, Get Purchased Again And Again
If you want to get specified and get your products purchased again and again, let's walk through a workflow with Thomas' partnership with TraceParts. A manufacturer gets their data out on TraceParts, another online destination that could be your website as well. They find the object they want and they download the model into their CAD desktop. Now within that CAD desktop, there are links and metadata that fully describe this part from the company name and even links back to the purchase page or the product page on the company's website — that data is gold.
Most of the time these CAD models have no data in them and there isn't a thread or a link back to the company website. Finally, that gets created into an assembly and gets defined in a bill of material within the company's ERP system. What's so absolutely critical here is your data that has carried through from that original CAD model into that bill of material, which is now sitting directly in the sourcing system.
And if you're a qualified vendor or need to be a qualified vendor, this sourcing professional is going to go through a process knowing what was specified by the engineer exactly from which company, the model number, part number, order number — all details about it. Now you have put yourself in the driver's seat of not waiting for an RFQ, but creating the RFQ.
Partner With An Expert To Help You Leverage CAD Assets For Lead Generation
Online CAD solutions have transformed the industrial buying process and offer a precise way to easily do business today. It's important to recognize the change in the market and the need to satisfy buyers and engineers with digitized content about your products and formatted CAD assets with great metadata. They generate high value leads, provide actionable market data, and convert 2.5 times more than text-based content.
Is your company ready to deliver what users need, wherever your products are found? Send us a message to see how you can expand your company's influence on a new generation of professionals — regardless of location — save time, encourage productivity and generate greater return on investment for everyone.
Here are additional assets to help you get more high-quality leads:
Did you find this useful?