4 Important Functions Of An Online Catalog
More than 70% of today's B2B buyers are tech-savvy millennials. They prefer to research on their own about your company to see if you would be a good fit for their projects. So if you're selling industrial products or components and don't have an online product catalog, they might turn to a competitor. The good news is that there are many technology platforms that can provide you with the functionality B2B buyers expect your website to have.
There are a few features to look for in a platform that should be your non-negotiables to deliver the best digital customer experience possible to your customers and prospects. Let's review those four important functions that you'll want to see in action when it comes time to choosing your dynamic online catalog platform.

Does Your Online Product Catalog Have These Functions?
An online product catalog lives on your website and allows your buyers, engineers, and procurement managers to easily and clearly find all relevant product information you are offering.
While simplicity and clarity are essential, your product pages must provide all the necessary detailed specs that prospects' design projects require. According to a recent industrial buyer's search habits survey, 40% of respondents said the quality of a supplier's website impacts their decision to partner with them.
One respondent said, "Having more online information like specifications, pricing, lead time, and stock levels online are important when I'm vetting new suppliers. My job would be so much easier if I had the ability to order products directly with an online product catalog."
40% of industrial buyers said the quality of your website impacts their decision to partner with your company
See More: 6 B2B eCommerce Website Examples To Help You Sell More in 2021
1. Your Online Catalog Should Have Real-Time Functionality
Your data is important to both you and your customers, so your online catalog shouldn't give you trouble when you need to access it.
Pricing data, parts information, and in-depth specs make it easier for distributors, repair services, and companies to select and order the products and parts they need, when they need it. An online catalog should deliver this information seamlessly using the cloud, so your customers can discover your products on their preferred devices, like tablets and cell phones, in the field or at the office. That data also needs to be up to date.
A truly dynamic catalog uses all of the latest technology to deliver a positive digital experience to your customers so they can successfully search and get the data they require to satisfy their sourcing needs — more on their needs in our article, "Persona Targeting: The Three Most Influential Industry Buyers."
Whether that's updating information everywhere with a single click (gone are the days of emailing and mailing out spreadsheets to everyone and then trying to verify their receipt) or listing a new part option that can improve machinery lifetime, dynamic platforms help you share and download information in ways that are easier for everyone.
2. Online Catalogs Should Be Optimized For SEO
Search engine optimization (SEO) plays a significant role in any company's ability to drive customers to multiple points across the sales funnel. When formatted correctly, an online catalog's content vastly improves the quality of data, which Google rewards with higher search engine rankings.
Your content is essential to good SEO. This means having high-quality product images too. Pages with relevant images get more views (by nearly 100%), increase page time, and ultimately increase conversions. This is particularly true in industrial B2B scenarios — careful visual inspection of a product, crucial to purchasing engineers, can only be achieved online via large, high-resolution images that can be moved and zoomed in.
Put some serious consideration into 360° view capabilities, especially if your products are geometrically complex ones. The more literal visibility you provide into your products, the more conversions you'll get.
Your online catalog should be able to provide on-page optimization of your catalog's elements, link architecture, proper tagging, and smart domain naming usage while increasing your ranking on Google. The higher your website ranks on Google, the higher your chances of getting more website visitors.
---
Sounds Too Technical To Manage?
Request A Free Digital Health Check And We'll Show You Exactly What You Need To Increase Sales
---
3. Functionality To Support Your Distribution Partners
A strong online catalog doesn't just support your marketing and sales efforts — it also facilitates how your customers navigate and purchase products.
You'll want to look for features specific to your business and your distribution partners. Some of the most common demands of online catalogs include:
Foreign language support

Distributor syndication

Unit of measure handling
Top Article: How To Improve Your Supplier-Distributor Relationship
When you use an online platform that provides customizable templates, you'll have a uniform experience that improves customer access to information — it's a win-win because it's not only good for your distributors and customers, but it acts as brand marketing for prospective customers too. You'll also see time savings for customer service reps as clients make orders without having to constantly relearn layouts or regional formatting.
Optimize your product page with your buyer's job focus and behavior in mind and make sure all product pages have the same design layout. A product page with no "standard" content can be imposing or off-putting to buyers without technical backgrounds (or those investigating new products for the first time).
4. Easy Ways To Convert Visitors Into Paying Customers
Your call to action (CTA) — your "Order Now" or your "Add to Cart" button — is a major player in conversion rates. If a potential customer has to search for a purchase CTA, they will not place an order with you — they'll leave your page, find a similar product on a competitor's site, and order that one.
Your CTAs should encompass many things:
They should be intelligently placed, above the fold, and ideally near your product price information.

They should be large enough to be prominent and easily identifiable but not so large as to become the page's focus.

Ideally, they should be colored in an aesthetically pleasing way that fits

your brand's

or website's color scheme to draw attention.
Read More: Even more ways to increase clicks on your manufacturing website.
Finally, don't be afraid to experiment — it can take some trial and error to get placing, color, and size fully optimized, but once you do, you should see an increase in the quality of leads. (And we can help you with that! Click here to get started with our lead generation services.)
4. Your Online Product Catalog Should Save You Money
An online product catalog seems like an additional expense — until you realize how many hours of manual labor, resources, and web services you're already paying for.
Digitizing your catalog means you can bring production completely in-house and cut out any printers or formatting contractors. You also save time on getting updates out to customers thanks to cloud-based publishing and delivery.
If you have an existing website, like WordPress, you can keep all your existing content while adding e-commerce capabilities across the site, and you can certainly tackle creating an online product catalog yourself — but it can get complicated. Thomas Navigator is a solution that solves your biggest product management pains by providing you with an online catalog complete with all the functionality you need from a product perspective and marketing standpoint. See how customers have saved thousands of dollars and headaches with solutions specifically built for them — OEMs, distributors, and custom manufacturers.
See Tips: 10 Ways Manufacturers Spend Their Marketing Budget
A Product Optimization Page That Increased Visitor Registration Rates by 46%
Purchasing products or services online requires either a quote request process or an e-commerce store, and there are different opportunities for optimization depending on which method your website uses. Let's review how one manufacturer optimized their product pages to get more online registrations.
The Idea
In the case of a manufacturer of cleaners and assembly lubricants, registered website users can access an e-commerce store to purchase products online.
It's normal for e-commerce customers to leave during the purchasing process for various reasons; in fact, within the conversion rate optimization (CRO) sphere, it's referred to as "shopping cart abandonment." We wanted to make it easier for users to register when ready to order.
The Test
Variation A (The Control):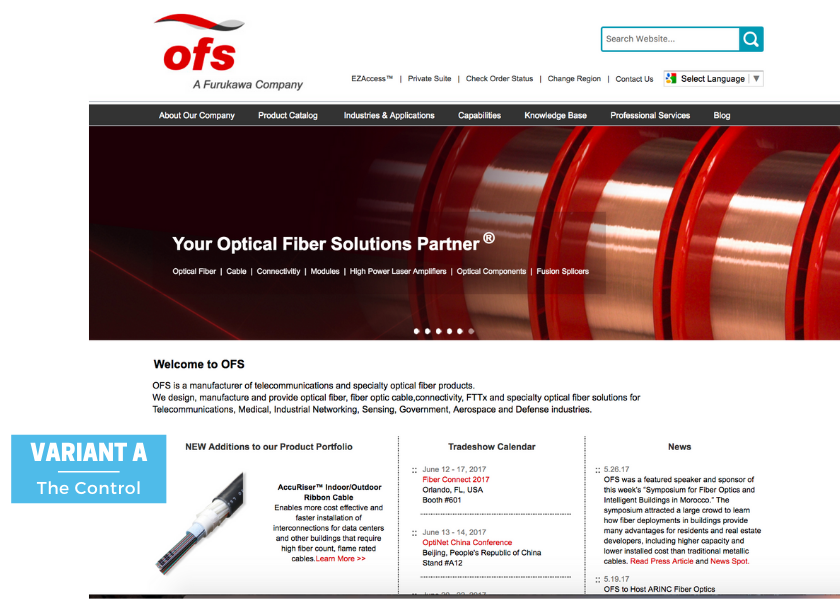 Originally, a website visitor interested in purchasing a product online had to complete the following steps:
Press the "place an order" button
Click the hyperlink "register" on the "place an order" page
Complete the form on the registration page
Choose products to order
Variation B (The Treatment):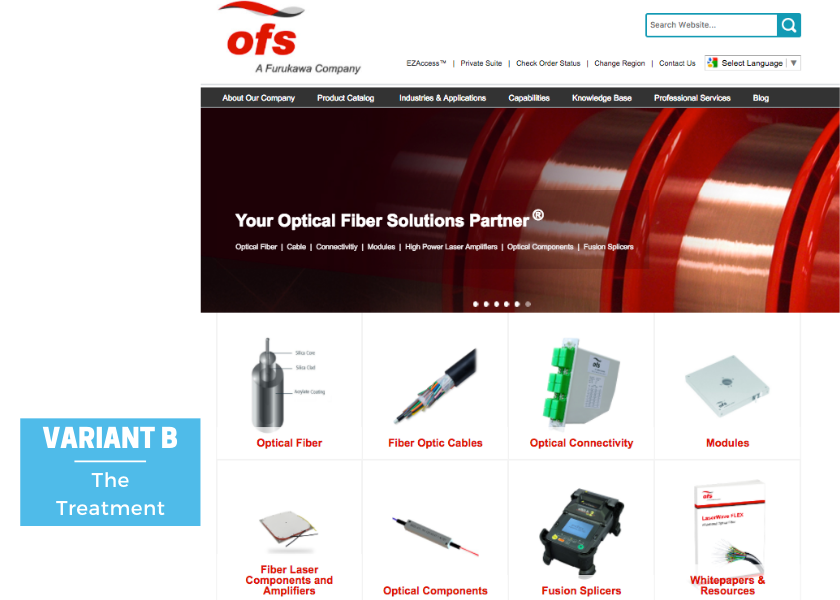 We cut out the second step, which required users to click onto a separate registration page. As you can see in the Variation B screenshot, the registration form is embedded directly on the order page. Users interested in placing an order can complete the registration process without visiting another page, reducing friction.

The Result
So, how did this embedded form test improve the user registration rate?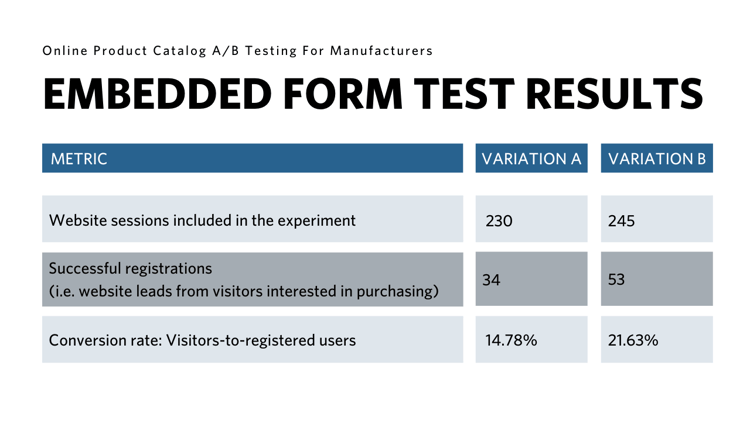 By optimizing the online order process and reducing the number of steps the buyer had to take, we increased the conversion rate of a website visitor turning into a registered user by 46%!
Learn More: A/B Testing Examples For Manufacturers
Get A Health Check On Your Website
There are anywhere from 10 to 100 different best practices that you should consider when designing and implementing product pages — everything from the inclusion of safety logos/trust seals and customer reviews, to live chat support and navigation tracking tools.
Oriental Motor offers an extensive product line-up of about 50,000 that provides an optimal motion system, such as AC motors, speed control, position control, mechanical motion and thermal management requirements. In addition to a dynamic online product catalog, their product pages feature videos too — a crucial online content component manufacturers can benefit from to increase website engagement and online sales.
💡 Thomas Tip: We offer free video production with the purchase of an advertising program. Get started with a free advertising company profile here.
The marketing methods you pick depend on your company, your products, and the target audiences you're looking to partner with. Ready to invest your marketing budget into a platform that helps drives customers through easy sales and referrals? Contact us to find out what digital improvements you can make today. Our product solutions help you get spec'd and purchased again and again. We'll run a free digital health check that lets you see exactly what you can improve online to get more customers.
"Partnering with Thomas has been a tremendous success. We have enough new work that the cost of Thomas will be less than 5% of the new sales in the first year. We are seeing 1-3 inquiries a week now and are working on expanding our supply base to support the new opportunities." - Conformance Coatings & Prototyping
Additional Resources To Build Your Online Product Catalog:
Did you find this useful?