How To Outperform Competitors Using Your Product Information
Everyone knows we live in the Information Age, but how useful is it if the information never reaches the right people? This is especially true for manufacturers and their quest to get product information to the appropriate audience.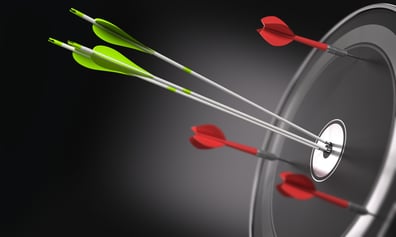 Companies in the manufacturing industry have long advertised their wares in print catalogs, and today, most catalogs are now available online as well.
But is having an online catalog enough? It brings to mind the age-old philosophical question, if a tree falls in the forest, does it make a sound?
The same could be asked about information that either isn't accurate or isn't reaching the right people in the right format for the systems they use. Without the most factual and up-to-date data reaching the intended audience, a company's portfolio could be as overlooked as if it were buried in the back of an old phone book.
An Online Presence Is Just The Beginning
While an internet presence is essential in today's marketplace, simply having an online product catalog is not enough to be competitive. There are a number of reasons why this is the case, most of them having to do with the advanced needs of buyers.
A company's in-house engineers can be fielded with all varieties of questions and manual requests that go above and beyond what can be offered in a catalog. Engineers often have to find correct configurations for complex parts and components. They also need to respond to requests for detailed performance data, 2D drawings and 3D CAD models, and make sure they are the right product for the system they're designing. Engineers and design professionals often find themselves summing up the correct price for various parts and configurations.
Finally, the in-house staff at a supplier needs to submit product information to distributors and sales channels. This requires countless hours gathering data, reformatting it for different systems, and answering lengthy questions about issues such as missing information, unmet requirements, and potentially many others.
Getting An Edge With Product Information
The key for businesses to outperform their competitors lies in making it easy and efficient to purchase their products.
The limitations touched on above can be turned into advantages for a company if it has a centralized information system. Customers can receive the precise information that they need, on the format they need it while suppliers save greatly on engineering hours. There are many different methods for a company to use product information to its best advantage.
Product Configuration
Experts and engineers are usually required to personally guide customers to configure complex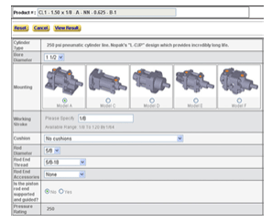 products. Customized products can have very detailed configurations, sometimes numbering in the millions. Time and money can be saved by implementing a product configurator to a customer's website.
Instead of using a paper/online catalog or having an in-house engineer spend time configuring a product, clients can use a product configurator to deliver results quickly, conveniently and without error. These configurators can be used to generate part numbers, pricing, CAD models, SPEC documents, and can specify complex products within seconds.
Product configurators improve communications with prospective clients while reducing engineering hours. The number of product returns is significantly reduced as well. This technology ultimately reduces the need for customer service and ensures better communication of a suppliers' actual manufacturing capabilities and their clients' needs.
CAD Generators
Computer-Aided Design (CAD) has been in use since the 1980s and continues to play a vital role in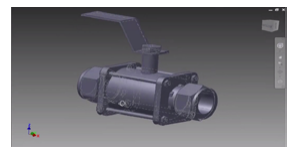 today's engineering world. CAD models are an essential tool for designers and engineers to properly display scalable versions of their unique designs. The CAD process has matured in the manufacturing industry over the years, and today's engineers and designers expect CAD models to be available on demand. A CAD generator used in conjunction with a company's website can provide instant CAD file downloads and improve customer satisfaction.
Also, the number of different design platforms has increased significantly over time and are getting more "intelligent." They now do much of the analysis and engineering work that previously had to be done manually. Each platform has its own specific Data and format requirements. This can provide difficulty for suppliers who need to choose which CAD formats should be available for engineers.
If a limited sub-set of CAD file formats are provided, a product's market reach can also be limited. A comprehensive CAD generator will allow potential customers to seamlessly drop CAD models into any CAD system. Whether a client uses Autodesk, PTC, Solidworks, Think3, TurboCAD, Solid Edge, or other the more intelligent design systems like Revit, Microstation or Smart3D. CAD generator technology allows engineers to easily and efficiently specify the products they need into designs at the planning stage, saving engineering hours.
Private Catalog
Exact pricing can be a challenging process when customers need a variety of complex parts. Deals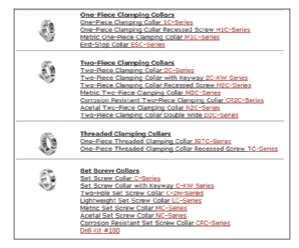 are made and special pricing is often offered when a supplier is negotiating with a customer; if the customer requires repeat business, the process could need to happen all over again. When suppliers add a private catalog capability to their website, it allows customers to return and re-order parts without any need to manually modify or negotiate previous sales conditions. A private catalog can also be used to give enhanced deals to customers if they order more parts, potentially leading to a larger sale.
Product Data Syndication
Distributors are another major source of business for manufacturers. They usually have their own set of requirements for uploading product data into their systems. When manufacturers implement a product data syndication system, their product information is available for easy distribution across all sales channels. These syndication systems provide product information, technical specifications, dimensional data, CAD models, pricing, shipping, and other types of information in whatever format required. Vital product information can be kept current, accurate, and available for whatever digital system a distributor requires. This ultimately improves relationships for manufacturers' sales channels and saves time for all involved parties.
Improving Product Information Availability At Every Level
When buyers and distributors have an easy and efficient way to purchase products, it gives manufacturers a big advantage over their competition. While the multiple options available for getting information to clients may seem overwhelming, centralized product data can be an effective solution for manufacturers, distributors, and buyers alike.
By employing centralized data solutions, suppliers can use the Information Age to their best advantage — providing the most current and accurate product information directly into the hands of potential customers that need it the most. If you have any questions, contact Team Thomas.
Did you find this useful?