Lead-Generating Website Examples (And How To Build One)
More than 70% of today's B2B buyers are tech-savvy millennials, and they're researching your company online before contacting you. So if you're not providing a smooth website user experience, chances are you're losing prospects to competitors.
5 Lead Generating Website Examples For Manufacturers
So what types of other website components are needed to generate high-quality leads? Check out the following examples from manufacturers and industrial companies.
CJ Winter
CJ Winter is a thread rolling company that created a website to educate the industry about the cold root rolling process and tools. Free informational resources are available throughout the website for prospects to engage with. There are directional cues on landing pages to encourage visitors to visit those pages and submit their information. An exit-intent popup also shows up as a last effort to capture a visitor's information as the visitor tries to leave the page. CJ Winter began experiencing a 113% average increase of lead generation quarter over quarter.
To take their lead generation efforts even further, they A/B tested a yellow arrow on a landing page and online form submissions increased again. Form submissions on the page with a yellow arrow, as measured by the number of people successfully submitting the form and being redirected to the thank you page, saw a whopping 76% increase.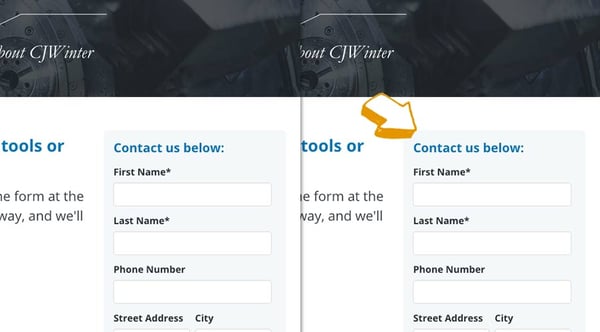 Learn More: Directional Cue And Other A/B Testing Examples To Encourage Clicks
CGR Products
CGR Products manufactures high-quality components. Their goal was to create more awareness for their products at a larger scale online because trade shows were no longer as effective. They redesigned their website with high-quality images and videos, especially on the homepage. Sample galleries, a materials section, and industry-focused pages drive engagement and lead generation — to be exact, a 280% growth of leads per month. To support the influx of leads, they implemented marketing automation to make it easier for their sales reps to follow up with leads who download any resources.
Davenport Machine
Davenport Machine has been revolutionizing multi-spindle screw machine technology for more than 100 years. Their strategically placed unique homepage CTAs are powerful lead generation assets. Their Contact Us button is animated, and their RFQ and Engineer Bulletin Subscription CTAs are well-positioned to engage with a website visitor depending on where the website visitor is in their buying process.
Triad Magnetics
Triad Mag netics is a manufacturer that offers solutions for power conversion, filtering, isolation, and more. They redesigned their website with their prospects and customers in mind by providing an optimized online product catalog. To encourage lead generation, their homepage features multiple CTA types with contrasting (but on-brand!) colored buttons and text for visitors to search for products and submit an RFQ. The footer CTA "Get In Touch With Our Team" follows the visitor as they browse the products. Triad is now experiencing a 57% increase in online submissions and a 70% increase in overalls views of the Contact Us page.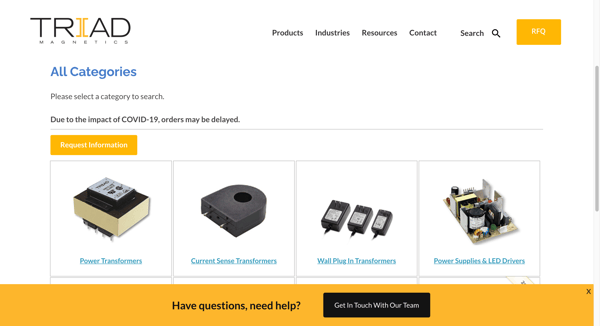 Air Innovations
Air Innovations is a leader in environmental control systems and redesigned its website to reach the right buyers and be seen as a thought leader in the industry. After implementing keyword-optimized headers and creating an SEO-focused "Knowledge Base" section, they began seeing a 2,060% year-over-year increase in website clicks and ranked #1 on Google search results for "positive vs negative pressure."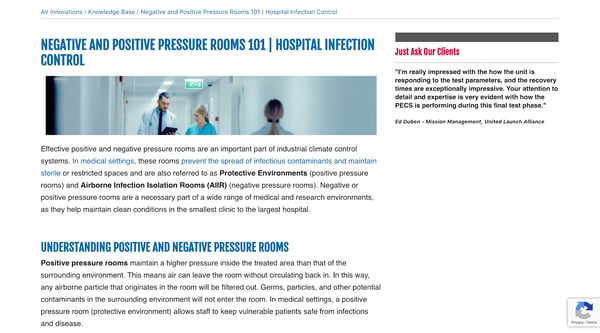 Thomas badges on their website footer also serve as additional social proof for B2B buyers that confirm the company has updated and accurate information. In addition, the supplier can be contacted directly on Thomasnet.com using the "Contact" or "Request Quote" buttons by prospective buyers.
Corrugated Metals
An updated website is the foundation of all our online growth efforts. And to increase their reach even more, manufacturers who advertise their company on Thomasnet.com get seen by more than 1.2 million registered B2B buyers, engineers, and procurement professionals. Complete your profile for free today and get more high-quality leads.
"We set a record for quotes in Q1, increasing them by 197% over the previous year," said - Corrugated Metals. "The average value of quotes has grown. The sales team can't believe how many good opportunities they have now. Participating in the Thomas program has changed the way I market my business."
Corrugated Metals updated its website to be responsive and house a myriad of educational content to help their buyers source materials faster and make smarter business decisions. Content generates three times as many leads as outbound marketing, and it does so at a fraction of the cost. Today, being mobile-friendly isn't just a nice option — it's paramount for reaching users when and where they need information because many buyers are browsing on tablets and mobile devices.
It's essential to offer new content regularly. And not useless, generic "hey, we still exist" content. We're talking about real stuff that enlightens, encourages, educates, entices, and engages. See some high-performing examples in 10 Content Marketing Ideas That Engage Buyers Today.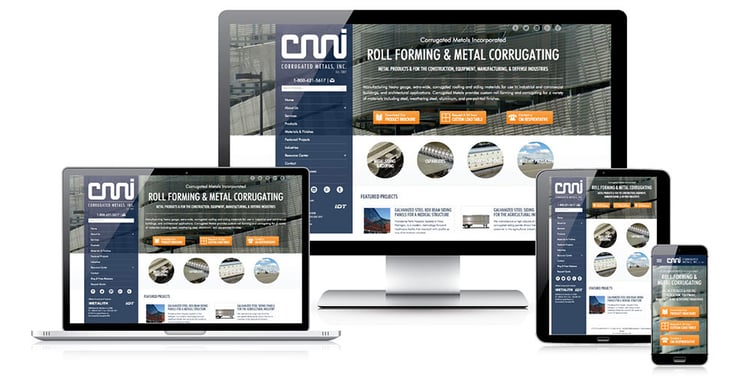 How To Build A Lead Generating Website
Your website should serve as one of your most valuable marketing tools, but it shouldn't just be about the design. There are many components involved like content marketing and SEO.
We recommend creating a marketing plan for your website build to not miss out on any opportunities. It requires research, time, and commitment but will help you focus on achieving business success. Here are some general rules to follow when building a lead-generating website:
Document your current performance metrics and analyze your existing site over its history, including the number of visits, time on site, bounce rate, etc.
Use marketing software like HubSpot, Google Analytics, and Thomas WebTrax to track your efforts and see what's working.
Determine your goals. What are your key products & services? What markets do you want to break into? What key clients are you going after? What do you want to promote? The clearer your goals, the more powerful your website will be at accomplishing them. For example, "to increase site traffic by 50% in the next six months."
Read More: Manufacturing Marketing Goals vs Strategies
Analyze the competition to see how you compare. Based on your research, put together an action list of what areas you can improve and what you can do differently than your competitors.
Design your website around your personas. Your website is not just about you. Your visitors ask, "What's in it for me?" Create website content that addresses their challenges and how your services can answer those needs.
Identify opportunities for conversion. This means having calls-to-action (CTAs) to drive a website visitor to take action, like offering a free eBook, subscribing to an email newsletter, purchasing a product, etc.


Learn:

9 Easy Tips For Creating A Lead-Generating eBook
Use effective CTAs that clearly tell the prospect which action to take next. Place them where they're easiest to see and use contrasting colors so they stand out against the rest of your website.
See More: 32 Industrial Lead Generation CTA Tips, Tricks, And Ideas
When you update your website, it's important to consider load time. People simply won't stick around for a slow-loading site. Security is important as well, as search engines have already started to penalize non-secure sites.
It's important to understand that a lead-generating website design starts even before the site is being "designed." Often, people get caught up in how the website looks, and this focus overshadows how well it is working. Thomas can run a free Digital Health Check on your website to see how strong your online presence is, where you can improve, and how you should start your plan.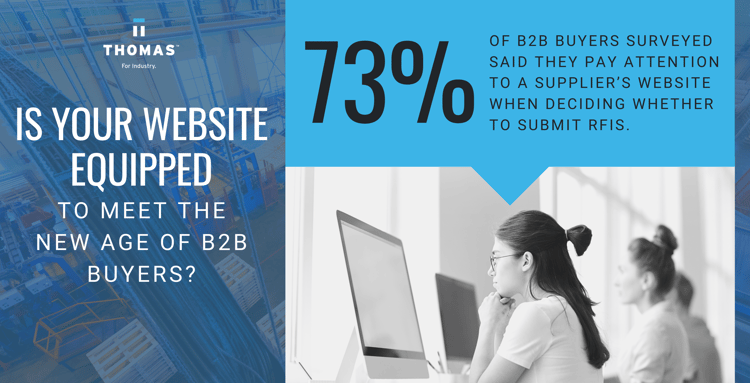 Review Your Website With Experts
Today, it is no longer enough to publish a website and be done with it. According to B2B statistics, 73% of B2B buyers surveyed said they pay attention to a supplier's website when deciding whether to submit RFIs. The content you provide is key to establishing your company as a resource and a trusted leader to do business with. Request a free digital health check with our industrial marketing experts. We're the only marketing agency supported by degreed engineers so we understand the complexities of your industry and can design a website and create content that engages the B2B audience you want to do business with.
"A key thing about Thomas is the ability to generate a lot of leads across various industries. We wanted to help educate our customers," said Renown Electric. "Through eBooks, blogs, a revamped website — they actually drive our own knowledge out and customers appreciate the insight."
Additional Lead-Generating Website Redesign Resources:
Did you find this useful?