How To Find Customers For Your CNC Machine Shop Using Digital Marketing
You may have heard it plenty of times: You should be online; people are searching for your company online; if you are not online, you miss out on opportunities.
These statements aren't wrong, but they're incomplete. Being online is one thing, but the real goal should be to have a strong online presence — this gets you results. A strong online presence can supplement your traditional growth methods and bring you one step closer to your goal of finding new customers.
If you're looking to grow your customer base, search engines such as Google, Yahoo! and BING are where you want to appear. Why? According to research 4 out of 5 buyers research products online before contacting a sales rep. Industrial buyers know how to find exactly what they want quickly — and they're using long-tail (3-4 keyword) search terms online. And 53% of industrial buyers make their decision in less than one month.

Why You Need A Website For Your Business In 2021
The majority of today's B2B buyers are tech-savvy millennials — 20% of millennial buyers start with vendor websites and 17% look to peer reviews. Simply put, your customers are searching for you online, but if you're not there, they can't contact you. Industrial buyers use specific services, industries, certifications, tolerances, capabilities, and types of finish keywords, etc. in their searches — that's why having an updated website with basic SEO practices is key to getting found online. An example of a long-tail search term an industrial buyer might use is: "Automotive stamping Cincinnati Ohio." The search phrase is to the point; if the search was for "metal stamping," irrelevant results may appear.
A purchasing supervisor survey respondent said, "Having more online information like specifications, pricing, lead time, and stock levels online are important when I'm vetting new suppliers." If your website doesn't contain those keywords, your competitors might get to those prospective customers first — and if you don't have a website, well they won't be able to find you online at all.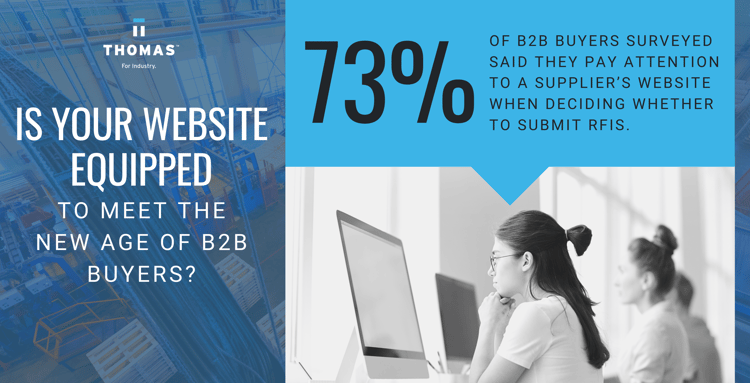 Read More Stats: The 2021 Industrial Buyer's Search Habits Survey Results
Provide Content To Get More Customers To Find You Online
Maintaining your web pages by continually refreshing or adding content is important. The more relevant, fresh content you have on your website, the better the chances of generating search engine exposure.
According to Google's SEO Starter Guide, creating compelling and useful content will likely influence your website more than any other factor. The takeaway here is to create content that is relevant and valuable. The purpose of your content should be to inform; answer the questions buyers typically ask about your services. The questions buyers usually ask are how they search for you. And answering these questions increases the potential of appearing on the search engines for relevant search terms.
Common Resistances With Digital Marketing
Most job shops are uneasy about adding new content to their websites; this can be attributed to many factors, such as:
Limited workforce: There is no one on the team dedicated to maintaining and updating marketing efforts
Writer's block: Job shops simply don't know what to write about
Simply unnecessary: Services and capabilities have not changed, and there's nothing new to add aside from an image or two
Digital marketing and content ideas can be tough if you're just starting out, but if you're a seasoned CNC machine shop, you actually have a lot of material to work with already. In addition to the rest of the post, here are additional resources to help you along the way:
Content Ideas That Engage CNC Machine Shop Customers
In creating their website, some job shops believe they've added everything that they need to include and that nothing significant has changed. But that's likely untrue — your industry is full of news to let your customers and prospects know about. Focus on your strengths. Ask your current customers why they enjoy working with you, and similarly ask your employees what they like best about working on your team.
Common changes that are overlooked and worth creating content for are:
New high-profile/significant projects
New markets entered
New machine
Skilled employee hired that creates opportunities for growth
Here are a couple of other content marketing examples from CNC Machine Shops: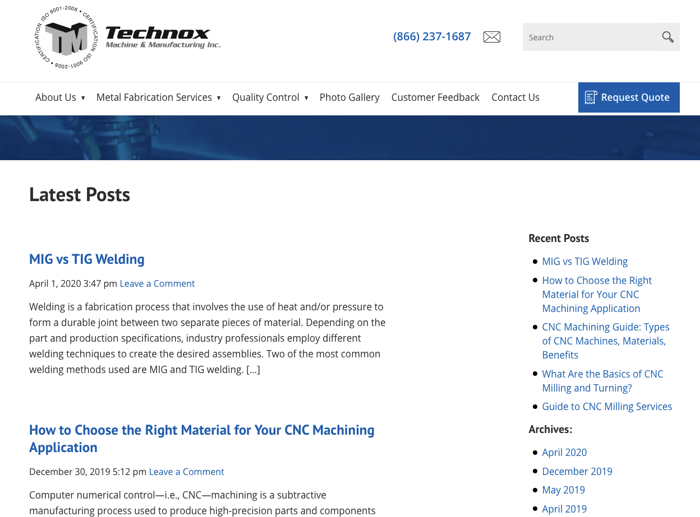 Technox Machine & Manufacturing Inc. has a blog with recent posts that address prospects' and customers' common challenges and questions:
MIG vs TIG Welding
How To Choose The Right Material For Your CNC Machining Application
What Are The Basics Of CNC Milling And Turning?
Having a strong online presence with these search terms buyers are looking to answer helps you become more accessible to them and increases your brand, credibility, and reputation.
Swiss Labs Machine & Engineering has detailed Industry pages to engage buyers from different markets. Their Aerospace page outlines the materials, machines and components manufactured to ensure their high-quality work meets industry requirements.
Related: How To Become A Defense Supplier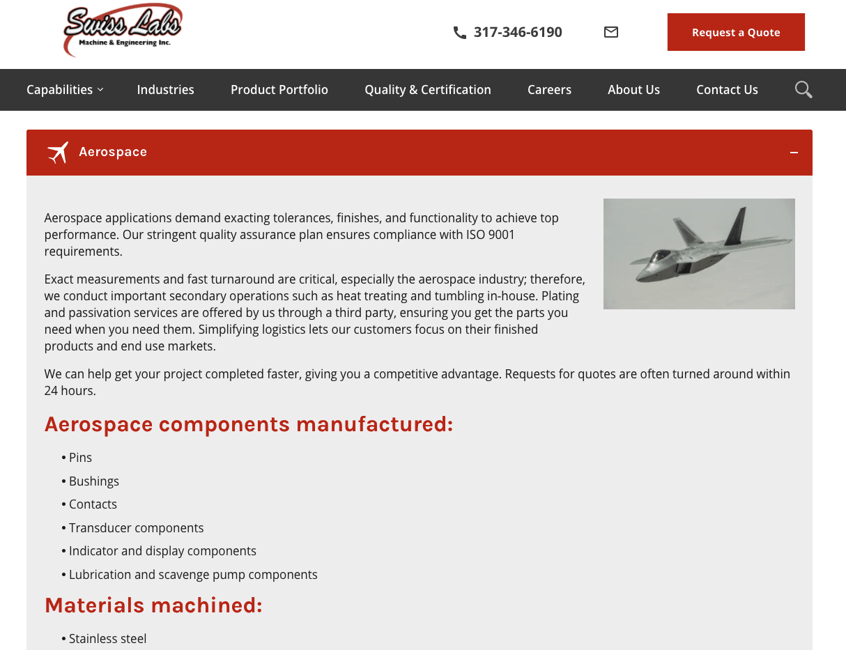 According to Richard Wick, President of Industrial Grinding, creating portfolio pages of their past work on their website helped generate traffic to their website from search engines. Sales Manager and Vice President of Industrial Grinding, Marcus Wendling, stated, "For many years, well over 90% of our business has been obtained within a 90-100 mile radius. Now we're seeing an increase in the amount of RFQs from places like Canada, Alabama, Florida, Texas, and all over the country."
To ensure you're capturing the information of your website visitors and encouraging RFQs, place forms throughout your website and offer other ways for them to contact you — like a phone number and email address. Today's buyers expect at least a 24-hour turnaround after submitting an RFQ so make sure you respond in a timely manner. If a prospective customer waits too long before hearing from you, they could move on to a competitor. In a recent buying survey, 44% of industrial buyers said they expect a response in less than 24 hours and 7% within just a few hours — See the full survey results here.
Be Where Your CNC Machining Customers Are
Manufacturers and CNC machine shops like you can start potentially obtaining similar results. Industrial Grinding also has its business listed on Thomasnet.com and gets seen by more than a million buyers searching for their services like welding, coating, and metalizing. And buyers are more engaged with Industrial Grinding's Thomasnet.com presence because of Industrial Grinding's information-rich Company Profile, complete with a full online product catalog and company profile video.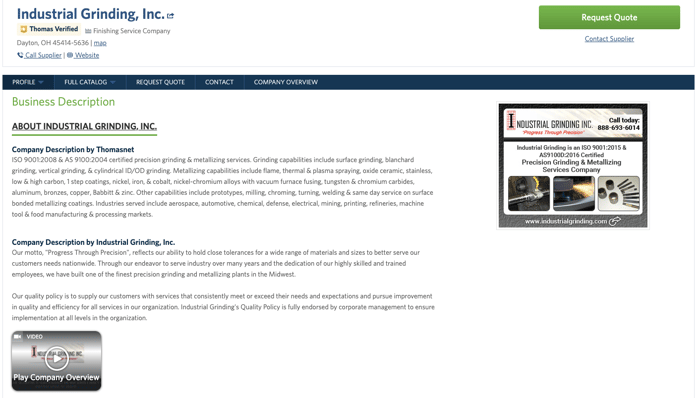 Signing up for a Company Profile is free and a video can be produced and created for you for free with the purchase of an advertising program. "Qualified leads are coming to us now, and since prospects can easily search our capabilities and qualifications, those who contact us are more inclined to do business with us," said Bill Boyer, CEO, Boyer Machine & Tool Co., Inc.
Similarly, you can extend your reach to local and regional customers by listing your business on online directories like Yelp, Google My Business, Apple Maps, and Facebook. Make sure your company name, address, and phone number are consistent on all platforms so buyers can easily contact you.
Get The Full Guide: How To Use Digital Marketing To Engage Local Customers
Having that consistency across all directory sites makes it easier for local buyers to find your business based on their location and keeps your business at the top of Google search results, as seen in the example below for someone searching for CNC services in the NYC area.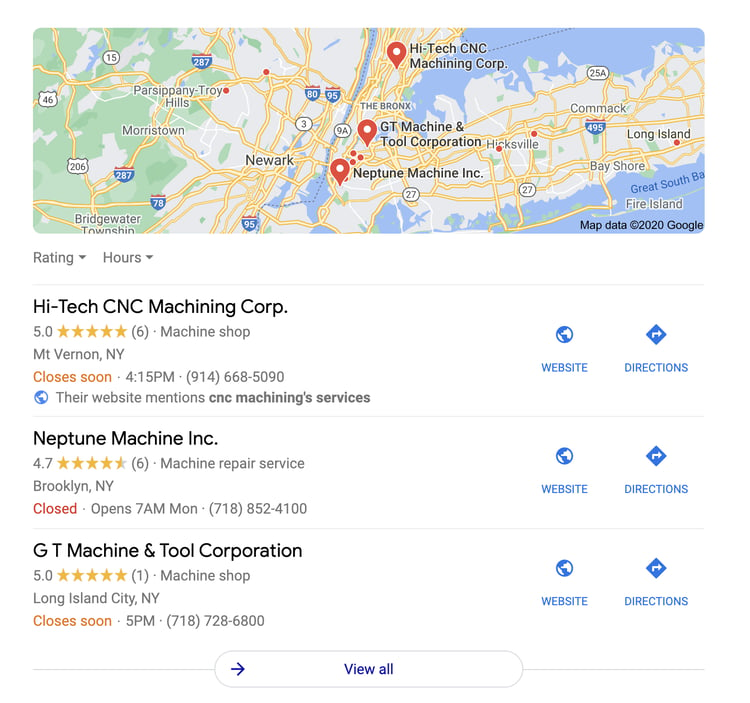 ---
Custom Prospect Report: See Who's Searching For Your CNC Machine Shop Services
---
The Basics Of A Digital Marketing Plan For A CNC Machine Shop
Your first point of contact with a prospective buyer can make or break a deal. According to IBM, 80% of B2B buyers now expect the same buying experience as B2C customers, so that means your website and online presence are likely the first things they see if they're searching for your services online.
Not sure where to start? We've compiled the below list of Thomas online solutions and resources helping manufacturers and CNC machine shops grow. They are proven to engage B2B buyers, procurement managers, and MROs.
Download this free Business Plan Template designed to create a snapshot of your manufacturing company, help you focus on the business' details, outline the risks, and make sure you're on the trajectory toward growth.
Give a tour of your shop floor with our

free video content production services

(with the purchase of an advertising program) and connect with more customers creatively online.
Increase your RFQs with a

free Thomasnet.com profile

and connect with new customers on the platform where more than a million buyers from different industries and various geographies sources are sourcing for products and services.
See the exact companies that are searching for your CNC machining services with a

free In-Market Buyer Report.
To increase your brand awareness to readers specifically by job function who are already interested in industry news, check out our

newsletter advertising options.
It's not rare to see a job shop fail — check out real

advice from real job shop owners

on the biggest mistakes to avoid.
The

Thomasnet.com

registered user audience includes buyers from 93% of the Fortune 1000. Landing a contract from a big company can be life-changing. Read

Using Digital Marketing To Win Business From Fortune 1000s

to learn more.
Learn how small manufacturer USTEK used online advertising to grow their business in their

case study here.
Want us to tell you exactly what you need to get more customers for your CNC machine shop?
Contact us for a free Digital Health Check. We'll review your company, compare you with competitors, and let you see how you can get in front of qualified B2B buyers.
"As a small machine shop, it's critical that every marketing dollar I spend attracts the right kind of customers — those that I actually want to do business with. My Thomasnet.com program paid for itself within the first 3 months."
Additional Resources For CNC Machine Shops:

Did you find this useful?