Supplement Word-Of-Mouth Referrals With Inbound Marketing
For many years, word-of-mouth referral was a tactic that used to occur offline. For small industrial businesses looking to gain new leads, word-of-mouth referrals can still be effective, allowing businesses to expand brand awareness organically. But over time, they began to learn that relying solely on word-of-mouth can hinder efforts lead generation efforts.
With the emergence of social media and the digital transformation of sales and marketing, the ways of traditional marketing and how referrals are shared have shifted. Rather than asking a friend in person for a business recommendation, most people might post a status on one of their social media networks (like LinkedIn or Twitter) and wait for someone from their network to comment their suggestions. Others are more likely to do a Google search.
Some fast facts — a whopping 90% of people believe brand recommendations from friends! And 61% of consumers use search engines before they make a purchase.
That's why more businesses are taking a more proactive approach with their marketing — and taking their efforts online. Below are a few of the main reasons that the word-of-mouth method shouldn't be used on its own and how you can supplement your traditional growth tactics with the inbound marketing methodology.

Expanding To New Markets Will Be Difficult
If you're looking to avoid risk, expanding to new markets is essential — but relying only on organic word-of-mouth referrals can make it difficult to do so. Customers referring your business to other industry professionals only have so much reach; your existing clients are certainly helping to establish you as a trusted brand, but they're likely only going to be referring you to people within their own field and region, so eventually, the results of these referrals will fade.
If you rely on your customers for lead generation, you risk pigeon-holing your business into one specific sector or industry. This severely limits your chances for opening up new markets and expanding your business into new localities. Plus, it puts your business at risk should your main industry begin to struggle.
You Have Less Control Over Lead Generation Efforts
If you're solely relying on word-of-mouth referrals, you're essentially only depending upon your clients to get the word out rather than taking initiative yourself. This can result in highly inconsistent sales, as the amount of referral leads coming in can vary greatly from month to month. It can be stressful, especially when you're trying to focus on other parts of your business. Crafting a lead generation strategy that makes sense for your brand is far more efficient.
See how CJ Winters, a cold root rolling company, saw an average 113% increase quarter over quarter after updating their new lead generation efforts.
And as much as your customers appreciate your work and believe in your brand, they're not keeping your business top-of-mind at all times; they have their own business to focus on. Your clients may be the most loyal, trustworthy people around, but they aren't salespeople. You know your business more than anyone else. Who knows how to best market your services or products better than you and your own team?
Read more: 30 Lead Generation Tips, Tricks, and Ideas
You Have No Data To Work With
Tracking user activity and monitoring how potential leads interact with and respond to various marketing tactics — whether through your website, emails, social media, or SEO or PPC — is critical for growing your business and making necessary improvements.
Having this data on hand allows you to see what potential leads are looking for, what they're downloading, and how they're engaging — or not engaging — with your brand. Organic word-of-mouth referrals eliminate this possibility, making it difficult to gauge what aspects of your brand need adjustments or improvements.
The value of customer testimonials can still go a long way, as long as you have a strategy in place to gather them, analyze that feedback, and promote it. The lack of a strategy — and the data — will make it difficult to scale your business with the right business decisions.
Learn the difference between marketing goals vs. marketing strategy.
Supplement Testimonials With Inbound Marketing
The challenge for many companies is how to leverage their client testimonial content to best influence buyers. Start simple. Here are five tips for getting more out of those word-of-mouth referrals and turn them into ways of actively promoting your business.
1. Add them to your website.
Interview your biggest clients. Ask them how your products or services help them solve their problems and add that feedback to your website (with their permission, of course!) This content should be easy to find so make sure it's designed well — and puts your prospective buyers in mind first.
Check out how ESI, a custom metal stamping company, published their case study library below.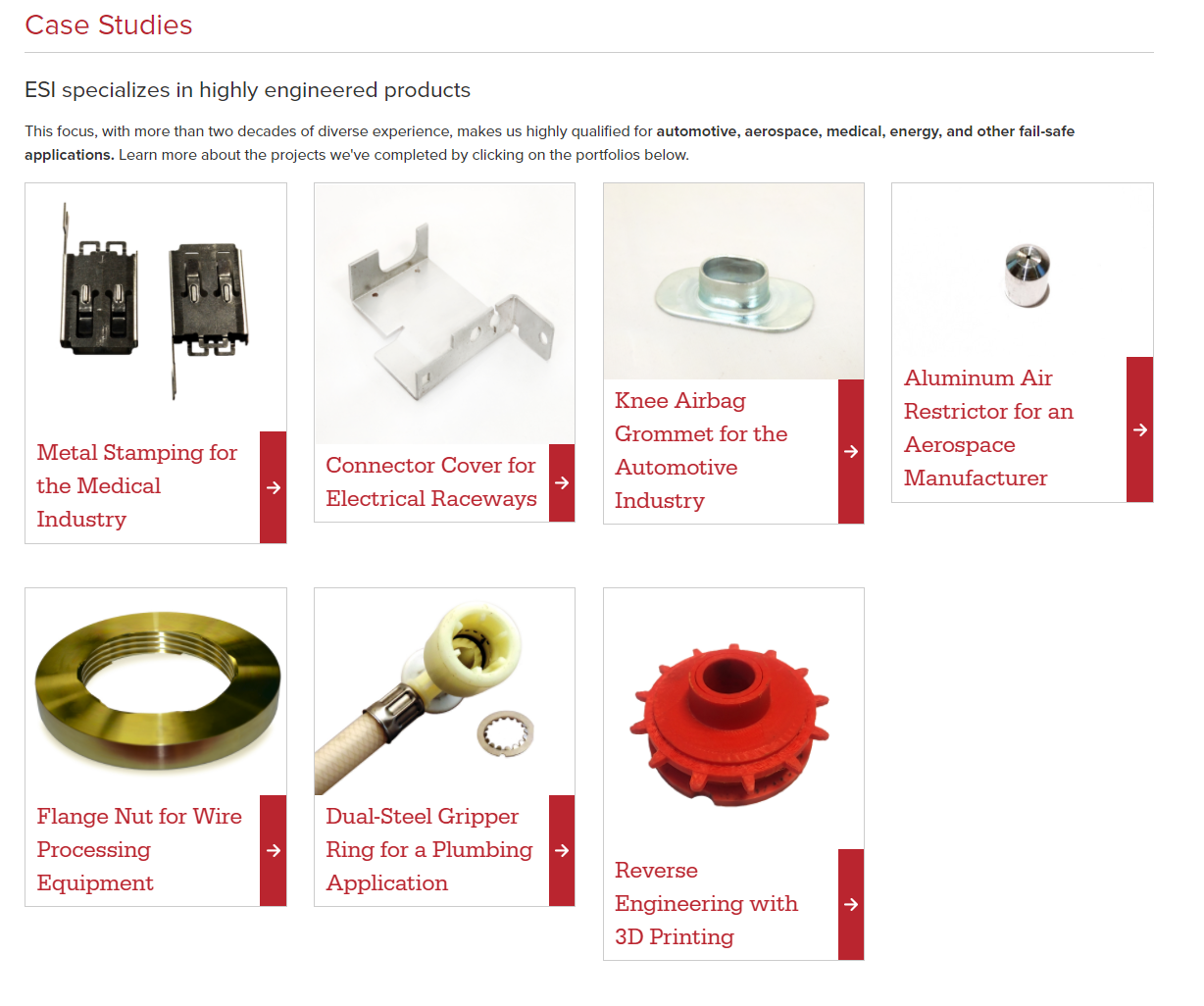 Consider writing a narrative about a big customer and posting the story as a blog. You can even go a step further and add videos to your blogs to tell your story in a unique and engaging way. More manufacturers are using video marketing to reach users at different stages of the buying journey.
2. Use social media.
Social media is a great outlet for promoting your customers' positive feedback about your products/services. Believe it or not, Facebook, Twitter, and LinkedIn have been playing a key role in the growth of manufacturers and industrial businesses. Learn how you can reach more industrial buyers with social media marketing.
3. Email your message.
You don't always have to sit and wait for buyers to come looking for your testimonials. When a story is strong enough, it may just be worth it to put email marketing behind it to generate leads. Here are some do's and don'ts of email marketing to get you started.
4. Enhance Your Online Presence.
An overlooked opportunity for case studies and customer testimonials is in your profile on Thomasnet.com, where the most in-market buyers are searching for businesses like yours. Fill your listing with valuable and dynamic content. Check out these content marketing examples for inspiration. Getting listed is free, but the results from manufacturing companies are unmatched.

Learn How You Can Fuel Your Lead Generation
To successfully grow your business and reach the valuable leads you're after, it's critical to employ a multifaceted, multiplatform marketing strategy. Upgrading the way you seek and promote word-of-mouth referrals is one of the first steps toward establishing an effective campaign.
To learn how you can start taking more control of your company's lead-generation tactics or discuss options for your specific needs, reach out to our team. We'll help create a plan that specific to your needs, no matter what step you are in scaling your business.

Did you find this useful?