Why Your BIM Models Could Be Losing You Specs...
Low-quality BIM models are causing manufacturers to lose out on project opportunities on a regular basis...
Every day, engineers are actively searching for BIM files to put into their projects as they work to determine which building products will meet their design and performance needs. These engineers rely on complete and accurate BIM models to help them build out systems that can be validated and tested inside of their virtual building model.
Getting your BIM files added to one of these virtual models can mean the difference between making it into the schedule or losing out, so it's critical that your BIM files are not only dimensionally accurate but also have the connectors and characteristics to ensure that specs are correct. If your BIM models do not include the necessary data to help engineers complete their validations, they can quickly become a liability and can begin losing you specs from important building projects.
Incomplete BIM Models Are Frustrating Your Design & Construction Customers...
Many marketing, sales, and engineering professionals believe that just having a BIM model library is good enough, but the truth is that every BIM model must provide a Digital Customer Experience that makes the engineer's job easier.
BIM files almost always include accurate dimensions, but many lack the connectors to integrate the product into a working system, albeit inside a virtual model. These models lack the necessary performance data including flows, loads, and connection points that engineers need to be built into models for them to be useful. If your files lack this performance spec metadata, your product may end up in the design but won't make the schedule - you got spec'd, but you missed the bid.
When a BIM object doesn't behave correctly in the BIM project model or lacks the key performance attributes, engineers quickly move on to find models that work, and will likely start exploring the sites and BIM libraries of your competitors...
We've had BIM models in the past that we found did not meet the needs of our customers. We discovered that while accurate dimensions are crucial, it's how the model behaves inside of the design software and the inclusion of complete metadata that matters for our customers to easily layout a system that meets their specifications and is accurate.

- BIM and Digital Solutions Professional, Building Product Manufacturer
How To Build A Winning BIM Strategy That Supports & Enables Specifiers
Providing a better digital experience to your customers is critical to getting and staying specified. It is important to check your models now to make certain they have the right metadata - SKUs, descriptions, order codes, etc. - to make it to the schedule or BOM for the building and you need a strategy to effectively get this data in front of your prospects.
Offering a full BIM library creates an immediate competitive advantage. By providing designers access to your BIM-ready product data in the format of their choice, you are increasing the likelihood that they will select, download and commit your products to their building project. Below is an example of how one PVF vendor's monthly downloads increased as they completed their 600 product lines over three years to build their CAD & BIM model library.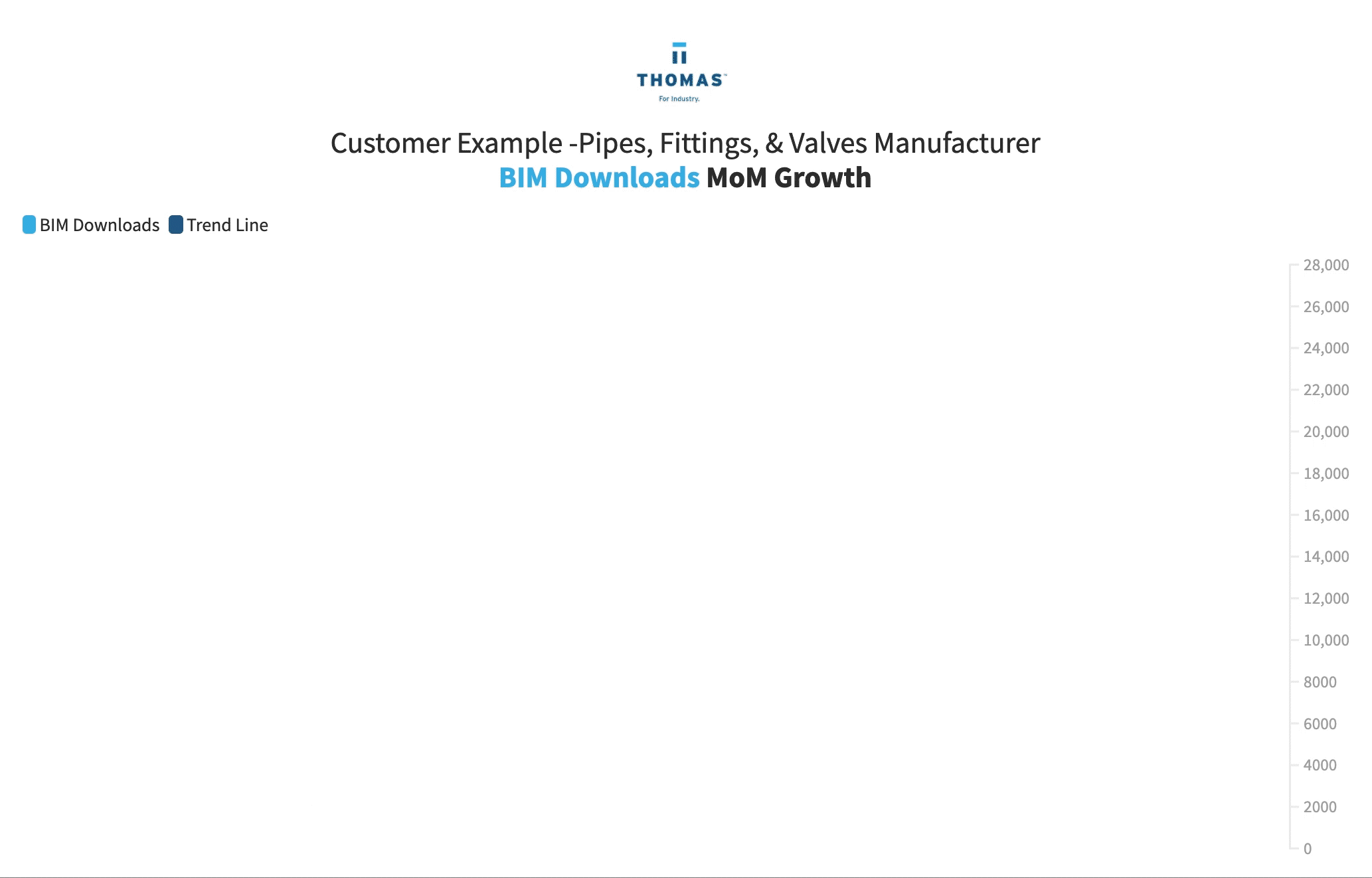 The steady increase in the availability of quality BIM content attracted engineers and contractors to return, confident that they were getting models that worked in their designs and were always up-to-date. The ROI to the PVF vendor was straightforward: increased downloads, more actionable leads about active projects, increased specifications, all leading to more wins. This is just one example of how manufacturers can use their rich product content to get better and earlier visibility to building projects, drive a better Digital Customer Experience, and achieve a meaningful ROI from their investment in great product data. Ultimately, their customers kept coming back, confident that they would find the right product data to meet their needs every time.
These downloads allow the brand to engage prospective specifiers earlier in their project to ensure their designs are accurate, offer complementary products and ensure that the spec they just won stays there throughout the bid process to an eventual win.
Sales, marketing, & engineering leaders should take the opportunity to use high-quality product data to lift their brand and increase their chances of winning project specifications. Competitive organizations do not bury their BIM content in a file library but focus on making it easy for engineers and contractors to discover, configure and commit their products to digital projects.
Your Step-By-Step BIM Playbook
Commit to the creation of an effective Digital Customer Experience

Identify target accounts & users, create a list of product data points critical to this audience, and determine the necessary file formats. You should aim to have your entire relevant product catalog available as BIM downloads.

Use BIM to generate leads and capture project data

BIM files should be gated for download and promoted across your site based on where your target accounts & users are searching. Contacts that download these files should be sent to your sales team for follow-up and consultative selling.

Create a cadence for reviewing & updating your BIM Model library

Plan an ongoing data maintenance plan with your team to ensure your products' information is complete and up to date. You can request a free BIM Model Check from Thomas today.

Expand your market reach with digital marketing efforts

Use BIM to optimize your product discovery across multiple channels and create traffic back to your website or apps in order to grow the number of downloads and specifications.
Free BIM Model Check
To make sure you aren't losing opportunities to incomplete or missing BIM models, sign up for a free BIM Model Check today to have our team of specialists review your files and identify any issues with your product data.
With an effective BIM Model strategy, you can start getting your products locked into key projects earlier and increase your spec-to-win rate across the board. To learn more about how Thomas can help your business create effective BIM models & a strong Digital Customer Experience, contact us today.
Did you find this useful?