Why Is Website Quality More Important Than Quantity For Industrial Website Traffic?
Many companies get fooled by statistics showing heavy site traffic and essentially disregard how qualified — or unqualified — those visitors actually are.
SEO and PPC tactics can be extremely effective in getting the right people to your website, but you also need to have some metrics in place to discern how many of your visitors are serious buyers and how many are merely tire kickers.
Below are a few key reasons why it's more important to focus on quality than quantity for your industrial website traffic.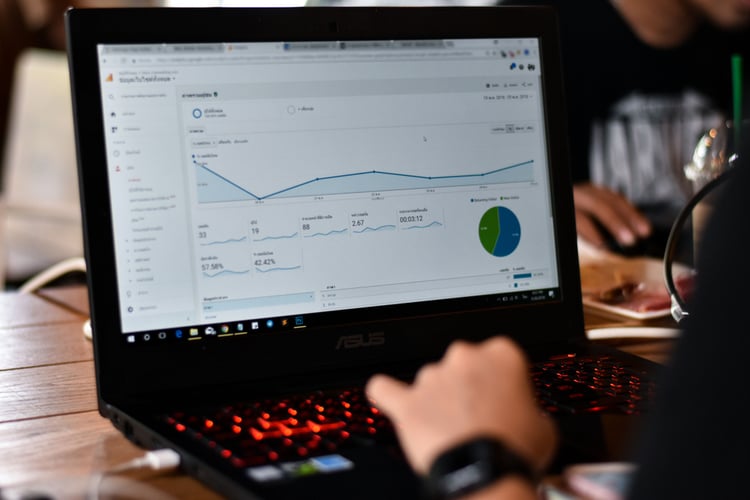 You'll Have A Higher ROI
Aiming for high-traffic goals sends out bait to a huge number of buyers, but if your traffic isn't comprised of high-quality prospects, everything else will suffer, including your return on investment (ROI).
You need to establish a presence that illustrates why you are a better choice than your competition. Your efforts should be targeted at specific personas, with analytics in place that measures how many users engage with your site and how they do so. Maybe your page takes too long to load, or maybe they couldn't find what they were looking for on your website. Regardless of the reason, an understanding of your buyer behavior is linked to the quality of website traffic.
So, assuming your website is in tiptop shape, it's time to start thinking of the best places to market your site so that your intended visitors are actually prospective buyers. Focusing on web-traffic quality over quantity will allow for more engagement, better leads, and increased revenue.
Your Data Will Be More Accurate
Speaking of bounce rates, the lower those rates are, the easier it will be to sort through trackable site activity, such as downloads and page views. This will allow you to more easily isolate what's working and what's not. Imagine sifting through a million site visitors' activity — the majority of whom have no need or desire to learn about your business — and trying to pick out site conversions.
Now imagine sifting through the data for a thousand targeted visitors with a high likelihood of engaging in one way or another. The latter allows for a better understanding of which factors have the greatest effect in converting visitors into customers.
But let's say you're still suffering a low conversion rate. At least with the proper analysis, you can pinpoint what needs improvement, what should be done away with, and what's showing signs of promise. Focusing on better traffic quality makes the pool of data significantly smaller, and much more useful for decision-making moving forward.
So what can you do to ensure you're getting quality traffic and putting effort into a real lead-generating website? Read on for some proven tips.
Put Out Specific, Targeted Content
Write content that's specific to your products and services. This means more than simply highlighting the name of the products, tools, or materials you frequently use or manufacture. Rather, focus on the needs your end product fulfills. Think of the day-to-day issues your prospective buyers face and how you can help remedy them.
Can you put out a checklist of common application errors, or provide an eBook that speaks to a specific issue? How can you reach prospective customers at each stage of their buying journey? Create your content with your target audience in mind, and they will come to you, organically, through searches. When you gear your content toward the right people, the right people come to you.
Also keep in mind that compelling and specific headlines are essential. Imagine yourself searching. How many articles or websites do you gloss over because your keywords are not clearly stated in the headline or the opening sample content listed underneath those headlines? Speak to the buyers' needs, and don't waste their time. This will also weed out the low-quality traffic you wouldn't want contaminating your data pool anyway.
Here are some resources to get you started:
Determine The Quality Of Your Website Traffic
Not all traffic is created equal so neither is the quality of your traffic metrics. When determining quality, here's what you should look out for and which numbers you should watch.
Bounce Rate
What does bounce rate mean? Bounce rate is the percentage of visitors to your site that navigate away after viewing only one page. Typically a high bounce rate is bad and a low bounce rate is good, but this really depends on the purpose of the page that users are visiting.
If you have a blog post with the purpose of informing, then this may have a higher bounce rate than a page that is supposed to convert. Nonetheless, if you see a high bounce rate on specific pages, you may not be reaching the right people. It's time to strategize different ways to engage with visitors and assess new ways to target quality traffic to your site. We dive more into that in the following guides:
Average Time Spent On Page
Average time spent on-page is the amount of time a user spends reading text, watching videos, or engaging with your content. We can assume that if visitors spend a long time on a website page or blog, they're interested in what they're viewing, aka they're quality!
💡 Thomas Fact: Compared to visitors from search engines, visitors from Thomasnet.com who see your company profile and click on your website link:
Bounce from your website 40% less often
Spend 65% more time on your website
Convert into sales leads 210% more often
"Thomasnet.com simply delivers the purest industrial audience on the internet, and being there has helped us connect with new customers in new industries," said Pete Elzer, President of Apex Plastic.
➡️ Complete your Thomasnet.com Company Profile to begin driving high-quality traffic from the most engaged industrial buyers online.
Number Of Page Views
We all want to see high page views on our site especially the pages that convert. If the visitor is qualified, they're likely to browse more of your website pages. At the end of the day, businesses want to see quality traffic coming to their site because visitors are more likely to convert to a sale.
Additional Resources To Get Started:
Lead Conversions
For many of us in the B2B space, lead conversion is a top priority. It's arguably the most important because it usually goes hand-in-hand with how successful your business is. To determine the number of conversions your company is receiving through website traffic, you can set up goals in Google Analytics (GA) and track the actions people are taking on your website.
While setting up a goal is easy in GA, why not take it further and turn anonymous website traffic into sales leads with Thomas WebTrax? With this free tool, you can see exactly where your website visitors are coming from and what pages they're engaging with. This insight is helpful for your sales and customer support team.
"WebTrax lets us see what our target customers and target industries are looking at on our website so we can be prepared to answer their questions on those issues and even order advanced inventory," said Julia Mace, Marketing Leader at SUS America, Inc.
Go Directly To The Customer
If you were trying to put together a softball team, would you post an ad at the local ice rink? Probably not. So apply the same logic to how and where you post your website links, ads, and marketing material.
Where are your target customers digitally hanging out? Thomasnet.com.
Every day, hundreds of thousands of buyers visit Thomasnet.com to find suppliers, source products, and gain insights into the industry. In fact, there are more than 1.3 million B2B registered users on the Thomas Network, making it home to the largest, most powerful, and active network of industrial/B2B buyers, engineers, and purchase decision-makers on the planet — 93% of the Fortune 1000 source on the Thomas Network.
Interested in driving qualified traffic from them to your website and generating more RFQs? Complete your free profile today to get started.
Make sure your Thomas Company Profile information is aligned with what's on your website, like your product specs, charts, graphs, images, videos, and CAD files when appropriate. And keep your name, address, website URL, and phone number consistent so buyers can easily engage with you.
Thomas has been connecting B2B buyers and suppliers for more than 122 years, so we know what it takes to grow your manufacturing business. For example, TranPak is a plastic pallets supplier. Before upgrading their growth strategies, TranPak's website was driving too many irrelevant visitors – and a minuscule number of qualified buyers. TranPak president Christian Ueland wanted to become more visible to the right people: relevant purchasing agents and other industrial buyers ready to place an order.
A conversation with industrial marketing experts at Thomas led TranPak to secure top positioning on Thomasnet.com in targeted categories including "plastic pallets" and "export pallets," among others. This boosted sales 24% in the first year, and their increased visibility in new markets and industries enabled TranPak to expand from a local supplier to a national pallet supplier.
"The leads that we get from Thomasnet.com are qualified. They're purchasing agents that are serious about our products. We grew our business by 24% thanks to our presence on Thomas," said Christian Ueland, President, TrankPak, Inc. "We're in front of our biggest audience of qualified buyers ever and getting leads from places across the country where we've never done business."
Manufacturers who couple their website efforts with a presence on Thomasnet.com can see real ROI. That's because today's buyer behavior is no longer the same as it was a few years ago. They are tech-savvy and prefer to source suppliers online anonymously. A strong online presence and a modern website are important keys to growth.
"Thomas is truly a partner in our digital transformation and engages my internal team to do better," said Brad Godwin, CEO of E2Global, a provider of turnkey consumable manufacturing services. E2Global partnered with Thomas for a cost-effective advertising & marketing solution that worked for them 24/7. Early results of their growth strategy received RFQs from big brands like Medline and Colgate/Palmolive. "Don't get started with Thomas if you are not prepared to grow." Contact us to learn how digital efforts can grow your industrial or manufacturing business.
Did you find this useful?