Why Quality Is More Important Than Quantity For Website Traffic
It's common sense that you need to drive traffic to your website in order to increase leads. And if you're showing signs of growth, that's a great start! But many companies get fooled by statistics showing heavy site traffic and essentially disregard how qualified — or unqualified — those visitors actually are.
SEO and PPC tactics can be extremely effective in getting people to your website, but you also need to have some metrics in place in order to discern how many of your visitors are serious buyers and how many are merely tire kickers.
Below are a few key reasons why it's more important to focus on quality than quantity when it comes to your industrial website traffic.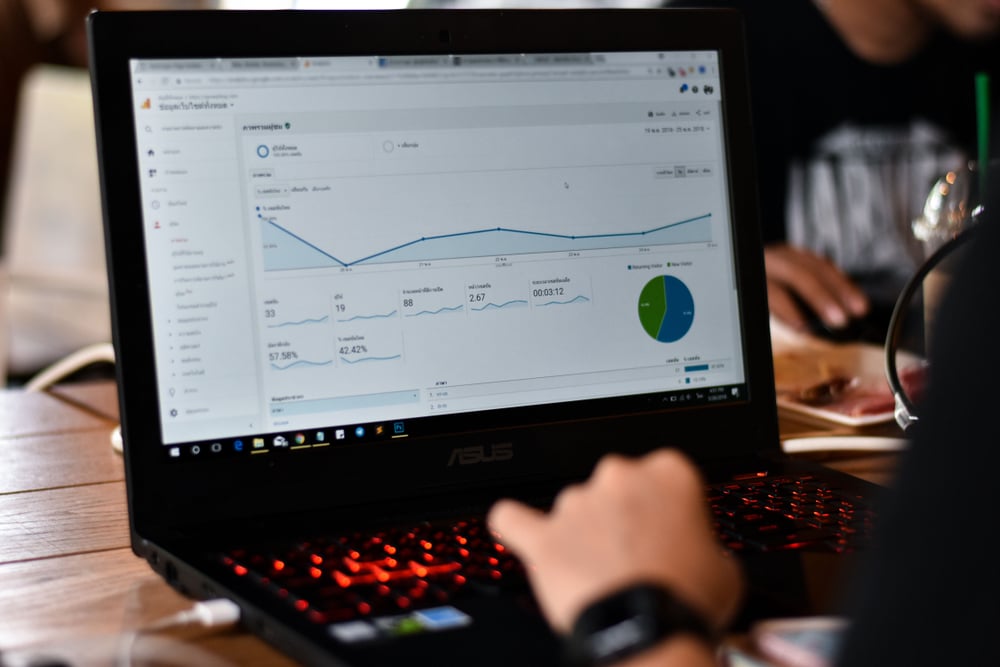 You'll Have A Higher ROI
Aiming for high-traffic goals sends out bait to a huge number of buyers, but who knows if you'll actually reach your target audience. If your traffic isn't comprised of high-quality prospects, everything else will suffer, including your return on investment (ROI).
It's not enough to just splatter your brand name across the internet. You need to establish a presence that illustrates why you are a better choice than your competition. Your efforts should be targeted at specific personas, with analytics in place that measure how many users engage with your site and how they do so. Indiscriminate, generic marketing can have a huge effect on bounce rate — the number of visitors who land on your page and immediately leave. Maybe your page takes too long to load, or maybe they simply weren't looking for your product. Regardless of the reason, your SEO placement will suffer and your status on the search lists will drop. You've pumped time, energy, and money into thin air.
So, assuming your website is in tiptop shape, it's time to start thinking of the best places to market your site so that your intended visitors are actual prospective buyers. Focusing on web-traffic quality over quantity will allow for more engagement, better leads, and increased revenue.
Your Data Will Be More Accurate
Speaking of bounce rates, the lower those rates are, the easier it will be to sort through trackable site activity, such as downloads and page views. This will allow you to more easily isolate what's working and what's not. Imagine sifting through a million site visitors' activity — the majority of whom have no need or desire to learn about your business — and trying to pick out site conversions.
Now imagine sifting through the data for ten thousand targeted visitors with a high likelihood of engaging in one way or another. The latter allows for a much better understanding of which factors have the greatest effect in converting visitors into customers.
But let's say you're still suffering a low conversion rate. At least with the proper analysis, you can pinpoint what needs improvement, what should be done away with, and what's showing signs of promise. Focusing on better traffic quality makes the pool of data significantly smaller, and much more useful for decision-making moving forward.
So what can you do to ensure you're netting quality traffic?
Put Out Specific, Targeted Content
Write content that's specific to your products and services. This means more than simply highlighting the name of the products, tools, or materials you frequently use or manufacture. Rather, focus on the needs your end product fulfills. Think of the day-to-day issues your prospective buyers face and how you can help remedy them. Can you put out a checklist of common application errors, or provide an eBook that speaks to a specific issue? How can you reach prospective customers at each stage of their buying journey? Create your content with your target audience in mind, and they will come to you, organically, through searches. When you gear your content toward the right people, the right people come to you.
Also keep in mind that compelling and specific headlines are essential. Imagine yourself doing a search. How many articles or websites do you gloss over because your keywords are not clearly stated in the headline or the opening sample content listed underneath those headlines? Speak to the buyers' needs, and don't waste their time. This will also weed out the low-quality traffic you wouldn't want contaminating your data pool anyway.
Here are 8 content marketing ideas (with examples!) to get you started.
Determine The Quality Of Your Website Traffic
Not all traffic is created equal so neither is the quality of your traffic metrics. When determining quality here's what you should look out for and which numbers you should keep a close eye on.
Lead Conversions
For many of us in the B2B space, lead conversion is a top priority. It's arguably the most important because it usually goes hand-in-hand with how successful your business is. In order to determine the number of conversions your company is receiving through website traffic, you can set up goals in Google Analytics and track the actions people are taking on your website.
While setting up a goal is easy in GA, why not take it a step further and turn anonymous website traffic into sales leads with Thomas WebTrax? With this free tool, you can see exactly where your website visitors are coming from and have your sales team follow up with interested companies on the spot.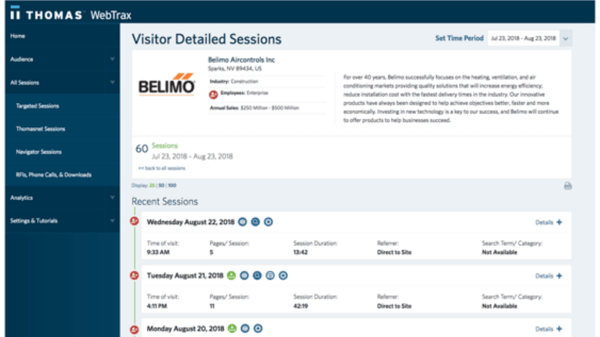 Bounce Rate
What is bounce rate? This is a simple one to understand. Bounce rate is the percentage of visitors to your site that navigate away after viewing only one page. Typically a high bounce rate is bad and a low bounce rate is good, but this really depends on the purpose of the page that users are visiting.
If you have a blog post that's purpose is to inform, then this may have a higher bounce rate than a page that is supposed to convert. Nonetheless if you're seeing a high bounce rate on specific pages, you may not be reaching the right people. It's time to strategize different ways to engage with visitors and assess new ways to target quality traffic to your site.
Average Time Spent On Page
Average time spent on page is the amount of time that a user spends on a page reading text, watching videos or engaging with your content. We can assume that if a visitor is spending a long time on a website page or blog, they're interested in what they're viewing, aka they're quality!
Number Of Page Views
We all want to see high page views on our site especially the pages that convert, but again, if this site traffic is unqualified what's really the point? At the end of the day businesses want to see quality traffic coming to their site because those are the visitors who will converts and increase sales.
Go Directly To The Customer
If you were trying to put together a softball team, would you post an ad at the local ice rink? Probably not. So apply the same logic to how and where you post your website links, ads, and marketing material.
Where are your target customers digitally hanging out? Thomasnet.com.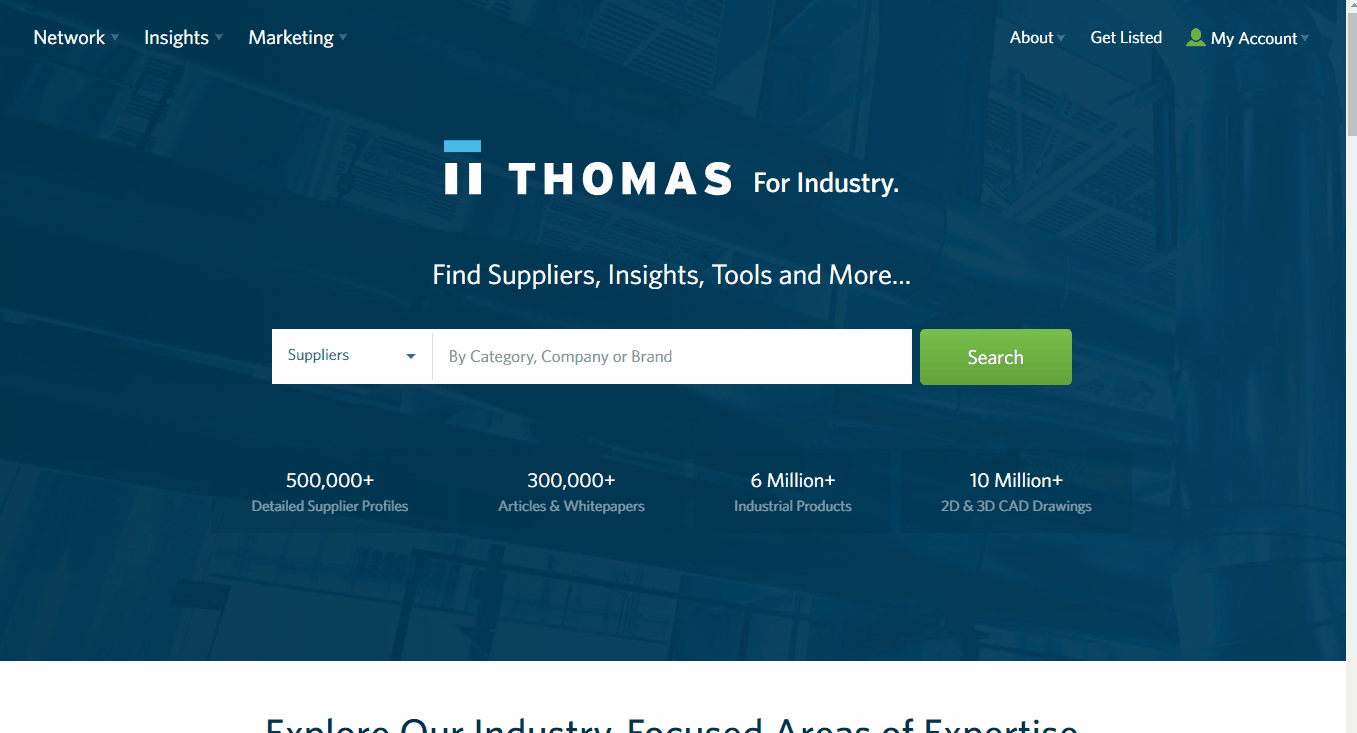 Every day, hundreds of thousands of buyers visit Thomasnet.com to find suppliers, source products, and gain insights into industry. In fact, more than 43,000 suppliers are evaluated on the platform every 24 hours, making it home to the largest, most powerful, and active network of industrial/B2B buyers, engineers, and purchase decision makers on the planet.
Getting your business listed on Thomasnet.com allows you to easily connect with thousands of potential customers who are actively seeking to buy. You can showcase your capabilities and interact with customers interested in your specific products and services.
Sign up for a profile today to get started.
Did you find this useful?