The Value of Client Testimonials And Case Studies
According to Search Engine Land, 85% of today's consumers read more than 10 reviews before they develop confidence in a brand.
Aside from having an up-to-date website with detailed product and company information and having examples of your products and services in action, it would help if you had testimonials from happy customers to make you stand out among your competitors.
Testimonials and case studies are essentially forms of social currency. Humans tend to flock together. If big names from a certain industry speak well of particular vendors or providers, prospective customers will likely find them more credible because of the already-established track record of success. For the B2B industry, since the validation comes from an impartial third party, stakeholders reach a consensus quicker, and deals close faster.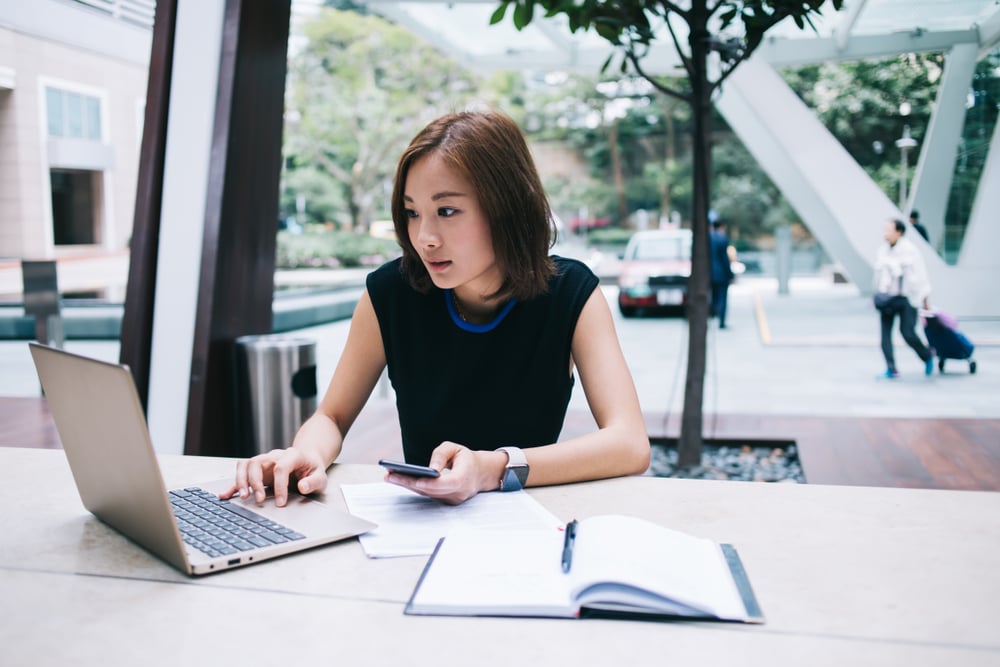 Case studies, in particular, trigger the Zeignarik effect. If prospects are currently facing the same or similar problems as the ones discussed in case studies, the content will likely resonate with these users, who are essentially hard-wired to read the case study until a solution is revealed. In time, you may even find that your case studies boast a higher "time on page" benchmark than your standard blog posts. More time on your website means visitors are engaged and likely see you as a trusted resource to do business with.
Creating Content For Case Studies And Testimonials
Maybe you've never published testimonials or are unsure how to build a library of case studies. The best advice we can give you is to start simple.
Creating good content takes time, but if you've been in the manufacturing business long, it is likely you already have testimonials in customer files or have analog reviews lying around the office. Make sure you have your customer's approval to publish them online. You can even incentivize existing customers to leave you reviews on other websites like Google. Keeping your Google Business Profile up to date helps your website stay at the top of search results and lets prospective buyers know what to expect when they contact you.
Here are some additional tips:
Ask Your Biggest Customers For Help
They have reaped the most rewards from your company and will be the most likely to take the time to answer probing questions. Send them a survey with a prepared template they can fill out quickly and easily. Or take a step further and give them a call.
Have a list of questions prepared in advance when you're interviewing for case studies. This helps ensure you elicit the most insightful, useful responses. Asking for feedback applies humanity to your business personality and you may learn a couple of things you can improve you weren't expecting. Keep it focused on the client, their line of work, their specific challenges, and how your product or service helped them.
Your Case Study Should Be Focused On The Customer
A case study is more in-depth than a customer testimonial. Take the time to cover these details:
The problems or pain points the customer was experiencing
How these problems complicated their lives and impacted their business
The improvement they saw as a result of your solution
How their business or work life changed after working with you — ideally, tie this to the "before" scenario to show the marked contrast
Put personality into your writing and try not to focus too much on jargon-heavy language or highly technical subject matter. Try to:
Use bullet points.
Add customer quotes in appropriate places. Remember, the goal is to help prospective customers relate to your existing customers and view you as an ideal partner.
Have accurate numbers peppered throughout. Did your solution improve turnaround time by 28%? That's a metric to be highlighted.
Break up the content into easily readable sections.
Make Your Case Studies Easy To Find
Link out to them from your home navigation menu. Reference your library in your email signoffs. Share case studies on social media with a short preview so prospective customers know what to expect before clicking the link. You don't want your website visitors wasting time trying to find your useful information or worse, you don't want them to click away to a competitor's site, thinking you have no useful information at all.
Use Videos To Tell A Story
When in doubt, use the power of a video to tell your story. People who read a text-based testimonial are likely to remember 10% of it after three days. A video testimonial or case study pushes that number up to 65%! Video is simply more memorable. You don't need a whole lot of video reviews or case studies to benefit from them. Aim for one, and then build up from there — Thomas offers free video production services with an advertising program, learn more here or check out these 14 manufacturing and industrial videos for inspiration.
How Manufacturers Present Case Studies On Their Website
The Journal of Marketing Research says that strong emotional appeal can drive up to three times more word-of-mouth referrals. Reviews in various forms flip the conversation, showing instead of merely telling and positioning your products and services in terms of "What's in it for the buyers?"
Engineering Specialties, Inc., a provider of custom metal stamping, assembly, fasteners and machining for tight tolerances, has the perfect example of what you can do for your case studies page if you're just getting started. They provide a Sample Gallery that portrays how highly qualified their services and products are for automotive, aerospace, medical, energy, and other fail-safe applications.
Buyers, engineers, procurement managers, and MROs are all looking for high-quality photos and graphics to help them decide if you're a good fit for their project. Display them on your site for them to more easily place you on their shortlist.
Learn More: How Big Companies Choose New Suppliers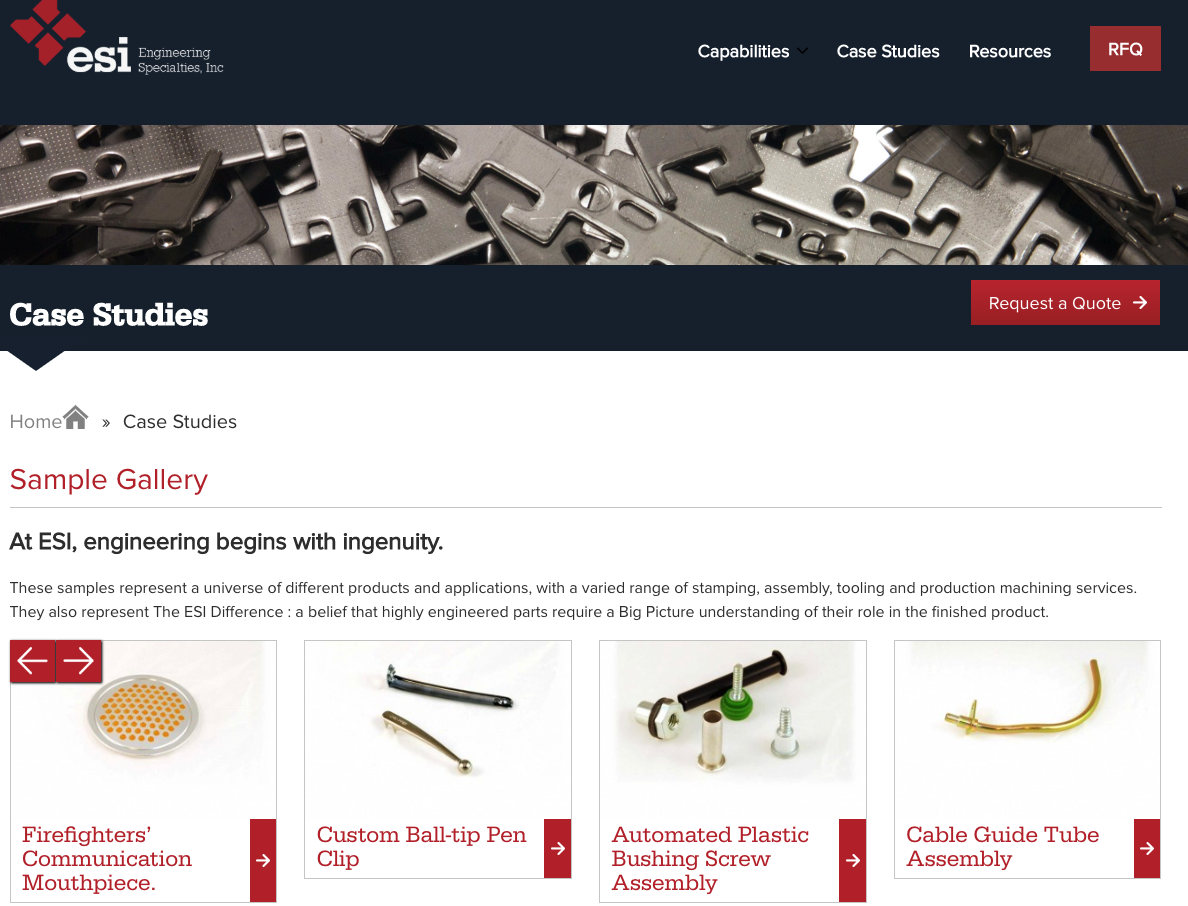 Additionally, you could put quotes on your website featuring the names and logos of your customers or write a press release with the story of solving a customer's problem. Some manufacturers and industrial companies are seeing success by taking the next step with their content and promoting it in online channels where their buyers are reading, like industry's leading email newsletter Thomas Index Update.
Toagosei's Aron Alpha branded content received over 73k+ impressions in the Thomas Industry Update that put the brand in front of buyers from major companies including 3M, NASA, and Siemens.
More buyers are demanding B2B companies provide a similar experience when browsing on websites where they do their personal shopping, so we love how U.S. Air Filtration's website offers the opportunity for their customers to leave feedback directly on the page.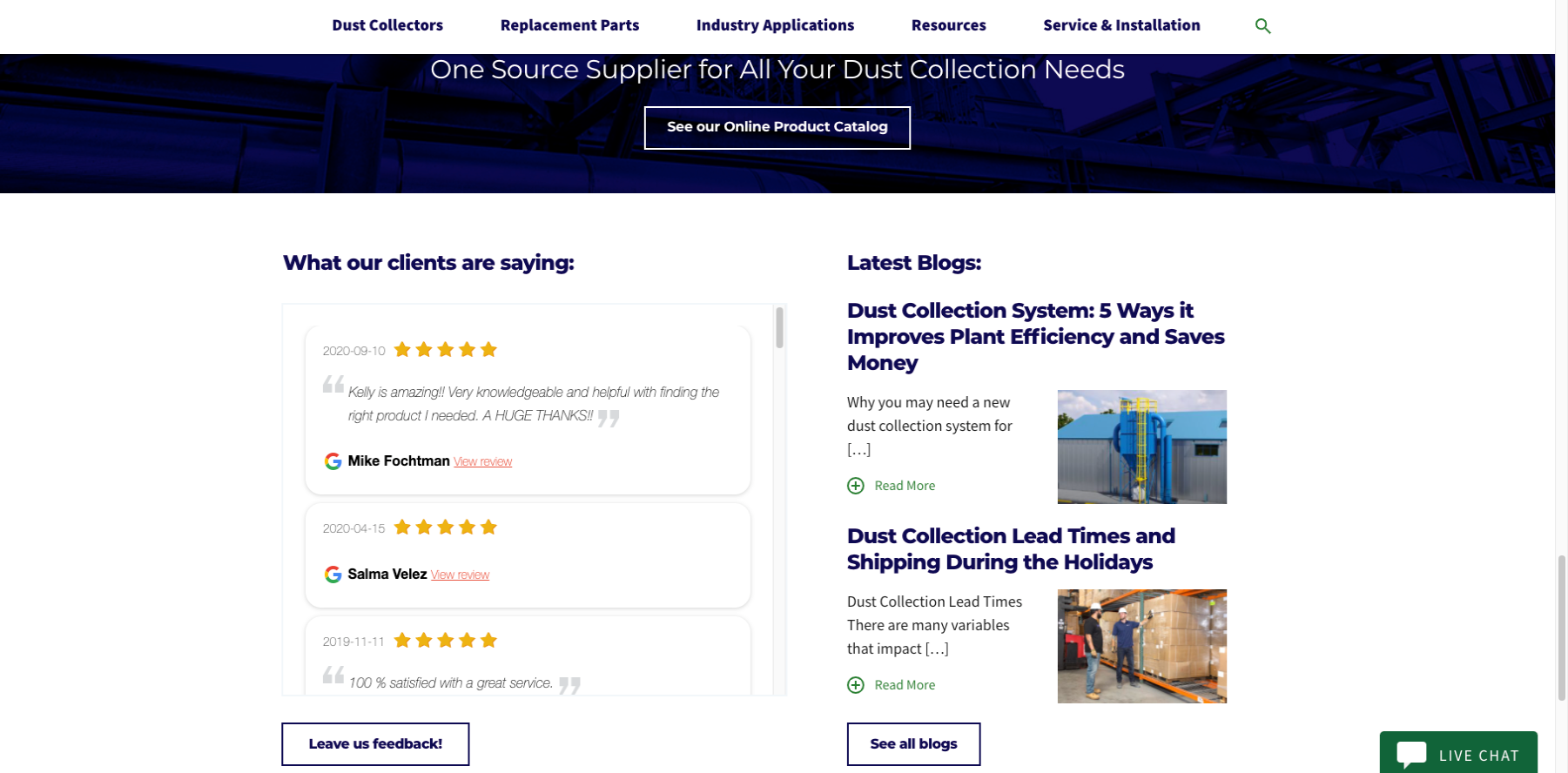 Learn More About Creating Content That Sells
Case studies and testimonials are engaging for today's consumers; not only do they prove your competence and reliability, they promise a solution that's been vetted by other customers. They shine a light on possibilities and allow customers to envision a more efficient, successful future for their business.
To learn more about the benefits of customer-created content, or for help in getting started with client testimonials and case studies, reach out to our team of industrial marketing experts. We're made up of engineers and content experts who will help you translate technical jargon into compelling copy and get it in front of the customers you want to do business with.
Did you find this useful?