Private Label Manufacturing Website Design Examples
Many manufacturers and industrial companies know one of the best secrets to getting high-quality leads is to have a high-quality website. And with private label manufacturing seeing steady growth opportunities, we've rounded up the best private label manufacturing websites for inspiration for your own industrial website.
Jonco's Manufacturing Website
Jonco is a design, manufacturing and fulfillment company that offers a variety of solutions like contract sewing, digital printing, and packaging.
Here's what we like most about their website and why:
There are multiple pages that speak to their services and solutions page. The content focuses on the customer's needs and how Jonco's solutions solve those problems. In addition to the details (which help increase SEO traffic), the pages have relevant photos to give the customer a clearer picture of Jonco's processes and the quality of the final product.
Jonco's resource library has content that helps buyers put them on their shortlist: case studies and PDF guides. They speak to Jonco's capabilities as well as tell a story of what it's like to work with them from a customer perspective.
When buyers are in the early stages of evaluating manufacturers and suppliers, one of the most basic questions they're trying to answer is, can you perform the job that they need done? Note Jonco's Equipment tab in their navigation. They list out all of their equipment and capabilities available to meet customers' manufacturing needs.
Read more about how Jonco uses online advertising with Thomas to get more customers.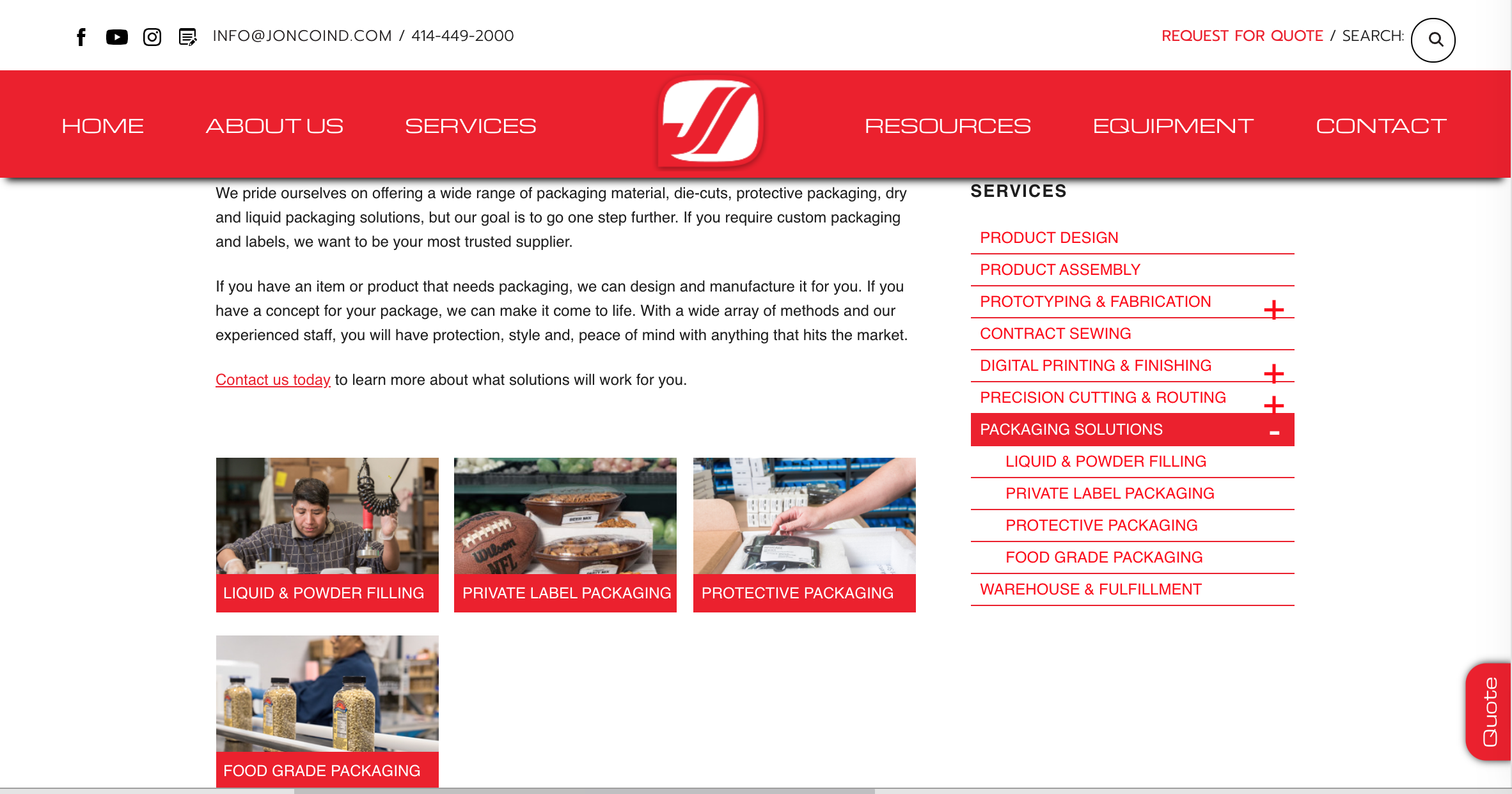 Copps Industries Private Label Manufacturing Website
Copps Industries provides epoxy products and private label manufacturing services to a broad range of markets globally.
Here's what we like most about their website and private label manufacturing pages:
Copps Industries lets their website visitors clearly know what their capabilities are with blocks of product images on their homepage.
Buyers want to know what certifications you have earned. In fact, many large corporations insist only on doing business with companies that are certified. Copps is ISO 9001:2015 Certified and labeled that certification right on their homepage. Learn what other items buyers are evaluating you on in our guide "How To Make The Industrial Buyer's Shortlist."
Do you need epoxy products or private labeling? The call to action buttons are clear to lead the visitor through their buying journey.
The red "Request A Quote" call to action button utilizes effective use of contrasting colors to encourage users to complete an action. While the rest of the website uses colors that match Copps' brand, the red signals the website visitor to click that button. The role of color theory is an idea that when multiple similar objects are present, the one that differs the most is going to stand out and be remembered.
Copps' website is focused on lead generation. Their resources are "gated," meaning the website visitor has to complete a form to receive the guide, brochure, case study, etc. — Copps then knows exactly who is interested in their products and services.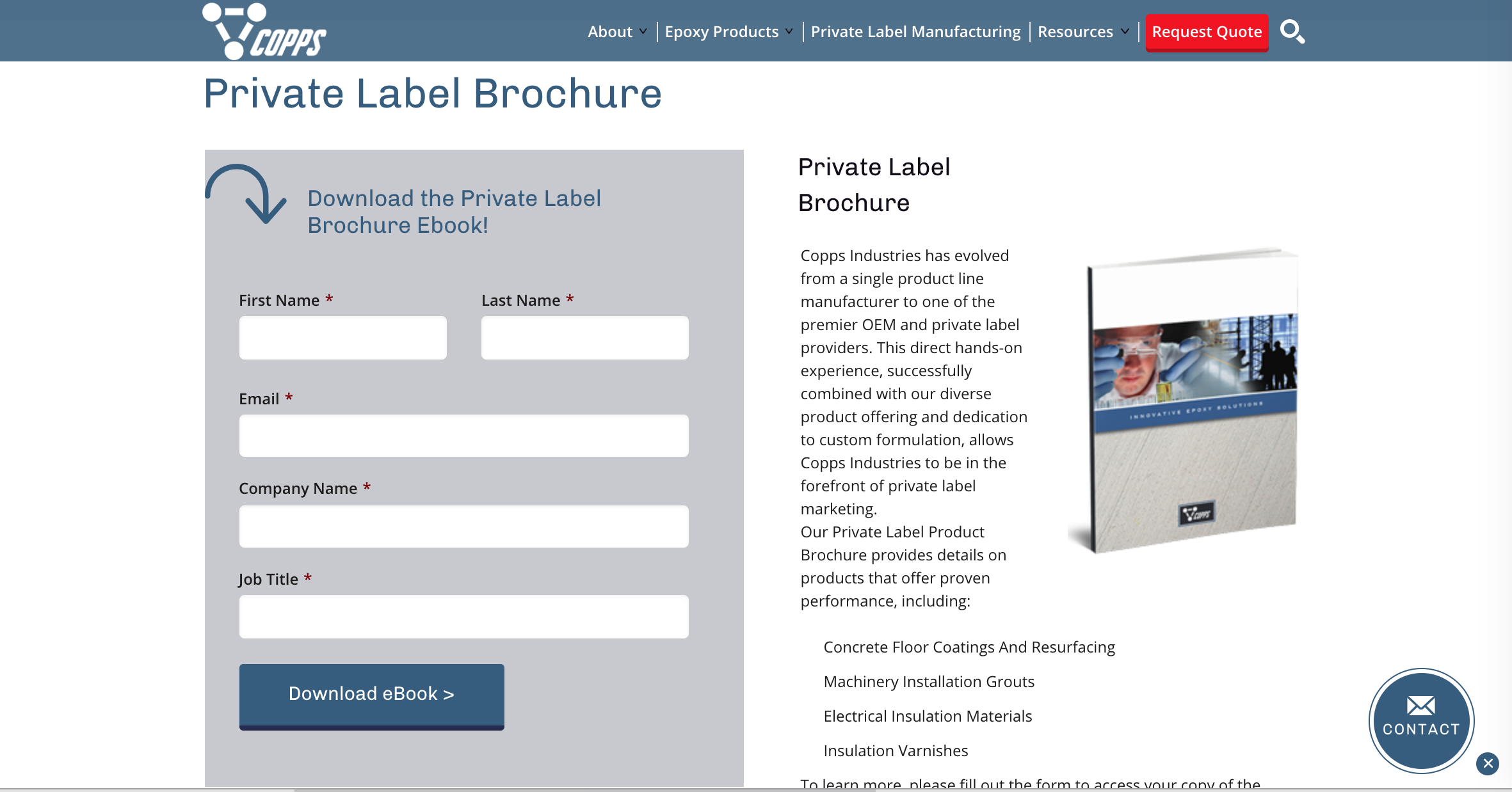 NutraScience Labs' Website
NutraScience Labs provides dietary supplement companies with full-service solutions for contract manufacturing, graphic design, packaging, and order fulfillment. NutraScience Labs' website incorporates content, imagery, and design well.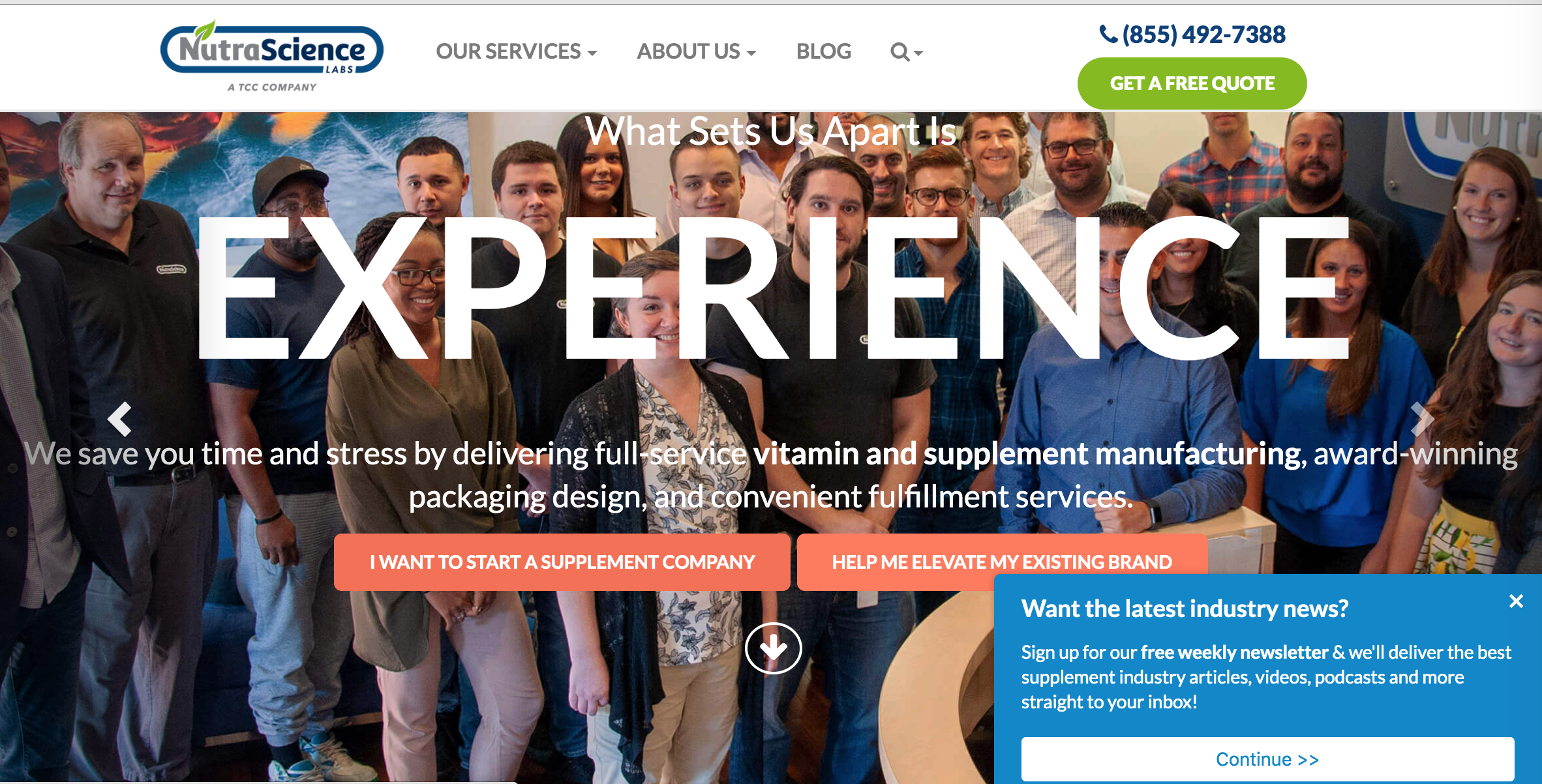 Here's what we like the most about their website:
The manufacturing industry is B2B, but companies are still working human to human and the end result of some manufactured products are used by consumers. NutraScience's website is designed with both audiences in mind by appealing to the website visitor's emotions. Their homepage features a carousel that showcases imagery and text that play on loop. One photo is of their employees that creates a human connection with the website visitor.
NutraScience Labs' About Us page tells the story of their past, present and future in an engaging way where the website visitor can click through each part of the story like a timeline. The end of the timeline presents options for the visitor to contact them. See more About Us page must-haves here.
There are multiple stages in the industrial buying journey and each buyer contacts a supplier in different ways. Some prefer to make a phone call while others prefer to fill out a form. NutraScience gives the buyer more than one way to contact them — through a Request a Quote online feature, phone number, and blog for more information.
NutraScience Labs nurtures their contacts with an industry newsletter and they have a pop-up on their website to encourage visitors to subscribe. This tactic helps to build a list of contacts organically. Click here to learn the types of emails that are effective for manufacturers.
Just like Copp's Industries, NutraScience Labs incorporates contrasting colors in their call to action buttons to lead the website visitor to complete an action.
For more website design inspiration, download 10 Step Checklist For Your Website Redesign. Included in the guide are additional website designs from manufacturers and industrial companies that use their website to generate more leads.
Did you find this useful?