Content Marketing And Manufacturers: What Is It?
Content marketing can persuade potential partners and influence buyers at every stage of the buying cycle, so it's important to understand the essential elements that make up a successful content marketing strategy and how they support sales.
Content marketing isn't limited to the types of content or channels you use to promote — many other moving pieces like sales, traditional marketing tactics, and brand evangelists play into it.

What Is Content Marketing?
Joe Pulizzi, a content marketing evangelist and thought leader, answers, "[It's] the art of communicating with your customers and prospects without selling."
The old adage of sales was as easy as "ABC:" Always Be Closing. The new landscape of online marketing and sales, however, calls for a different skill: Selling Without Selling.
Wait a second. If content marketing doesn't "sell," then how does it help my business? Here's your answer: Content marketing helps industrial companies' bottom lines by building their brand image and forging meaningful connections with buyers.
Content marketing demonstrates your expertise and value and works to complement and reinforce what you want your customers to know about you. It educates through many forms and varied lengths, like social media posts, blogs, eBooks and guides — but it is not a substitute for traditional marketing tactics. Content marketing and traditional marketing can intersect occasionally, so you should always have a general marketing strategy that your content marketing supports.
Content Marketing Is Not Sales Content
Traditionally, sales were made based on networking and relationships that were established over time. These days — and most especially for B2B — buyers want to complete a purchase on their own terms. And while closing a sale is still built on trust and loyalty, content marketing helps to build that trust long before the customer gives you a phone call.
Content marketing is a different type of communication: a sales message that's not about selling. A video demonstration of a proprietary grinding technique should focus on the advantages of the technology. An email blast could promote the video and encourage customers to visit a webpage for more information. At the same time, the video will live on YouTube or other video hosting platform, ready to be found by a new, larger audience of industrial buyers beyond your email list. When done right, content marketing works to earn potential customers' loyalty before a sale is made.
Related Resources:
Content Marketing Works To Build A Relationship With Your Audience
Content marketing strengthens the relationship between you and your customer, so it's important to know everything you can about your buyers. (That's called persona targeting.)
Buyers want suppliers who are experts in their field. They want to feel that they can trust your knowledge, come to you with a problem, and rely on you to find a solution. The content you create must demonstrate your knowledge about more than just your product. You need to prove your expertise in your industry, your customer's industry, and the challenges your customers face.
And this business relationship is a two-way street. Regular marketing connects with customers on one topic: you (not them). Content marketing seeks to engage your audience and create a dialogue between you and them.
Types Of Content Marketing
Traditional marketing refers to the tactics used before technology enhanced the way we do business — phone calls, email blasts, print advertisements, direct mail, etc. Here are the types of content marketing you can use to supplement your traditional growth methods:
Microposts
These are short but insightful commentaries — like what you find on Twitter or LinkedIn. They are original thoughts and/or opinions on topics important to you and your industry. For example, a custom manufacturer might share a new trend in DIY metal stamping, or discuss innovations in an end market such as aerospace, automotive, or high-end appliances.
Articles
Whether they're blogs you've written or guest posts, articles are the best way to prove your wide breadth of knowledge and keep information in a digestible format at the same time. If you manufacture heat reclamation systems or components, you might write about their role in new energy management programs. Evergreen content like "What Is CNC Machining?" establishes thought leadership for the author and remains relevant for months or even years.
---
---
Customer Testimonials
Buyers want to know that you're great, but to hear it from yourself is ineffective. Create case studies, post reviews, and showcase customer testimonials to create value for your brand and customer service. Success stories from happy clients can reassure potential customers of your capabilities by giving them a clearer idea of what it will be like to work with you.

Press Releases
Expanding your plant? Installing new equipment? Contributing to a charity or other community benefit event? Innovating your processes to be more sustainable? These make prime content for news releases. This information reaches buyers through syndication outlets, and may also be picked up by trade journals and content aggregators.
Learn More: How Public Relations Helps Manufacturers Grow Their Business
---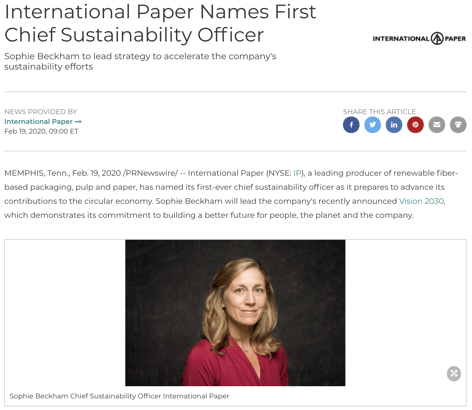 ---
Videos
Video marketing is a subset of content marketing and has helped increased sales for manufacturers and industrial companies. Create videos that your audience is interested in — it doesn't have to be complicated. Virtual plant tours, product demonstrations, and technical tips make great video topics. A video tour of your company showcasing how much fun your employees are having puts the human element into your business and appeals to your audience's emotions, which keeps them engaged. Keep in mind that short videos, 1 to 3 minutes on average, are most effective. Check out these video examples from manufacturers and industrial companies.
Industrial Webinars
Offering webinars, on the other hand, makes for a very different user experience and can serve as a powerful means for increasing lead generation. Webinars, or web-based seminars, as the name implies, can be offered either live or prerecorded and allow for a more personal presentation of information.
Enabling you to reach users on a larger scale interactively, webinars are particularly effective for presenting products and services, allowing for demonstrations and visual illustrations of complex concepts. Webinars can range from around 30 minutes to an hour and can show how particular products works, application fixes and troubleshooting. Because viewers can connect with each other in comment boxes during live presentations, webinars help bring together industry professionals while establishing you as a knowledgeable leader.
Although relatively inexpensive to produce, putting together a successful webinar — especially if it's airing live — takes thorough planning and practice. If you don't have a confident, engaging presence "on air," you risk boring your viewers and losing potential leads. Regardless of your level of preparedness, though, there's always the risk of technical glitches during live webinars, so keep this in mind when planning your strategy.
White Papers And eBooks
This is where you can really flex your technical muscles. White papers are long informative reports that break down a complex process. For example, you can explain how a new machining technology can pass down cost benefits to the customer and the end-user. If your company focuses on green manufacturing, you could outline end-of-life uses for a component or the environmental footprint of a process.
eBooks (short for electronic books) on the other hand cover a topic in a more broad format. They are informal in language, with more visuals than a whitepaper. Whatever your white paper or eBook idea, just make sure it has longer copy than a blog — preferably 1000 words or more with third-party facts and data to support your content. In order to use as a lead generation tool, eBooks and white papers are saved as PDF documents and gated on landing pages where you can capture a user's information — more on that in 5 Easy Tips To Creating An eBook.
Types of Channels To Share Your Content Marketing
Now that you better understand what constitutes content, you need to know about the channels of distribution. Content marketing engagement can take place in an industry forum, through social media, or in the comments field of your corporate blog. Here are some of the marketing channels we recommend:
Your Website
A good marketing program may not always start at your website, but it will always end there. In addition to housing content, the pages of your site (About Us, Case Studies, Services, etc.) should reflect your content marketing strategy. In other words, it needs to be focused on the buyer, not on you.
"Diversified content on our site has really helped us stand out as a leader in the industry," said Eoin Lynch, Executive Director of Sales and Marketing at Tex Tech Industries. "Some aerospace technology can be complex, but our graphics, data sheets, and videos from Thomas Marketing Services break it down for buyers to understand what they need and how we help them."
To see exactly what you need to improve your online presence and engage more B2B buyers, request a free digital health check from our marketing and engineer experts.
Company Blog
Your company's blog is the ideal place to start posting your mid-length articles (like this one!). When you follow best practices for site hosting, SEO, and content creation, you can build a powerful new way for potential buyers to find you. Readers are more likely to come back if you post interesting topics that are of value to them. Think about what sets you apart as a business and what tips or advice you can share — here are 7 Ways To Get Blog Post Ideas for more inspiration.
Industry/Trade Magazine Submissions
Whether distributed in print or online, trade magazines are a widely-dispersed source of information for people in the industry (that happen to always be looking for high-quality content). You can submit your article to industry magazines and websites that your customers read.
Alternatively, you can share your content as an advertisement in Thomas Industry Update, the daily email most industrial buyers subscribe to.
Emails and E-newsletters
Any of the above-mentioned content can be communicated in an email. A simple note to a customer or a potential customer letting them know about a news release, a white paper you just published, or a customer case study exhibits goodwill and can help positively influence response rate. Send the emails regularly in an e-newsletter format so your audience is always up to date about the things going on in your company and industry.
Transactional emails are another opportunity for your content marketing to live. They're the type of emails that get sent when a buyer has completed an action — like if they added your product to their cart but didn't complete the purchase.
Read More: The 9 Types Of Email Marketing You Need To Be Sending (And Why)
Social Media
It's super easy to engage with customers on social media — but each social media channel is a little different. Consequently, you may not have the same followers across all platforms. Sharing unique content tailored to the strengths of each platform helps you remain top-of-mind for industrial buyers, no matter which type of user encounters you. For example, Instagram only allows you to post 1-minute videos to your feed and the links in your post (except for the hashtags) are not clickable — so don't expect all social media platforms to share the same functionalities.
Still not sure of the differences? Check out these posts to read next:
Remember, what makes content marketing important is the messaging you're sharing with your audience. Be interactive — respond to email inquiries and comments, on blog posts you've authored, and through social network engagement. Make your e-newsletters interactive by asking for feedback, sending surveys, and answering those responses when appropriate.
Content Marketing and Brand Marketing
Unfortunately, industrial brand marketing is often misunderstood throughout the industrial space.
The common mentality is that candy and soda need strong brands, but ultracapacitors and precision CNC machining shops don't. But regardless of what you sell, if your company doesn't have a strong brand, there will come a stopping point in word-of-mouth customer referrals.
In the industrial business environment, just like in the consumer landscape, a strong brand means being the first company that comes to mind when buyers consider your products or services. Brand marketing is important to manufacturers because it not only builds your name recognition but recognition for your capabilities too.
Related Resource: What Can B2B Industrial Marketers Learn From B2C Companies
Consider your own company's buying habits. If you've never heard of a particular supplier before, you research the company and investigate their past work before you add them to the shortlist. You might be not as likely to do business with that company if you've never heard of them before and if you don't see anything positive online about their business. If the company is well-known in an industry, questions of reliability and quality may have already been answered simply based on their brand name — and what do you think helped create that understanding? Yup, content marketing.
Content marketing helps define your brand through the creation and distribution of content that communicates your value, knowledge, and expertise. The more widely available your content, the more familiar buyers become with your company over time. The real connection to sales comes when the buyer can relate to your content — and to you.
---
Creative display advertising increases your brand awareness to the audience you want to do business with.
---
Evangelists And Content Marketing
An evangelist is often considered the "holy grail" of content marketing. Evangelists eagerly share your content because they believe in your brand and value your thought leadership. They actively promote your company's content simply for the value of the content itself, not because of what your company makes or does. They might do this because of how you and your company make them feel, or how their own reputations get a boost when they share your information.
Evangelism doesn't happen by accident. It's the result of a relationship that has been carefully cultivated and nurtured. Whether you're dealing with very satisfied customers or industry experts, treat everyone as VIPs. Remember, this is all about relationships. You should be able to spot content marketing evangelists right away based on their activity level with your company's initiatives. When you have strong content supported by a strong team, you have the important components to a lead generation strategy.
Not sure you have the ingredients to make your content marketing successful? Download our Content Marketing For Industrial Companies eBook to see where you can improve and contact us to help you put the plan to work.
Did you find this useful?