The Benefits Of Webinars: Are They Worth It For B2B?
To keep up in today's increasingly competitive industrial landscape, companies must constantly be looking for additional ways to reach their target audiences. Webinars, in particular, allow brands to connect with clients — and potential clients — on a personal level while establishing the business as a knowledgeable industry leader.
In fact, 60% of marketers say they try to incorporate webinars into their digital content marketing strategy, and for good reason: Studies show that 20% to 40% of webinar registrants turn into marketing qualified leads (MQLs).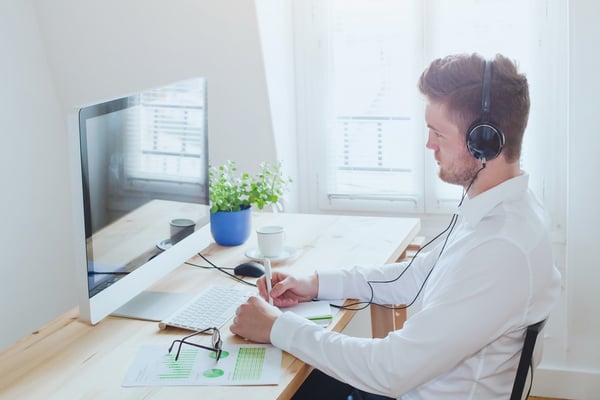 Webinars can work, but they take some time, patience, and planning in order to pull off successfully. In addition, while webinar registrants can become customers, they need additional nurturing along the way.
Keep reading to determine if webinars are right for you.
What It Takes to Run A Webinar
Below are some of the key tools and skills you'll need to create an effective, engaging webinar.
You'll need a webinar hosting platform: Since webinar sessions typically involve sharing an informative presentation created by the host, it just doesn't make sense to use only audio. You'll also need the platform to automatically record the sessions, as the video (or the replay) will continue to be effective as gated content. Reliable webinar hosting solutions can cost anywhere between $50 and $250 a month depending on the various bells and whistles offered.
You'll need a landing page creation tool: If you have an in-house designer, you may be able to put something together using landing page templates that work with your WordPress installation. But in most cases, investing in a solution like HubSpot or Unbounce is highly recommended. Your webinar hosting platform may come with landing page templates, but the editing options are usually dismal.
Don't scrimp on the landing page. It is a crucial step in the user registration process, setting the stage for the entire webinar experience.
You'll need a great topic and vibrant slides: This is non-negotiable. So, eavesdrop on what your competitors are up to. Poll your existing database to get a better idea of what users want. And take the help of an application like Buzzsumo to identify trending content ideas in your sector and turn them into engaging webinars.
You'll also need someone who can manage all the moving pieces. From finding a topic and finalizing a date to courting high-value presenters and coordinating various promotional campaigns, every aspect of the event requires close attention to ensure profitability.
The Benefits Of Hosting Webinars
When done well, webinars don't just yield fresh leads, they also facilitate a lot of soft, unobtrusive branding, which is very desirable in today's world of smart inbound marketing.
Webinars establish topic authority: Especially in manufacturing and industrial marketing, in which content is generally not interactive, webinars help establish your company's presence and expertise. With polls, live videos, and product demonstrations, businesses can display the depth of their knowledge without just relying on the written word.
Webinars establish trust: In any sector involving large orders and long purchase cycles, webinars help put decision-makers in touch with the people energizing a brand — the first step in perceiving them as partners, not just faceless vendors or suppliers.
Webinars make industrial brands more human: Through webinars, users not only learn about your products and services, they also learn about the experts behind the scenes. Suddenly it is much more than content; it is a real human connection.
Webinars benefit existing customers: Webinars benefit buyers, potential customers, and almost all stakeholders. Companies that invest in credible, expert-led webinars attract a lot of positive attention thanks to their ability to produce valuable, actionable content on a consistent basis.
What You Should Know Before Hosting a Webinar
Webinars ask for a significant time commitment.
Webinars may not always go smoothly. Technical complications do pop up, and that's something presenters and businesses must take into account. They also need to be prepared if, and when, a technical glitch occurs.
Webinars done just for the sake of having done a webinar will inevitably be unengaging and uninspiring.
Generally speaking, a session should only be hosted when:

Businesses have something of importance to share.
Fresh research is available to bust myths or guide users through industry challenges.
Experts have agreed to field audience questions.
Not all webinars need to be live sessions, though. If you want to slowly build up your confidence, start with recorded sessions people can access at their own pace. These webinars — called evergreen webinars or on-demand webinars — should deal with topics that will always be of interest to your users, no matter when they tune in.
Learn More About Videos And Webinars
Webinars can be a valuable part of your content marketing mix — and so can videos. You just have to make sure your efforts are in line to your business and marketing goals.
Did you know that 89% of consumers are likely to purchase a product or service after watching a video? Videos make information more easily understandable, especially when there are complicated components to the products you're selling.
Learn more about our free video production services here or sign up for one of our next webinars to learn how you can harness the benefits of digital marketing in the B2B industry.
Did you find this useful?