Industrial Trade Show Canceled? You Can Still Generate Leads With Digital Marketing Efforts
As the cancellation of trade show events this year causes a ripple across industries, manufacturers and industrial companies who were planning on attending or exhibiting at the events are left with extra budget. Despite the cancellations, there are still opportunities for manufacturers to make meaningful business connections. With digital marketing, businesses can still push toward the lead generation and networking goals they made prior to cancellations.
Digital Marketing That Works Beyond Event Efforts
Despite the challenges, there are many silver linings. Demand for industrial products and services is still strong, and many smart businesses are planning for the future.
According to recent statistics:
64% of manufacturers are sourcing new suppliers in North America to reshore their supply chain based on the impact of COVID-19 (Thomas, Survey April 2020)
Thomasnet.com is experiencing a 60+% increase in sourcing activity year over year (year to date 2020 vs 2019)
60+% of surveyed manufacturers have had their sales and marketing plans impacted by the disruption of trade shows
Thomasnet.com enables suppliers to engage our 1.1 million registered in-market buyers and target their high-value prospects to generate leads all year round — versus just a handful of days at a trade show. When done right, digital marketing lets you carry on with your product launch, connect with more buyers, increase your visibility, and grow your audience more than any trade show event could do.
Due to the in-person limitations of COVID-19, manufacturers are no longer able to avoid the reach and effectiveness of digital marketing and have adjusted their approach to generating new customers and staying connected with current ones.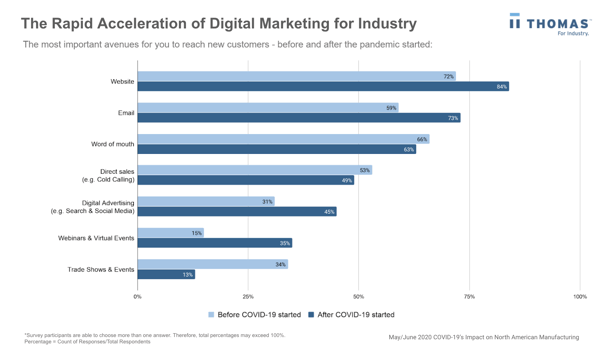 In a recent industrial survey, it was discovered that companies are 21% less likely to invest in trade shows while the use of webinars & virtual events (20%), search & social media (14%), and website (12%) all increased in light of COVID-19.
A strong online presence and website are more important now than ever.
Be Where Your Buyers Are
Many manufacturers understand that it's important to be where the buyers are, but with trade show events canceled across the world, marketing tactics need to shift from making connections in-person to online. For example, huge ISM (Institute for Supply Management) have been canceled, but industrial professionals can still make valuable connections on other platforms.
A leading destination website in the industrial market is Thomasnet.com. Thomas has prided itself in bringing buyers and suppliers together for over 120 years and allows buyers to:
Search through over 1.1 million qualified manufacturers, distributors, MRO providers and custom manufacturers by category, company name, and more
Search for the exact products they want by the specifications they require
Download 2D and 3D CAD models to facilitate and advance the design process
In becoming one of those 1.1 million qualified manufacturers on Thomasnet, your company becomes more visible to the right audience — an audience searching for your products. Thomas Verified Supplier Company Profiles are statistically shown to receive more RFQs than those that don't. Like industry certifications, a Thomas supplier badge on your Thomasnet.com company profile and website builds trust and helps your businesses stand out against competition online.
Leverage Video To Tell Prospects Your Story
The human aspect of all companies and brands are moving to the forefront. Consider using videos to connect with more buyers. Some manufacturers and industrial companies think their industry isn't interesting enough for video marketing, but recent statistics have shown that videos on Thomasnet.com company profiles receive more RFQs — that's because 89% of people purchase a product after watching a related video. Due to regional travel restrictions, many manufacturers are using free videos created by Thomas to showcase their factory to prospective customers — and statistics have shown these videos have helped them close sales.
In today's world, videos are more than just about selling, they're a tool for building relationships. And when you build an audience, you build a relationship. Videos will help answer your customers' questions, become a brand they trust and go to when they're ready to purchase.
Invest In Content Marketing
Marketing has been seen as a key function in handling the COVID-19 crisis — and as a lead generation effort, more manufacturers are creating resources for their buyers to help them do their jobs. Instead of standing on the trade show floor for hours and scanning attendees' badges, content marketing lets you showcase your expertise with information your buyers are already looking for online 24/7.
Thomas' Lead Generation program gives businesses 120 guaranteed targeted leads with the creation of an eBook asset based on your needs and promotes it on our platform and partner websites where more than a million buyers, procurement professionals, and MROs do their job.
Strategize Digital Advertising Campaigns
It is now more important than ever for manufacturers to reposition their efforts and create new business relationships using online tactics, like digital advertising. The digital space is growing every day. To remain relevant and competitive, more industrial companies are following digital advertising trends to keep their company top of mind.
Taking advantage of advertising in the digital space today allows industrial companies to:
Increase their visibility online
Become a resource of information
Connect with prospects and clients seamlessly and more frequently
One of the best places to reach industrial buyers is on Thomas Industry Update, industry's leading daily email newsletter. More than 310,000 of them subscribe to the Thomas Industry Update (TIU) newsletter — and manufacturers have an opportunity to promote their brand and content in it.
---
Reach the inboxes of your target audience by advertising in the TIU Newsletter
---
Keep Your Online Marketing Efforts Strong With Thomas
A canceled trade show this year doesn't have to mean halting efforts toward the results you were aiming for. Today, your web presence means more now than ever — and there is still demand in the market for your business. In addition to letting prospects and customers know you're still available to stay connected online with videos and digital advertising, we recommend keeping your website updated with your COVID-19 policy and any other content that adds to the value of your business.
Investing in digital marketing lets you redirect your creativity, dollars, and strategies into what matters most to your buyers — while driving more leads, revenue, and ROI than a traditional networking event. There's still time to meet your goals for the year. Contact us to see how you can still increase your reach online, all year-round.
You Might Also Be Interested In:
Did you find this useful?