Thomas Introduces Thomasnet.com Registered And Verified Programs Plus Supplier Badging
Thomas has been dedicated to helping industrial buyers and suppliers to connect with each other for over 120 years. As technologies have evolved and best practices in marketing and sales have changed, we've grown our toolsets to help make sure that industrial distributors and manufacturers have access to solutions that drive new business. To help support manufacturers who are searching for qualified buyers in targeted industries, Thomas has created Registered and Verified Thomasnet.com Programs.
Thomasnet.com Programs were designed using historical data from Thomas' most successful partner profiles on the platform to attract supplier evaluations from the most targeted buyers and drive the most RFQs. Our programs allow manufacturers and industrial distributors to more easily determine what level of outreach they want to accomplish, target their most important buyers, and give them the ability to shift their targets as markets change. It's a win-win for the buyers and suppliers looking to make connections on the platform.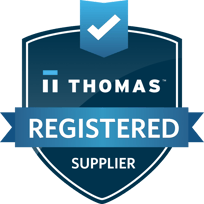 The Power Of Thomas Supplier Badges
Thomas Registered and Thomas Verified Supplier badge icons on company profiles build trust and let buyers know the product, services, and company information have been validated by the Thomas Supplier Analyst Team. Company profiles with Thomas Registered or Thomas Verified Supplier badges statistically receive more supplier evaluations and RFQs by creating an additional degree of trust and because buyers can now sort their searches on Thomasnet.com to only source from badged, validated companies. Manufacturers are in turn able to compete more effectively for premium positioning in critical search categories about their products/services.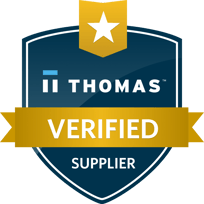 Companies with the Thomas Registered Supplier check mark and Thomas Verified Supplier star are also activated to receive inquiries sent via the platform's Request For Quote tools. This featured capability makes it easier for buyers to quickly submit RFQs while browsing which increases the likelihood that your business will learn about more projects and grow your leads. Testing shows that companies with the Thomas Verified Supplier star receive the highest rate of supplier evaluations and RFQs from buyers and engineers searching the platform.
The badges can also be displayed on your company's website to build trust with buyers who find your website organically. Like industry certifications, a Thomas supplier badge on a company's profile and website helps your businesses stand out against competition online.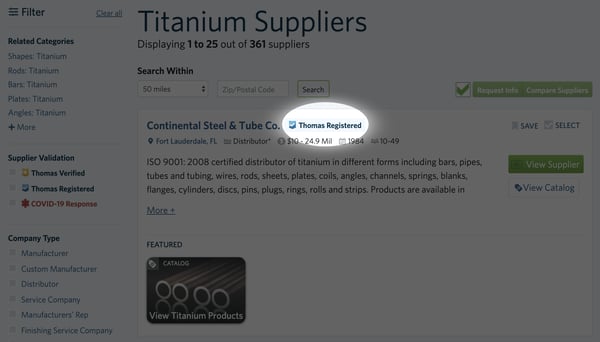 "About half of our new custom work comes from Thomasnet.com leads," said Alli Cravens, Sales and Marketing at Granger Plastics. "We could not have competed for — and won — all the new business we have without our strategic Thomasnet.com program."
Reaching Your Target Audience On Thomasnet.com
A Thomas Registered or Thomas Verified program begins with a company profile created by Thomas' Supplier Analyst Team. Each manufacturer's program is optimized to help the company appear in the search categories that are most critical to their business.
Thomas Verified programs help grow engagement over Thomas Registered programs by including complete category classification to help manufacturers appear in supplier searches not only for their primary products and services, but also for secondary, finishing, and other value-add services or more specific subcategories. Program points can be used to give the company profile better positioning and focus their advertising efforts in their most key service and product categories.
Advertising Your Manufacturing or Industrial Distribution Brand On Thomasnet.com
The flexibility of Thomasnet.com programs gives manufacturers the choice to decide which buyers they want to target, how, and when. Thomas Verified programs include the creation of online brand display advertisements. Companies are also able to expand the placement of their company ads throughout Thomasnet.com to help increase brand awareness to in-market buyers searching for relevant products and services.
"Qualified leads are coming to us now, and since prospects can easily search our capabilities and qualifications, those who contact us are more inclined to do business with us," said Bill Boyer, CEO of Boyer Machine & Tool Co., Inc.
Thomasnet.com Enhanced Profile Tools And Reporting
In addition to improved program flexibility and functionality, Thomas has refined and optimized the reporting and tracking capabilities of the platform. After a company profile is created, suppliers have the ability to manage their own profile to ensure details are accurate and up to date.
Thomasnet.com programs allow companies to take advantage of the ever-growing sourcing activity that takes place directly on the platform with the ability to receive RFQs directly on the website. This helps companies grow their leads by allowing busy procurement professionals and engineers to submit their requests immediately instead of forcing them to take additional actions elsewhere.
All Thomas Registered and Thomas Verified programs include lead intelligence with Thomas WebTrax™ Analytics that allows companies to identify otherwise anonymous traffic on their website. Manufacturers and industrial companies will be able to enhance their prospecting efforts with insight into companies who are visiting both their Thomasnet.com company profile and their website.
The industrial buying cycle can be long and complex, but program reporting comes standard with all Thomasnet.com programs to help manufacturers understand how effective their advertising efforts are. For example, to create a clearer picture of where the leads are coming from, manufacturers with a Thomasnet.com Verified Program have the ability to enable call tracking and see incoming calls from leads visiting their company profile.
Getting Started With Thomasnet.com Programs
To effectively reach the over 1 million registered, active buyers and engineers who are sourcing on Thomasnet.com, get started today with a Thomasnet.com Program and explore which program is right for you.
"Thomasnet.com has been a worthwhile venture for our company by substantially increasing our brand recognition and allowing those that need the products and services we offer to connect with us in a real way. We are now well known in the region as well as national marketplace and have been able to secure business that we would never have been considered for in the past."
Did you find this useful?