7 Ways To Get Blog Post Ideas For Manufacturing
One of the best ways to reach out to your customers and provide them with information about your business or manufacturing processes is through valuable marketing content. A blog will not only allow you to provide customers with information, but it will also give you a chance to incorporate a variety of well-positioned keywords into your content. The keyword-rich content you produce through blogging will showcase your expertise and raise your website's authority.
But one of the most common problems you will face when trying to keep a blog current is coming up with suitable topics. Below are some of the things you can do when trying to develop relevant and interesting blog topics in the manufacturing industry.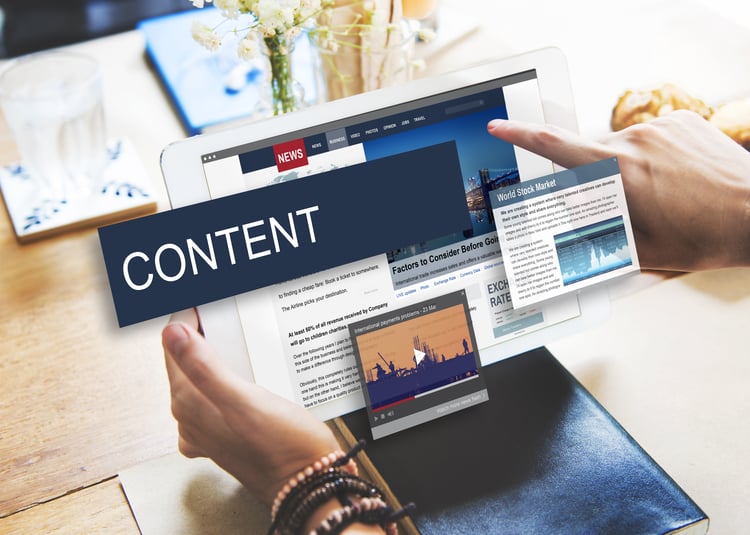 How To Come Up With New Manufacturing Blog Topics
1. Make a Habit of Reading Industry Blogs And Publications
This might seem obvious, but the best thing you can do is to absorb as much information as possible from other blogs and publications in your industry. Reading articles on other publications is a great way to get ideas on what type of content to put on your blog.
Some other great resources are IndustryWeek, Nist, and more niche sites like Assemblies Unlimited for contract packaging. Thomas publishes a daily email newsletter, Thomas Industry Update, that shares industry analysis and news, like the latest in reshoring, augmented reality on the shop floor, plant expansions, and more (read the latest news for free here).
Even if the blog topic you are reading is not entirely related to your industry, it can provide you with a few light bulb moments. It also gives you an idea of what your industry peers are up to and can help you stay innovative.
2. Reach Out To Your Customers
Industrial selling isn't a transactional game. Your buyers go through a long, often complex process before you can seal the deal. Familiarize yourself with that process, and think about what content would help them move along to the next step of their buying journey.
Marketing works well when you take some time to get to know your audience. Is your typical customer younger or older than they used to be? Are they more cost-conscious than before? Are they concerned about eco-friendliness and sustainability? Understanding your targets and creating personas will help you create content they're looking for and ultimately help you win new business.
Begin by having more conversations with your customers. Oftentimes, a customer can let you know what they want, what they are looking for, and what they feel is lacking in your company. Interviewing a few of your customers will allow you to figure out what type of blog topics they want to hear — and can serve dual-purpose as case studies and video testimonial content. They can convey the challenges they face and how they think your business can help them get over these hurdles.
Speaking with your customers about their concerns will provide great ways to connect with them. In some cases, the customers you talk to will be more interested in the inner-workings of your business. Creating blogs that explain vital parts of your business is a great way to attract interest from new customers.
See Who's Interested In Your Manufacturing Services And Products Right Now With A Free Custom In-Market Buyer Report
"Thomasnet.com simply delivers the purest industrial audience on the internet, and being there has helped us connect with new customers in new industries," said Pete Elzer, President, Apex Plastic.
3. What Is The Competition Doing?
If you are just starting out in the world of manufacturing and industry-specific blogging, then one of the best things to do when seeking guidance is to check out what your competitors are doing. Oftentimes, you will be able to gain a variety of tips on what to do and what not to do by looking at your competitor's blog. Make sure you avoid blatantly copying their blog content. You will need to read the blogs and then take notes regarding how you can make it your own or use the very popular skyscraper technique to make a super-charged version of the topic.
The industrial marketing team at Thomas offers a free digital health check for manufacturers to see how their website is faring against competitors. Request yours for free.
4. Taking Notes Can Spark Ideas
Your day is most likely filled with meetings, calls, and browsing various media outlets. Jotting down ideas is a solid way to spark ideas for new blog topics. In the modern age of manufacturing and technology, the flow of information is never-ending. By taking a moment and making notes regarding the information you are receiving throughout your day, you should be able to come up with great blog topics by thinking about how you would provide industry-specific solutions.
There are several apps, like Evernote, that will allow you to create simple text notes to view at a later date. Another phenomenal app is Grammarly to help with your writing. Getting familiar with the various apps out there for bloggers will allow you to keep track of topics in a comprehensive manner and keep your ideas flowing efficiently.
Read More: 26 Must-Have Marketing Apps And Tools For Manufacturers
5. Perform Simple Keyword Research
An important part of achieving success with your business blog is having the right keywords. If you are not using trending keywords in your content, it will be very hard for you to get the attention you are seeking from search engines. There are a number of tools that will allow you to get ideas on what type of keywords to use and the volume they have in search.
If you're running Google Ad, you should already be familiar with Keyword Planner to find the best keywords for your ads; it's a goldmine to find blog topics as well. There are even many free keyword research tools like Keywordtool.io and others. Once you get the information these programs offer, you can develop your keyword strategy with relative ease.
Learn More: SEO Basics & Keyword Optimization For Manufacturers & Industrials
Using trending keywords in your content is a great way to boost the ranking your website has on powerful search engines. However, it's important to note that blogging alone typically does not gain visibility on its own. You should look to incorporate content promotion strategies and advertising campaigns alongside your website efforts.
6. Stay Up To Date On What's Trending
Writing blogs on trending topics is a great way to attract a wider variety of visitors to your website. Making a habit of checking the trending topics on social media sites like Twitter or Facebook will allow you to stay on topic and appeal to a wider audience. LinkedIn is a strong social channel for industry-specific topics. You can follow companies and grow your connections to get ideas from others.
Incorporating your industry into trending topics will allow you to justify putting them on your blog. The time that you invest in researching these trending topics will more than pay off due to the traffic it can provide to your site.
See The Industrial Products & Services Trending Now! Check out the Q1 2021 Sourcing Activity Snapshot
7. Encourage Comments and Emails
At the close of each of your blogs, you need to let the reader know you want to hear what they think. By doing this, you will get a wide range of comments and emails regarding what readers liked about your content and what other topics they want to see covered.
Spending time reading over these emails and comments is a great way to get blog topic ideas and to get insight into what your audience wants. Be sure to monitor these comments regularly to prevent spam-filled messages from appearing on your blog.
Manufacturing Blog Idea Examples
Many of the topics manufacturers can write about are usually "evergreen" — content that's search engine optimized and continuously relevant. Here are some real blog topic examples from manufacturers to give you more inspiration.
Choosing The Best Dehumidifier Type For Your Application
Dehumidifier Corporation Of America publishes a myriad of blogs that helps their audience decide the best solution for their needs. In the example blog below, Choosing The Best Dehumidifier Type For Your Application, the prospect can understand the definitions of common industry terms, distinguish how they look thanks to the corresponding photos, and browse the online catalog for more information. It is a helpful educational resource that makes a buyer's job easier and helps establish Dehumidifier Corporation of America as a trusted leader.

Chokes vs. Inductors: What's The Difference?
Triad Magnetics recently invested in a new website redesign and content marketing strategy. Their goal was to increase the visibility of their products and get more qualified online leads. In the blog example below, Chokes vs. Inductors, a prospect can more easily understand the product difference — especially with the help of the corresponding infographic. Different people consume information differently and offering another content type on your website increases engagement. After a website redesign and new keyword-focused blogs, Triad saw a 575% increase in visitors going to their homepage and a 57% increase in online submissions. More users who did not know Triad Magnetics became familiar with them, browsed more website pages, and eventually submitted RFQ forms.
Learn More: 10 Content Marketing Ideas That Engage B2B Buyers
Improve Your Content Marketing And Blog Strategy
To make your blog a success, you will have to invest time and effort in understanding your audience and researching topic ideas. Seeking help from a marketing professional like an industrial marketing agency to help with things like search engine optimization can also help you immensely in getting the qualified web traffic you need. They'll also be able to help you set up the blog on a reliable content management system you can easily edit, like WordPress. Looking for more tips to get you well on your way to creating — and maintaining! — a blog with topics that keep your industrial readers coming back for more? Contact Team Thomas for more insight.
"A key thing about Thomas is the ability to generate a lot of leads across various industries," said Jeff Collins, Partner at Renown Electric Motors & Repair. "As a marketing department of one, it has been really helpful to have Thomas around to help with our marketing strategy as opposed to making it up as we go." Renown Electric's website product pages are now #1 on search results contributing to the growth of their customer base.
Digital Marketing Services From Thomas To Build Your Manufacturing Website And Blog Strategy:
Did you find this useful?