Why Public Relations Matters To Manufacturers
As companies in the industrial sector look for ways to win new customers and keep loyal customers, they need to find ways to stay top of mind in a competitive landscape. From producing videos, creating valuable guides, to being everywhere your buyers are — a recognizable brand in addition to those marketing tactics can put you in a position to win more business.
Public relations (PR) can help manufacturers boost their brand awareness and drive credibility and sales. Let's outline how you can get started.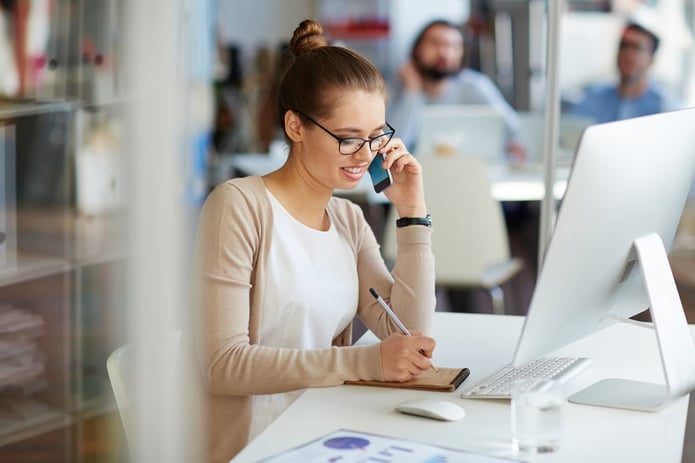 How Public Relations Helps B2B Companies
A well-developed public relations effort reaches your desired audience in one or more of these ways:
It educates: Public relations educates the audience about what your company does and why it matters. It can also educate the market about a new product or solution.
It builds a favorable image and reputation: Public relations can help a company build a strong reputation through thought leadership. It lends credibility to the brand.
It increases awareness and visibility: It makes potential customers aware that your brand exists and with consistent effort, increases visibility and shows momentum.
It generates interest: Public relations creates not only awareness but interest. It can help draw customers in to learn more and even help with recruiting by attracting better job candidates.
When used in tandem with its counterparts, content marketing and social media, it can deliver powerful results that can be leveraged throughout a brand's overall marketing efforts.
Further Reading: How To Write An Effective News Release
Examples Of Public Relations For Industrials
1. Case Studies And Success Stories
A public relations program can help you leverage one of your most valuable assets — your customers.
For example, writing a case study or success story about how a customer used your product to save time and money is one of the best ways to illustrate to a prospect why they should buy. Seventy-three percent of B2B buyers said they rely on case studies to make purchasing decisions.
Learn More: The Value Of Client Testimonials
2. Trade Shows & Webinars
Although many trade shows have come to a halt right now, if you've attended trade shows in the past or currently attend live webinars, why not max out the benefit by meeting with editors who are also in attendance? Set up meetings with them ahead of the event. When you have a chance to speak with them, tell them about what's new and what you have coming up. This helps build a relationship that continues to deliver benefits long after the event concludes.
They may call on you to be a source for future articles and be more receptive when you contact them to cover a new product launch or pitch an idea for a contributed article. Check out more our upcoming events and webinars that can help you win more business.
3. Thought Leadership
Another way industrial companies can leverage PR is through contributed articles and guest posts.
Trade publications are looking for content to fill each issue. With shrinking editorial staff, they can't possibly write every story themselves. They look to outside contributors to help fill the pages. Companies who pitch trend stories they can write can position themselves as industry thought leaders.
Once the story is published, it can be leveraged in other ways. It can be shared across social media, posted on the company's website, shared with prospects and customers through a newsletter and so on.
4. Press Releases
Are you writing press releases when you announce a new product or service? Press releases are another multipurpose tool that can be leveraged in a variety of ways.
Reporters at trade publications use press releases in "New Product" sections. The release can also be shared via wire service, if desired, to spread the word further. Be sure to include an eye-catching, high-resolution photo as this will make your news more attractive to editors and their readers. Remember, you're selling to humans and effective brand marketing establishes an emotional connection to your audience.
Industrial buyers look for press releases on your website — along with 25 other important details. Download our eBook, How To Make The Industrial Buyer's Shortlist, to get the critical aspects to include on your website.
Public Relations Inspiration For Industrial Businesses
There are many different stories that your industrial business can tell to help elevate your brand with PR. Perhaps you have an association update, or maybe your company just successfully acquired or merged with another company, perhaps there's big personnel news like a new President. No matter what the story is, it may be worth creating a press release if it's newsworthy.
Another pro of press releases beyond increased visibility of your brand and business, is boosting your business's assets in search engine results pages. By publishing press releases on high-authority websites like Thomasnet.com, you increase your own website's domain authority, which helps incredibly with Search Engine Optimization.
Although a press release can help your SEO strategy and organic traffic, it's a good idea to boost your story with paid advertising methods or newsletter advertising. Psst... Newsletter Advertising in the Thomas Industry Update will put your company announcement in front of +310,000 in-market buyers daily.
---
Advertise Your Press Release In Our Industrial Newsletter
Reach 310,000 Active Industrial Buyers
---
Association News Example
Associated General Contractors (AGC) of California took a huge step forward by partnering with BuildOUT California, the world's first industry association for sustainable growth of LGBTQ+ owned and certified businesses. This update from AGC is both newsworthy and impactful since it acknowledges the importance of diversity and inclusion in the contracting and construction industry.
Certifications and partnerships like these help businesses stand out from their competition and provide buyers with financial perks. Providing a press release about this association news was just one way that AGC elevated its own business by impacting the industry.
Mergers & Acquisitions Example
HEPACO is a leader in environmental and emergency response services that recently acquired Summit Field Services from Summit Environment Services, LLC. This acquisition is HEPACO's sixth since 2017 and they're not afraid to boost their own expansion and success with press releases. This joint venture expands the company to nearly 750 employees in 46 locations around the United States.
An acquisition of this nature should be exposed because it grows business development and adds valuable experts and resources to your already high-performing team.
People In The News Example
RMH Systems is a turn-key automation systems, packaging and material handling integrator that recently announced that it named Ryan Howard, President of RMH Systems Inc. A change in your leadership can be an adjustment for your internal team, but this can be a major, newsworthy notice that your prospects want to hear about.
Submit your company news or update to the Thomas Team to place your industrial news in front of industrial buyers.
Public Relations Advice To Get Started
A strong push for public relations can work for your brand, but what should you do before you begin?
Be clear about what the goals are: What are you looking to accomplish through PR? Is it more traffic to your website? Increased visibility in a particular industry sector? Do you want to position yourself as a thought leader on a certain topic? If you know what you're trying to achieve through public relations, it will be easier to measure the results and gauge the success of the effort. Then, you can decide if you want to stay the course or try something new.
Prioritize the goals: You can't focus on everything at once, so think about what your goals are for the near-term and choose public relations approaches that can help you score some early wins while setting you up for success in an ongoing program.
Hire help if you need it: Do you have someone in-house who can tackle a public relations push? If your marketing department is tapped out, you can always bring on a consultant or small agency if your budget allows. Just be sure it's someone who has experience working with industrial and manufacturing companies.
The efforts of your public relations may not happen overnight. If you embark on a PR effort today, it may not yield immediate results — and that's okay. Set your expectations and goals clearly and accordingly to build meaningful relationships with clients and prospective customers effectively. At a minimum your website should be up to date, modern, and be linked to wherever your buyers are — that includes a company profile on Thomasnet.com where more than one million buyers source industrial products and services.
If you want to get started with a press release strategy, submit a piece to our team.

Did you find this useful?