How To Create Quality Content For Industrial Companies To Engage B2B Buyers
Content marketing for manufacturing companies is a critical element to any lead generation strategy today. When done right, it builds your brand image and creates a stronger relationship between you and your customer. But the last thing you want to do is crank out blog posts, eBooks, or other resources that won't be effective — it will not only waste your time, but it'll turn your prospective customers away.
Creating effective, strong content and engaging prospects is so essential to businesses that there are numerous books, webinars and entire conferences dedicated to getting marketing and sales professionals from across the globe up to speed. To help produce content that drives buyers and engineers to learn more about your company's industrial products and services, make sure to follow the best practices below.

Beyond being the best way to connect with your prospects, content is key (literally) for SEO and improving your positioning across search engines. It also allows you to develop your brand further. Ask yourself: What do you want your business to be known for? What message and tone do you want to convey to your prospects? Who do you want your audience to include?
Begin With A Clear Goal And Plan
Is the end result to get more customers to contact you, or to attract better qualified customers? Do you want to promote your core product line, or build your reputation in a new market? Determining these goals will help you better understand your audience and consequently strengthen your content.
Every growth initiative should have a clear plan. For each new content piece, create an outline of what you will create to guide you in your creative process. If it's a blog, what SEO keywords will guide the writing? Who is the audience? Which one of your services will it be promoting?
Establish who will create the content, when they will produce it, who will set up your various channels for promotion, etc. Successful content must be distributed regularly. Whether you blog every day, week or month, a regular schedule provides familiarity and perhaps even anticipation among buyers. The same goes for social media. Make it part of your routine, set reminders, and stick to it.
Understand What Your Buyers Need
Do you want to be perceived as casual, formal, conversational, technical, or something else? Pick a tone and style that makes sense for your company brand and resonates with your audience.
A great place to start is to determine a few personas for your customers. Throughout the buying process, consider which types of people you interact with or market to. These different roles should become a target persona — or a representation of your ideal buyer based on their buying habits and existing market research.
Manufacturers and industrial companies generally target procurement managers, MROs, and engineers. Think about their top priorities, stress points, and overall buying habits. As you develop your content, keep these characteristics in mind as if you were speaking to them directly. While reading content that targets them specifically and speaks to their individual needs, these personas — and the people behind them — will connect with your material and your business more easily.
Content marketing works best when you are not the subject. Speak about the industry, technology, trends and solutions. Aim to help others by educating and entertaining them. Be critical of yourself and your content, and you'll avoid turning people away with information they can't relate to.
Your content topic needs to matter to your prospects. If it is not relevant to their business and goals, it's not quality. To create content that is relevant to your audience, put yourself in your customer's shoes and consider the following:
Does the content answer buyers' frequently asked questions?
Is this content timely to my audience?
Does the content aim to solve buyers' problems?
If you cannot identify the answer to those three questions, your content is missing the mark on relevancy. Consider the feedback you get from customers on a day-to-day basis. What problems are they having and coming to you to solve? Chances are that others in your market are experiencing the same challenges — this presents an opportunity for you to solve their problems through content marketing.
Take a look at The Rodon Group's "Hydraulic, Electric, and Hybrid Plastic Injection Molding: Which Process is Right for You?" blog post — it addresses their prospects' challenges throughout the copy and helps the buyer make a decision related to their job.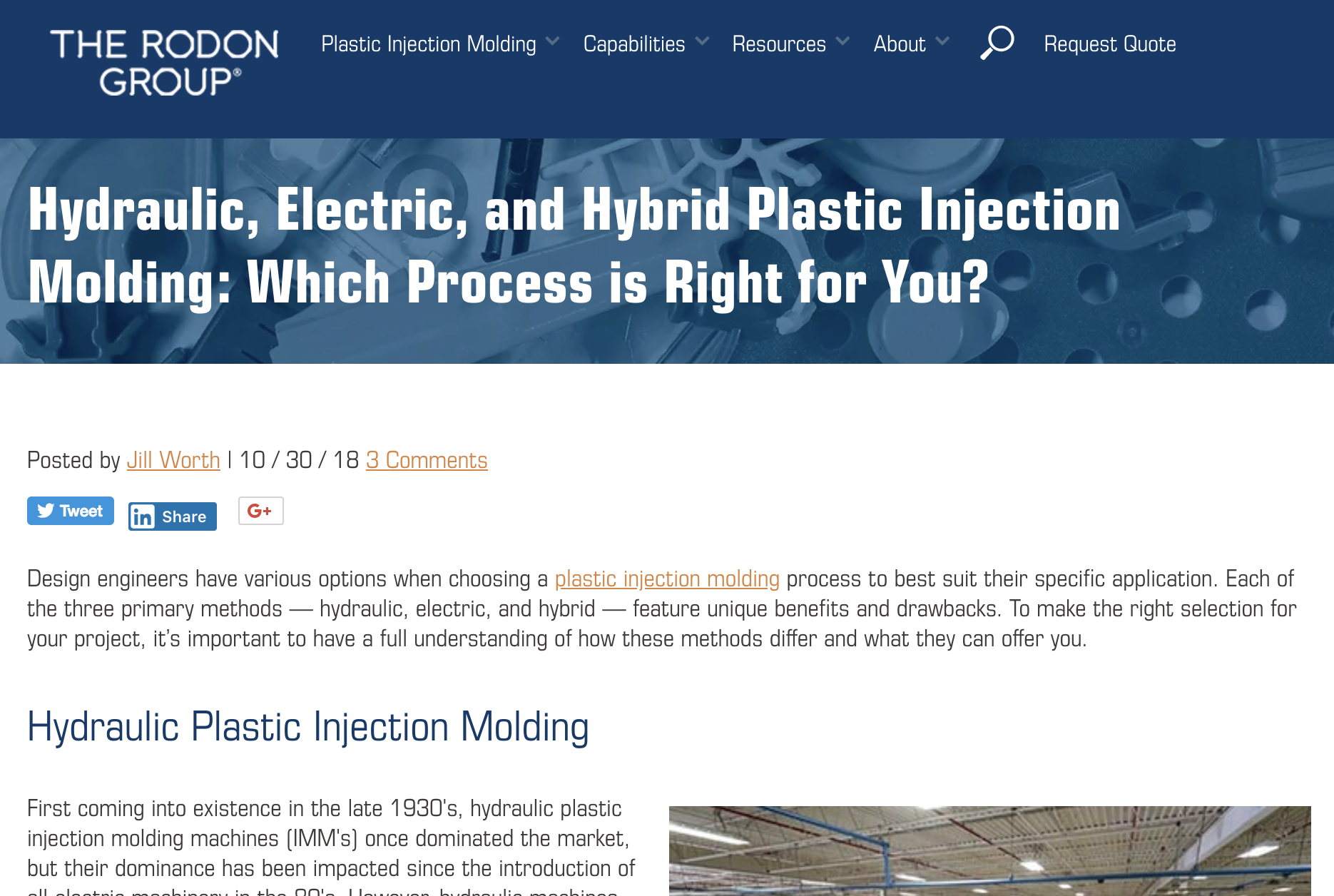 Communicate A Real Benefit
Your content must provide a benefit to the audience in some way — communicate it with a clear title.
Here's how you can brainstorm topic ideas and titles:
Helpful Tips Or How-To advice: What tips can your business offer customers to improve processes or lead times? How can you make their job easier and faster without sacrificing quality?
Action Items Or Must-Haves: Give your readers information they can use right away, implementing positive change within their day-to-day.
Practical Advice And Trends: What have you learned through everyday business or about your industry that would be of value? Can they share this with someone else in their network?
Writing about something you're an expert in will up your thought leadership game — and you're least likely to hit writer's block. Personalization is essential to a lead generation strategy, so tell a story that shows your audience you understand their world. Prospects will more easily see that your business is committed to providing them value.
Find A Marketer Who Understands Your Industry
It can be difficult finding creative people who understand your products and services. If you're just starting to implement content marketing for your business, we recommend building a relationship with a select few freelancers (especially if your marketing budget is small) so the marketers have an opportunity to develop a better understanding of your business. Be prepared to spend some time with them to review your plan with documented guidelines to follow to understand your needs and communicate your brand well.
The marketing services team at Thomas is comprised of in-house writers, supported by degreed engineers who have a deep understanding of all the aspects of the industrial field. Partnering with someone who knows your industry has the right knowledge and tools to position your company in front of the right audience and buyers.
Dive Deeper: Industrial Marketing: Training In-House Vs Freelancing Vs Marketing Agency
Promote Your Most Effective Form Of Content
Going back to the personas we just discussed, you should test out different kinds of content to see which are most effective at reaching your target audience. There's no one-size-fits-all, so try having a little fun with it — no one wants to read the same things all the time!
Instead of your usual blog posts, try out some listicle formats or Q&A interviews. Instead of a standard eBook, test out a step-by-step guide or an infographic. The more interesting your content is, the more engaged they'll be with your content and your business.
No manufacturing company is too specific for content marketing. Some readers are interested in learning more about your field, your business, and your offerings. Today's B2B buyers are digital natives and expect content to be available on-demand, optimized for any device, interactive, and highly visual — moreover, 74% of buyers choose the rep that was first to add value and insight. Best practice is to play-up on the strengths of your services, but don't be too self-promotional.
We also highly recommend utilizing CAD assets to drive lead generation. CAD and BIM files are critical lead generation pieces for manufacturers of standard components and convert leads 2x more sales opportunities — learn more here.
Characteristics Of Quality Content For Industrial Companies
Different Content Has Varied Lengths
In creating informative content, the inclination for many people is to go long and put as much information as textually possible into each piece of content. The problem with this approach is that longer isn't always better. Your website, blogs, and eBooks should be in-depth to hit the quality criteria, but the length will vary depending on the topic. Long-form content with a mix of CTAs within the post and not just the end have garnered positive results and leads so we recommend aiming for 600 words or more for blog posts (a good length for SEO) and over 1200 word eBooks or white papers.
You want to make sure you include enough information to provide value to your reader (and optimize for search engines), but you don't want to make your pieces so lengthy that the reader loses interest halfway through. The constant fear of "too long, didn't read" is a big consideration in content development.
MagneLink, a magnetic switches manufacturer, improved its online brand awareness through an SEO-focused content marketing strategy. Their blog post, "A Design Guide for Reed Switches," is professionally presented with an infographic, images, and a video that outranked competitors on search engines — even Wikipedia — helping MagneLink get seen by a more qualified B2B audience.
Diversify your long text pages with graphics, images, and multimedia options to break up the text and keep website visitors on the page longer. See the example below from TexTech who uses custom graphic drawings to educate visitors on their high performance materials for the aerospace industry.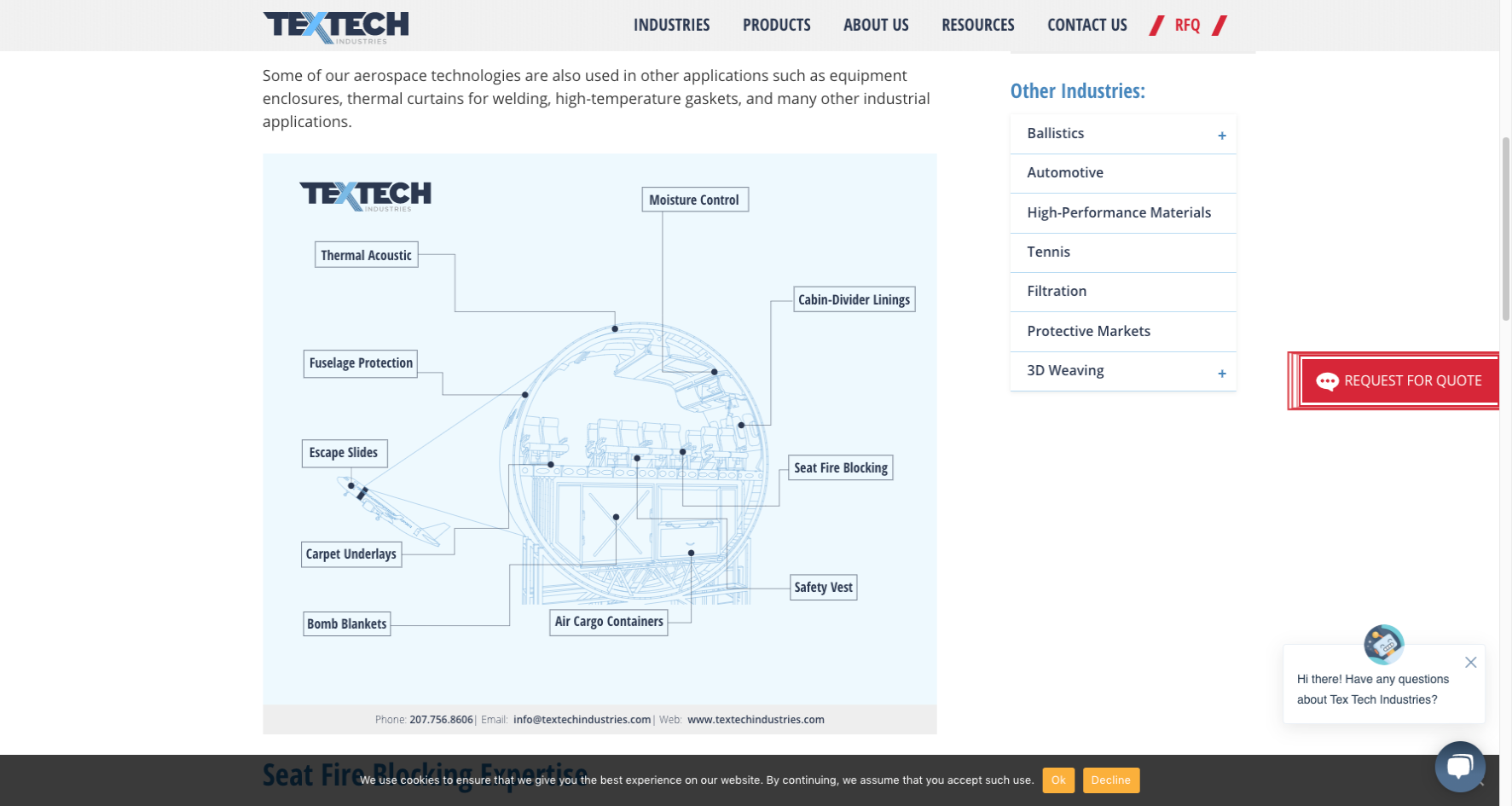 "Diversified content on our site has really helped us stand out as a leader in the industry," said Eoin Lynch, Executive Director of Sales and Marketing at Tex Tech Industries. "Some aerospace technology can be complex, but our graphics, data sheets, and videos from Thomas Marketing Services break it down for buyers to understand what they need and how we help them."
Quality Content Is Easily Shareable
In today's social media-minded environment, the first thought for many is simply to share content created by others to fill that quantity gap — but that's not unique. We've compiled a list of social media accounts and hashtags you should follow to give you more inspiration for your own accounts.
A blog that posts once a month can perform as well as, even better than, a blog that posts daily — if it has a high quality level. Let's imagine you're writing an eBook extolling the properties and virtues of a material. It can be educational if executed well — even if the material is one you specialize in. But suppose you're continuously linking out to other websites instead of creating the information in-house. In that case, you're going to end up sharing somebody else's content — and there's a risk they're the ones who are going to end up getting your leads. Quality content adds a fresh spin to an existing issue, instead of copying what's already out there.
Give your readers something they won't find from other industrial marketing pieces — like Swift Glass' "The Benefits of 3D Printing on a Glass Surface" post. The content is timely to the additive manufacturing and 3D printing industry a B2B audience is interested in and it's a unique piece of content that can be shared on social media. Note that there's a clear CTA at the end of the post and a comments section to encourage engagement.
---
Related Info: The 50/30/20 Rule - The Right Mix Of Social Media Content
---
Take Quality Content To The Next Level With Videos
Today, the power of video conferencing and video advertising are helping businesses stay connected with customers and sell despite the economic conditions and travel restrictions from the effects of the COVID-19 pandemic. Support the written content on your website with videos to showcase your products more completely and present tours of your factories.
Videos are proven to help increase revenue because:
Videos help to get 66% more qualified annual leads
Video marketing efforts can achieve a 54% increase in brand awareness
95% of a video message is retained versus only 10% when reading text
89% of viewers are likely to purchase a product after they watch a video of the product
To increase manufacturers' market visibility, Thomas offers free video production services with an advertising program to showcase a video on your Thomasnet.com company profile and connect with more buyers online. Check out the video example of a factory tour for Precision Waterjet & Laser below. Don't have a Thomasnet.com company profile yet? Sign up for free here.
"We are extremely pleased with the activity generated by our Thomasnet.com program," said Norman Rodriques, President, Springfield Spring Corporation."New RFQs come in so often we have trouble keeping up. Even more astonishing is the quality of the leads and the number of new customers we have converted."
Content Marketing Will Help Your Growth Strategy
Providing the right content at the right time will produce real results. It's a strategy that takes some time, planning, and investment, but it will help you establish your company as an industry thought leader and get your name out to new prospects.
The secret to content marketing is simple, but incredibly effective — answer the questions prospects ask through your blog posts, website pages, etc. By creating content about what people want to learn, updating your website regularly, and investing in paid advertising campaigns, you'll be on the right track to increasing the visibility of your brand and growing market presence. Download our eBook Content Marketing For Industrial Companies to learn more about effective content types.
Or are you ready to get started with content marketing now? Contact our team of manufacturing marketing experts to see how we can create content for you that engages engineers, procurement managers, and MRO professionals. We offer a digital health check to see exactly how your current efforts can be improved and how they compare with competitors.
Additional content marketing resources for industrial companies:
Did you find this useful?