What is Growth-Driven Design?
Take a moment and think about your company's most recent website redesign.
I'm guessing it took months to get everyone on board with the change, find an agency to do the legwork and then get your internal team to agree on design, photos, copy and all the other elements.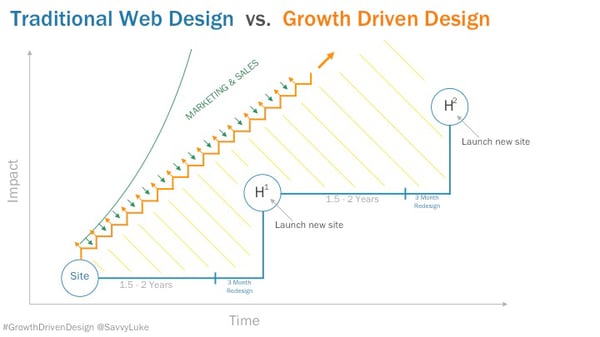 So when you finally kicked it back to the designers for development time, you're looking at a total of six months to a year to really get it rolling. And then what happened after all the work was done and the site went live? Absolutely nothing.
Seems like a lot of steps to let something so crucial to today's business world sit around for years gathering dust. The "rinse and repeat every few years" for businesses was something I'd seen plenty of times over the past seven years of designing and developing websites — and it's the wrong way to go about this.
Think about how often your business or the entire market changes. Your buyer's needs constantly evolve with these fluctuations. It's crucial to put yourself in the best position to get new business. Shouldn't your online presence reflect that?
This is where the common redesign process hurts your business and why I'm so excited by the opportunity to bring even more manufacturers and industrial companies to growth-driven design.
GDD keeps your company's website design and development flexible. (Whereas traditional design typically ends up overdue and over-budget — and you only have one shot to get it right.) Instead of a "one and done" upgrade, it's an ongoing process where the updates are based on user data, page performance and how your company is growing.
Traditional web design

One time high cost
"One chance" mentality
Guesswork in what'll be successful

Growth-driven design

Smaller payments over time
Quicker launch time and ongoing updates
Performance-based updates
In this format, user activity is heavily monitored, so the data you'll collect and successes you'll see can be used to inform other parts of your business. This allows for continuous improvement, which I know is key for the manufacturing and industrial space.
Over the past few months, we've launched the Growth-Driven Design program to help OEMs, custom manufacturers, distributors and other industrial businesses just like yours get more leads and grow their companies — so tell us how we can help yours.
Did you find this useful?