What is Growth-Driven Design?
Your website is your biggest marketing asset and is the centerpiece of all your marketing activities. It is often the first place people go when looking for more information on your products or services so it should be where all of your marketing efforts should be driven to.
But traditional web design can be a daunting endeavor; in fact, many industrial companies opt not to upgrade their websites at all because of its complexity.
Thankfully, Growth-Driven Design (GDD) is the answer to traditional web design woes and has significantly changed the website design landscape, allowing for intuitive, efficient design that even novices can navigate with ease and increase conversions.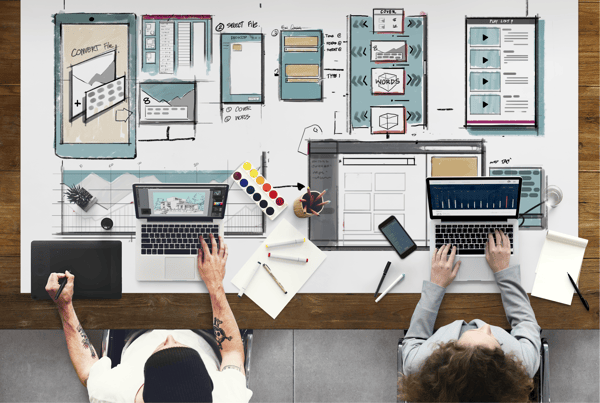 What is Growth-Driven Design?
Using a systematic approach to web design, GDD effectively minimizes the risks associated with traditional methods and significantly shortens the time it takes to launch a site through continuous research and testing. Through the collection of valuable user information, GDD informs marketing and sales techniques, shedding light on the best way for companies to reach their prospects.
GDD is also referred to as Conversion Rate Optimization (CRO) or Iterative Design. We'll dive more into these steps of a GDD strategy later.
---
Related: Not sure if your site needs some polishing up? Here are 7 quick ways to see if your website is out of date.
---
Traditional Website Design Process Vs. GDD
Think back to your last website redesign project you did with your company and ask yourself:
What was the overall experience like?
What went right and wrong in the process?
How much time/energy/resources did it take to finally get live?
Did it get launched on time or on budget?
After the launch, how much continuous improvement has happened to it?
How excited are you to do another website redesign?
If you've ever been involved in a website redesign project, it's likely that you did not fully enjoy the process. The reason that we've come to accept the fact that a website redesign is one giant headache is because of the approach we take to build them. The traditional website redesign process can be filled with systemic risk and headaches.
Traditional Website Design
Growth-Driven Design

One time high cost




"One chance" mentality




Guesswork in what'll be successful

Smaller payments over time




Quicker launch time and ongoing updates




Performance-based updates
The Growth-Driven Design Strategy
The first step of GDD involves strategizing; in this phase, strategists set performance goals, create detailed personas for the users that companies are looking to target, and perform qualitative and quantitative user research to inform persona profiles. This leads to the formation of fundamental assumptions about the users — what information they're seeking, the devices they're using to access it, and more.
Ultimately, your website should be agile and updated on a regular basis to support a lead generation strategy.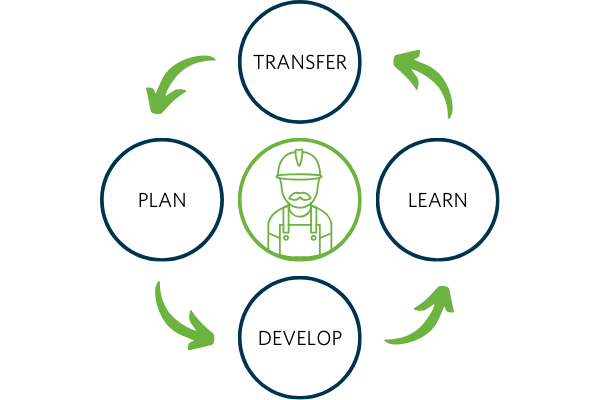 This entire design cycle starts with and revolves around the personas who are coming to your website. If you're unsure who that person may be, start by developing a buyer persona.
At each stage of the cycle, continuously ask yourself how this relates and provides value to the personas visiting your website. At any point, if it ever becomes unclear how an action item provides value to, or relates to the persona, you must take a step back and re-evaluate what you're working on.
Cycle Step 1: Plan
The next step of the Growth-Driven Design cycle is planning. You will be identifying the most important items to prioritize based on your website goal. Click here for a 10 step checklist recommendation.
There are a number of steps to go through in the planning phase:
Performance vs. Goals: Review the current performance of the website and contrast that to the goals you're trying to achieve. This will inform you of where there is opportunity to improve.
Additional Data or Research: While reviewing your performance vs. goals, there is often additional data and research you may need to do in order to help clarify what action items you should add to your wishlist.
Brainstorm and Prioritize Wishlist: Based on all of the new data, research, and learnings you've had up to this point, have another brainstorming session to determine any new action items to add to the wishlist.
Generally speaking, your action items will fit within these buckets:

Boost Conversions: The first bucket of wishlist activities are those that are directly related to conversion rate optimization.
---
---
Improve User Experience: Improvements to the website that give the user a better experience and make it easier for them to navigate, find what they are looking for and solve their problem(s).
Personalize to the User: Adapting the site, calls-to-action, content offers, etc. to the specific visitor based on the data we know about them. This includes, but is not limited to, tailoring based on interests, persona, device, geolocation, referral source or previous actions on your site.
Build Marketing Assets: Marketing assets are items that hold great value for your marketing program such as email lists, social accounts, your blog, etc. Incorporating any tools, in-depth resource sections, online training, directories, etc. will provide great value to both the end user and your company. Curious to see the strength of your current online marketing assets? Sign up for a free digital health check with Thomas.
Cycle Step 2: Develop
Moving into the developmental phase of the cycle, you now have the most impactful action items to work on and it's time to start implementing them on your site.
This is when everyone on your team gets together to start completing each action item that you selected in the planning phase.
Each action item that you implement is basically a test or experiment to see the impact it has on the performance of the website. To measure your experiments, you must setup validation tracking around the metrics outlined on the action item.
After your experiment is pushed live, you may want to develop a marketing campaign (social, PPC, blogging, etc.) specifically to drive traffic to that section of the site so you can start collecting data.
Cycle Step 3: Learn
After your experiments have had enough time to run and collect data, you can then move to the learn phase. In the learning phase, review what information you collected about your website visitors.
Based on the information you collected, validate or disprove your hypothesis. Did your change have the impact you expected and why did or didn't it? Based on the results, what did this teach you about your visitors? What did you learn about them that you didn't know before?
Publish this information you've learned about your users in a central location for everyone within the organization to take advantage of. Having a structured system for publishing your findings is also a great reference for the future if you ever need to look for trends or look up previous experiments.
Cycle Step 4: Transfer
The last step in the cycle is to transfer any impactful information you've learned in your cycle to other parts of your business.
Take time to review what you've learned from each completed action item and brainstorm how this may be useful for others. Review previously completed action items to see if you can find any patterns about your users.
Here's an Example ...
Let's say that in your experiment you were testing two different landing page variations. One variation used social proof as the independent variable and the second variation used authority. After running the experiment, you reviewed the data to find out that for your users coming to your website, social proof was a much more influential factor leading to conversions. Now that you've learned that social proof is a better trigger for your audience, you can inform your other teams to start incorporating social proof into other parts of their marketing and sales activities such as email or sales scripts.
Failure to keep your sales and marketing teams aligned is one of the top pitfalls for for industrials. So once you've put together your recommendations, host a meeting for others in your company to educate them and brainstorm ways they can integrate and transfer these ideas into tactical action items within their department.
THEN, REPEAT
Once you have launched your foundation website, it will be time to start your ongoing cycle to continuously experiment, learn and improve on your website.
The cycle repeats itself over and over again but with each time with a better end result and more learning about your visitors. The more you learn about your visitors, the better informed you will be about creating offers and campaigns to convert them into leads.
Related Resource: How To Turn Website Traffic Into Leads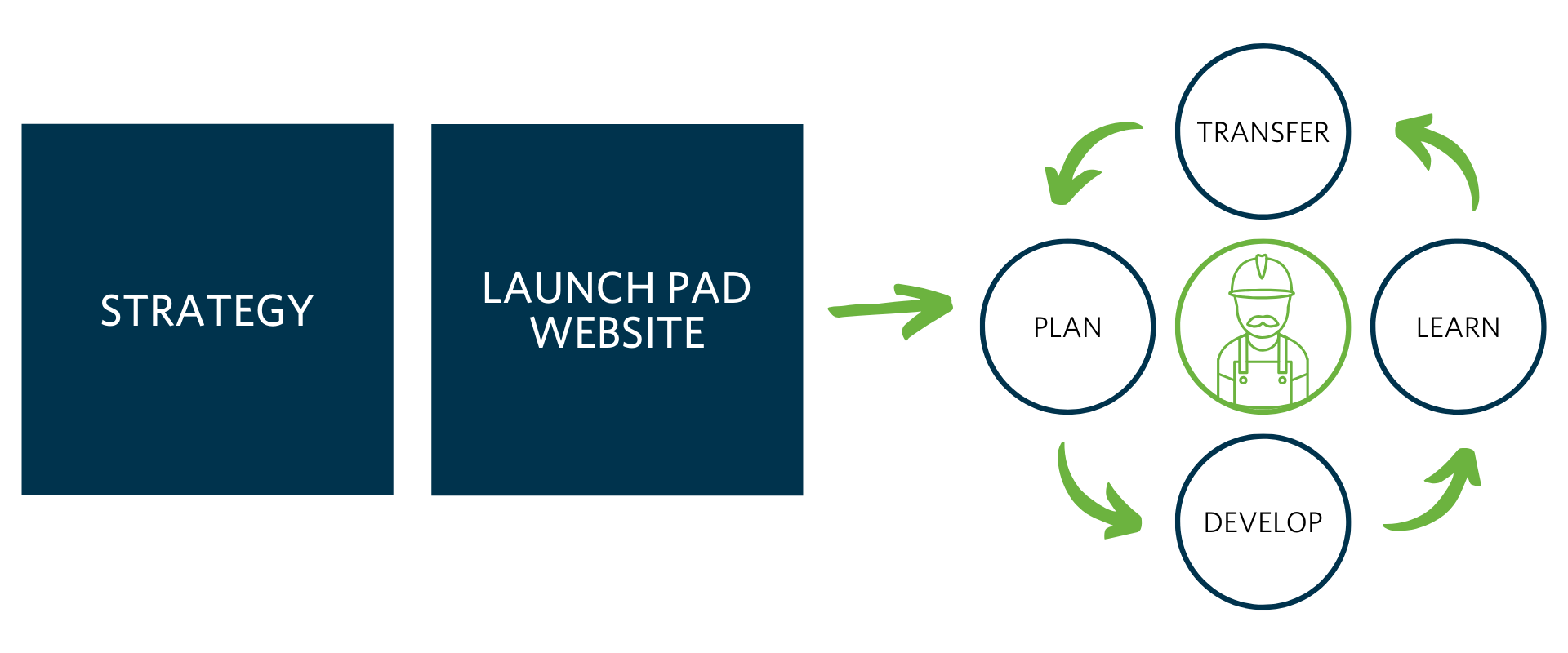 6 Common Web Design Myths
Myth 1: Web Design Takes a Very Long Time
When using traditional design methods, it generally takes six to seven months to create the average SMB website. This process requires a great deal of energy and resources, necessitating increased labor and using up valuable company time. GDD, on the other hand, makes use of quick, iterative changes to get websites launched quickly and improved regularly.
Myth 2: Website Design is Prohibitively Expensive
Traditional website designs can cost anywhere from $15,000 to $80,000 upfront, proving prohibitive for many SMBs. Because GDD doesn't involve a major one-time website overhaul and redesign, costs are spread out over time as small changes and improvements are made based on ongoing research and insights into user experience and needs.
Myth 3: Sophisticated Website Design Looks Nice But Doesn't Produce Results
Many traditional website designs put a premium on visual elements without focusing on how well the site is actually producing results. GDD, however, is centered on producing real, tangible results through careful analysis of user interactions and ongoing testing and research.
Myth 4: Website Design is One-Size-Fits-All
Web design that proves fruitful for one company may prove virtually useless for another. Smart web design must be catered to the specific company, industry, and user need; the website and analytics audit and targeted user research performed through the GDD method allows companies to gain valuable information on their users' actions, preferences, and specific needs on the website. This allows for tailored design upgrades implemented specifically to improve conversion and retention rates.
Myth 5: My Website Is Fine As It Is!
Most websites sit idle for one and a half to two years after the initial launch, with many companies citing budget and time constraints as reasons not to update their online presence. In that time, however, you could be falling behind on industry best practices — not to mention falling behind the competition.
GDD illuminates areas for improvement, allowing you to stay ahead of the curve in new technologies and establish yourself as a forward-thinking industry leader with dynamic site features and offerings.
Myth 6: What Works for Consumer Websites Won't Work for My Industrial Website
Like B2C buyers, B2B buyers expect a seamless, intuitive website experience with rich content, easy navigation, and aesthetically pleasing design. Both types of websites depend on optimal usability to convert leads into sales, and the success of both B2B and B2C websites depends on the type of experience you're creating for your prospects. Learn what B2B marketers can learn from B2C companies in our post here.
Thinking About Your Next Website Redesign?
Understanding the importance of sophisticated, results-driven web design allows you to turn users into leads and leads into sales. To see how GDD can work for you, contact our team of manufacturing marketing experts.
Did you find this useful?