A Veteran's Manufacturing Story
There are an estimated 230,000-245,000 enlisted service members who separate from the military each year.
More than 70 years ago, Richard McCarthy was in the middle of such a transition. After serving in the Pacific during World War II, the 21-year-old veteran headed back home to Pennsylvania, eager to start the next phase of his life. He not only did that; he started a career, a business, and a legacy for his family.
Here is his story.
From High School Senior To Submariner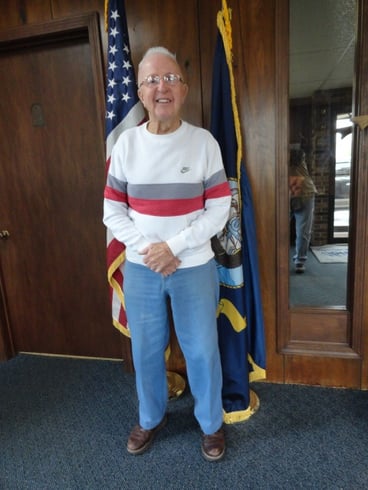 In 1941, Richard was a high school senior with a budding interest in machining. In fact, he recently started serving as a machinist's apprentice in a railroad company. However, on December 7 of that year, Pearl Harbor was attacked, and the United States was drawn into World War II.
Ten months later, just weeks after graduating and celebrating his eighteenth birthday, Richard was drafted into the military.
"I got my choice of whether I wanted to go into the army, the navy or the marines," he said. "I picked the Navy, but I can't tell you why."
Recognizing Richard's machining background, the Navy sent Richard to a Machinist Mate school. He quickly put his skills to work, distinguishing himself and earning the option to attend a diesel school, which he accepted. Once in Diesel School, Richard excelled again, finishing in the top six in his class. His reward was an assignment to Naval Submarine School.
"Boy, that sounds like a good idea," he said to himself. "But they didn't tell me until 20 years after the war was over that submarines had the highest mortality rate out of any branch of the service."
Saving Lives At Sea
After several months of training, Richard was finally deployed overseas. He traveled to Pearl Harbor, where he boarded a submarine to Guam. He would spend months on that ship, traversing the Yellow Sea and the lower coast of Japan. It was not as action-packed as he had imagined.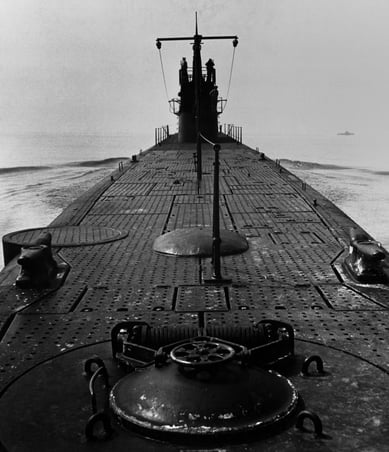 "By this time in the war, most of the Japanese ships were all gone," he recalled. "You couldn't find a ship to sink, so they used the submarines for lifeguard duty during American airstrikes on Japan."
Richard and his mates helped rescue several members of the Air Force who had fallen from the sky.
"We would lay off shore and everyone in the Air Force knew where we were. If they were hit, they knew to get in the water somewhere near us and we could pick them up."
On the evening of September 2, 1945, Richard was in Guam. It was there he heard the good news — the war was over, and he was free to head home.
"We had heard something about an atomic bomb but we didn't realize the magnitude of it," he remembered.
Richard's career on the military stage was over, but his second act as a machinist was set to begin.
Transitioning To Civilian Life
Upon returning home, Richard went back to work as an apprentice for the railroad. However, competition for jobs was fierce, and his apprenticeship lasted just a few months.
"Everyone was coming back from the war, they couldn't employ them all," he said.
Fortunately, Richard was able to find a new apprenticeship in welding thanks to the G.I. Bill. He worked hard to learn the new craft, and eventually he landed a job at one of the biggest machine shops in the area. It was at one of these shops where he had his first exposure to the hard chrome plating process, which was revolutionary.
"Hard chrome plating was so new at the time," Richard recalled. "I remember our salesman would go to mills and do a chrome plate roll for free to promote the business, and that was 50 years ago."
He found that he was not only great at the art of hard chroming, but he was passionate about it as well. He has spent the rest of his life in the field.
Putting Youngstown Hard Chrome Plating On The Map
Richard worked his way up to plant manager, but he really wanted to work for himself. So along with a partner, Richard founded a new company — Youngstown Hard Chrome.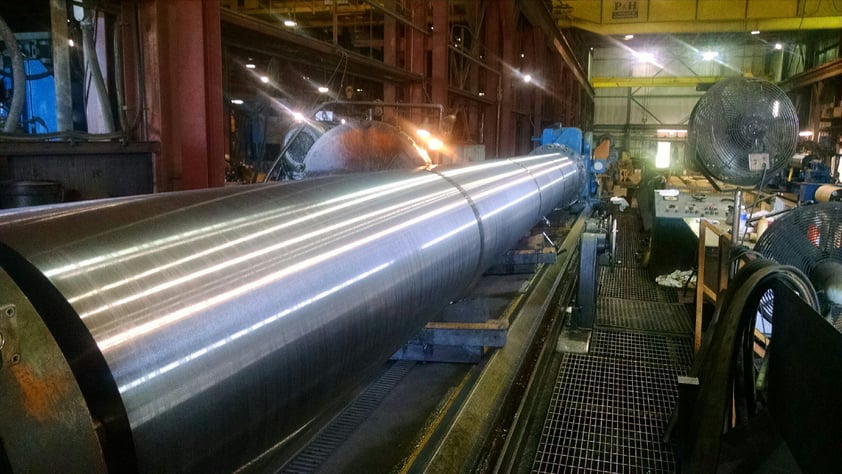 Richard was able to build his business from the ground up, and today it is one of the leading hard chrome companies in the country. Richard credits his military experience with giving him the perspective necessary to grow the company and lead his employees.
"The military taught me that you don't have to go around with a big whip to lead a team, you just need to talk to your staff," he said. "That's something I earned from a Navy chief during the war. He wanted us to be peaceful and calm but he wanted you to know that certain tasks were going to be done one way or the other."
Richard's military background has also shaped his staff.
"Being in the service myself, I realize that it's a sacrifice to serve your country, whether you never fire a gun or go overseas, you're protecting this country and it's still a sacrifice," he said. "I think if there's any way that you can reward them a little bit, that would be good."
While Richard's two sons currently oversee day-to-day operations, Richard still serves as the President of Youngstown Hard Chrome.
---
---
"It's been 52 years since I opened the business and I'm still sitting at my desk here," he said. "Now we are five to six times bigger than when we started, and we expanded the building four times. We are recognized as one of the largest hard chrome platers in the whole country. We get rolls shipped in from all over the country including Texas, Washington and California."
"This place was an empty field with grass when I first started Youngstown Hard Chrome and every once in awhile, I stand out in front of the parking lot and look at this building and think, 'I built this' and that's something I'm very proud of."
At Thomasnet.com, we are proud to support veteran-owned businesses like Youngstown Hard Chrome. This Veterans Day — like every day, salute all military members and their families.
Did you find this useful?