3 Ways to Optimize Your Product Pages
All roads lead to your product pages. They are, arguably, the most important pages in your entire site.
You've already attracted and educated prospective buyers, you've had positive interactions with them — now they're on your product page, on the verge of transitioning from "prospect" to "client." But will your product page, as it is, secure the conversion?
Luckily, as with all things in the digital realm, your product pages can be optimized. There are a number of best practices for product pages that will help you to increase conversion rates — let's take a look at three key ones that will be easy for you to implement immediately:
1. Establish a balance.
As a B2B industrial company, the majority of buyers who will find themselves on your product pages will be engineers. Engineers, as you know, are notorious for wanting clarity — they want to be able to easily find all relevant product information, presented simply and clearly. Bulleted lists are popular.
Simplicity and clarity are therefore very important, but they must be balanced. A product page with no "standard" content can be imposing or off-putting to buyers without technical backgrounds (or those investigating new products for the first time). This can potentially lead to increased bounce rates and poorer SEO ranking performance. As added bonuses, product pages with more built-out content can preemptively answer common questions and are simply more aesthetically pleasing.
2. Use pictures to sell products.
Pages with relevant images get more views (by nearly 100%), increase page time, and ultimately increase conversions. This is particularly true in industrial B2B scenarios — careful visual inspection of a product, very important to purchasing engineers, can only be achieved online via large, high resolution images that can be moved and zoomed in on.
While we're discussing images, you should put some serious consideration into 360º view capabilities, especially if your products are geometrically complex ones. The more literal visibility you provide into your products, the more conversions you'll get.
3. Don't sabotage your CTAs.
Your call to action (CTA) — your "Order Now" or your "Add to Cart" button — is a major player in conversion rates. If a potential customer has to search for a purchase CTA, they are not going to place an order with you — they'll leave your page, find a similar product elsewhere, and order that one.
CTAs should be a number of things: They should be intelligently placed, above the fold and ideally near to your products price information. They should be large enough to be prominent and easily identifiable, but not so large as to become the focus of the page. And they should be colored, ideally in an aesthetically pleasing way that fits your brand's or website's color scheme, to draw attention.
Finally, don't be afraid to experiment — it can take some trial and error to get placing, color, and size fully optimized. (And we can help you with that!)
Final thoughts
Though important, these three landing page optimization tips are, frankly, just the tip of the iceberg. Take a look at CJWinter's product catalog as a perfect example of what you should strive to: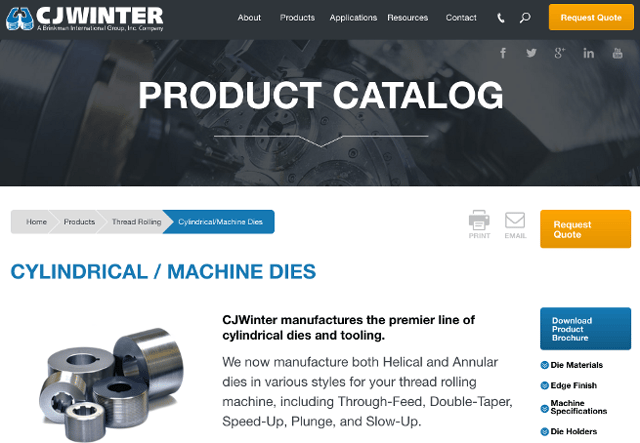 There are anywhere from 10 to 100 different best practices that you should consider when designing and implementing product pages — everything from the inclusion of safety logos/trust seals and customer reviews, to live chat support and navigation tracking tools.
The methods you pick depend on you and your products. If your products are simple or largely two-dimensional, you may want to skip 360 viewing in favor of faster load time (page abandonment rates increase by roughly 6% for every second of load time); if you routinely receive a lot of questions, you may want to expand the content or even include an informational video.
These tips will help you optimize the product pages on your website, but there is a great (free!) tool that can help optimize your entire site called Hotjar. This tool is relatively simple to set up and will give you access to user recordings, heat maps, and more.
Did you find this useful?