Where Manufacturers Can Get More Ideas For Content Marketing
Coming up with perfect content marketing ideas for manufacturing companies can often be difficult. But, if you know where to look for inspiration, ideas are actually everywhere. Below are some tactics to help you and your team find success in content marketing for industrial companies.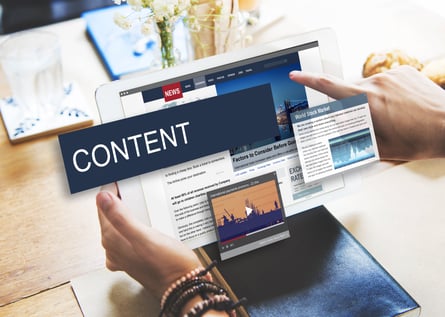 Content Brainstorming Sessions
Remember the value of a human connection. Team brainstorming sessions are a great way to get inspired from other people and gather a broad range of creative ideas. To run a productive brainstorming session, you'll need at least two participants to generate ideas either in person or online through video calling technology.

Once you've established a time for the session, invite members who have no previous familiarity with the project, as well as the direct project team to get extra input. Including people who don't have any preconceptions about the project incorporates fresh perspectives and creative ideas — just be sure to outline the parameters before starting the session.
Once the brainstorming session is underway, keep the following items in mind:
Use fun activities to get people engaged and their creative juices flowing
Be open to any and all ideas — you never know how something can be incorporated into the overall plan or inspire another concept
Find things that really "light a spark"

—

they'll seize people's interest and inspire people
Write down everything either on a whiteboard, paper, or electronically on your computer to make sure you record all ideas discussed; these can be referenced later for future projects or for backup ideas and even shared for new inspiration on other projects.
Competitive Research
Another helpful approach is to carefully research what your competitors are doing for their own marketing strategies. There are two main categories of competitors to watch out for: traditional competitors who are typically located within close physical proximity and competitors who may not be physically close but who will appear on the same search engine results pages as your company. Regardless of competitor type, it can be beneficial to see what's working elsewhere in the market and what your intended audience is responding to.
Look At Content That's Trending
In the quest to create new marketing content, it's also important to see what's already on your audience's mind. First, use Google trends to look at how different keywords are performing. You can also use web tools to assess which websites have the most links for your competitors or which keywords are getting the most web traffic, and harness that information to influence your own website. Finally, be sure to read and learn about current trends in the industry to stay up to date on the latest marketing tactics and relevant industrial news as potential marketing material.
Click here for 7 email newsletters manufacturers should subscribe to that provide the latest industry news.
Who To Turn To For Content Marketing Inspiration?
Different people in different areas of industry can provide valuable information, as well as tips for how they can contribute. People other than your marketing or content team may have the tools, capacity, and expertise on something that your customers may be interested in and can potentially generate new leads for your business. So who should you look to for inspiration?
Customer Conversations and Responses
When it comes to creating marketing content, it's important to incorporate your customers' thoughts and ideas into your marketing strategy as well. Look carefully at customer reviews online for your products and your competitors' to find out what does and doesn't work. Conduct surveys among your customers to gather their opinions and learn more about what they're interested in. Engage with your customers, especially through social media conversations, and social hashtags to find trending topics and ideas. Finally, review recent comments on your company blog to get a sense of your customers' feelings and pain points.
Technical and Engineering Staff
Technicians and engineers are often passionate people with strong opinions about technologies and processes. Leverage their expertise by asking them to communicate their thoughts on topics that are of interest to them and which relate to your business.
Sales Staff
Few know your customers' challenges better than your sales team. Ask them to jot down the top three to five questions or concerns that hold up the sales process and then address them in your content.
---
Recommended: 6 Common Mistakes That Job Shops Make
---
Customer Service
If you have a dedicated customer service team, then they make an excellent resource for content. Just as sales personnel know what makes buyers hesitate, customer service reps know what pains them after the sale. Ask individuals to name the top issues they deal with regularly and then build content around addressing proactively address it.
Business Partners and Vendors
Let your suppliers contribute their voice to the conversation by showcasing their knowledge, expertise and value. This communicates to a buyer that not only is your company an expert, but so are your partners. It also shows that your suppliers are true partners who have a voice in your business.
Another Angle: How To Improve Your Supplier-Distributor Relationship
Industrial Content Marketing Inspiration Throughout The Buying Cycle
Guiding your prospects through their buying journey provides them with effective content they actually want to read, when they want to read it. There's nothing worse than being harassed with sales offers when you're just not ready to make a purchase.
Top Of The Funnel Content Offers
The top of the funnel content is usually the first point of contact you will have with your website viewers. They usually land on your page in search of high level information about a specific product or service that they need an answer to. Content at this stage should be helpful and educational, and not "salesy" at all (you don't want to come off too strong.)
Some great content offers to gain traction with top of the funnel buyers are:
Educational blog posts
eBooks
Industry research
Middle Of The Funnel Content Ideas
Now that you've helped the prospect learn more about a specific topic, it's time to nurture them down the marketing funnel. This is the evaluation phase for B2B buyers, meaning it is the time to really build a relationship, establish trust, and show what sets your business apart from competitors, with a focus on educational content.
Here are some content ideas to kick off during this phase:
Case studies
Comparison guides
Buyer's guides
---
Must-Read: 9 Content Marketing Ideas For Manufacturers (With Examples!)
---
Bottom Of The Funnel
This is it, time to close the deal! At this point in the buyer's journey, it's okay to get a little promotional, but still maintain focus on what you can offer your buyer to solve their needs.
The following content will help convert your leads into customers:
Product videos
White papers
Spec sheets and brochures
---
Engage Your Prospects With Video Advertising
Thomas offers video content production for FREE for OEMs, Distributors, and Service Companies
Identify Your Best Performing Content
The phrase "Unicorn Marketing" was originally coined by marketing expert and CEO of Mobile Monkey, Larry Kim. This strategy helps prioritize your companies best performing content. Why not fuel your marketing efforts and plan based on proven results?
Your best performing content is shareable, has a lot of engagement, ranks high in search engine results, and converts to a sale — chances are, you may already have this piece of content. After identifying the content that performs the best, use this to your advantage.
Promote Your Content
Allocate resources and marketing dollars to the promotion of your unicorn content. This content should be shared across social channels to further engage and use your unicorns to convert your audience across platforms.
Repurpose Your Content
Unicorn marketing is the epitome of the "work smarter, not harder" mentality. If you have a high performing blog post, chances are that the same concept will see success in other mediums. Consider turning it into a long form eBook, or perhaps video content that will see high engagement on social platforms.
Put Your Marketing Content Ideas To Work
Content marketing is a critical component to the success of your business, but sometimes coming up with fresh, innovative topics and offers can be a real challenge. By tapping into your staff's minds through brainstorming sessions, performing competitive research, looking at current trends, and engaging in conversation with your customers, you'll find new creative ideas to inspire your next marketing strategy.
Navigating through content marketing ideas and planning how to implement them can be frustrating. Download our free eBook, Content Marketing for Industrial Companies to help or check out the additional resources below specifically for manufacturers to generate more leads and grow their business online.
Did you find this useful?