Beginner Lead Generation Tips For Manufacturers
Do any of these sound familiar to you:
"My sales profits are down."
"I don't have enough leads for my sales team."
"I'm not getting any RFQs online."
We can all use a little bit of luck these days. Unfortunately, many manufacturers and industrial companies have these problems and seem to rely on luck (or word-of-mouth referrals) a little bit too much when it comes to generating leads.
When it comes to growing your company and lead generation efforts, you don't want to leave your success to chance. In today's digital world, it's more important than ever to take the time — and exert the effort — necessary to put yourself in the best possible position to attract new buyers and grow your business proactively using digital marketing.
Here's how manufacturers can help solve basic lead generation problems or make your life a little easier and skip to a free digital health check where our marketing manufacturing strategists will let you know exactly what you need you to generate high-quality leads online.

Set A Clear Lead Generation Plan
You need to be smart with your marketing. Have a clear understanding of your business goals and how your marketing efforts can help meet those goals. Document those efforts to see what you've tried in the past and know where you can improve — it will help you understand marketing ROI better. For example, if you received 12 RFQs two years ago and 14 RFQs last year, don't expect to receive 35 RFQs this year if you aren't adjusting any of your marketing efforts to meet today's new buying landscape.
A document of what you have tried and tested in the past and what you are planning on executing will help establish benchmarks for success and give you and your team realistic expectations and results.
Need some help with your goals? See examples of manufacturing marketing goals and strategies here.
Communicate your plan to your entire team and include them in the planning process. Ask your customers what their experience is like working with you to learn how to better meet their needs and the needs of new customers too.
But what about the small business owners who already have a lot to manage outside of sales and marketing? Collaboration is still key — and so is a documented plan, even if the ideas are small. Have a lead prioritization plan in place so you can prioritize contacting the leads that are more likely to buy first.
Case Study: USTEK is a small business manufacturing company — learn how USTEK sought a way to maximize revenues without detracting from other priorities
Understand Who Your Prospects Are
Understanding who your prospects are means understanding their job functions and how they go about sourcing within those roles. The fancy name is "persona targeting" and what it means for manufacturers is understanding key characteristics of your buyers and customers and providing the information that makes it easier for them to do their jobs, leading you to a sale.
Whether their buying process takes several weeks or months, the necessary steps leading up to supplier selection are the same — identify a need, get specs or designs if necessary, and research and evaluate potential suppliers. But manufacturers who understand their customers' roles and cater to each step of the sourcing process are more likely to generate high-quality leads.
Dive Deeper: How To Meet The Needs Of B2B Buyers
To understand the habits of your prospects take some time to research the characteristics, challenges, demographics, etc. of your current customers. What are they doing at their jobs? What are their bosses concerned with? What kind of goals are the industries they're working in looking to solve? As you research, you'll likely have more than one "type" of person you'll want to reach depending on their job level and industry. Manufacturers usually separate customized buyer personas for distinct groups, like engineers, MROs, and procurement managers and create content that addresses each persona.
Both B2C and B2B buying habits are shaping the manufacturing industry. Gaining deep audience insights gives you a better idea of what strategies you can use for marketing your business.
Case Study: Toagosei America Inc., a manufacturer of Aron Alpha industrial adhesives targeted B2B buyers by job function and drove more than 73k impressions with one newsletter advertising send
We knew we wanted to make more buyers and decision-makers aware of what we have to offer. The team at Thomas explained the benefits of advertising in the Thomas Industry Update email newsletter and it ended up being a great way to help us generate that awareness and we earned new contacts for our sales team to call on.
Stay Up To Date On Data & Buyer Trends
Today's B2B buyers are digital natives and expect content to be available on-demand, optimized for any device, interactive, and highly visual — the same way they shop for personal products. Our last industrial survey revealed 73% of B2B buyers pay attention to a supplier's website when deciding whether to submit RFIs. Companies are 21% less likely to invest in trade shows, while the use of webinars & virtual events (20%), search & social media (14%), and website (12%) all increased in light of COVID-19.
Sourcing data is also essential to check in on regularly. Understanding what industrial products and services B2B buyers are sourcing the most can help you make better business decisions.
Get The Data: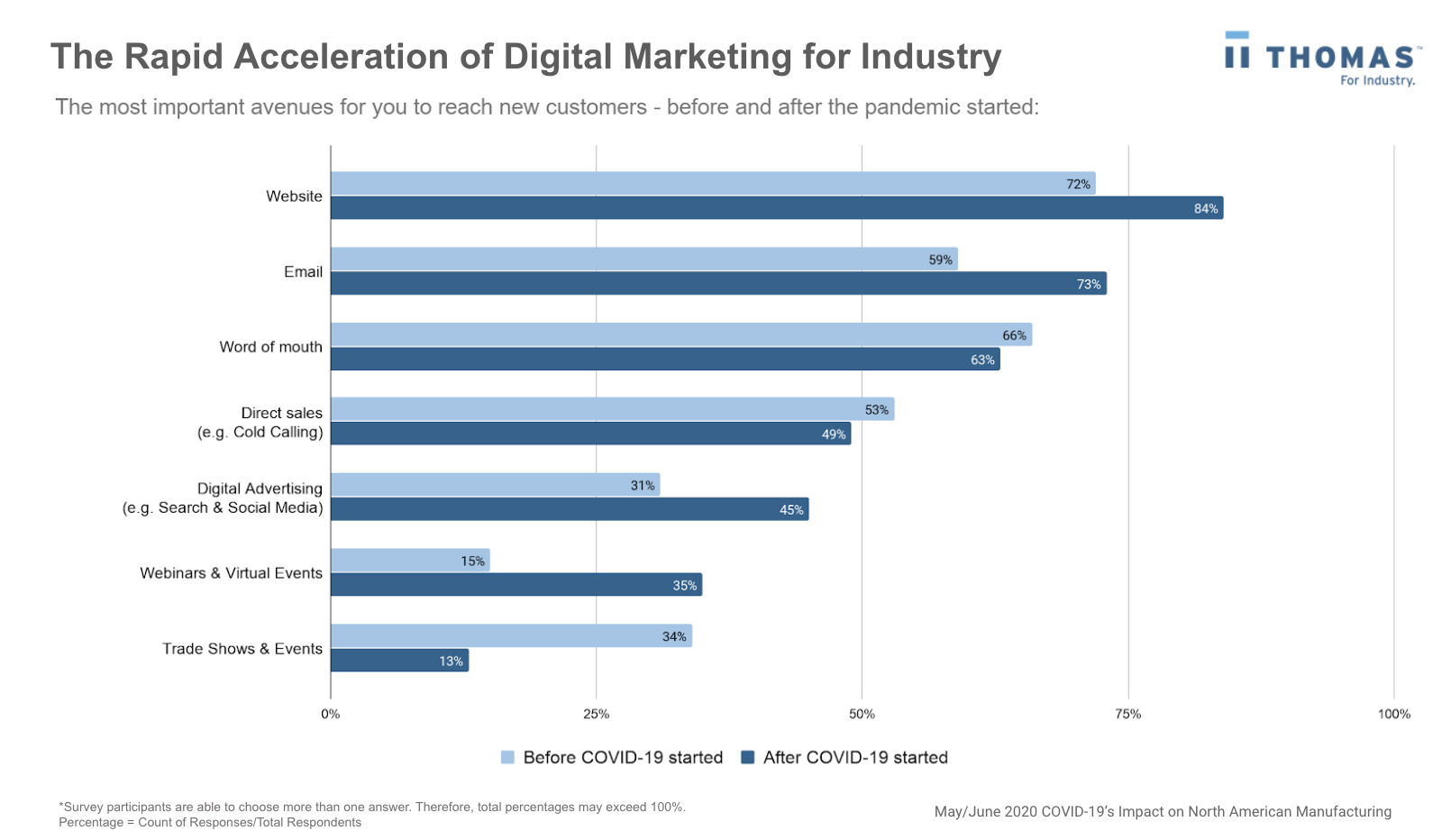 Some manufacturers partner with industrial marketing experts to help them navigate the marketing and sales trends. Manufacturing business owners also subscribe to newsletters for the latest tips and advice, check out different manufacturing conferences and events around the country, and take advantage of online learning platforms.
Manufacturing Leader Events: Build Your Network And Learn From Manufacturing Marketing Experts
Provide The Right Information On Your Website
So what type of content and information do manufacturers need to create to convert website visitors to leads? Your persona and sourcing data research should guide you and it differs based on what kind of company you are and who you're targeting, but here are just a few (of many) essentially universal pieces to include:
Geographic area served
Production capacities (minimum and maximum)
Equipment list
Sample products
Certifications
Industry-specific pages
According to a DemandGen report, 67% of B2B buyers rely more on content to inform purchase decisions. Before they're ready to buy, your prospects are looking for content that satisfies two key needs: education and evaluation. By providing educational information (also known as content marketing) like guides, product sheets, and blogs, you allow prospects to self-qualify your business and determine if they'd like to partner with you at some point. This relationship increases your brand awareness and thought leadership in the industry. By the time the visitor gets to the conversion step — typically an RFQ — buyers will be ready to make a decision, and potentially choose you with confidence.
See Examples: 10 Best Industrial Website Designs That Engage Buyers
Whatever specs you provide, be as specific as possible whenever you can. Most buyers are more likely to cross you off their shortlist than to pick up the phone to clarify something. All of the information on your website should aim to solve their biggest pain points.
Buyers need to be efficient and productive in their supplier research, and if they can't immediately determine if you can meet their needs, they're not going to submit an RFQ or pick up the phone to find out — they're moving on to your competitor.
💡 Thomas Tip: How's your website faring? In 2020, the average benchmark conversion rate of a lead using an RFQ form on a manufacturer's website was 20%. See how your website ranks against your competitor with a Free Digital Health Check.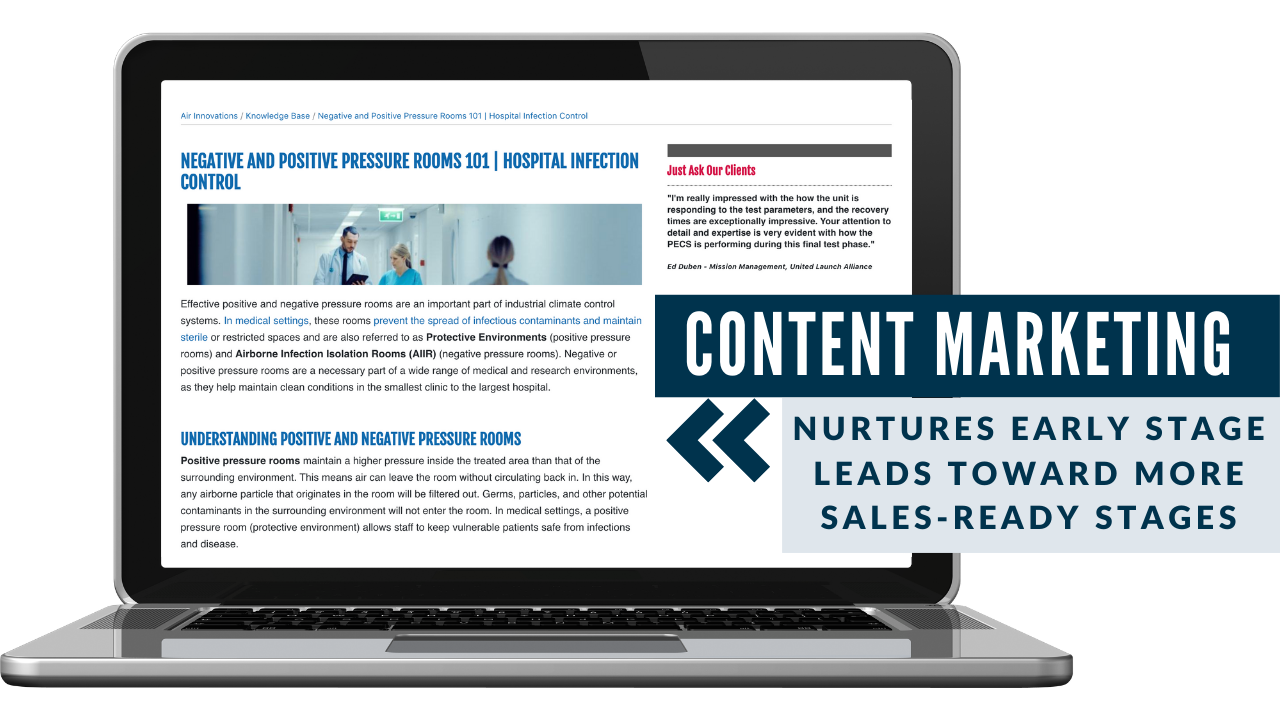 A key thing about Thomas is the ability to generate a lot of leads across various industries. Educating our customers really helps with lead generation. Through eBooks, blogs, a revamped website — they actually drive our own knowledge out and customers appreciate the insight.
Leverage All Channels Of Online Marketing
Having a website is great, but what's better is designing your website with lead generation and conversion in mind. Your website truly will help generate leads for you if it is continuously supported by other marketing channels and digital marketing campaigns.
If you are only using cold calling or word-of-mouth, for example, you will be missing out on all the leads that can be generated by other channels to boost your website and online presence — like SEO, PPC, email marketing, and video advertising. A comprehensive, all-inclusive approach keeps your brand in front of buyers wherever they are and strengthens your relationship with current customers to encourage repeat business.
Case Study: CJ Winter is a manufacturer of cold-displacement, cylindrical dies and attachments using digital advertising, videos, and a consistently updated website to increase their bottom line. "Running digital lead generation efforts and marketing increased our sales by 60% in just one year. We maximized our company exposure and drove a record number of qualified leads that directly into sales dollars," said Bob Ryan, Group President at CJ Winter.
Include multiple ways for buyers to contact you — a website link to a form, phone number, email address, etc. Convenience is key and buyers expect you to contact them back as soon as possible. According to The Harvard Business Review, companies that follow-up within an hour of receiving an online query from a potential customer are seven times more likely to have a meaningful conversation with a key decision-maker than those who wait only an hour more.
---
Engage Your Prospects With Video Advertising
Thomas offers video content production for FREE with the purchase of an advertising program for OEMs, Distributors, and Service Companies
---
What Can Manufacturers Do Right Now To Increase Leads?
The industrial buying cycle can be extremely long and incredibly complex, and the ideas we discussed serve as a framework for lead generation success. There's still a lot of planning, tracking, and reporting that goes into generating high-quality leads for the manufacturing industry. Digital marketing is a continually shifting and evolving discipline. On top of that, there are new tools, best practices, technologies, and even economic shifts that affect businesses.
Fortunately, if you want to connect with industrial buyers when they are actively searching for suppliers like you, there is a proven easy solution you can do right now — getting your business listed for free on Thomasnet.com. Thousands of manufacturers and industrial companies use Thomasnet.com to generate more leads and connect with more buyers.
After listing their company profile on Thomasnet.com and upgrading their website and online content, Corrugated Metals tapped into the defense industry. It's a long process to become a defense supplier, but a strong online presence is an important step.
"About half of our new custom work comes from Thomasnet.com leads. We could not have competed for — and won — all the new business we have without our strategic Thomasnet.com program," said Alli Cravens, Sales and Marketing at Granger Plastics.
Unlike traffic generated by search engines, email sponsorships, and other channels, all of the sourcing activity on Thomasnet.com is driven by real, verified, and active buyers — not accidental traffic, bots, or unqualified traffic. Contact us to learn how you can get in front of qualified buyers and increase your bottom line. Thomas provides lead generation services that fit any size budget.
Or request these additional free lead generation tools for manufacturers and industrial companies:
"We are extremely pleased with the activity generated by our Thomasnet.com program. New RFQs come in so often we have trouble keeping up. Even more astonishing is the quality of the leads and the number of new customers we have converted."
Our industry-focused blogs that help manufacturers and industrials get more leads:
Did you find this useful?