Want To Attract More Buyers? You Need To Think Like Them.
No matter what your role is — sales, marketing, operations, or leadership — you have a lot to accomplish.
So do your buyers.
By understanding what your buyers have on their plates, you can more easily accomplish one of the most important things on yours — generating more leads.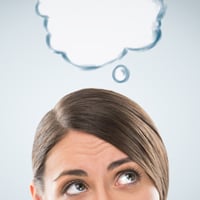 Of course, gaining that perspective is easier said than done. Fortunately, Thomas has more than 120 years of experience supporting the needs of engineers, procurement professionals, and other buying decision makers. To bolster our perspective even further, we recently teamed up with Strategyn, a leading B2B research firm, to conduct one of the most comprehensive studies on B2B buying behavior ever performed. Together, we were able to get an even clearer picture of the responsibilities, aspirations, and challenges that define today's B2B and industrial buyers — here's a sampling of what you should know:
The Industrial Buying Cycle Is More Complicated Than You Think
From a supplier's perspective, the industrial buying cycle is really a two-step process: the buyer realizes there is a need, and he or she comes to a supplier to purchase the product or service.
That's a tremendous oversimplification. At a high level, the process that they go through actually involves six distinct phases.

The buyer defines need for a product or service
The buyer performs research to learn about possible solutions
If executing a new design, the buyer researches product data
The buyer evaluates potential suppliers
The buyer creates a shortlist of the best suppliers
The buyer makes a purchase from the winning supplier
Through our research, we were able to go even further, identifying 15 distinct steps within the buying process.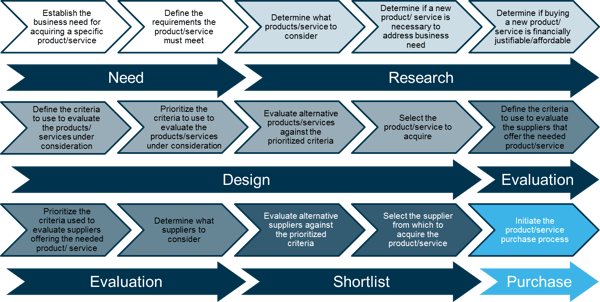 While moving from phase to phase and from step to step, buyers must accomplish a series of more than 225 smaller tasks.
Sounds exhausting? This is what buyers do every day.
Their Tasks = Your Opportunity
As a supplier, you can deliver the most value — and position yourself as a supplier of choice and potential partner — by helping buyers accomplish their most important tasks while reducing their headaches and challenges throughout the buying process.
To find out more about these steps, and how you can help your target buyers better do their jobs, download our eBook: Meeting The Needs Of Your Buyers.
This resource takes a deep dive into our research study, highlighting the most important tasks that buyers need to accomplish, as well as the biggest areas of opportunity for suppliers to step up and deliver value. We also show you how you can use different digital marketing tactics to be as helpful as possible.
Did you find this useful?