How To Use Digital Marketing To Get Customers In The Defense Industry
To help the manufacturing industry be appropriately equipped for change, we launched Thomas Industrial Data earlier this year.
Our sourcing activity data coupled with our Thomas Industrial Survey results, reveals interesting insights with North American suppliers shifting their businesses to meet the new normal.
55% of survey participants being likely to very likely to invest in Production Performance Automation in the next 12 months
69% of companies across the manufacturing and industrial sectors are likely to bring manufacturing production and sourcing back to North America
12% increase in website usage by manufacturers and industrial companies to connect with more buyers and customers
There are reports of businesses closing down, or industries with drops of profits, while others forecast a more favorable outcome. For the aerospace and defense industry, anonymized sourcing activity across Thomasnet.com paints a picture of a rapidly evolving field.
The Current State Of The Industry
Businesses have shifted dramatically in their sourcing as they have pivoted to help the country combat COVID-19.
At the beginning of 2020, tanks rose to the top of the chart as the most popular aerospace product, followed closely by stamping, fabrication, and plating services. Then ventilators shot to the highest spot at the beginning of April, and the category has kept that place ever since, followed by power supplies and batteries.
Although ventilators are primarily known to the consumer for the healthcare industry, noninvasive ventilators are administered through face masks, hoods, or mouthpieces for the defense industry.
Click here for a more in-depth look at how the Aerospace and Defense sector has shifted its focus in the last six months.
McKinsey predicts the defense industry budget could focus on cybersecurity, enhanced national infrastructure protection, and greater capacity to support civil authorities in a national emergency.
Understanding the bigger picture of the industry and the trends that shape it will help manufacturers make better decisions and create more robust strategies to keep their business moving forward.
In today's marketplace, procurement professionals, MROs, and engineers expect the companies they do business with to offer a digital experience that is as smooth and simple as the websites they visit to shop for personal items.
Use Digital Marketing Best Practices
The first rule to marketing successfully to the defense industry (and possibly any other industry today thanks to the effects of COVID-19) is to be online. In today's marketplace, procurement professionals, MROs, and engineers expect the companies they do business with to offer a digital experience that is as smooth and simple as the websites they visit to shop for personal items.
Your website should be designed to sell and get you high-quality leads.
To effectively engage with buyers in the defense industry, manufacturers and industrial companies need to understand their challenges and their jobs to be done. The defense industry has products and a complex supply chain like no other. Requirements for ISO certifications, ITAR, and First Article Inspection (FAI) are essential must-haves for suppliers to do business with the Department of Defense.
Most large buyers insist their suppliers maintain a certain certification level and implement a thorough quality control process. As organizations and customers grow increasingly more sensitive to environmental issues, buyers are more focused on finding environmentally-friendly partners. If any aspect of your business practices is environmentally friendly or socially responsible — such as having an Environmental Management System (EMS) in place accredited to ISO 14001 — show it off online.
See More: 4 Small Business Green Manufacturers Committed To Sustainability
But beyond just seeing a list of ISO numbers and other certifications on your website, though, can buyers view your actual certificates online? Better yet, can they download them? If a customer came into your office or shop, they'd probably want to see your certifications hanging on the walls and the quality of your products exemplified throughout your manufacturing floor, right?
Your website should be no different. Display your certifications clearly for buyers on your homepage footer or navigation.
Many buyers in the defense industry prefer to do business with diverse suppliers. For some, it's a requirement. So if your business is certified Women-owned, Native American-owned, Veteran-owned, LGBT-owned, or any other diversity classification, grab your buyer's attention early by promoting that status upfront online. Keep in mind, difficulty in verifying a supplier's claim to diversity status is a crucial complaint among procurement professionals, so you'll want to include any relevant certificates to authenticate your business.
Get your business listed on the Thomasnet.com Supplier Diversity Search to increase your opportunities through this designation.
Some aerospace technology can be complex, but our graphics, data sheets, and videos from Thomas Marketing Services break it down for buyers to understand what they need and how we help them.
Buyers in the defense industry are concerned with counterfeit parts, inaccurate data, and incomplete quotes. Alleviate their concerns with industry-relevant website pages that detail your product data, sizing dimensions, performance curves, etc. Engineers want to see how your components and parts can fit into their final project, but projects in the defense industry are super complicated. Help engineers get their jobs done (and simultaneously become a lead for you) with infographics, videos, and final product photos.
Learn More: The 3 B2B Buyer Personas That Influence The Buying Process
"Diversified content on our site has really helped us stand out as a leader in the industry," said Eoin Lynch, Executive Director of Sales and Marketing at Tex Tech Industries. "Some aerospace technology can be complex, but our graphics, data sheets, and videos from Thomas Marketing Services break it down for buyers to understand what they need and how we help them."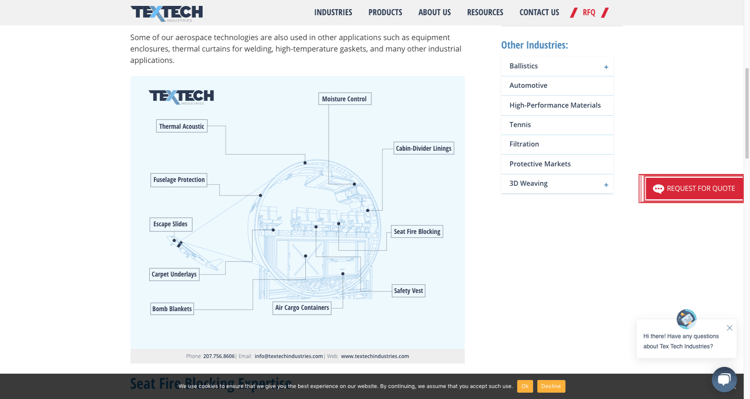 Promote Your Content To Buyers In The Defense Industry
After content creation, some manufacturers stop there. But to increase the likelihood of getting shortlisted by a buyer in the defense industry, it is crucial to be present wherever they are. More than 1 million engineers, procurement managers, plant managers, and MRO buyers come to the Thomas Network when they're serious about supplier discovery and product sourcing, but they can't contact you if you're not listed.
A company profile on Thomasnet.com was one of the key items that helped Corrugated Metals win their first contract with the U.S. Air Force years ago. Today, they've grown their company to include a new line of business specifically for that industry. "That one Thomasnet.com lead that came to our company spawned an entirely new company for us," said Ken Carlton, VP of Corrugated Metals. "It led us into friendly foreign governments around the world."
Learn More: How Corrugated Metals Increase Leads By 285%
Similarly, manufacturers should keep their Google My Business profile up to date and contain all relevant company information and website links for new buyers to reach out. The goal should be to cover as much "digital ground" as possible to increase SEO traffic and get the website ranking higher on search results.
Buyers in the defense industry turn to online news outlets and industry resource websites like Thomas Insights. Promote your defense industry content in Thomas Insights' daily email newsletter, Thomas Industry Update and target key decision-makers by job type and industry. Manufacturers and industrial companies can choose from three advertising options in the email newsletter to meet their needs, and can share video content which is shown to have the highest levels of engagement.

The defense industry's primary goal is to develop and create products that the U.S. military can use to protect the country — and our Thomas Supplier Discovery Platform features hundreds of defense-related suppliers, manufacturers, and service providers who help accomplish that goal. Interested in being a part of the network that is involved in keeping the economy moving forward? List your business for free to get started.
You might also be interested in:
Additional marketing material:
Did you find this useful?