What Is ROI In Marketing [And How To Prove It]
It is more important than ever today for marketing professionals to maximize the return on investment (ROI) for their marketing efforts. But the ability to determine a clear ROI for marketing continues to elude many companies. While there is no single solution to getting more out of your marketing, there are some marketing methods that are both more effective and easier to measure the effectiveness of.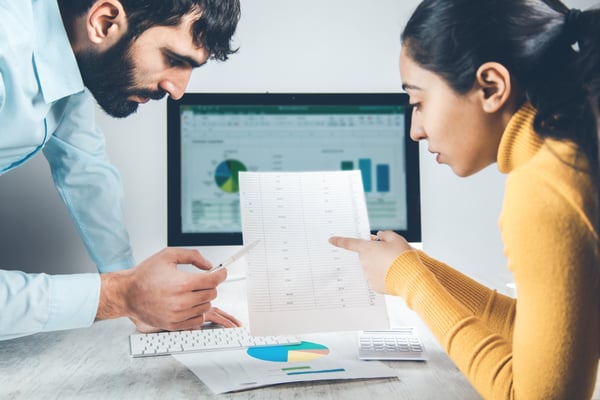 What Is The Meaning Of ROI In Marketing?
Not so long ago, sales personnel did the heavy lifting when it came to winning new business. Back when the Internet was far less prevalent in our working lives, buyers needed to consult sales personnel to get detailed information and answer questions about products and services. However, today buyers want to be fully informed long before they even pick up the phone. That means your marketing must answer deep-level technical questions that a buyer might have — but there should be tracking in place to measure the effectiveness of those marketing efforts.
For example, product manufacturers must market part-level specifications, tolerances and other technical details. Custom manufacturers need to promote technical portfolios, capabilities and expertise. If your marketing mix does not include tactics that provide this information to potential customers, then it is possible that you are not getting the most out of your marketing efforts.
The purpose of return on investment marketing is to calculate to what degree your marketing spend contributes to profits. Because at the end of the day, that's what all business owners want... to make a profit. This is the simple formula to determine your return on marketing investment, the net of marketing spend divided by the marketing spend.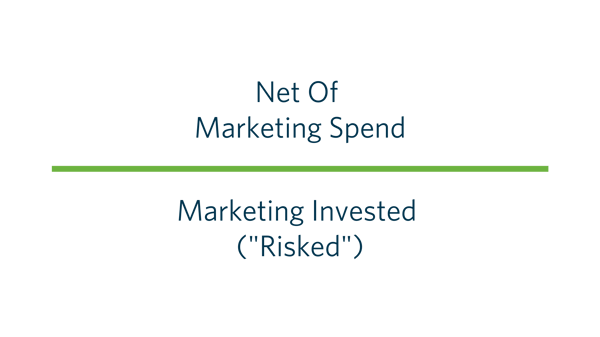 How To Prove ROI
Track Phone Calls Help Prove ROI In Marketing
Okay, you may be thinking "wait, we're talking about online marketing.... what's this about phone calls? Aren't 'clicks' and 'conversions' what matter?" Well, there are a few reasons why tracking your phone calls is a key measure of your online marketing ROI. Before we get to those reasons, just consider this mind-blowing statistic:
Industrial suppliers on average track less than 3 percent of their phone sales inquiries. In other words, when receiving a sales inquiry by phone, industrial suppliers ask the caller "where did you hear about us" fewer than 3 times per every 100 calls.
So why is phone tracking so important?
Unless you know where that customer on the phone first found you, there is no way to fully measure the ROI of any of your marketing efforts. Unfortunately, industrial marketers fall into the trap of believing that every measure of their online marketing success shows up in their website analytics, with the ultimate "results" being emails and submitted RFIs/RFQs. However, that mindset overlooks actual buyer behavior within the industrial buying process.
While today's buyers prefer to evaluate suppliers anonymously online, when they're ready to connect with the supplier, a large percentage of them pick up the phone rather than send an email or submit an RFI/RFQ online.
---
Fun Fact: On Thomasnet.com, 3 out of every 5 sales inquiries made to advertisers on our platform are made via phone.
---
If buyer behavior on your website is anything at all like it is on our platform — and there's no good reason to assume it's not — you could be overlooking over 50 percent of the ROI of your online marketing efforts simply by neglecting to ask phone callers where they found you. Make sure you ask each lead that contacts you where the found out about your business.
"If it weren't for the thorough ROI tracking that comes with our Thomasnet.com program, we never would have known that one of our biggest accounts originally found us on Thomasnet.com. Getting found by this customer got us into the education market in a big way — an entirely new market for us." said Consolidated Electronic Wire & Cable, a manufacturer of standard and custom wire/cables.
Measure Based On User Intent
Clicks don't help you reach your business goals, new customers do. So the true measure of ROI for any online marketing program should be one thing and one thing only: real new business opportunities. Yet too many industrial marketers get wrapped around the axle measuring clicks, page views, traffic, conversions and other 'visitor' metrics that quite frankly might be great for the B2C world, but are often fool's gold for B2B suppliers.
SEO marketing experts know that measured visitors to your website are too often doing things other than supplier discovery and evaluation. In other words, not all online visitors represent real new business opportunities. A lot of site visits may be from people you already know, unqualified traffic or fraudulent.
Measuring the "right thing" comes down to user intent.
Industrial marketers that are ahead of the curve understand that today, the "who" and the "why" are far more important than the "how many" when it comes to measuring the ROI of your online efforts.
Want to know the who? Get a free, custom report that lists companies that recently search the Thomas Network for the products and services you offer.
Align Your ROI Benchmarks With The B2B Buying Cycle
In recent years, the time that passed between a potential customer discovering you online and contacting you directly could have been many months. And once they did contact you, that was just the beginning of your sales process, which could take months to a year or longer.
The internet puts all that information at the fingertips of buyers, giving them the option to research solutions and thoroughly evaluate suppliers anonymously, online. But with more suppliers providing research online and more buyers trusting reviews sites and their peers referrals, they are actually contacting sales reps sooner instead of remaining anonymous for months on end.
According to a 2019 B2B Buyer Behavior Survey from Demand Gen, "42 percent [of buyers] said they spoke to and engaged with reps from the vendor in the first month, compared to 33 percent in 2018."
While easy access to information is making the purchase decision process more efficient, recent studies show that the timespan of the typical industrial buying cycle is actually still increasing.
Some key stats from Demand Gen Reports' 2019 B2B Buyer Behavior Survey:
57 percent said the l

ength of their purchase cycle had increased over the past year

35 percent sought input from peers and existing users within the first month of the purchase process

68 percent of respondents said they notice ads from the solution provider they chose during the research process

75 percent of buyers said they are spending more time researching purchases

56 percent of companies have four or more people involved in a purchase decision
Set Realistic Expectations For Your Marketing ROI
When setting your expectations for ROI, it's important to have a realistic understanding of just how abundant — or relatively scarce — those opportunities actually are. If you're like most suppliers, your customer base is limited by many factors like the industries and geographies you serve, the company types and sizes you can work with, your capabilities and capacity, and more. We have thousands of conversations with suppliers each year, and when we ask them to really analyze the true size of their potential customer base, it's often a reality check.
Think about why you got your last opportunity. There are relatively few reasons a company will bring on a new supplier, simply because it's often a risky, time-consuming process. They'll typically only do so when they:
Have quality, reliability or pricing issues with a supplier

Are introducing a new product line or service

Have a supplier that goes out of business

Need new or replacement capital equipment

Are reshoring operations back to North America
If you know you received 100 RFQs online last year and 95 RFQ two years ago, don't expect to receive 1000 RFQs this year if that's not what the trends show.
Common ROI Terminology
Digital marketing tactics—including social media, online display ads, email marketing, and your company website—have many things in common. The most obvious is that their effectiveness is trackable and measurable.
However, many marketing professionals get lost measuring "clicks," "likes" and "visits." Unfortunately, while these are valid metrics of interaction, they do not always equate to return on investment (ROI).
Here are five metrics that better represent the value of and ROI of your digital marketing efforts.
Cost Per Lead (CPL)
It's not enough just to know how many leads you're getting. The cost needs to justify the ends.
The calculation? Cost of Marketing Campaign / # of Leads
Customer Acquisition Cost (CAC)
Similar to CPL, this ratio goes beyond the number of new customers you've gotten — it shows how much you're spending to get them. It can help judge the effectiveness of campaigns, and direct future strategies.
Calculation: Sales + Marketing (including salaries) + Overhead / # of customers acquired over a given period
Lead-to-Customer Conversion Rate
This number is easier to calculate accurately.
When you understand the lead-to-customer conversion rate for your overall marketing strategy and individual marketing tactics, you will have a better understanding of the overall ROI for specific marketing campaigns and tactics.
Lifetime Customer Value
This number can help you map out your marketing efforts — and works with stats like CAC to ensure that your marketing budget is in balance.
Calculation: Avg. sale per customer * # of purchases per customer * Average retention timespan for customers
Visitor-to-Lead Conversion Rate
Marketing professionals should look at the number of visitors that turn into leads.
This number is always an underestimate since it is difficult to tell if an RFQ placed over the phone is the result of a website visit (or e-mail click, or social media interaction, or combination thereof) — that's why it's important to ask the lead where they found you!
Unfortunately, this is more likely to reveal the first or last place that a lead found you, and not any of the touch points in between. One tool you can use to help close the data gap is a call tracking service. By including unique phone numbers in specific marketing materials, industrial businesses can come closer to determining a lead's referring source.
Measure ROI For Manufacturers & Distributors
One of the easiest ways to get more quality industrial leads, gain visibility for your business, and measure ROI for your marketing efforts, is by listing your business on the Thomas Network — a company profile is free!
"Thomasnet.com has been a worthwhile venture for our company by substantially increasing our brand recognition and allowing those that need the products and services we offer to connect with us in a real way," said Blisterpak, Inc. "We are now well known in the region as well as national marketplace and have been able to secure business that we would never have been considered for in the past."
And if you need help getting set up, contact us for more information. Our marketing experts are supported by degreed engineers so we understand the complexities of your manufacturing or industrial distribution business.
"The average order size of customers that find us on Thomasnet.com is 5 times higher than our overall average, and they tend to give us repeat business. We recently met an urgent need for a manufacturer in Tokyo, which led to them placing 3 orders that were each more than 10 times larger than our average order size."
Did you find this useful?