How To Use Digital Marketing To Engage Local B2B Buyers
Manufacturers and industrial distributors stand to gain a lot from building and nurturing relationships with local buyers. These buyers are easier to engage with to create new partnerships, nurture with to establish long-term relationships, and manage logistically. And these buyers seek local suppliers for these same reasons — in a recent industrial buying habits survey, 84% of procurement professionals said they preferred to work with local vendors.
So to help manufacturers win new business and build better relationships with local partners, we've compiled a few tips.
Leverage Your Contact Us Page
Optimizing your website to include your location information is critical to ensuring you come up in local search results when nearby buyers are sourcing for a new supplier online. There are several important items to consider here, but the most critical is to make sure your Contact Us page contains relevant location information. Make sure it's clear and consistent throughout the rest of your website too — for example, if you add your location in your footer and on our About Us page. Embed a Google Map on your contact page and include each of your company locations (if applicable) so Google can index your information accurately.
Search engines like Google determine local ranking by relevance, distance, and prominence, which refers to how well your location content matches what someone is searching for, how far away their location is to you, and how strong your overall online presence is. These are a few reasons why it's important to be consistent with your location information on relevant pages and consider updating your website regularly with new content. This way, when local buyers search online for the products or services you provide, you will receive favorable search positioning in the search engine results with your website shown as one of the top options.
See Interstate Carbonic Enterprises' Contact Us page below. It showcases multiple ways to get in touch, making it convenient for potential buyers to reach out.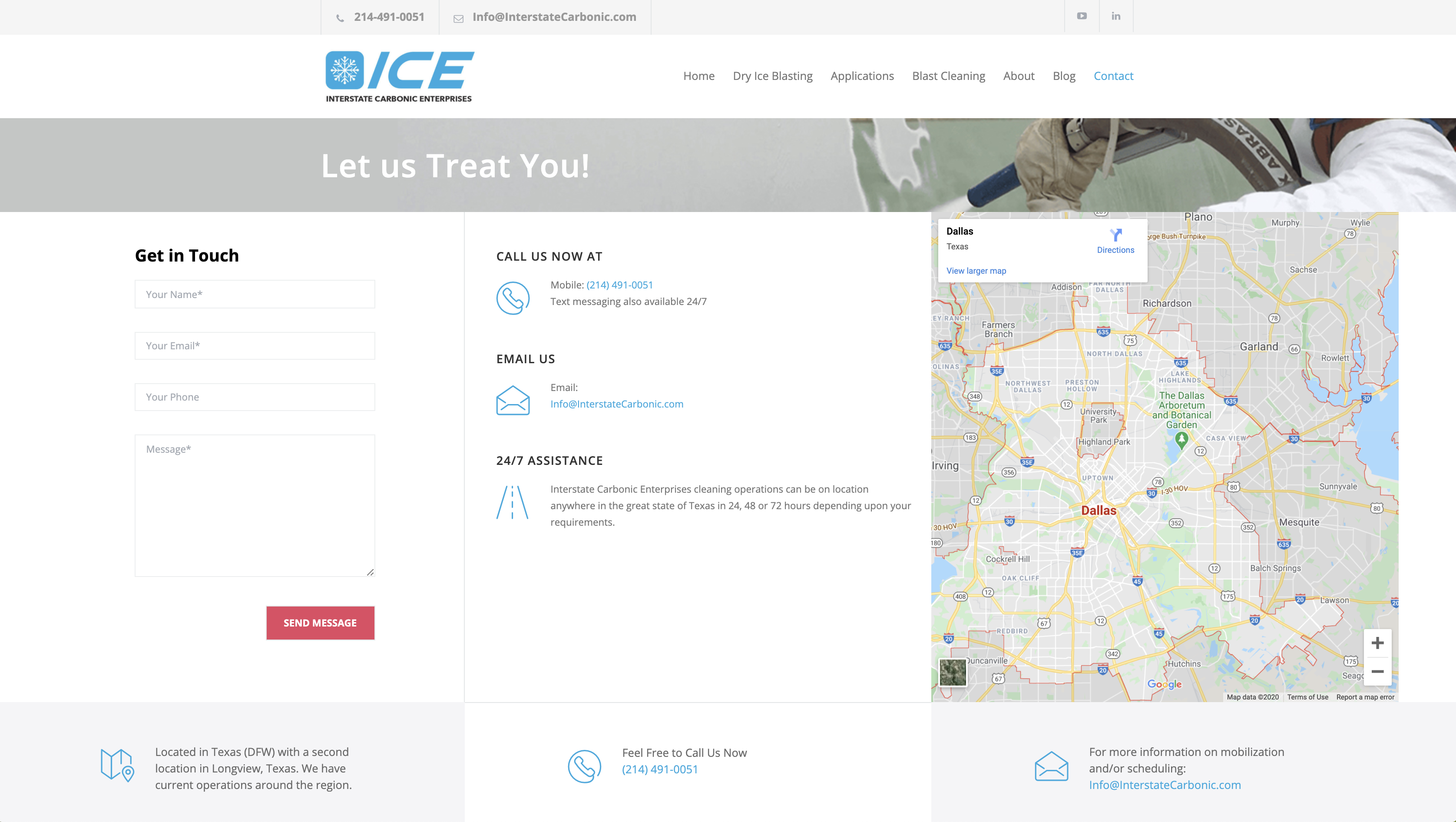 See More: The Must-Haves On Your Industrial Contact Us Page
Utilize Local Online Business Directories
Listing your business on Thomasnet.com is one of the best ways to advertise your business and attract valuable leads, especially if you're looking to engage local buyers. A company profile on Thomasnet.com is free, and every second a buyer evaluates a supplier on the platform. Buyers can filter search results based on their needs and any geographic preferences. See how CNC machining suppliers who service the Northern New Jersey area are organized below.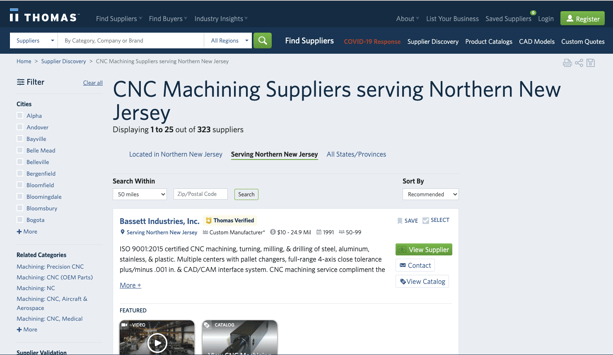 And to increase your reach even further, there are a ton of other business directories for you to add your company information. Some of the other free listings platforms we recommend include:
Google My Business
Apple Maps
Facebook
LinkedIn Company Directory
Bing
Yelp
MapQuest
Super Pages
Yellow Book
Increasing the number of citations in these directories increases the number of backlinks to your website so make sure you sign up for all these directories. Although each directory might be small in backlink value, it adds up in large quantities — this means it helps with SEO, boosts your website in search results, and helps local buyers find you.
"We are extremely pleased with the activity generated by our Thomasnet.com program. New RFQs come in so often we have trouble keeping up. Even more astonishing is the quality of the leads and the number of new customers we have converted."
Local SEO To Reach Nearby Buyers
Any manufacturing or industrial business with a physical location for their shop floor or serves a geographic area can benefit from local SEO.
If you're a metal stamper, it seems logical to use "metal stamping" as the primary phrase in your keyword strategy. But think of all the other metal stampers out there — there are a lot, and most of them will be using "metal stamping" as their primary keyword.
Competition for broad, simple keywords will be high. But for many search terms, Google will show listings customized to your location. So to help your site stay high in the search results, spend time with your keyword research and develop specific long-tail keywords that hone in on what your buyers will be searching for, as these are less likely to be used by others.
Instead of just "metal stamping," you can target location-related keywords like "Chicago metal stamping and assemblies." In the example below, you can see the local results for a buyer in New York who searched "CNC machine shops." Increase your SEO traffic with keywords your buyers are searching for like "Bulk precision CNC machining" and include the areas you service on your website. Be sure to use these naturally within a text throughout your content pages.
Get More Tips To Engage Local B2B Buyers
Doing business with local partners has clear and tangible benefits for manufacturers and industrial businesses. By reviewing how they're presenting their businesses to local buyers, manufacturing leaders can create digital sales and marketing strategies that generate these local opportunities year-round. To get more tips to engage local B2B buyers and generate more growth for your company, download the full guide, How To Optimize Your Digital Marketing Efforts to Engage Local Buyers.
Every digital marketing strategy works a little differently for each company, but the results are hard to ignore today in a world that's so digitally connected. Today's B2B buyers are digital natives and expect the content they research online to be available on-demand, optimized for any device, interactive, and highly visual — 73% of those buyers pay attention to your website when deciding to submit RFIs. To learn how you can improve your efforts and reach B2B more effectively, contact us for a free digital health check. You'll get an analysis of your digital presence and how it compares to competitors.
Did you find this useful?