5 Marketing Collateral Best Practices For Manufacturers
Graphic design is everywhere you look — from your manufacturing company's logo on the front of your building to the website layout of this blog post you're reading right now.
April 27 is World Graphics Day and to commemorate communication design, we'll take a look at some marketing collateral best practices so you can ensure your content marketing is being communicated effectively and designed with your industrial buyers in mind.
What Is Marketing Collateral?
Marketing collateral is the collection of material used to support selling a product or service.
In the past, the term marketing collateral meant printed brochures and business cards used to drive sales. Now marketing collateral encompasses offline and online media. That includes media kits, your website, eBooks and guides, and even videos. These are assets also referred to as pieces to an effective content marketing strategy — let's dive in to some best practices to ensure you're on the right track.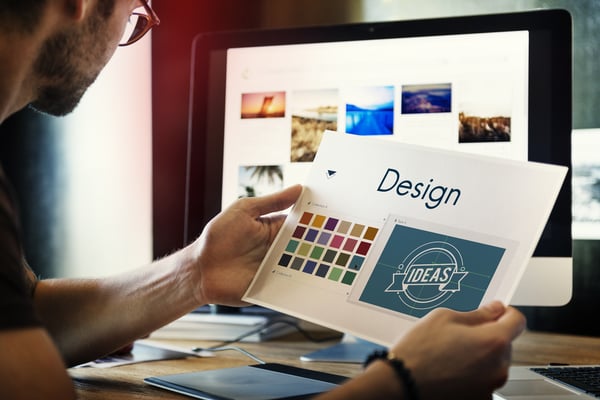 1. Focus Your Marketing Copy On Your Customer, Not You

Just like your manufacturing business, your customers have specific challenges and goals unique to them so your marketing messages should align to their needs, not yours. Don't be purely promotional and don't be repetitive. Create content that is valuable and guides your prospective buyers at every step of the industrial buying cycle.
Another thing to keep in mind when writing your marketing collateral messaging is to speak differently to each of your key customers. For example, would you talk to a design engineer the same way you would connect with a procurement manager? Understanding your industrial personas helps your marketing and sales team know who they are selling to. But persona targeting is much more than "knowing your audience" — it dives deep into a representation of your perfect prospect. Ask yourself questions like:
What is this person's typical day like?
How do they find information to make a purchase?
What products or services are they sourcing for?
Where does their stress come from?
What publications do they read?
To learn more about the three most influential personas in the industrial buying process, download our free eBook, Persona Targeting For Manufacturing Companies.
2. Use Visuals To Aid Your Marketing Collateral's Readability
Marketing collateral matters to your manufacturing company's bottom line — they tell your story better than you can. So you need to create compelling marketing content with clear messaging mixed with engaging imagery.
Canva is one of our favorites to create visual elements like Instagram posts, eBook covers, CTAs and more. The platform is built with non-designers in mind, so the tool makes it super easy to drag and drop images, update text, move objects — plus it's a free web design tool! There are dozens of templates to choose from — from presentations, letterheads, and brochures — your marketing collateral will be spruced up in no time.
Here are a few visual and text best practices for your marketing collateral:
Make use of white space. Don't cram long forms of copy into one page. Break up lines of text so your reader can skim content.
Use branded colors and fonts to highlight icons and text. Canva allows you to create a brand kit to make a collection of fonts, color palettes, logos and more specifically for your business.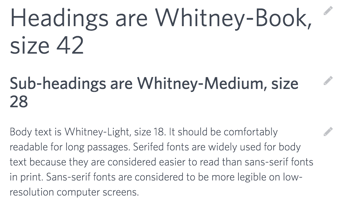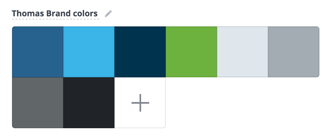 Depending the platform you're creating content for, each will require different dimensions for best use. Here are a few examples of the sizes we use for difference marketing collateral:

Facebook Post: 940 x 788
Video Thumbnail: 1920 x 1080
Call-To-Action: on a blog post: 600 x 200
Email Header: 640 x 336
3. Use Videos To Enhance Your Marketing Message
Videos are versatile content marketing pieces. They are effective marketing tools because they capture your viewers attention more quickly and they simply stand out more than blog articles and web pages. According to HubSpot, about 500 million hours of videos are watched on YouTube every day — imagine how many eyes could be watching your videos!
We also use Canva to help out with our marketing videos. Video thumbnails like the one displayed on the video below are very important with engaging your viewers with a video. They must be attention grabbing, and can increase conversion rates significantly. Thumbnails should entice viewers to click the play button, accurately represent the content in the video, and can be branded to your business.
4. Make Sure Your Call-To-Action Is Clear
Your call-to-action (CTA) can either be a text link, button, or image that encourages your readers to do something — and they should be clearly placed on all your marketing collateral. The best CTAs are short and use strong action verbs. Whatever the action may be, the CTA should clearly detail what step the prospect will take next.
Examples of clear CTAs that drive industrial lead conversion:
Call now for more information
Schedule a consultation today
Request a free quote
Access your guide now
For online marketing media, there are a few ways you can ensure your CTA won't be skipped over too, like using a contrasting color for your CTA button and experimenting with the placement of the button on the page. Colors build an emotional connection so we recommend using a color on the opposite end of your brand's color spectrum. For example, if your page is mostly white and orange, try green colored CTAs. A/B testing will help guide you in the right direction of what colors, text, and placement work best for your industrial audience.
Trending Now: The Role Of Color Theory In Marketing
5. Offer Your Marketing Collateral Online
And when you're done implementing all of the above into your marketing collateral pieces, post them on your website to reel in those industrial leads! While printed media kits, brochures, and one-pagers are great leave-behinds at meetings, we recommend offering those collateral pieces online simply because that's where your buyers are too.
CJ Winter, a thread rolling solutions company, has a dedicated Resources page on their website that houses all their brochures and guides. This free downloadable content showcases expertise and keeps industrial buyers engaged and coming back for more — who doesn't love free educational content? Also note how the call-to-action buttons are clear and a contrasting, but complementary color to the rest of the website.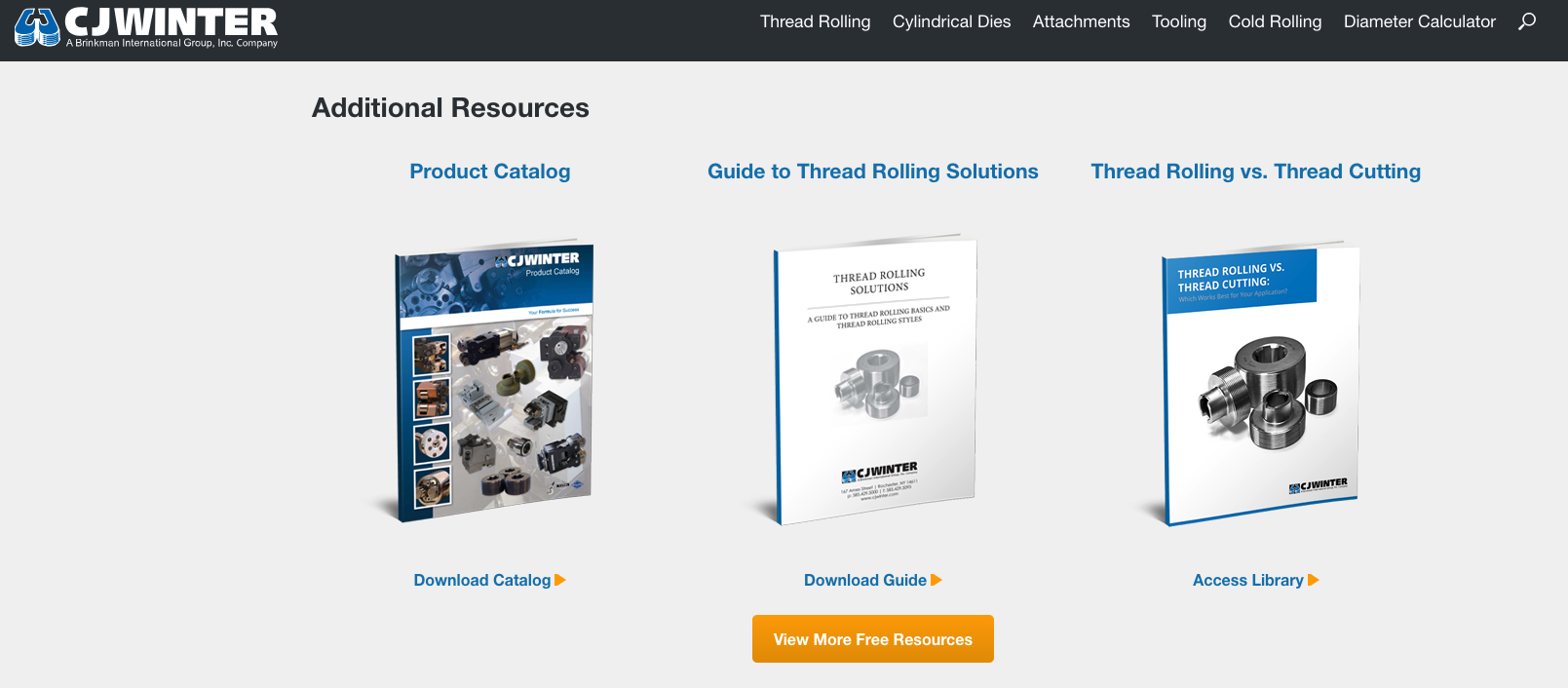 Another way you can provide value to your readers online is by posting blog articles. Blogs are another form of marketing collateral that allow you to discuss topics related to your business with really selling your business. The same design rules also apply to blogs — add imagery and videos to keep your readers engaged and break up large bodies of text with headings and paragraph breaks.
Fun fact: Adding a blog to your website increases SEO, which means it will help you rank higher on Google and increase your chances of getting found online. Want to get more technical? Learn how to increase your SEO traffic in 30 days with this free planner.
More Marketing Collateral Examples For Manufacturers
A combination of all the above will set you on the right path toward more effective marketing collateral pieces to fuel your content marketing. But there's no one-size-fits-all marketing mix for manufacturers.
There a tons of marketing ideas out there you can provide to drive industrial lead generation and even more hundreds of experiments you can run across all your marketing channels to help you optimize your campaigns. We've compiled a list of the highest performing content marketing examples for manufacturers — check it out here.
Did you find this useful?