How To Advertise And Grow Your Industrial Cleaning Services Company
Many manufacturers are experiencing changes in demand, slow down, or a spike in services. For the industrial cleaning services sector, there are opportunities to set themselves apart from competitors. Here are some business best practices industrial cleaning services and manufacturers can adopt to deliver a better customer experience and grow their company.

Develop Systems To Streamline Your Efforts
As many companies have learned this year, technology advances fast — and those companies that adapted quickly to modify their marketing tactics, business models, and services with the changes of the business landscape have been more fruitful than those who didn't.
Today, you need to be as skilled digitally as you are with your cleaning services. Create systems for every function: cleaning, disinfecting, reporting, customer service, accounting, management, etc. Take the time to understand the B2B customer journey. Pay attention to the end-to-end customer experience and develop internal systems that ensure your entire team is aligned with your customers' needs. If you're an industrial cleaner that sells disinfectant products, consider how automation can accelerate innovation and bring products to the market faster and more efficiently.
In a recent Thomas Industrial Survey report, there has been a growing interest in automation adoption. More than half of the companies surveyed reported that they meet or exceed the industry standard for automation, with 55% of the participants being likely to very likely to invest in Production Performance Automation in the next 12 months. One respondent said, "Robotic systems give us more productivity and zero rejects. Faster product assembly for an increase of finished products by 25%."
The COVID-19 Impact: The increasing demand for sanitizers and disinfectants as a preventive measure against COVID-19 has resulted in changing the dynamic of the market. Manufacturers are producing COVID-19 related products in large quantities to meet the requirements of the consumers, and while the demand has surged exponentially, it's predicted that the market will face a steady demand even when the impact of COVID-19 has reduced. For example, disinfectants and isopropyl alcohol are in the top 20 products sourced on Thomasnet.com by engineers and procurement managers in Q2 2020. For the full list of top products and services sourced, visit this page.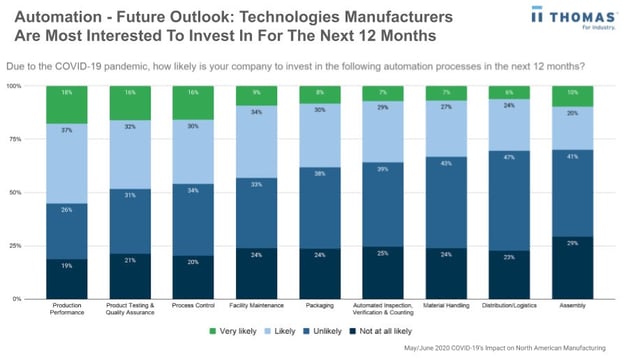 Emphasize Your Value Online
According to customer experience surveys, three-quarters of customers expect "now" service within five minutes of making contact online. A similar share of customers want a simple experience, use comparison apps when they shop, and put as much trust in online reviews as in personal recommendations.
For cleaning and disinfecting companies, this means having more than just a website. To meet the demands of today's consumers, companies need to build a robust online presence. Here are a few ways you can do that:
Ensure your My Business Google profile is up to date with your contact information so your potential customers can easily contact you when they search for you online.

Consider a chatbot feature on your website to give customers more than one option for getting their questions answered.

Add your full product catalog to your Thomasnet.com company profile, where more than a million buyers are sourcing for industrial products and services — or create your free company profile here if you don't have one yet.)
Add videos of your services or a company overview to your website and Thomasnet.com company profile. Videos of factory floors have proven to close sales in today's business world where there are travel restrictions.

Create webpages for all your specialty services and publish content that explains how your services solve your customers' problems. See how Mole Master's website below has many pages catering to their customers' needs, plus a Testimonials page that verifies the quality of work directly from the companies that trust Mole Master.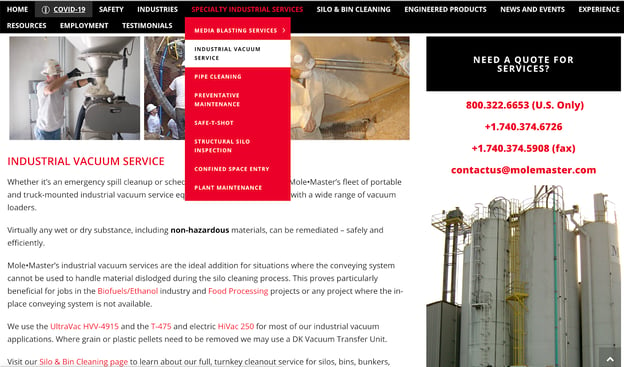 According to the latest Thomas Industrial Survey, there has been a renewed emphasis on digital marketing channels, such as websites and email marketing. Spending time on marketing ensures you always have new clients — and online marketing can build more intimate relationships with buyers, engineers, and procurement managers who contribute to your bottom line.
Read More About: Industrial Trade Shows Canceled, What Should You Do Now?
Take Care Of Your Employees
It is more important now than ever to have good communication with your employees. Keep your teams engaged and productive so your business can remain agile and responsive to the economy and its effects on your company. Consider offering perks such as extra vacation time to employees who have shown their loyalty.
Keep Your Eye On Industrial Trends
While generally speaking, it can be said that as long as things get dirty, things will always need to be maintained and cleaned — but sometimes economic changes could affect your customers' willingness and ability to pay for your services. When business profits shrink, companies look for ways to limit their expenses, so it's important to consider how the economy may affect your profits and your ongoing plans to mitigate the risk.
Keeping up with sourcing trends and industry news helps you assess how the market is faring and gives you insight into how competitors and peers are innovating.
According to sourcing data on Thomasnet.com, the categories that saw the biggest increase in sourcing activity in Q2 2020 over Q2 2019 were face masks, followed by hand sanitizer, respirators, nitrile gloves, and disinfectants. (Download the full list here.) Manufacturers and distributors of these products continue to see a surge in demand for COVID-19 related supplies.
More manufacturers are also investing in digital efforts due to the in-person impact of COVID-19. Companies who keep up with sourcing data, adopt technologies, and understand what prospects are searching for can make smarter decisions that contribute to their company's bottom line.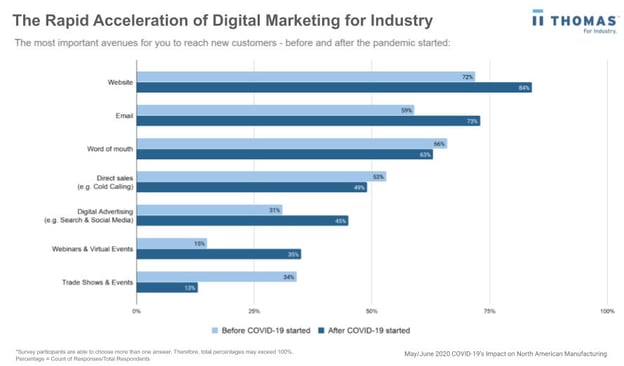 Marketing Strategies To Advertise Your Industrial Cleaning Services Company
A

free company profile on Thomasnet.com

to increase your online visibility and your ability to connect with more buyers and procurement managers on the platform they use most to search for your services.
"We started using Thomasnet.com in July of 2014 as our primary pull marketing strategy, and now we receive at least one qualified lead daily. 74% of our new customer sales have been generated by the Thomasnet.com program." — U.S. Continental
Other Related Industrial Articles
---
If you're sourcing suppliers for COVID-19 items, click here for those manufacturers and distributors. If your industrial business can support the production of essential supplies to combat the COVID-19 outbreak, please complete this form to notify us of your availability and willingness to dedicate resources. Thomas is working with State and Federal Government offices to help mobilize manufacturers to deliver supplies and services.
Did you find this useful?