Brand Awareness Campaigns To Boost Your Inspiration From Manufacturing Companies
As a manufacturing professional, you're more than familiar with industrial companies large and small. But if you ask someone who isn't intimately involved in the space which company he or she thinks of in relation to manufacturing, the results will surely be limited. Perhaps a couple of the biggest names will come to mind.
These companies are well-known because they've created a name for themselves over the years. They've spread awareness about their products and services, and now they're ubiquitous and prevalent in people's minds.
But manufacturing is changing, as anyone in the space will tell you. The population of young people entering the industry is different than it was just a few years ago, automation is increasing, and the landscape is shifting with no end in sight. Marketing for this field has also had to change. The biggest names in the industry have been successful with this, but now smaller manufacturers are turning to industrial marketing experts to get their business found too.
We've put together a list of our favorite brand awareness campaigns from manufacturing brands to inspire your own campaigns:
General Electric
General Electric has been successful in changing their image with the changing times. With this campaign, they strive to attract the newest generation of engineers by proving that GE is a digital, industrial company.
In the ads, friends and family members struggle to understand how Owen isn't a construction worker if he's working for GE, thereby mocking the old-fashioned stereotypes people retain of the manufacturing industry. Adweek writes a great article about the campaign, which you can read here.
This commercial shows GE's work through the eyes of a child. The messaging shows not only the value of their employees but also the impact of the manufacturing industry.
Samsung
In Samsung's Voices of Life campaign, the brand highlights technology that the saves lives of babies born prematurely. Behind the scenes is the manufacturing that created the machines that are allowing these newborns to live. Samsung's campaigns don't push their products, but the technology behind them and the human connections their products build.
Corrugated Metals
But brand awareness campaigns aren't just strictly commercials or social media videos. For many businesses today, brand awareness encompasses a multi-channel approach. For example, take Corrugated Metals, Inc., a roll forming manufacturer focusing on products for the construction, equipment, transportation and defense industries. To drive more business, Corrugated Metals turned to content marketing, SEO, and a website rebuild to strengthen its online presence and brand awareness.
Get Started: The Ultimate Guide To Strengthening Your Brand Online
After creating an updated web presence and overhauling Corrugated Metals' SEO strategy and content reservoir, the company saw a 198% jump in website traffic, and an incredible 285% increase in leads. The quality of leads drastically improved as well, leading to a 321% increase in quote values. Thanks to a fully encompassed digital approach with a strong website, targeted ads, customized content, and reporting, they were able to identify and target long-term sales prospects through persona targeting and lead nurturing. Read more of their story here.
Precision Waterjet & Laser
Precision Waterjet & Laser is another company that uses a multi-channel online approach to increase its brand awareness to more buyers, engineers and procurement managers. Their Thomasnet.com Company Profile below helps fill their sales pipeline and drives more leads — note that the factory tour video helps convert sales when there are travel restrictions.
The Thomasnet.com platform is home to the largest, most qualified user base of procurement professionals, engineers, and MROs (more than a million of them!) who are actively searching for new supplier partners for the industrial products and services they need to complete their jobs. By advertising their business on Thomasnet.com and supplementing their listing with a product catalog, social media links, videos, and certifications, Precision Waterjet & Laser can reach the right audience and drive more qualified traffic to their website, while increasing their online brand awareness and sales revenue.
"With Thomas running our lead generation efforts, brand awareness, and digital marketing, our sales increased by 60% in just one year," said Bob Ryan, Group President at CJ Winter, a U.S. thread rolling manufacturer. "Thomas maximized our company exposure, drove a record number of qualified leads, and helped us turn these opportunities directly into sales dollars."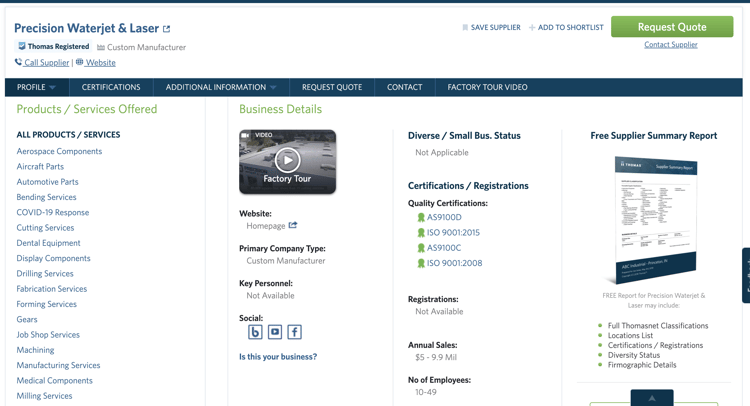 Engineering Specialties Inc.
A few years ago, ESI invested in solar panels for their facility. They were saving more than one hundred tons of CO2 per year with its solar panels, and on Earth Day they showcased their endeavors with a blog post and link to their live solar panel feed.
Today, more people want to do business with companies that are not only good at what they do, but good for the things that they care about. Even if you're a B2B company, it's important to remember that you're still marketing to humans within that business. So, establishing your company as a champion of environmental responsibility can lift your manufacturing brand's perception, which can play a vital role in the success of your business overall.
Read More: 4 Small Business Manufacturers Committed To Sustainability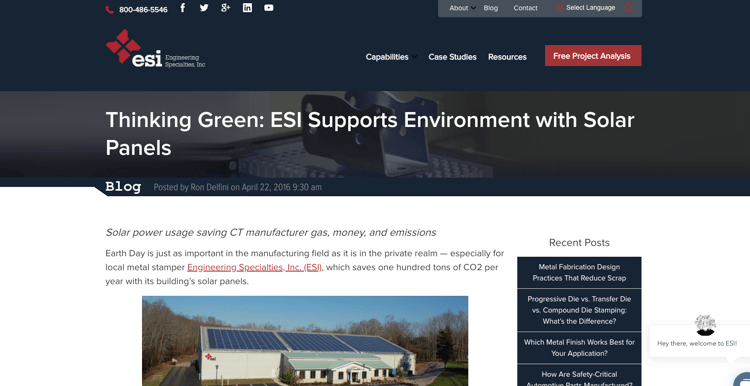 ---
"We tried other people with our website and digital marketing but found their focus wasn't on manufacturing, and Thomas is. We get a lot of activity now and steady results weekly — a lot of inquiries thanks to Thomas and our online marketing efforts," Ron Delfini, President at Engineering Specialties, Inc.
Environmentally friendly companies list their business on the Thomas Network to get their brand in front of more buyers.
Brand Awareness Is Important For Manufacturing Growth
With most manufacturing brands, raising awareness about your company and the products and services you provide is most effectively executed through digital marketing.
With larger companies that have been around seemingly forever, commercial advertising is a supplement that can expand the reach of their digital marketing efforts. Both paths have their advantages and disadvantages, and there are numerous factors to consider when evaluating what constitutes a good marketing campaign.
But small manufacturers who want to grow or tap into new marketing can reap the benefits of online brand awareness campaigns too — and they don't have to be as costly as the budgets of big manufacturers. Thousands of manufacturers list their business on Thomasnet.com to increase their RFQs (for free!) — complete your business profile here to get started.
Thomas also offers a free Digital Health Check for manufacturers to see exactly where they can improve online and how their brand compares to competitors.
For additional brand awareness examples and marketing resources to help you target buyers, engineers, MROs that need your products and services right now, check out the links below:
Did you find this useful?