How Industrial Companies Can Spend Their Marketing Dollars
Industrial manufacturing has been a driving force behind the U.S. economy for decades, but when it comes to digital B2B marketing, it's typically behind the curve.
The reliance on word-of-mouth recommendations and cold calling is no longer the only option for companies, and marketers have been slowly stepping up their game in the past few years.
With new techniques and platforms emerging every day, it can be hard to keep up with it all — or even know where to begin.
We've recently published an eBook called "10 Ways Manufacturers Can Spend Their Marketing Dollars," but to help get you started, let's dive right in to a few of them: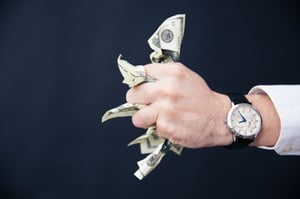 Pay-Per-Click Advertising
If you're still working on beefing up your SEO ranking in organic Google searches, PPC can be a quick way to skip the line and jump to the top. (And with Google's recent search results page changes, more people are clicking on paid ads than ever.)
Organic and paid both focus on keywords, but in the paid spectrum, manufacturers can place bids on what they'd like to appear for — such as "deep drawn metal stamping." Google then takes a look at the relevance of your ad to the user's search, in addition to how much you're willing to pay, and decides whether to serve the ad.
Of course, certain keywords are easier and cheaper to show up for than others — some are highly competitive (plastic injection molding), while others will almost guarantee users see your ad (low cost high volume plastic parts).
You can further refine based on location, and you definitely want to suppress out negative keywords (the ones that you don't want your ad to appear for — "bicycle," for an example, if you're a worm gear manufacturer) to continue enhancing the relevance of the people clicking on your ads.
Google's average cost per click is $1-$2 on the search network, with the most expensive keywords costing upwards of $50 — but you can run a highly targeted PPC campaign at a fraction of the price. Take a look at Google's quick setup guide to help first-time users to get started on their ad campaign.
Marketing Automation
Hopefully you have Google Analytics installed on your site, you're posting regularly on your company blog, and you're using a tool to promote your content on social media. The data to back up your marketing is just as crucial as the tool to make your life easier, which is why you should consider adopting marketing automation.
If you have a long-standing tradition of monitoring your contacts and leads in a spreadsheet or haphazardly in your inbox, it's time to re-evaluate. The best way to optimize your lead generation process is to streamline all of your marketing efforts with an automation tool.
From scheduling email blasts and blog posts to automatically importing and segmenting new contacts, tools such as HubSpot, Marketo, and Pardot will ensure you stay on top of everything at once. (You'd need someone to help you with the setup/integration into your current website and social media channels, but once that's complete, it's fairly intuitive to use.)
They start at around $200 a month for basic services.
Customer Relationship Management
Much like marketing automation software, customer relationship management solutions can be a game-changer for your business. A CRM helps you share all of your customer data on one platform, eliminating the all-too-common disconnect between sales and marketing.
Popular CRM tools such as Salesforce can integrate directly into the marketing automation tool of your choice, while other programs like HubSpot CRM come with it right out of the box.
By managing this information in a central location, you will "close the loop" of information between the two teams and minimize miscommunication. Everyone will know exactly where the customer is in the sales funnel and how ready they are to buy.
Importing your contacts is very straightforward — all of your data will be in one place and new leads will automatically be added to the marketing and sales funnel.
Final Thoughts
These are just three ways we've found manufacturers can get the most bang for their buck and ensure they're bringing in high quality leads.

As always, feel free to check out the other free industrial marketing resources available on our site or give us a shout.
Did you find this useful?