Why It's Important To Know Your Audience: The Key Role Of Buyer Personas
Imagine a trade school instructor working with a brand-new class of students and jumping right into the finer points of programming a 5-axis CNC machine. Or a presenter at an executive seminar who just goes over the basic concept of a balance sheet. Neither one would make much of an impact on the audience, and it is likely the presentation would only be memorable for the worst of reasons.
Both the instructor and presenter failed because they didn't know their audience, and therefore couldn't address the audience's needs.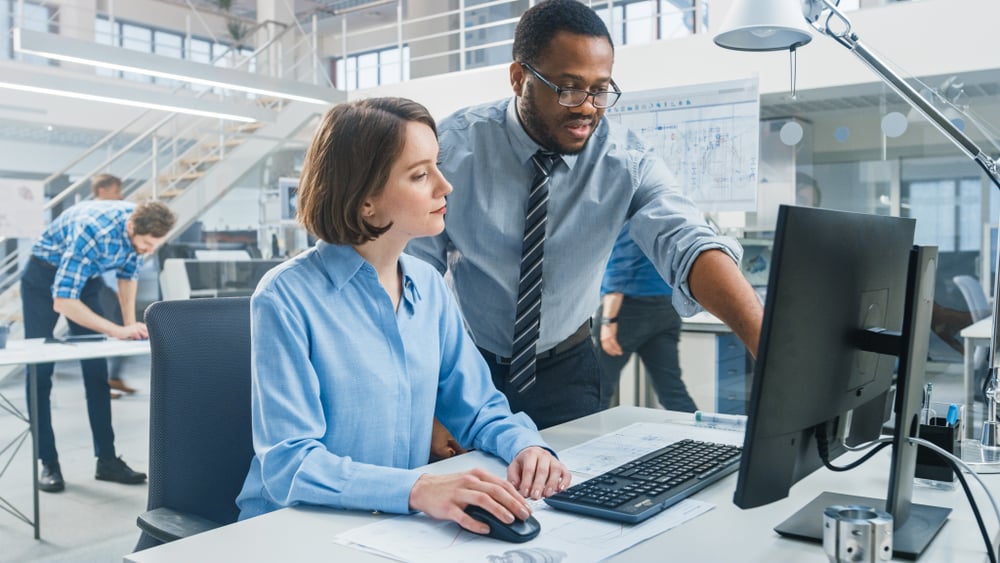 Why Knowing Your Audience Is Important To Industrial Marketing Success
Knowing your audience is important for your website and marketing plan, and it goes much deeper than just catering to "industrial buyers" or "procurement officers." By understanding who these people are, you can tailor your content to their needs and ensure your products and services solve their problems — which means better quality relationships and sales for you.
Whether you're creating a new marketing campaign, developing a new product, or updating your service models, what will have the biggest impact on your success is how much time you spend developing several buyer personas to represent the key audiences you hope to attract. Keep in mind, a buyer persona is a fictitious — though completely described — person, so you'll be thinking about characteristics like:
Age
Gender
Job title
Daily responsibilities
In addition to "outside-work" factors like:
Values
What platforms are read during free time
Addressing the full person helps you create the most compelling content to get their jobs done and needs met — while keeping your business top of mind.
You May Also Be Interested In: How To Sell Industrial Products In A B2C World
Once you've got your basic persona lined up, you're ready to dive deeper and consider additional factors that influence their decisions:
What is their buying cycle?
Are you addressing the person with the final word in a purchase? Or will they have to present their findings to someone else, like a controller or CFO? If so, they'll likely need a vast amount of information on your product and company — make sure it's available on your website. In a recent industrial habits survey, 73% of buyers use your website as an important factor when sourcing new suppliers. (See the rest of the buyer stats here.)
If you're targeting design engineers, you'll probably communicate in more technical terms. But are you getting down to the nitty-gritty, high-quality content and the in-depth persona aspects that'll drive your message home?
How do they process information?
Your audience is more than just a job title. Think about "a day in the life." Are they on a shop floor most of the time? At a computer? On the road with a tablet? Do they eat lunch at their desk? Dinner? Thinking about meals may sound silly, but you've got to know the most effective way to get your message through, including when it'll be seen or read.
For example, more than 310k industrial professionals read industry's leading email newsletter, Thomas Industry Update and more than 60% of those readers are in general manufacturing. A higher percentage of readers will engage with your industrial content versus subscribers of a general B2B email newsletter.
Learn more about the ways you can promote your products and services in our email newsletter
Think of it as a left-brain/right-brain comparison. If you're hoping to reach design engineers, you might want to have a more visual focus on your content. Executive level and finance visitors will probably respond better to charts, data, and statistics.
What are their pain points in a buying decision?
In other words, what typically holds them back from signing a purchase order? Do they have quality certification or diversity quotas that require documentation? Do they need CAD files to place in drawings? By addressing what typically holds a sale up, you'll be able to create a smoother process.
So a persona might start with someone like Joe, 48 years old, purchasing director, married with two children, enjoys football and fishing. Job responsibilities include sourcing and supply chain management, and his time is split between the office and nationwide plant visits. Works with CAD designers to spec out parts and needs approval from the CFO for all orders.
He would need an online catalog that shows all the details to make informed specifying or sourcing decisions:
CAD files

Submittal drawings

Performance characteristics

Configurations

Accessories

Pricing
Thomas Fact: CAD files convert 2.5x more sales opportunities than traditional text-based content! Learn how CAD assets can drive lead generation in our article here.
From there, you can develop Joe's story even further, but you have a good idea of what kind of product information to present, and how to deliver it. You also know that he's a busy guy who's on the road a lot and probably isn't reading through lengthy emails or blog posts — so it's best to stay brief and direct in your communications. It is likely he's reading content on a mobile device (that's why it's recommended your website be mobile responsive.) In addition, you have a good feel for how to talk to Joe through those marketing channels. A 48-year old family man doesn't speak the same language as a 23-year old recent college grad.
A good rule of thumb is to develop 3 to 5 buyer personas. Any more and your message will become muddled, and if you have fewer, you may be missing out on key segments of your audience. The best way to get started? Simply brainstorm on who your key customers are, and fill in the personas from there.
Learn more about persona targeting basics and the 3 personas that influence the industrial buying process.
Get To Know Your Audience And Engage Buyers Into Sales
Taking the time to understand the people on the other end of your communications, and tailoring your content to those specific people — and their particular goals, needs, and interests — is critical if you want to improve your marketing results and exceed industry benchmarks.
Persona-based websites experienced a 210% increase in website traffic, 97% increase in website generated leads, 124% increase in website generated sales (Marketing Sherpa)
Personalized emails improve click-through rates by 14% and conversion rates by 10% (HubSpot)
Behaviorally targeted ads are twice as effective as other, non-targeted ads (HIP B2B)
Curious to see what kind of companies and buyers are searching for your products and services right now? Request our free In-Market Buyer Report and see what new business opportunities could be in your sales pipeline.
For more resources on the types of content that engages best with your industrial personas, visit the below links. Thomas' industrial experts have more than 120 years of experience creating content to connect buyers to suppliers — and there's a content marketing solution for every budget. Ask us about a free digital health check to see exactly what you need to engage your buyers online.
Did you find this useful?