Are You Creating Quality Content?
Content marketing for manufacturing companies is a critical element to any lead generation strategy. When done right, it builds your brand image and creates a stronger relationship between you and your customer. But the last thing you want to do is crank out blog posts, eBooks, or other resources that won't be effective — it will not only waste your time, but it'll turn your prospective customers away.
So whenever you're producing content that is aimed to help drive in buyers and engineers to learn more about your company's products and services, ask yourself these key questions below and see if it passes the quality test.

Your Content Should Be Relevant To Buyers
Your content topic needs to matter to your prospects. If it is not relevant to their business and goals, it's not quality. To create content that is relevant to your audience, put yourself in your customer's shoes and consider the following:
Does the content answer buyers' frequently asked questions?
Is this content timely to my audience?
Does the content aim to solve buyers' problems?
If you cannot identify the answer to those three questions, your content is missing the mark on relevancy. Consider the feedback you get from customers on a day-to-day basis. What problems are they having and coming to you to solve? Chances are that others in your market are experiencing the same challenges — this presents an opportunity for you to solve their problems through content marketing.
Take a look at The Rodon Group's "Hydraulic, Electric, and Hybrid Plastic Injection Molding: Which Process is Right for You?" blog post — it addresses their prospects' challenges throughout the copy clearly and completely.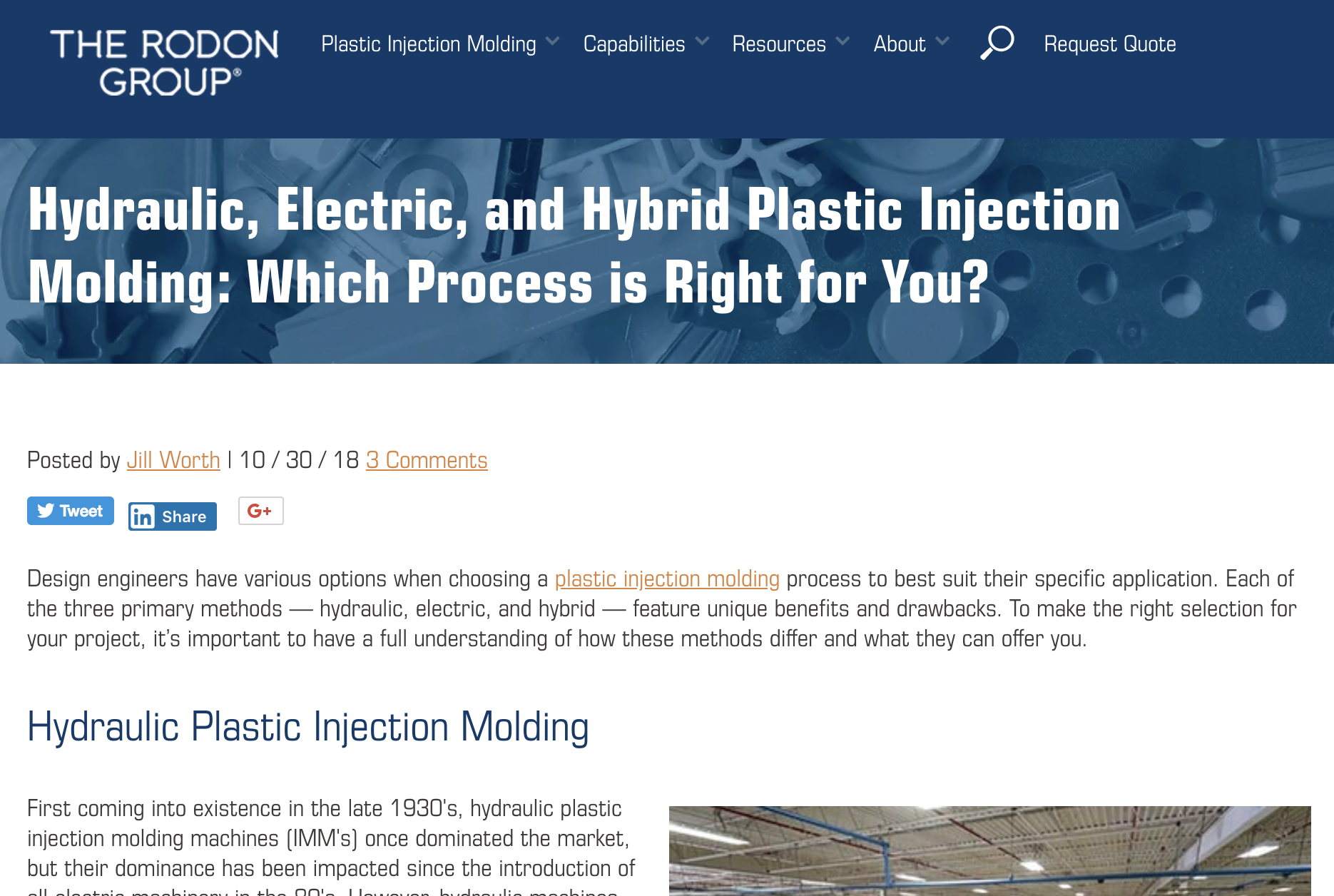 Quality Content Should Provide A Benefit
If your industrial marketing content brings no value to your prospects, reading it is a waste of their time, and will have a negative impact on your brand. Your content must provide a benefit to the audience in some way.
Address one of the following elements in your piece:
Helpful tips: What tips can your business offer customers to improve processes or their lead times? How can you make their job easier and faster without sacrificing quality?
Action items: Give your readers information they can use right away, implementing positive change within their day-to-day.
Practical advice: What have you learned through everyday business or about your industry that would be of value? Can they share this with someone else in their network?
Writing about something you're an expert in will up your thought leadership game — and you're least likely to hit writer's block. Personalization is essential to a lead generation strategy so tell a story that shows your audience you understand what their world is like. Prospects will more easily see that your business is committed to providing them value.
Quality Content Is Always Unique
No one wants to read the same thing they've already read before. If your content isn't unique, it isn't relevant or valuable to your prospects. You can discuss the same topics others are in their marketing, but your piece must offer something different that the others do not. Offer a fresh perspective or new insight. Give your readers something they won't find from other industrial marketing pieces — like Swift Glass' "The Benefits of 3D Printing on a Glass Surface" post. Note that there's a clear CTA at the end of the post and a comments section to encourage engagement. Best practice is to play-up on your strengths, but don't be too self-promotional.
In today's social media-minded environment, the first thought for many is simply to share content created by others in order to fill that quantity gap — but that's not unique. We've compiled a list of social media accounts and hashtags you should follow to give you more inspiration for your own accounts.
---
Related Info: The 50/30/20 Rule - The Right Mix Of Social Media Content
---
A blog that posts once a month can perform as well as, even better than, a blog that posts daily — if it has a high level of quality. Let's imagine you're writing an eBook extolling the properties and virtues of a material. It can be educational if executed well — even if the material is one you specialize in working with. But if you're continuously linking out to other websites instead of coming up with the information in-house, you're going to end up sharing somebody else's content — and there's a risk they're the ones who are going to end up getting your leads. Add a fresh spin to an existing issue, instead of copying what's already out there.
Quality Content Has Just The Right Amount Of Information
In creating informative content, the inclination for many people is to go long and to put as much information as textually possible into each piece of content. The problem with this approach is that longer isn't always better. Your website, blogs, and eBooks need to be more in-depth to hit the quality criteria.
---
Learn how your website can be your best performing salesperson with the guide, 25 Website Must-Haves
---
Blog posts have a different place on the word count scale. If you publish a blog that's email-length, 200 words or less, you run the risk of not imparting enough information and making a reader feel as though they've wasted their time. This also doesn't work well for SEO.
Traditionally, marketers would keep blog posts around 500 words for fear that if it's too long, the reader never reaches the important lead generation mechanic, call to action (CTA) at the end. However, long-form content with a mix of CTAs within the post and not just the end have garnered positive results and leads.
At 500 words or more, this length provides ample opportunity for detail, plus allows you to avoid SEO penalties for thin content. The value, relevancy, and uniqueness of content marketing for manufacturing companies is in the details.
When you open an email from a company and find that it's too long to be read in a single screen — in other words, you'd have to scroll to continue reading it — what do you do? Chances are strong that you delete it — you don't have the time to read a massive promotional email. In order to perform their function within an inbound marketing plan, emails must be concise, generally 200 words or less; any more than that and it's not going to get read. Make sure your subject line is relevant to the content within the email and put the most important, valuable content above the fold.
Check out Email Marketing Do's And Don'ts For More Tips
Most content types have a word count sweet spot, but for other marketing collateral like product guides and eBooks the length may vary depending on the type of manufacturing and industrial company. It's important to note that creating an arsenal of content marketing assets takes time to build and optimize. Instead of thinking in terms of quantity, try thinking in terms of consistency and how informative the content aims to solve your customers' problems.
Use Content Marketing To Grow Your Company
Content marketing is both as simple and more complex than it seems. Its core principle (good content gets good leads) is simple and there are some basic best practices; but complexities (like the timing, channels for promotion, audience targeting, graphic design, and SEO) can complicate things quickly. It's why so many business owners in the manufacturing and industrial company space find it a challenge. But marketing is a critical investment to your company's future that no longer can pushed down your priority list.
Interested in the type of content engineers and procurement managers are looking for? Check out the resources below for more insight:
Ready to make it your biggest priority to grow your company? Contact our team of manufacturing marketing experts to see how we can create content for you that engages engineers, procurement managers, and MRO professionals. We offer a digital health check to see exactly how your current efforts can be improved.
Did you find this useful?