The Importance of Marketing and Advertising for Manufacturers During Economic Downtimes
Almost without notice, COVID-19 changed the way businesses operate and how individuals live. The manufacturing industry has shown inspirational resilience throughout historical times, yet the continuous effects of COVID-19 on the economy have pushed the manufacturing industry to reimagine the way they do business.
Recent industry survey results revealed that 89% of manufacturers reported they felt impacts from COVID-19 in April, compared to 45% in March. A large percentage of manufacturers saw a decrease in the demand for their products and services and some turned to shift their production focus to supply critical items to fight COVID-19. Despite the varied impacts of the pandemic and outlook of the economy, many SMB manufacturers are hiring — 30% of surveyed manufacturers are currently hiring for a range of positions across production, engineering, management, sales, and marketing.
For these manufacturers and others who are focused on growing their business through the uncertainty of the economy, it's now more important than ever not to neglect marketing and advertising efforts. The industrial sector rapidly pivoted to meet the shifting demands of the pandemic regarding supply chain, production focus, and a redefined workforce — but what about in response to marketing and the changes in consumer behavior?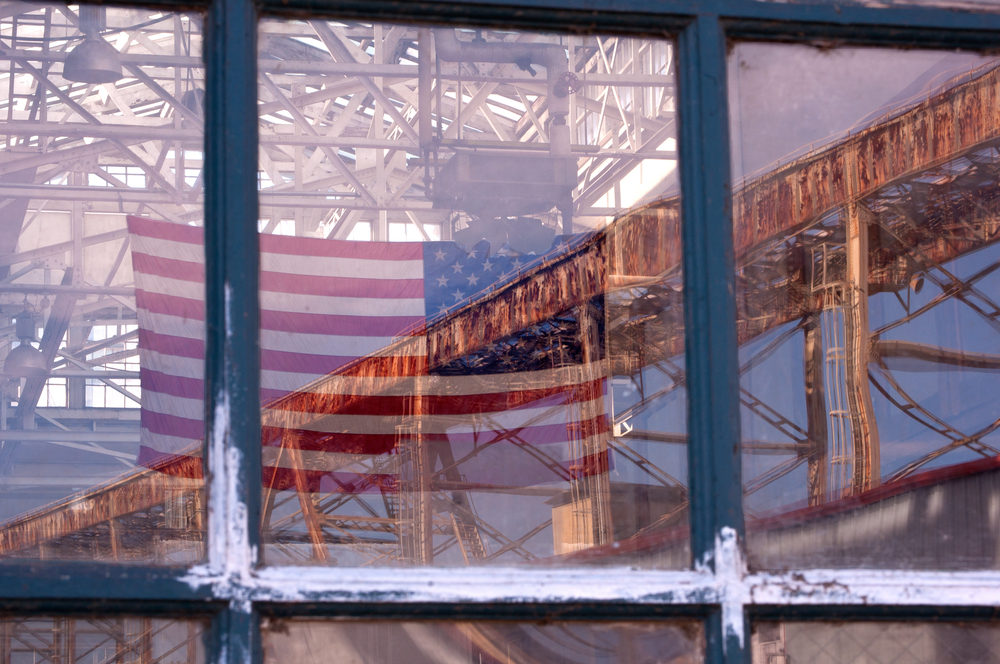 Marketing And Advertising To Meet Consumer Behavior
History has shown that companies that thrived during the Great Depression were those that continued to advertise and didn't wait for the public demand to increase for their products to rise. Throughout the past few months, consumer behavior has changed from the reduction in retail spending to the increase in online grocery shopping. Sourcing locally has increased and our Q1 data showed a high demand for steel, hand sanitizers, automation equipment, packaging, and plastic bags. COVID-19 and the subsequent economic crisis means it is essential to be aware of the direction things are trending and respond to them effectively.
For manufacturers today, this means harnessing the power of online marketing and advertising. Resilient manufacturers are using their website, blogs, product pages, and chat functions to communicate with prospects searching for critical goods. Simultaneously, they are refining their email marketing strategies, being more active on social media platforms, and promoting their content through advertising programs on Thomasnet.com.
Online marketing and advertising today is one of the most effective ways to communicate the information potential buyers are looking for because an online marketing strategy is exactly aligned with the way industrial buyers search for the products and services they need.
Buyers these days are not picking up a magazine to thumb through advertisements looking for potential suppliers. When industrial buyers are actively searching for products and services they need, they go to the internet. Studies have shown that 73% of B2B buyers pay attention to your website when deciding to submit RFIs — that's because more than 70% of today's B2B buyers are tech-savvy millennials.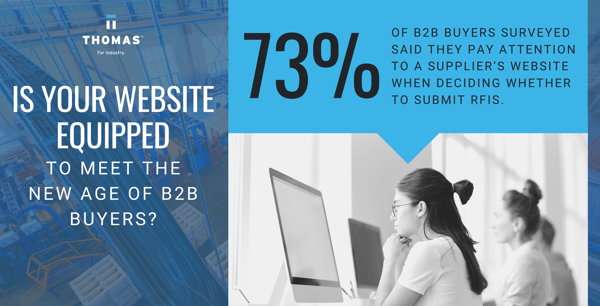 Promoting your business during the economic downturn involves more than just traditional marketing methods — some of them are no longer effective in today's world. For example, most tradeshows and in-person events this year have either been canceled or rescheduled and replaced with webinars and virtual events. Today, making meaningful connections with new prospects involves increasing your online advertising efforts, investing in new ways to stay connected, and staying up to date on technology and consumer trends. It has been reported that 77% of consumers were convinced to purchase a product or service based on a video, which is just one of the many reasons why manufacturers are creating more videos.
Easily Reach New Markets And Geographies
Direct mail and telemarketing are limited to a list of known potential customers and it can be incredibly challenging for industrial suppliers to break into new markets and new geographies this way. When supplemented with traditional marketing efforts, an online marketing strategy allows industrial buyers to reach suppliers limitlessly. Online platforms are not limited to marketing for just one location or one market or even just one job title — however, easily customizable campaigns can target as granular of a niche market as manufacturers wish.
Corrugated Metals set record sales and broke into the defense industry after investing in online advertising. "Advertising with Thomas lets us develop accounts that build our backlog and keep us more stable as the economy grows," said Ken Carlton, VP of Corrugated Metals. "One Thomas lead that came to our company spawned an entirely new company for our business."
A company profile on Thomasnet.com is free and gets seen by more than 1.2 million B2B buyers sourcing for industrial products and services.
Target More Buyers When They Are Ready To Buy
For example, a trade show may take place long before or after a buyer is aware of a need for the products and services you offer. An online marketing strategy creates a pervasive presence — and one that's always on — to allow buyers to find suppliers when they are ready to source products/services. Delivering tailored content and educational resources keep the brand and value proposition top of mind while meeting customers' needs throughout their entire buying journey.
Read The Full Guide: The Ultimate 2020 Guide To Marketing For Manufacturers
Digital Marketing And Advertising For Manufacturers
So what happens next? As businesses create plans to reopen, they should understand there is no going "back to normal" — how businesses functioned in the past will not always work moving forward. Consumers are likely to emerge from this economic downturn with different priorities, needs, and expectations. Since their spending will not cease, neither should manufacturers' efforts to market their business.
Business leaders in the manufacturing and industrial distribution sectors need to focus on changing their priorities and tactics based on the changes in the market. Focus on building business agility and increasing their brand awareness with online marketing and advertising to limit the likelihood of disrupted communication to customers and new prospects. With fewer in-person sales efforts, manufacturing brands will increasingly need to turn to digital marketing and advertising — the reality is that your online presence alone could determine whether you continue to drive new business or not.
Here's a list of resources to ensure your manufacturing brand continues to prosper during the economic uncertainty:
Get Insight Into Other Industries For You To Grow Your Business:
Did you find this useful?