CBD Marketing 101: What Manufacturers Should Know About Compliance
We understand how important marketing is in the CBD business. Whether you sell full spectrum CBD or advocate for artisanal products like CBD-infused butter and balms, marketing is integral to your business armory.
To stand out from your competitors and reach a high-quality audience, you'll need attractive packaging and up-to-date strategies to bring attention to your products. But regulations in the CBD industry can be complex. In December 2020, federal regulatory agencies penalized six CBD companies on the grounds of deceptive marketing claims. Learning from the business and marketing mistakes of your competitors can be critical for growth.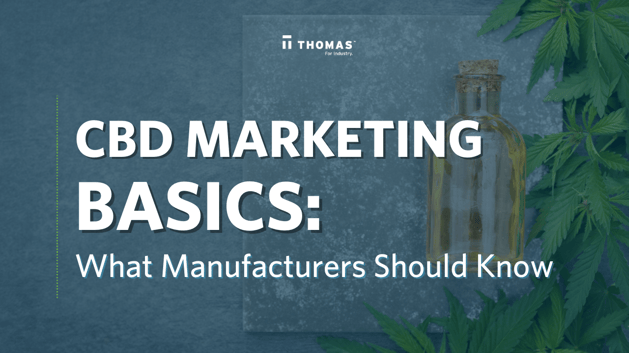 Let's break down the areas where some CBD companies suffered from deceptive marketing claims brought on by the Federal Trade Commission (FTC)'s crackdown.
Website Content
CBD e-commerce may involve platform integration and other channels that include ad copy. While creative content marketing copy can be acceptable to drive sales up, make sure your web content avoids using the words "medically proven" if no FDA-approved study is available. Avoid claims that your products can help mitigate, treat, and manage conditions such as cancer, diabetes, heart ailments, chronic pain, hypertension, and cognitive decline. At present, no scientific evidence can back these claims.
Social Media Ads
If your advertisements are available on Youtube, Facebook, and other social media platforms, all claims must be FTC and FDA compliant. No scientific studies have been documented to link CBD with the symptom alleviation of artery blockage, cancer, glaucoma, autism, schizophrenia, and other conditions.
Packaging Labels
In selling products like CBD-infused shea butter, tablets, and honey sticks, packaging appeal and durability are at the front of any retailer's concern in the pursuit of compliance, including a diligent audit of the labels' face validity. All printed text and labeling on your packaging must never make unsubstantiated health claims that confuse the consumer.
Customer Complaints
There's a reason why customer care is integral in any business practice. Managing feedback and solving the consumer's concern can help you prevent complaints, bad publicity, and FTC penalties. Federal regulation mandates that you must declare the quantity and quality of any product upfront. In the recent crackdown, some consumers complained that they received five bottles instead of one. Lapses, whether innocent or intentional, must be reviewed to avoid complications.
As states continue to legalize cannabis, manufacturers have the opportunity to tap into the market — but compliance regulations set by the Federal Trade Commission ensure that the consumer's health is prioritized and they can be tricky to navigate. Gray areas and blurred marketing lines start when consumers see CBD as a cure-all solution for their diseases. But without reliable scientific evidence, CBD companies should avoid making any health-related product claims or be faced with the consequences of thousands of dollars of fines these companies experienced.
List Of Compliance Requirements To Follow
There are two federal regulatory agencies that you should always consider in the CBD business: the Federal Trade Commission (FTC) and the Food and Drug Administration (FDA).
The FDA is keen that CBD be appropriately marketed. Any health claim must have reliable scientific evidence first. A few weeks ago, Epidiolex, which contains a purified form of CBD remains the only FDA-approved product. Any companies that market their products as being able to treat diseases or other therapeutic uses have (or will!) receive warning letters from the FDA.
Check out the following FTC checklist and FDA guidelines to guide your marketing in the right direction:
Have a methodologically sound human clinical testing before you can make a wide variety of disease-related claims in the future.
Have competent and reliable scientific evidence to support other health-related representations.
When buyers and prospects source for new products and CBD suppliers,

quality certifications are important

. Present your Certificate of Analysis (

COA

) and have it available on your website. This is a form of quality control that shows whether your products reflect your health claims. This form also includes information about potency and farming (i.e., pesticides, contaminants).
Inform your customers about the types of CBD products that you offer. Your website is the foundation for all your online marketing efforts. As you update it with necessary product information, don't forget to use

email marketing

to keep in touch with customers and prospective ones about any product changes.
Show your products' ingredients list on your website and print them on product packaging with content that helps prospects and customers understand any possible side effects they may experience. Use professional photos, graphics, and videos that speak to the quality of your products and brand. According to Aberdeen Group,

video marketing

efforts can achieve a 54% increase in brand awareness and get 66% more annual qualified leads.
What Should CBD Companies Do With Their Marketing?
Audit Your Marketing Efforts
Convene with your team and assess everything. This includes ad copy, product packaging, labels, social media content, and landing pages. Do your website product photos accurately reflect the products you are shipping out? Assess every detail. Review all marketing collateral, what you have in the works, and the campaigns you're investing in to promote those efforts. Then form a strategic relationship with your packaging partners — together, you can help your businesses grow with cost-effective solutions that meet regulations.
Learn More: Opportunities For Manufacturers To Grow The CBD Industry
Yes, this takes time and a chunk of your team to help you, but the cost of neglect can be taxing. As the saying goes, prevention is always better than cure. Thomas can help you assess what aspects of your marketing can be improved — contact industrial marketing experts for a free Digital Health Check.
Gain Industry Insight To Support Your Online Marketing
Add after-sales service if you must. Follow through with your clients and secure what is needed to cover your bases. If needed, hire an industrial marketer who specializes in marketing for CBD businesses.
There is a lot that changes in the industry. Be on the lookout for progress in the scientific community and trends in sourcing activity. And for suppliers in this space, Thomas offers several free services to help CBD manufacturers and distributors improve their marketing efforts. For example, you can start with an In-Market Buyer Report that lets you see the companies searching for your services. Subscribe to industry email newsletters so you can stay up to date on industry innovations and news. A technical understanding of the changing market landscape helps you make better business decisions and drive product innovation.
---
Manufacturers and distributors of CBD products list their business for free on Thomasnet.com
to reach B2B buyers looking for their services.
---
The consumers' welfare should be our priority. We all have different reasons why we joined this business, and just like in any other endeavor, it takes the right partners to keep it thriving. If you want to learn more about how you can reach more customers online with effective online efforts, we recommend contacting Thomas's marketing experts. Having someone on your team to help you create the best ads, engaging marketing content, and innovative packaging strategies will be critical to your success.
Did you find this useful?