Who Are The Industrial Buyers On The Thomas Network?
You know who your target customers are.
You know what you can do for them and why they should choose you over your competition.
As for when you'd like them to contact you? ASAP would be nice, right?
The only problem is, you don't know where they all are.
The good news is we do. Your prospective buyers are on our platform and enables you to engage industrial in-market buyers at every possible touchpoint in the buying process.
The Largest And Most Active Industrial/B2B Buying Network
Every day, thousands of buying decision makers — engineers, procurement professionals, MROs, and other buyers — visit Thomasnet.com to find suppliers and source industrial products. In fact, every second a supplier like you is evaluated on our platform, making Thomasnet.com home to industry's largest and most active network of industrial and B2B buyers.
The United States Bureau of Labor Statistics shows that as of 2019 there are 1.6M Engineers and 503,000 Procurement Professionals working in the U.S. These are the buyers that fuel the $2.4 trillion U.S. manufacturing industry, and we currently support these industrial buyers. Here's a closer look at the buyers who are looking for you on Thomasnet.com.
Thomas Industrial Buyers By The Numbers
Ov

er 1.3 million active registered users are part of the Thomas Network

65% of our active users represent SMBs

More than 20k users are registered every month

93% of Fortune 1000 companies source suppliers on Thomasnet.com

There are more than 72k product/service categories to source on Thomasnet.com

A buyer evaluates a supplier on the Thomas Network at Thomasnet.com every second

100 percent o

f the buying activity on Thomasnet.com is driven by real, verified buyers, so you don't have to worry about bot traffic and ad fraud sinking your advertising budget.
Who Uses Thomasnet.com To Source?
From senior executives to up-and-coming decision makers to MROs and design engineers, Thomasnet.com has been embraced by buyers of all seniority levels, across many industries like aerospace & defense, automotive, chemicals, education, and more. Every day, these buyers use Thomasnet.com to source thousands of products and services required at every level of the industrial supply chain.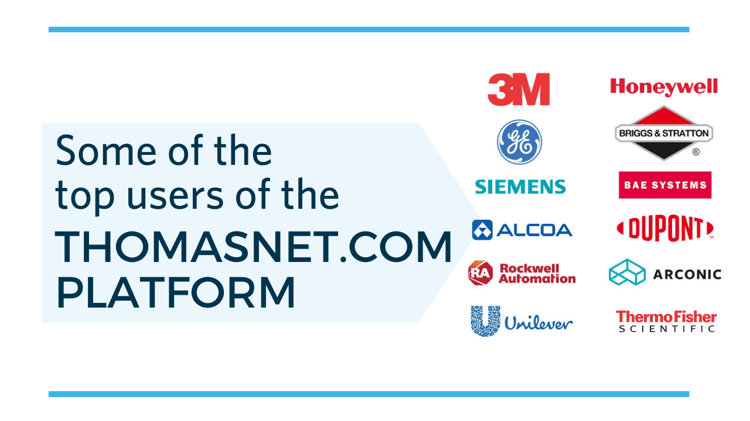 Understanding your buyers pain points and how they do their jobs helps you determine where to focus your online marketing efforts and guide product development. For example, design engineers are your first opportunity to get specified into a product, assembly, or project. They are tasked with developing or identifying the proper components that will solve the end need.
A company profile listing on Thomasnet.com with your full product catalog helps buyers evaluate your products more easily to determine the best available solution. Smart manufacturers understand their buyers' sourcing habits are evolving. In response, manufacturers are investing in digital marketing efforts to future proof their business and retain more customers in the industrial space.
"With Thomas running our lead generation efforts and marketing, our sales increased by 60% in just one year. Thomas maximized our company exposure, drove a record number of qualified leads, and helped us turn these opportunities directly into sales dollars."

—CJ Winter
You Might Also Be Interested In: The 3 Personas That Influence The Industrial Buying Process
In fact, brands that create personalized digital marketing experiences see revenue increase by 6% to 10%. Request our free digital health check to see exactly how you can improve your online presence and how your web presence compares to businesses in your industry.
Thomas Buyers Can't Contact You If You're Not Listed
There's no better way to connect with the customers you need than by starting with a free company profile listing on Thomasnet.com. In fact, promoting your business in the Thomas Network with display ads and a verified company profile can help you penetrate key industries, connect with the next generation of buyers, and more — all year round and even through an economic downturn. But those buyers simply can't contact you if you're not listed.
List your company today and get started bringing in more qualified leads — like Hudson Technologies who set sales records after partnering with Thomas.
"It's been a dramatic difference. My team has more than doubled in size and that's a direct result from the amount of work that is coming in and there's no question, its directly attributable to what Thomas is doing for us."

— Hudson Technologies
Thomas can help you stay "top of mind" with buyers even before they've defined the need for a new product or service. Our solutions promote your high- value content to engage buyers and design engineers as they're researching possible solutions, and position your sales team as the trusted advisor throughout the buying process. Contact us to learn how we can generate more qualified leads for your business.
And don't just take our word for it — see how advertising on the Thomas Network helped out these manufacturers and industrial companies:
Did you find this useful?