Manufacturing Marketing Budget: How Much Should You Spend?
Even though the manufacturing industry has had a long dominance in the U.S. economy, it's still relatively a newcomer when it comes to all things industrial marketing.
Instead of word-of-mouth referrals and newspaper advertisements, digital platforms have become the most effective way to drive new business with a more expansive reach and more effective ways to highlight a company's value proposition. Marketers and business owners utilize pay-per-click, content creation, email blasts, and many other tactics to their advantage, but to some, these methods can feel overwhelming. With so much opportunity comes tough decisions on how to direct your time, energy, and money.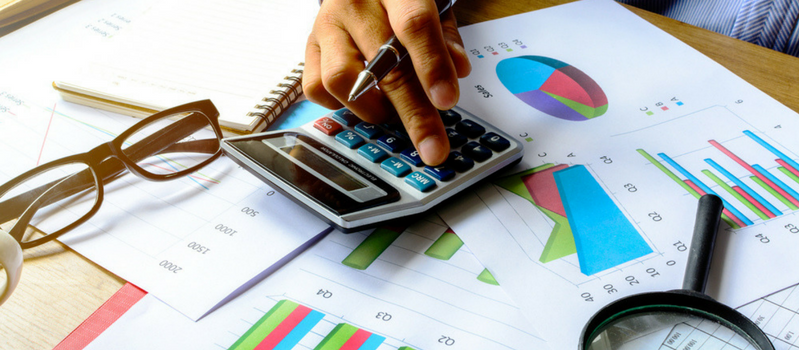 7 Common Ways Manufacturers Spend Their Marketing Budget
Let's take a look at some common ways manufacturers spend their marketing budget to give you some insight on your company's options and — most importantly — what they will cost to execute.
1. Marketing Automation
How are you actually implementing marketing? Not the theory or the general idea behind your campaigns — but what do you do to press a "send" or "tweet" button?
Maybe you have your social media running through HootSuite and your emails are going through MailChimp. You could be posting directly on LinkedIn or trying to engage your prospects one-on-one through Outlook. Hopefully you have a form to collect RFQs instead of simply having a phone number and email address somewhere on your website. But above all else, you should have some tools in place to make your life easier — and set your company up for success.
While there are plenty of tools out there for specific buckets of marketing (we mentioned HootSuite for social media and MailChimp for email marketing), nothing quite does the trick like marketing automation. When you have your website pages, blog posts, email marketing, social media, analytics, and paid efforts all in one place, your lead generation efforts are trackable and scalable.
The big names in marketing automation are HubSpot, Marketo, and Pardot, but dozens of companies are stepping up to help out manufacturers and industrial companies.
COST: Hubspot offers a free 14-day trial and a 30-day trial. Pricing starts around $45 a month for 1000 contacts and can go up to $3200 per month for 10,000 contacts. The number of contacts will vary depending on how many leads you're capturing and customers you're nurturing. Other marketing automation programs are about $200 a month for basic services.
2. Customer Relationship Management
Many manufacturers and industrial companies use Post-It notes, Excel spreadsheets, and practically smoke signals to keep track of what's in their sales pipeline. Just like marketing automation, however, there's a better way. Your internal communications should be as efficient as possible to ensure you're nurturing leads and delighting customers without losing anything in translation.
Closed-loop reporting is what enables the transparency you need between sales and marketing. As its name implies, it "closes the loop" of data collected by the marketing team and data collected by the sales team. This can be done through a variety of customer relationship management (CRM) software solutions.
A study from Forrester found that 43% of CEOs believed that misalignment had cost them sales. A CRM addresses that challenge, helps manage and organize sales pipelines and marketing campaigns, and provides reporting capabilities for ROI. When all of your customer data is shared on a central platform, everyone on your team will be on the same page about where a lead's interests lie, how they've engaged with your content in the past, when the last point of contact was, and how ready they might be to make a purchase.
RELATED RESOURCE: HubSpot Vs Pardot - Choosing The Right Platform
And, what's even better? CRM softwares, like HubSpot, can easily integrate with the marketing automation tool of your choice, opening up a new level of transparency between your two teams.
COST: Prices range anywhere from $0-300 a month
💡Thomas Tip: Partner with a HubSpot Diamond Partner Agency so you get to be the first who knows about product updates that put you ahead of competitors.
3. Pay-Per Click Advertising
PPC, or pay-per-click advertising is a great way to jumpstart your search engine presence and get your website at the top of Google results.
To ensure you're getting the best bang for your buck with PPC, it's important to be specific. For example, because of its competitiveness, you might not have the best luck with "metal stamping" as a keyword but if you bid on a long-tail version of the desired keyword, such as "deep-drawn metal stamping," and then further refine the selection based on location — by country, state, a specific radius within a zip code, etc. — you can increase the relevance of the people clicking on your ad.
READ MORE: 11 Ways To Make Your PPC Campaigns More Effective
In addition to search engines, nearly every social media platform offers paid advertisements to help manufacturers extend their reach — we dive more into the examples of ads here. Plus, all of these boosts come with plenty of targeting options and reporting functions to make sure you're getting to the right people and maximizing ROI.
COST: If you try to tackle PPC in-house, Google's average cost per click is $1-$2 on the search network, with the most expensive keywords costing upwards of $50, but you can run a highly targeted PPC campaign at a fraction of the price. It's important to remember that cost is always unique to the keyword and business.
We suggest hiring PPC specialists to make sure you're targeting (and paying for) the right buyers.
4. Content Marketing & Press Releases
To support a well-designed website, you need great content. Content marketing seeks to engage your audience and create a dialogue, but effective content marketing is more about them than it is about you. When done right, it puts you in front of buyers across numerous channels, like social media, a blog, Thomasnet.com listing, and news page, all designed to engage with them on their terms — and convert to a sale.
Writing press releases is a great way to try to get some exposure for your company. Think of the last time you launched a new product, received a certification, or bought a new piece of equipment. All of these events are perfect opportunities to announce with a press release.
It's a win-win — more relevant content helps boost your website ranking on Google and gives your audience the info they need to get their job done — see more content marketing examples here.
COST: It can cost about $99 per press release, though prices can vary by newsroom and length. Content marketing and public relations content are free to create and post on your own, but the strategy behind ideation and execution can get time-consuming. If you freelance your content marketing by projects — like a package just for blogs — the cost varies depending on the expertise level of the freelancer and the length/depth of the post and can range from $75-100. Thomas Marketing Services help hundreds of manufacturers create great content and strategize promotion that connects with the right buyers, in the right places.
5. Video Marketing & Advertising
COVID-19 caused the cancellation of trade show events and created a ripple across industries as manufacturers and industrial companies who were planning on attending or exhibiting at the events were left with extra budget. Despite the cancellations, manufacturers were able to make meaningful business connections and replaced their trade show dollars with more digital efforts, like videos.
Here are some persuasive video marketing stats:
More than half the engineers and technical professionals surveyed for the 2020 Smart Marketing for Engineers report indicated that they spend at least one hour per week watching videos for work (those 45 and younger reported spending the most time watching videos).
Marketers who incorporate video into their content strategies have seen 49% faster revenue growth than those who don't.
89% of people purchase a product after watching a related video.
Most manufacturing components and services can be complex, but videos help eliminate that confusion and educate buyers in an engaging way. Videos of factories and shop floors have also been useful at closing sales, especially when there have been travel restrictions.
COST: Outsourcing video production varies depending on the production style, details of your video, turnaround time, and the expertise of who you're hiring. And there's a lot involved in the video creation process, including script writing, graphics, and music but a basic video price can start at $1200 and may increase depending on your needs. Thomas provides video production for free with an advertising program. Contact us to learn more and check out our video examples here.
On the note of events, virtual events and webinars are usually free to join but some full-day events have a small fee. Thomas' events seen in the topics below are free to attend to educate your team on marketing best practices in the B2B industry. These events are more intimate with a limited amount of seating than the traditional huge trade shows. This allows for more meaningful 1-1 conversations with manufacturing experts.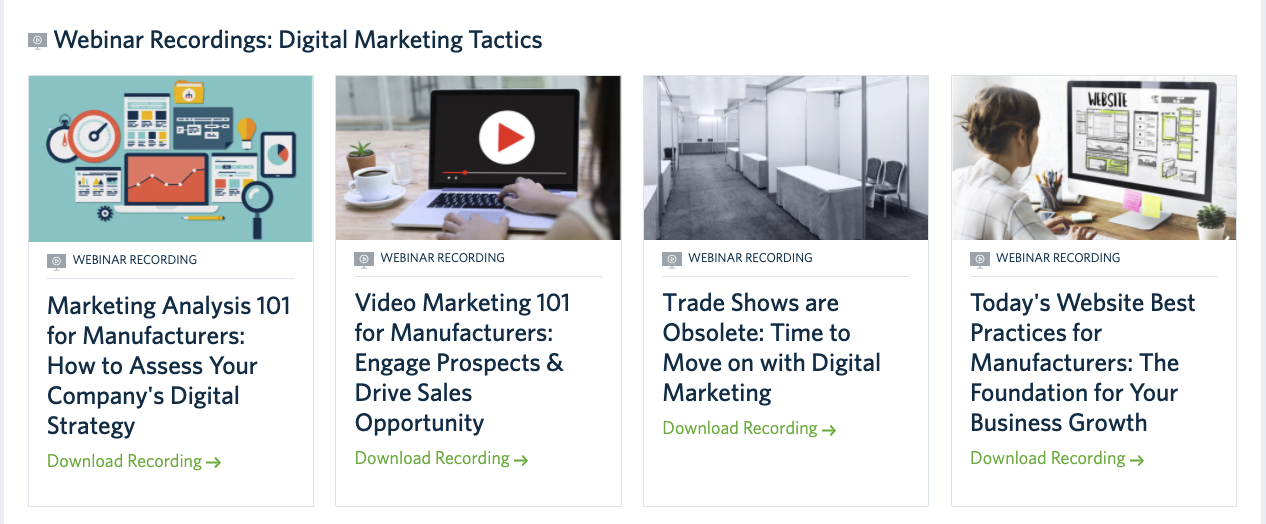 6. Website Tools & Services
A 2020 industrial survey revealed that digital marketing efforts accelerated in the wake of COVID-19 with companies 21% less likely to invest in trade shows and the use of webinars & virtual events (20%), search & social media (14%), and website (12%) all increased.
A website is one of the most critical foundations to growing your online presence today. Poor user experience (UX) and customer experience (CX) can really hurt the number of leads coming in from this channel; if people can't easily navigate your site, they'll just give up and go to a competitor.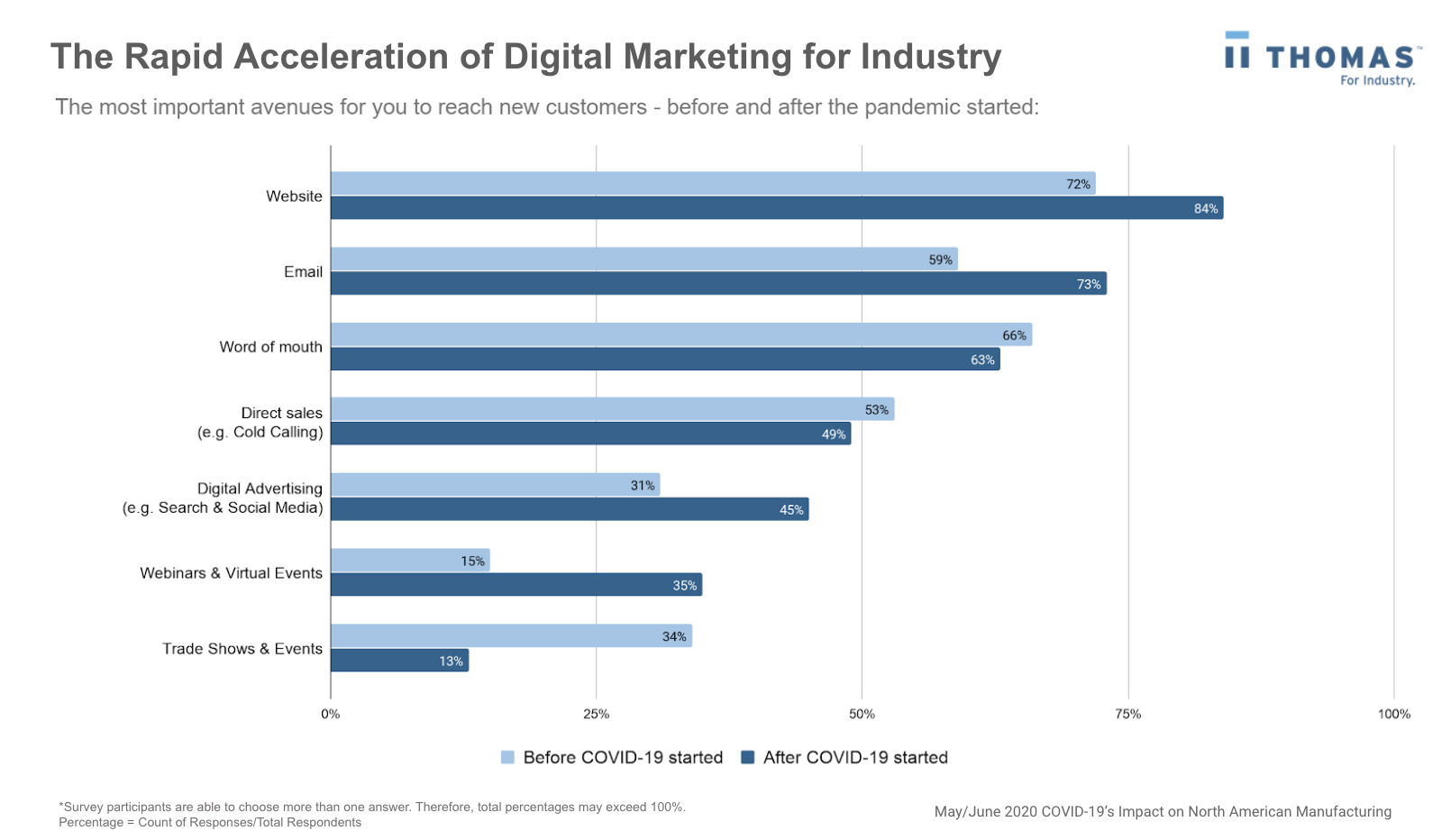 Simply enhancing the design will compel visitors to view more pages on your website, stay on them longer, and interact more with your content offers. For design inspiration, check out this guide for industrial website design examples.
Tools like Hotjar, Optimizely, and FullStory all track and analyze how users interact with your site to help you better understand what they want and care about. You can watch real recordings of user interactions to see where visitors move their cursors, how they navigate pages and fill out forms, and at what point they decide to drop off a page.
COST: It's free to get started with a basic plan on Hotjar and $29 a month to upgrade once you get more traffic to your website. FullStory also offers a free trial with an $849 a month upgrade to a business plan. If you're ready for a full website redesign or migration, that's a different ball game and can be around $2000 depending on the website pros you partner with and the current state of your website. A website redesign is not a one-and-done approach to getting more qualified leads. You still need an ongoing content marketing strategy to support your website.
---
Use your website to increase lead generation — check out this 10 Step Website Redesign Checklist to help you get started.
---
7. Sponsored Online Content
Often, people are simply overwhelmed by the amount of content out there and it can be hard to find exactly what they're looking for. To stay in front of the right audience despite the chaos of the content surplus, marketers are now embedding their content directly into the publications their customers read regularly.
This sponsored content is becoming so sophisticated that sometimes it's hard to recognize it's an advertisement. The material resembles the rest of the stories in the publication — mirroring them in style and tone — but it's paid for to promote an advertiser's product in some capacity.
The same is true of advertorials, or advertisements written so that they look like editorial content or articles. The difference lies in the buyer's journey. Sponsored content tends to be top-of-funnel, to provide information or entertainment, while advertorials (also known as "native content") are more product-centric and targeted towards bottom-of-the-funnel leads that are closer to making a purchase decision.
From trade publications to blogs and social networking sites, you'll find that this type of content is everywhere if you start to look. An opportunity may even be in your inbox right now — like with the Thomas Industry Update email newsletter.
Toagosei America Inc., a manufacturer of Aron Alpha industrial adhesives needed to grow their brand visibility, engage the right buyers, and, ultimately, drive new leads for their sales group. They turned to newsletter advertising Thomas Industry Update (TIU). From one newsletter send, Toagosei's content received over 73k+ impressions in the TIU and placed their brand in front of buyers from major companies including:
3M
Boeing
CAT
Honeywell
NASA
Siemens
Plus hundreds of other enterprise companies and SMBs
The send also drove over 100 new contacts from downloads of the eBook offers which provided the team with sales follow up opportunities.
---
COST: Print advertising can range from $50 to $500,000+ depending upon publication and ad size. Thomas' TIU Newsletter reaches more than 300,000 buyers every day and a sponsored company announcement starts at $1500 a quarter depending on your campaign.

Read What's Next: How To Use Digital Marketing To Get Business From The Defense Industry
More Ways To Spend Your Marketing Budget
These are just a few ways manufacturers can get the most bang for their buck and ensure they're bringing in high-quality leads. To ensure you're receiving a positive return, you need to use the right tools and platforms. If you keep relying on the same old tactics and methods for growth and tracking, you'll keep running into the same old issue — missing leads and missed opportunities. Download the full eBook, 10 Ways Manufacturers Effectively Spend Their Marketing Budget to learn more or contact us for a free digital health check to see exactly what efforts you can invest in.
Thomas is the only marketing agency supported by degreed engineers so we understand the complexities of your industry and can design a website and create content that engages the B2B audience you want to do business with. We'll access your efforts against your competitor, review what you need to improve and find a growth solution that fits your budget.
"A key thing about Thomas is the ability to generate a lot of leads across various industries. We wanted to help educate our customers," said Renown Electric. "Through eBooks, blogs, and a revamped website — our marketing efforts really drive our own knowledge out. Customers appreciate the insight and we're seeing a lot of qualified leads now."
Did you find this useful?