3 Tips To Grow Your Manufacturing Business
The manufacturing industry is going through a revival, and now may be the perfect time to think about growing your business.
There's a lot to be considered when deciding whether or not to expand your business, like if you have enough employees to take on new work, if you can afford to hire more employees or pay current workers overtime, if you're in a good position to get loans or credit, and where you can even find new clients.
If you decide to take the leap, consider these tips to help you get started and tackle common challenges along the way.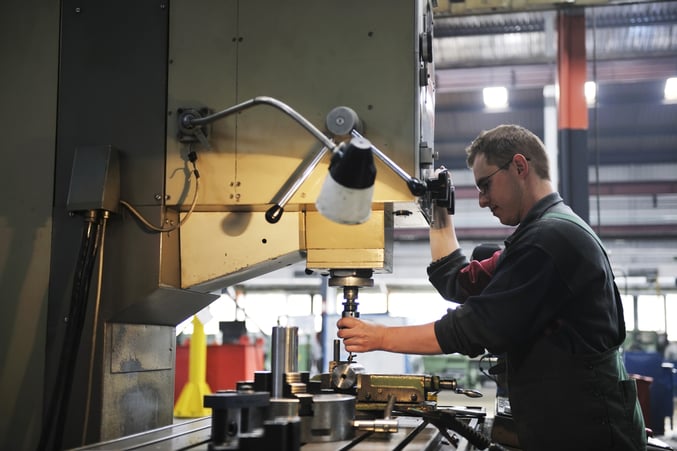 Choose A Business Goal To Focus On
There are multiple ways you can help grow your manufacturing business. To start, choose a realistic goal. Do you want more business with your current clients? Do you want to gain more clients within your current verticals? Maybe you want to break into a new vertical altogether. Decide what is the best route for your company and then focus on that one goal. If you try to grow your business by doing everything possible, you may overwhelm yourself and your employees.
Manufacturers often specialize in one or two industries, which can make it difficult to reach new clients. Take a look at your strengths and weaknesses as a company and determine whether there are skills you haven't tapped. For some companies, specializing less can open the door to new verticals and new clients.
Build And Monitor Your Business Credit File
When trying to get new contracts and more business for your company, you may often find yourself trying to prove that your company can deliver on what's been promised, can pay its bills on time and that it's strong enough financially to stay in business for the length of the proposed contract. When entering into partnerships, companies on both ends of the deal will likely want to do their research to find out just what they are getting into. This is where your business credit can come into play. Your business credit profile can offer insights into your past payment history, financials and more.
If a potential client purchases a business credit report on your company, what will they see? By monitoring your business credit file, you can help control your company's image. Through payment history, trade references* and other factors, you can help show potential clients your credibility. You can also check up on the clients you are pursuing, to help determine whether they are in fact a good addition to your business.
As your business grows, you may encounter new or unexpected expenses. If you have to hire new employees or start paying overtime, you may need extra money to help you transition. When applying for loans, business credit can often be a deal maker or breaker. Banks will often check business credit reports just like potential clients. Staying on top of your scores and ratings may help your chances with traditional lenders.
Promote Your Manufacturing Business Online
As a business owner, you certainly don't have time to do it all. Once you've decided to grow your business – get the word out! Consider letting free or paid services do some of the work for you. Try getting listed in online business directories or using free services from Thomas to help potential clients find you. Dun & Bradstreet's business directory has over 20 million businesses and can help you build your online presence, which can help others find your business. You can also try reaching out to companies with supplier programs, especially if you're a diverse business.
With these tips in mind, growing your manufacturing business may not be as hard as it seems. Start by setting realistic goals, consider your business credit and how it can help you, and then get the word out about your business and your capabilities. Marketing and advertising is an investment you should not skimp out on, especially during uncertain economic times. Once you've done these three things, you'll be well on your way to growth.
Additional resources for growing manufacturing business:
1. It's not rare to see a job shop fail — check out real advice from real job shop owners on the biggest mistakes to avoid.
2. Small business manufacturers who advertise their business on Thomasnet.com receive more online RFQs. It's free to sign up — create your free Thomasnet.com profile here.
3. CNC machining businesses are growing within the industry despite today's challenging obstacles. Read 11 Tips For Growing Your CNC Machining Business
4. Learn how small manufacturer USTEK used online advertising to grow their business in their case study here.
5. See 9 examples from these manufacturers on how they're using online marketing to grow their business.
The opinions and advice provided in the Dun & Bradstreet articles and blog posts are provided "as-is". Dun & Bradstreet makes no representations or warranties, express or implied, with respect to the information in these articles and posts and the results of the use of such information.
Trade References will be added subject to D&B® verification and acceptance. Please see http://www. dandb.com/glossary/trade-references/ for eligibility, process and other information regarding Trade References.
The opinions, information and advice provided by Dun & Bradstreet and its Credit Advisors during business credit counseling sessions, events, tradeshows, podcasts, webinars and in articles and blog posts (collectively the "Information") are provided "as-is". Such Information may be authored by a third party and do not necessarily reflect the views or opinions of Dun & Bradstreet. Nothing stated or implied in the Information should be construed to be legal, tax, or professional advice. Dun & Bradstreet makes no representations or warranties, express or implied, with respect to such Information and the results of the use of such Information, including but not limited to implied warranty of merchantability and fitness for a particular purpose. Neither Dun & Bradstreet nor any of its parents, subsidiaries, affiliates or their respective partners, officers, directors, employees or agents shall be held liable for any damages, whether direct, indirect, incidental, special or consequential, including but not limited to lost revenues or lost profits, arising from or in connection with a business's use or reliance on the Information.
Some of the links on this page may take you to a third party website not governed by the Dun & Bradstreet privacy policy. Dun & Bradstreet is not responsible for products, services, or content located on third party websites.
Did you find this useful?